Two bullets for Bora Gulari
It was another tricky day for the 125-strong fleet off Campione del Garda at the Zhik Moth World Championship.
Although the African heat wave has now receded, daytime temperatures are still too high for the afternoon Ora breeze to build and let the Moths fly on flat waters in typical 15-18 knot winds. The breeze has been coming later and is more unstable and, as a result, trickier.
Today's first race got underway with 10 knots of breeze and Bora Gulari showed his form and dominated the Yellow fleet, finishing ahead of overall leader Scott Babbage. In the Blue fleet, Australian Joshua McKnight confirmed he's an up-and-coming young gun, scoring his third victory in nine races. Anthony Kotoun, that still likes to call himself a 'rookie', was close behind.
The second race took place in the fading Ora that once again forced the race committee to shorten course. It was a tactically tough race with big wind holes everywhere. Still, once again, Bora Gulari led the Yellow fleet.
"I had a good day with two wins thanks to a bit of luck and a bit of skills," commented former World Champion, Gulari. "My end goal is to win this one. A few days ago I stated my goal was to finish in the top five because I wanted to be humble, but after listening to all the Australians claiming they wanted to win I will also state that my end goal is to win the Worlds!"
Another young gun, Britain's Chris Rashley, was first in the Blue fleet, scoring his first victory this week. Despite this being his first World Championship, the current UK Moth Champion has shown remarkable consistency, never finishing worse than 7th.
"We are not really anywhere into the week - we just finished the qualifying series," said Rashley. "We had four days, we missed one and we finished the qualifying series with some good races but all the real racing will take place now in the gold fleet. I've had some races I could have done better, but across the board I'm really happy. These are my first Worlds and I'm well inside the top ten going into the final series. So, I'm quite happy with my performance so far. My goal now is to sail as well as I can, start well, be fast, hopefully not make too many mistakes and we'll see how it goes when it comes to the end of the week."
The boats will now be split into two fleets, based on their ranking in the qualifying series, with the top half going into the Gold fleet and the remaining yachts in the Silver fleet. Each skipper's position in the qualifying series will be non-discardable for the final series and their score for the regatta will be the total of their final series results together with their non-discardable qualifying series position.
As a result, going into the finals, the leaderboard isn't reset to zero but Babbage's advantage will be no more than a few points over his closest competitors.
From here there are nine races scheduled for the final series taking place over Friday until Sunday. Friday's races will start, weather allowing, at 2pm local time under conditions that are expected to be very similar to what the Moths have experienced so far this week.
2012 Zhik Nautica Moth World Championships – Top ten after nine races (two discards)
1. Scott Babbage (AUS), 1+1+1+1+1+1+(11)+2+(6)=8
2. Joshua McKnight (AUS), (6)+1+1+2+4+3+(12)+1+5=17
3. Bora Gulari (USA), 2+2+(7)+(14)+4+4+3+1+1=17
4. Anthony Kotoun (ISV), 3+3+2+(11)+2+2+3+2+(9)=17
5. Chris Rashley (GBR), 4+(7)+4+4+2+5+(7)+3+1=23
6. Joe Turner (AUS), (9)+(9)+2+3+3+5+1+3+9=26
7. Andrew McDougall (AUS), 2+(8)+5+7+(21)+2+6+4+5=31
8. Julian Salter (AUS), 7+4+3+7+(12)+1+8+(60 DNC)+2=32
9. Jason Paul Belben (GBR), (60 DNF)+(10)+6+3+3+10+2+6+2=32
10. Francesco Bianchi (ITA), 3+6+4+(16)+6+6+(35)+5+3=33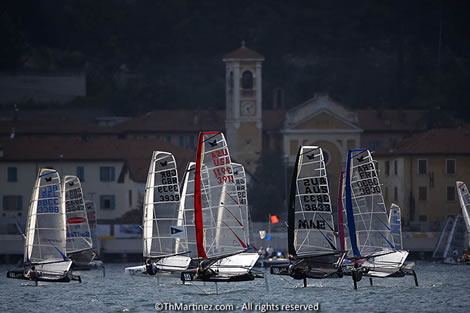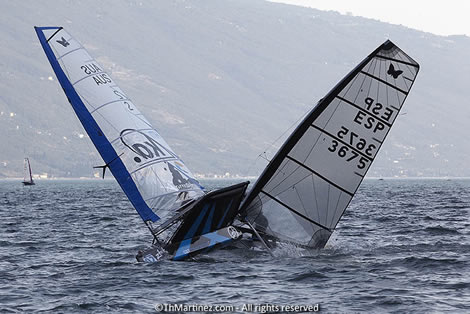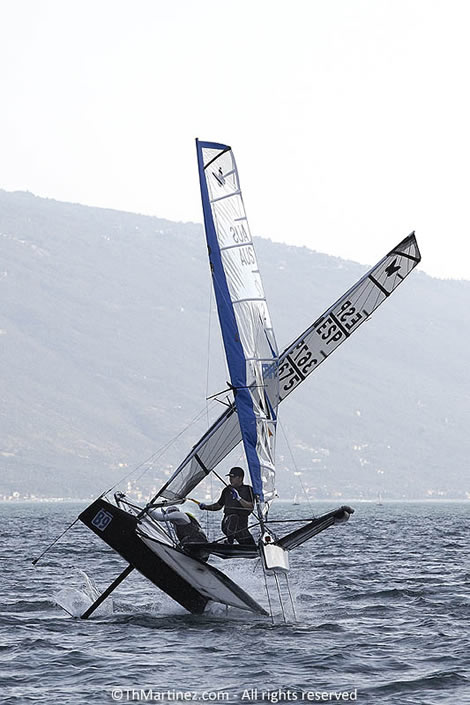 Back to top
Back to top