London 2012 day 3: Better day for the Brits
Tuesday July 31st 2012, Author:
James Boyd
, Location: none selected
Multipage report - follow the links to the Stars, 49ers, Lasers, Radials, Women's Match Racing, RS:X Men and RS:X Women updates.
Weymouth delivered another exciting day on the water with 15 knot southwesterlies for day three of the sailing events at London 2012.
Today the RS:X Men and Women started their series, joining the six classes already racing, with just the 470 Men to come on Thursday followed by the Women on Friday.
Already we are seeing several stand-out performances with Jonas Høgh-Christensen continuing to excel in the Finn, where he is outgunning Ben Ainslie – as Finn expert Robert Deaves put it: Jonas is putting in the sort of performance we would expect from Ben.
With four races sailed Ireland's amazing Annalise Murphy has a perfect scoreline in the Laser Radial while Britain's Ali Young posted two second placed finishes - a fantastic day for the young British sailor. Two bullets were also won by the same sailor in the Laser men's class where Cypriot Pavlos Kontides had his day in the sun, although Tom Slingsby still holds the lead overall. British hope, defending Olympic gold medallist Paul Goodison is having a tough time with excruciating and sadly on-going back pain (more about this here), but nonetheless managed to put in a second in today's final race.
At the moment it is 49er sailors Nathan Outteridge and Iain Jensen who are ahead in the Australian team's 'how much can we win this regatta by' competition, leading by nine points from their Kiwi training partners Peter Burling and Blair Tuke. This was despite the Aussies being one of two capsizes in today's second race.
In the RS:X Men there were duplicate top 3s in both of their first two races (as there was on the first day of the Finns) with Dorian Van Rijsselberge (NED) also scoring two bullets, with Przemyslaw Miarczynski (POL) two seconds and Toni Wilhelm (GER) two thirds. In the Women's division training partners Marina Alabau (ESP), Lee-El Korzits (ISR) and Zofia Noceti-Klepacka (POL) seem to be having their own regatta at the top of the field.
The closest competition is coming in the Stars where the two way battle between Iain Percy/Andrew Simpson and their Brazilian rivals Robert Scheidt/Bruno Prada continued today with the Brits putting in a second day of solid results to end up leading by four points.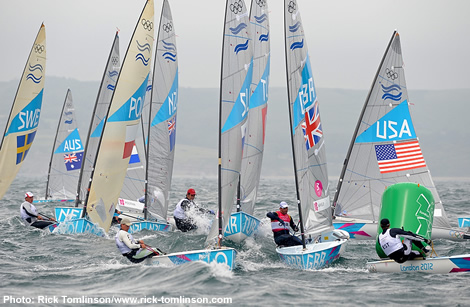 Finn

After the pre-Olympic hype surrounding Ben Ainslie, that Jonas Høgh-Christensen has consistently outgunned him for the last three days on the race course – at present the Dane seems to be in a different league from the rest of the fleet - is hard to swallow for British sailing fans.
At present Ainslie is looking like a silver medallist rather than the surefire gold his form going into the Games suggested. However this is not the first time the Brit has been having to fight back for all he is worth during an Olympic Games and with four Olympics behind him he certainly has the experience to turn this around. This may mean 'actively engaging' with the Dane although this probably won't happen until later in the series, else they risk destroying both their medal chances.
Race five was dominated by the Høgh-Christensen from start to finish. Pieter-Jan Postma (NED) managed to break his outhaul at the start, while the Dane steered a confident course up the favoured left side of the course to round the top mark with a small lead over Rafa Trujillo (ESP), (GBR) and Zach Railey (USA), while several boats overstood in the strong tide. Ainslie had started in the middle and was soon in difficulty having to tack away to clear his air.
From here the Dane extended with the Beijing silver medallist Railey overtaking Ainslie to pull up to second at the gate. The wind faded on the final offwind legs but Høgh-Christensen extended his lead, while Railey maintained second from Trujillo. Nirkko and Ainslie passed Trujillo and Ainslie looked to be closing on Nirkko, but ran out of track. At the finish it was Høgh-Christensen, Railey, Nirkko and Ainslie, with Ivan Kljakovic Gaspic (CRO) staging an amazing recovery from 19th at the first mark to cross fifth.
In race two, Ainslie won the pin and controlled the lane to the favoured left side of the course and looked to be coming into the top mark well placed. Meanwhile Høgh-Christensen thought he was OCS and started to go back until he saw he had in fact been fine after all. Nonetheless this left him behind on the first beat.
Many boats overstood the top mark and first round was Trujillo from Ioannis Mitakis (GRE), Nirkko and Høgh-Christensen. Ainslie rounded in seventh.
Trujillo led down the run with Deniss Karpak (EST) moving up to second from Nirkko and Ainslie, but by the gate Karpak had made big gains to round in first from Nirkko, Ainslie and Høgh-Christensen. The Dane was forced to tack away again after he had been passed by Ainslie for the first time this week. However it was all change on the final upwind with Høgh-Christensen splitting from the fleet and making places all the way up to second to round behind Karpak. Trujillo rounded third from Vasilij Zbogar (SLO) while Ainslie slipped to fifth.
Karpak extended down the run to lead into the finish to win by nearly a minute. Høgh-Christensen rounded in second, but Ainslie had caught up for a thrilling spray filled chase to the line, but the Dane held on for second with Ainslie third, Trujillo fourth and Zbogar fifth.
The end result is that Ainslie has moved up to second overall, but after the discards have kicked in he remains 10 points off the lead.
"That was a better day today," said Ainslie. "But Jonas had a good day as well, so it is tough. He is certainly having the regatta of his life at the moment - he is on fire. He is going quick and he certainly for one reason or another he is the guy who is managing to find those wind shifts out there. At some point the tables need to turn and I have to start getting some points back - there aren't that many races left, but there is a lot that can happen. 10 points is a reasonable gap, but we have seen those gaps go in one or two races."
And from here? "Certainly I need Jonas to start slipping up. As I said, he has been sailing incredibly well so far, but whether he can keep that going until the end or not - we'll see. It is not that easy – most of the guys in the fleet, including myself have had one average race, so you cannot ignore the rest of the fleet. My focus the whole way through has been on my own game and trying to do the best job I can and that is all I can really do now."
Spain's Rafa Trujillo had a much better day posting a 7-4 and without any breakage... "It was difficult to sail - pretty patchy with big shifts all day." He added that it was less windy than he had expected with 12-16 knots.
As to why Høgh-Christensen is proving so dominant the Spanish Olympic veteran said: "He is sailing fast and smart and with these things it is difficult to catch up and he is always in the right place at the right moment. In the second race - it was pretty impressive - he started to leeward of me and I see that he stopping thinking he was over, he went to the right side on the upwind and he was on the right side on the downwind and he went to the left when it looked like the right would pay. There is nothing to say - it was good sailing. There were big shifts. When you go fast you can manage to be more risky and he went there by himself. In the right there was Dan, me and the Estonian and he looked like we had him under control and in the last part he came back..."
And Ben? "Ben is very impressive. We are used to seeing him first, but he is there all the time and at times he is not so lucky with the shifts like today, when I was sailing with him and he passed me on the downwind. He is always there, but Jonas is sailing at his top level. They are the two most talented sailors in the fleet by far, in my opinion."
Results
| | | | | | | | | | | |
| --- | --- | --- | --- | --- | --- | --- | --- | --- | --- | --- |
| Pos | Nat | Helm | R1 | R2 | R3 | R4 | R5 | R6 | Tot | Net |
| 1 | DEN | Jonas Hoegh-Christensen | 1 | 1 | 2 | 7 | 1 | 2 | 14 | 7 |
| 2 | GBR | Ben Ainslie | 2 | 2 | 6 | 12 | 4 | 3 | 29 | 17 |
| 3 | FRA | Jonathan Lobert | 9 | 4 | 4 | 2 | 6 | 7 | 32 | 23 |
| 4 | CRO | Ivan Kljakovic Gaspic | 3 | 3 | 7 | 9 | 5 | 6 | 33 | 24 |
| 5 | SLO | Vasilij Zbogar | 8 | 6 | 5 | 3 | 8 | 5 | 35 | 27 |
| 6 | NED | Pieter-Jan Postma | 5 | 10 | 3 | 4 | 20 | 13 | 55 | 35 |
| 7 | NZL | Dan Slater | 7 | 11 | 1 | 6 | 17 | 11 | 53 | 36 |
| 8 | SWE | Daniel Birgmark | 17 | 5 | 14 | 1 | 9 | 9 | 55 | 38 |
| 9 | FIN | Tapio Nirkko | 11 | 13 | 8 | 5 | 3 | 12 | 52 | 39 |
| 10 | EST | Deniss Karpak | 14 | 9 | 11 | 11 | 11 | 1 | 57 | 43 |
| 11 | ESP | Rafa Trujillo Villar | 12 | 12 | 12 | 23 | 7 | 4 | 70 | 47 |
| 12 | USA | Zach Railey | 10 | 15 | 13 | 17 | 2 | 8 | 65 | 48 |
| 13 | GRE | Ioannis Mitakis | 4 | 21 | 10 | 8 | 25 | 10 | 78 | 53 |
| 14 | AUS | Brendan Casey | 25 | 7 | 16 | 14 | 10 | 17 | 89 | 64 |
| 15 | CAN | Gregory Douglas | 16 | 23 | 16 | 13 | 12 | 18 | 98 | 75 |
| 16 | RUS | Eduard Skornyakov | 13 | 8 | 22 | 15 | 19 | 22 | 99 | 77 |
| 17 | POL | Piotr KULA | 25 | 16 | 17 | 16 | 13 | 20 | 107 | 82 |
| 18 | CZE | Michael Maier | 19 | 18 | 21 | 10 | 18 | 23 | 109 | 86 |
| 19 | BRA | Jorge João Zarif | 15 | 20 | 15 | 20 | 16 | 24 | 110 | 86 |
| 20 | AUT | Florian Raudaschl | 6 | 19 | 23 | 24 | 25 | 15 | 112 | 87 |
| 21 | TUR | Alican Kaynar | 18 | 14 | 18 | 18 | 25 | 14 | 107 | 89 |
| 22 | UKR | Olexsiy Borysov | 21 | 18.6 | 19 | 19 | 15 | 19 | 111.6 | 90.6 |
| 23 | ITA | Filippo Baldassari | 20 | 22 | 24 | 21 | 14 | 21 | 122 | 98 |
| 24 | CHN | Lei Gong | 25 | 17 | 20 | 22 | 25 | 16 | 125 | 100 |
Back to top
Back to top