Percy and Simpson into the lead
Light winds continued to dominate the proceedings on the final qualification day of racing for some of the Olympic classes at the Trofeo Princesa Sofia MAPFRE in Palma, with 8-10 knots for the first race and less for the second.
With racing on schedule so discards have kicked in tonight causing changes to the leaderboard with only Ben Ainslie (GBR) in the Finn, Marit Bouwmeester (NED) in the Laser Radial and Thierry Schmitter (NED) in the 2.4mR hanging on to theirs leads.
Skandia Team GBR's Star duo of Iain Percy and Andrew Simpson made the best of light and shifty wind conditions to move into the lead at this halfway stage of the regatta thanks to their 12,3 today. They lead Brazilian hotshots Robert Scheidt and Bruno Prada. The Swiss team of Marazzi/De Maria and Sweden's Loof/Salminen both posted a win and an OCS each.
Meanwhile Ben Ainslie stamped his authority on the Finn fleet, increasing his lead to 11 points with a second and a first edging him further ahead of Sweden's second-placed Daniel Birgmark and USA's Beijing silver medallist Zach Railey in third.
Ainslie admits he 'couldn't be happier' to be back on the race course again after a testing winter during which he underwent back surgery. "The body is holding together very well, but having said that it's been pretty light winds so I wouldn't have said it's been the toughest physical test I've ever experience in my sailing career. But considering where I was two months ago, I couldn't be happier to be here and to be racing and to be back on the programme, in tune and racing well. That's a massive step for me and hopefully I can continue pushing forwards for the next four or five months."
Of today's racing Ainslie said: "It was a very difficult day today. The wind was quite light this morning and changing a lot so it was very hard to read and there were lots of ups and downs in the fleet but for me I had a good day. I managed to pick it just about right to be up with the top guys and I had some good speed so I'm pretty happy with the day."
In the Laser Radial, yesterday's race three for the Yellow group was re-sailed following a request for redress lodged yesterday by a large number of sailors against the race committee. Then it was back to normal business. While Marit Bouwmeester (NED) continues to lead Evi van Acker (BEL) has moved to second after discarding her 15 points race, while Alicia Cebrian (ESP) is up to third following a consistent series of top five results.
Among the Brits Charlotte Dobson has improved to 14th overall with Alison Young in 28th,
Australian Tom Burton has taken over the lead in the Laser with Britain's Nick Thompson and Charley Buckingham (USA) second and third. Burton's pair of sixth place finishes gives him a four point lead.

"Today was pretty solid day, it could have been better, but then again could have been worse with the lighter breeze today," said Burton. "In the first race a big shift dropped me a few places to go from fourth to sixth by the finish and in race two I went down the last run in first but sat in a hole and finished sixth again. I'll go through the same process for tomorrow's finals series, as I still need more good results to keep the lead. Though everyone in the top group has around a similar drop, so it will be who sails the best in gold fleet."

But his Aussie team mate is on a charge. Tom Slingsby started the day 10th but a fourth and a second in today's light breeze have moved him up to fourth overall, seven points behind Burton.

"It was a good day with a four and a two," said Slingsby. "It was tricky sailing, very light and I was able to have some big comebacks which was lucky, I had some really good downwind speed today and was able to pull back a lot of boats downwind. If it stays this light and shifty in the finals series there will be some big scores, but I'm just enjoying being back racing."
Paul Goodison is in sixth place but just ten points from the top spot on the Laser's incredibly tight leaderboard.
Beijing gold medallist Dane Jonas Warrer and Soren Hansen have taken the lead in the 49er from Britain's David Evans and Edward Powys now down in third place, having been overtaken by teammates John Pink and Rick Peacock now in second. Dylan Fletcher/Alain Sign and Stevie Morrison/Ben Rhodes will look to fight back when they head into gold fleet racing tomorrow, currently placed 22nd and 23rd overall.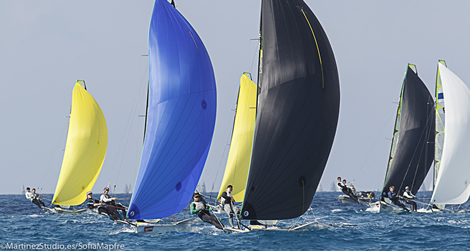 Both 470 classes have new leaders. Sime Fantela and Igor Marenic, have climbed to first after third and second placed finishes today. The Croatians commented: "Another great day like yesterday. We used similar tactics both yesterday and today, we were very tough and precise on the start, which enabled us to have a good opening in both today's races. The left side of the course was the favourable one in both races so with good speed and good sailing we managed to reach the left side. We were among the leading boats from the first mark. A third and a second place in these difficult conditions is a very good result."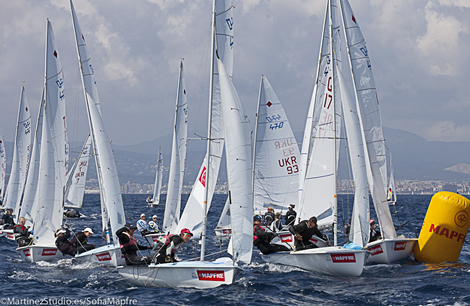 World Champions Mat Belcher and Malcolm Page (AUS) worked their way up the ladder moving from fifth to second after finishing with a second and a third. "We were faced with the same conditions again today, a light breeze under seven knots for most of the day but we managed to get two good results," said Belcher. "We felt better in the boat and are now looking forward to gold fleet racing from tomorrow. Racing against all the top crews in these light conditions is going to be intense but great practice in conditions we don't get at home."
France's Pierre Leboucher and Vincent Garos hold third while among the Brits Ben Saxton and Richard Mason are currently top placed in 20th, with Luke Patience and Stuart Bithell (who are going to the Games) having another shocker (after Miami) down in 45th.
In the Women's fleet, Emmanuelle Rol and Hélène Defrance (FRA) have soared into the lead today, on 15 points, a further 15 clear of Skandia Team GBR's 'Sailing Sophies' Weguelin and Ainsworth.
"The conditions are very hard here with lots of good teams, tricky winds and short steep waves. We are bringing special attention to our starts," said Rol. "These are our favoured conditions but the hardest part is still to come: finish the regatta with the pressure to be in first place. So we will keep taking one day at a time and concentrate on our sailing."
Australia's new pairing of 'old hands', Elise Rechichi and Belinda Stowell, continue to impress in just their fourth regatta together, with a race win and a ninth moving them to third overall. "Today was a good one," said Rechichi. "While we're still making lots of mistakes, we're happy with how we are progressing. Every day is presenting a new opportunity to grow together as a team, and our results are reflecting that. We still have four races to go before the medal race, and again, while it would be nice to post a result here we are very much focused on the process and building strength and consistency in our team."
Hannah Mills and Saskia Clark had what they cited as a 'chronic' day, which started promisingly when they crossed the line sixth in race one, only to have been judged OCS, before compounding their frustration with a 37th from race two to end the day in 28th overall.
For the Women's Match Racing it proved to be a big day for the six teams in the Repechage – only two would advance to the Quarter Finals, the other four would go home. The racing was very close with Ekaterina Skudina (RUS) winning the round with four wins and only one loss. The next three teams were tied with three wins and two losses and only one would advance. After digging deep in the rule book the tie was broken in favour of Claire Leroy (FRA) with Renee Groeneveld (NED) with Silja Lehtinen (FIN) losing out. Skudina and Leroy advance to the Quarter Finals and will face the top two from the Gold Group.
In the Gold Group, Lucy Macgregor (GBR) leads the way with an undefeated score of three wins and no losses. Anna Tunnicliffe (USA) and Tamara Echegoyen (ESP) follow closely with two wins each. The Gold Group will finish their round robin in the morning and the seeding for the Quarter Finals will be complete.
In the sole Paralympic class here, the 2.4mR, Thierry Schmitter took two bullets today to extend his lead over Helena Lucas (GBR) in second and Barend Kol (NED) in third.
Racing will resume on Thursday at 10 am for the Women Match-racing and 11 am for the other classes.
Results: 2.4mR - 49er - 470M - 470W - Finn - Laser - Radial - Star
Women's match racing:
Repechage Round Robin:
1-Ekaterina Skudina, Elena Siuzeva, Elena Oblova - RUS : 4 wins – 1 loss
2-Claire Leroy, Elodie Bertrand , Marie Riou - FRA : 3 - 2
3-Renee Groeneveld, Annemiek Bes , Marcelien de Koning - NED : 3 - 2
4-Silja Lehtinen, Silja Kanerva , Mikaela Wulff - FIN : 3 - 2
5-Stephanie Hazard, Jenna Hansen, Susannah Pyatt - NZL : 2 - 3
6-Silvia Roca, Eva Gonzalez, Lara Cacabelos - ESP : 0 – 5
Gold Round Robin (after 3 of 5 flights – to be completed Thursday):
Lucy Macgregor, Annie Lush , Kate Macgregor - GBR : 3 wins – 0 losses
Anna Tunnicliffe, Molly Vandemoer, Debbie Capozzi - USA : 2 - 1
Tamara Echegoyen, Angela Pumariega , Sofía Toro - ESP : 2 – 1
Sally Barkow, Elizabeth Kratzig-Burnham , Alana O'Reilly - USA : 1 - 2
Mandy Mulder, Annemiek Bekkering , Merel Witteveen - NED : 1 -2
Olivia Price, Nina Curtis , Lucinda Whitty - AUS : 0 – 3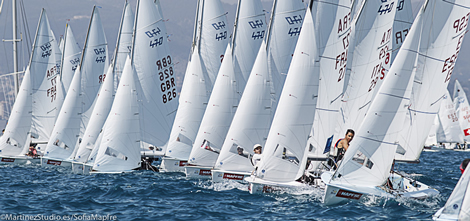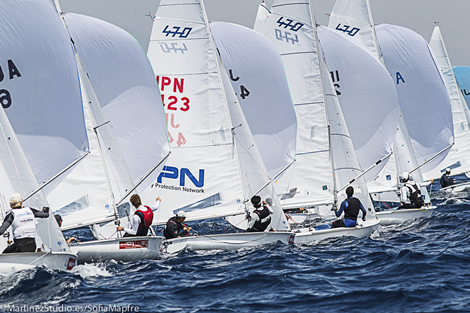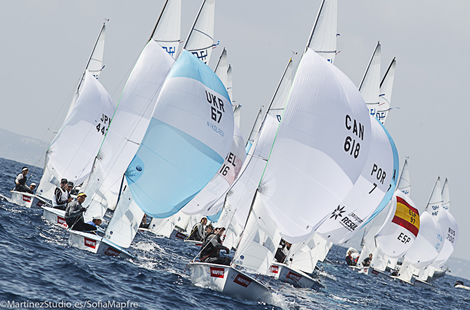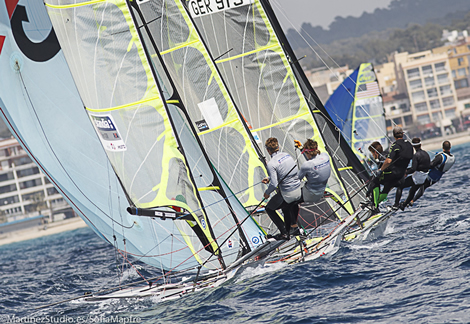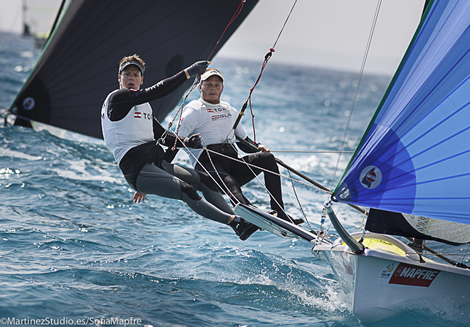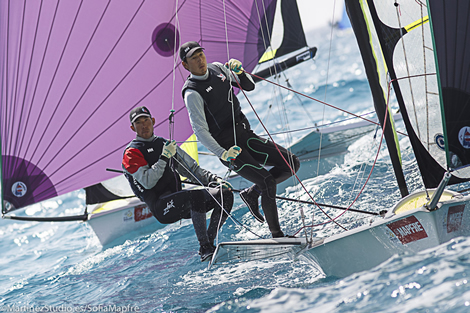 Back to top
Back to top