The fight for Laser gold
One of Team GBR's prospects for claiming a gold medal at London 2012 this August is Paul Goodison.
The ginger lad from Rotherham, Yorkshire, now 34 (the same age as Ben Ainslie), famously won the Gold medal in the Laser at Beijing and followed this up with a World Championship win in Canada in 2009. However since then few would question that it is not Goodison but his Australian rival Tom Slingsby who has been dominating the Laser class to an Ainslie/Scheidt degree of relentlessness.
Slingsby has won the last two World Championships, in 2010 in Hayling Island (where Goodison was a disappointing 9th) and last December in Perth (where our man ended up fifth), and is ranked by ISAF as number one in the World, while Goodison is 7th. But keen observers will also remember, that going into Beijing, Slingsby was in a similar dominant position, having won the two World Championships only to bomb at the Games, where he ended up 22nd.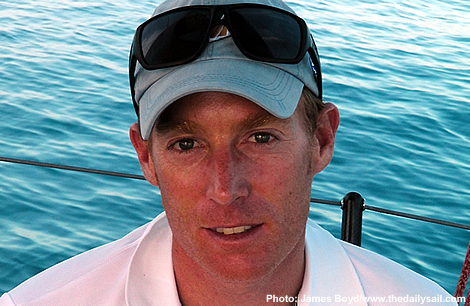 Goodison's bronze at Skandia Sail for Gold last year (behind Slingsby and New Zealand's Andrew Murdoch) was enough for him to get his London 2012 berth ahead of his talented rival Nick Thompson and one gets the impression that Goodison is keen not to repeat his build-up to Athens in 2004 when he seemed to peak too soon before the Games – a lesson he seemed to have successfully achieved going into Beijing.
"For me in the past it was all about winning medals that gave me confidence and I think I showed in the Athens cycle...running up to Athens I had medalled in every regatta I had done that year, but not at the important one," says Goodison. "Whereas running up to China I very much used regattas as more for training and targeted regattas and that worked much better. So that is more what we are doing this time around – still trying to focus on the areas where we need to make gains and hopefully then to perform at the last couple of regattas before the Games, and then obviously at the Games."
So we shouldn't read too much into Goodison's recent results.
"It was quite nice to go into the Worlds not really focussing on that event, but to use it as a bit of a training regatta to see how things had moved on," Goodison continues. "I felt quite positive that the work we'd done up to the Worlds had had an effect, but then you look at Tom [Slingsby] and he has just got a speed edge. So that is something that definitely still needs to be addressed, but I think that without me doing much racing before the Worlds (I was second the whole way through and then there were two stupid races on the last day of finals) there are still a few things to address, but luckily time is on our side and I think we can still get there."
So why is Tom Slingsby so fast? "That's the golden question! He is obviously a little bit taller and a little bit heavier than me - I sailed the Worlds [in Perth] at 82kg and he was 86-87, which is a big difference. But it is hard to gauge looking at the Olympics, because there is always a chance you can get some light wind stuff. I am pretty confident I'd win in the light winds, but at the moment I don't think I'd win in the strong winds. So it is how much of a trade off? Do you go closer to him, so you have a chance of beating him in the breeze? Or do you sit there and hope it is going to be a mixed bag and then it would be a much tighter event? So I am still not decided fully what the plan is there."
This week Goodison is competing at the Rolex Miami OCR, which he says was something of an 11th hour decision as he was already in Florida at the time and without this, he was originally scheduled to sail just three regattas between now (Princess Sofia, the Worlds in Boltenhagen in early May, Skandia Sail for Gold in early June) and the Olympic Games in August.
Unfortunately absent from the line-up for Miami are several of the top ranked Laser sailors, with no Slingsby or even Goodison's team mate Nick Thompson, nor world no3, Croat Tonci Stipanovic, or Austria's Andreas Geritzer. In fact the only sailors taking part in Miami above him in the ISAF rankings are Brazilian World no4 Bruno Fontes and no5, Argentian Julio Alsogaray.
After Miami, Goodison and Nick Thompson are heading to Tenerife in mid-February where they will be training with Germany's Simon Grotelueschen and the Spanish Laser sailors. "That will be a good opportunity to do some more almost guaranteed wind sailing in a nice climate without having to travel too far," says Goodison. There is then the possibility of a further training camp with Thompson in Cadiz, before they decamp to Palma, along with the rest of the Skandia Team GBR sailors, where they will remain until the Princess Sofia Trophy starting on 31 March.
Perhaps most significant is that while Goodison continues to work with Chris Gowers, who has coached him for the last 12 years, he is bringing in some new blood in the form of Australian Arthur Brett, who previously coached Michael Blackburn and Tom Slingsby prior to the last Olympiad. Brett is joining Goodison this week in Miami. "That is really exciting for me to have some fresh input to see if we can decide where the gains are to be made. With Chris we have got to the point where we have both tried everything we have thought of, so some fresh input would be great."
Looking back at Goodison's lengthy tenure in the Laser - his first significant event was Kiel Week in 1996, so he is coming into his 16th year in the Olympic singlehander – one wonders how much more there is for him to learn given that the Laser is the simplest of the Olympic sail boats and is also supplied equipment.
"There is always learning to be done," retorts Goodison. "It is always trying to get back to your past best, to be able to win again. But I think now it is not just your past best: The game has moved on again slightly, especially in the windy stuff it has been stepped up again with some slightly different styles of sailing. Generally Tom [Slingsby] is a bit lower and faster than everyone else upwind, which is great when he has got lanes, but it is not so great when he hasn't. But you have got to be able to do it all and I think in the next two months that is what we will be working on."
And given that the Laser is supplied equipment – how much can you really do? "It is one design, but there are still big speed differences in different conditions and I think that is a great nature of the boat. You are set with the sails and the mast you are given. What I have done in the past is use what I call 'my best kit' for the regattas that are for qualification and as soon as qualification is over you just use whatever comes out of the bag and if it is no good you have to learn to deal with it. That is what I did really well last time around – I was still using 'out of the bag' kit when everyone else was probably using good kit. I don't want to give too much away, but it will be interesting to see if the other guys switched to doing that. I hope not!"
Obviously in Olympic sailing, nothing helps like experience and London 2012 will be Goodison's third stab at the Games. This background, a gold medal in Beijing and sailing on home waters must breed confidence, however as with all elite sportsmen, there is all manner of land-based training and development courses they have available to them.
"I'm not too big on sports psychology," admits Goodison. "I have got a good idea on what I need to do and I think I am reasonably good at sorting out a program to get me to where I need to be. I work really closely with a physiologist and strength and conditions coaches, but I am usually quite good at getting my mind in the right place when it needs to be in the right place."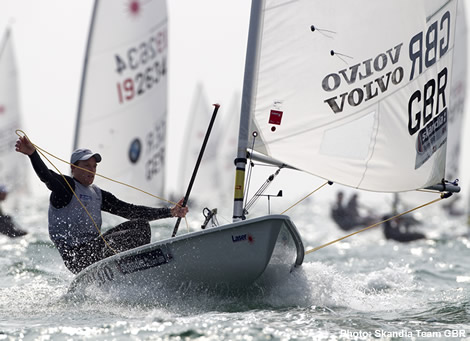 Extra-curricula
Last week Goodison was competing at Quantum Key West Race Week as the VHF touting tactician on board Joe Woods' Red – on this occasion a chartered Farr 400 rather than Woods' normal Melges 32. Goodison has sailed with Woods regularly for the last two and a half years and prior to this had made a few forays into the Farr 40 class, but says at that point he never wanted to commit too much time away from his Olympic program. "But with Red, I think I am at the stage with my Laser sailing where I could commit enough time for it to become a regular gig and I think that has worked quite well for the last couple of years."
However with the Olympic Games looming Goodison says that Key West will be his last regatta with the team until the end of August, when he'll decide what to do next.
Certainly extra-curricula sailing has not hurt the likes of Ben Ainslie and Iain Percy in their programs. Meanwhile top Australian sailors such as Tom Slingsby and Nathan Outteridge have this season been flitting between other classes such as A-Class catamarans and Moths.
"I think it is something fresh," says Goodison. "There is only so much Laser sailing you can do before you get bored. And if you are not doing it you have to be doing something else that is going to help you to get better. Last week I was in St Moritz cross country skiing for eight days and I had the physiologist there and we didn't get to do any exciting stuff – although we went snow shoeing on one day – but that was a tough hard week. Then to come here [Key West] on what was a bit of a down week for the physiologist and to still be learning and still be racing is of great benefit."
Goodison's plans for after the Games remain up in the air. It seems unlikely that he will do another Laser campaign and was keen to have a crack at the Star this time around, except that there was only full funding available for one team and it would have been a hard case to attempt to prise this off Iain Percy and Andrew Simpson following their Gold in Beijing and subsequent World Championship win in Rio in 2010. Ben Ainslie has also expressed an interest in the Star, so if the Olympic keelboat does get reinstated for Rio 2016 (there remains a small chance of this happening) then we could see not only Iain Percy gunning for it again, but Ainslie and Goodison...
More likely is that Goodison will get signed by an America's Cup campaign (as Tom Slingsby has recently with Oracle Racing). "I'd love to get involved with some of the America's Cup cat stuff," says Goodison.
"I think that is the way forward. I have been thinking about getting an A-Class cat to have a play with. Tom [Slingsby] says it is great fun and Nathan [Outteridge] says it has been fantastic. Some of the lads at home have been eyeing that up too. The problem is that we have all got to get similar boats." Among the interested parties are believed to be 470 sailor Stuart Bithell and Finn no2 Giles Scott. "We have to agree on a budget and then try and find four boats that are very similar."
Further into the future Goodison is even contemplating the fully crewed round the world race: "I went to Alicante for the start of the Volvo Ocean Race and I was pretty impressed by that, but I'm not sure I am quite ready for it. That is something I would like to do at some point. I think that the high performance cats look really exciting and is something I would like to get involved with..."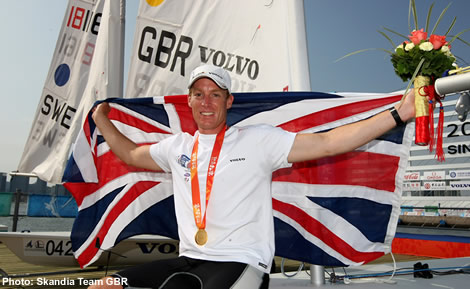 Back to top
Back to top