New Zealand Olympic selections
The New Zealand Olympic Team are announced their first crop of sailors going to London 2012.
Peter Burling and Blair Tuke (49er), Jo Aleh and Olivia Powrie (470 Women), Andrew Murdoch (Laser), Jon Paul Tobin (RS:X), Paul Snow Hansen and Jason Saunders (470 Men), Stephanie Hazard, Jenna Hansen and Susannah Pyatt (Women's Match Racing) and Sara Winther (Radial) were confirmed to the New Zealand Olympic team by New Zealand Olympic Committee Selectors, headed by Secretary General Kereyn Smith.
The athletes' nomination and selection followed robust performances at the recently concluded Sailing World Championships in Perth. The World Championship returned one silver and two bronze medals for New Zealand.
Kereyn Smith said the 12 athletes named today will represent New Zealand proudly next year. "We're delighted to name the first members of an exciting and high performing Olympic Team. We're expecting our 100th Olympic medal at London 2012 and are confident our sailors will contribute to this."
Olympic Scholarship holders Blair Tuke and Peter Burling (49er) won silver at Perth on the back of a bronze win earlier this year at the Olympic Test event. The duo was delighted to be named to the team.
"We're really growing in confidence and moving steadily up the results table," said Tuke, heading for his first Olympic Games. "Being named to the Olympic team is a huge boost and we're focused on an even better performance at London next year."
Burling represented New Zealand in Beijing where he finished eleventh in the 470 class. "The Olympic Games are an opportunity to once again represent my country with pride."
The athletes were selected following nomination to the New Zealand Olympic Committee by Yachting New Zealand. New Zealand Olympic Committee selectors confirmed the athletes had met the mutually agreed selection criteria.
"Some of the spots were particularly hard fought and we know today's announcement will be particularly disappointing for some," said Smith. "It's a reflection of depth of talent within sailing right now. The selection process is robust and results-driven."
Yachting New Zealand Olympic Director Jez Fanstone says the athletes make up a young team with strong podium potential: "The athletes named today are the in-form athletes who have performed at the 2011 ISAF worlds and who are on track to perform at London 2012. Our goal is to learn the lessons from these worlds, to continue improving and to be back on the podium in 2012. Today's announcement is a celebration of a successful World Championship and a successful year for the NZL sailing team."
There are nine athletes under 25 years of age in the sailing team and equal mix of male and female.
There are three remaining classes not yet selected – Finn, Star and Women's RS:X. The Star class is yet to qualify an Olympic spot for New Zealand. The process will continue until the completion of class world championships in 2012.
Conditions in Weymouth are expected to favour the New Zealand team. "They're well-balanced conditions not un-like the East Coast Bays of Auckland," said Fanstone.
London 2012 will be the first Olympic Games where match racing will feature on the programme.
New Zealand has been represented in Olympic sailing since Melbourne in 1956 where Jack Cropp and Peter Mander won gold in the Sharpie class. A total of 16 Olympic medals (seven gold, four silver, five bronze) have been won by Kiwi yachtsmen and women.
With a total of 96 New Zealanders representing New Zealand in sailing at Olympic Games in the past, London will see New Zealand's 100th Olympic athlete take to the water.
New Zealand Olympic Team Selections will continue throughout the build-up to the games with men's and women's Basketball expected to be the last possible team to qualify and be selected in July next year.
The London Olympic Games take place 27 July – 12 August 2012. The New Zealand team is expected to contain athletes representing New Zealand in approximately 17 sports.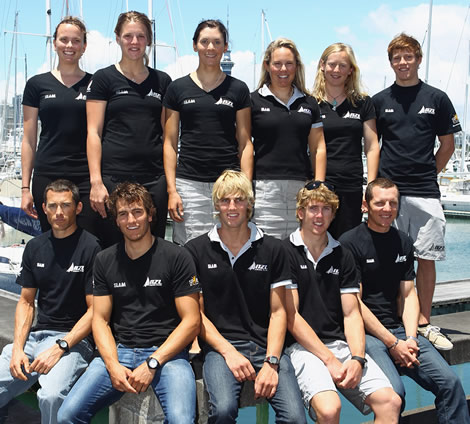 Back to top
Back to top