Skandia Sail for Gold part 2
This continues on from part one here
In the Laser Radial, this week was effectively a two horse race between the Netherland's Marit Bouwmeester, winner here last year, and Belgium's Evi van Acker. Shirley Robertson pointed out (proudly) that Bouwmeester, who won today's medal race to finish the series first overall ten points clear of her rival, is being coached by Britain's Mark Littlejohn, who once upon a time coached her.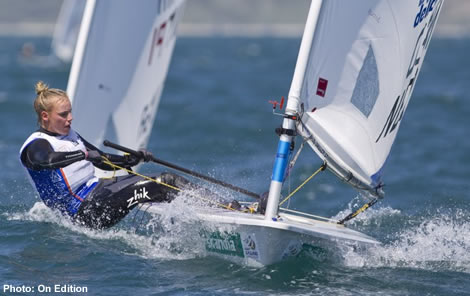 "I was six points behind Marit and I had 13 points in front of the bronze," recounted van Acker. "I expected her to match race me, because she could only lose silver, but she didn't really do it, so I went after her because I am here to practice, we said it didn't really matter, so that's what I tried. It worked pretty good at the first attempt but then we got a general recall which was lucky for me because I got stuck at the pin end and we got a restart and I found myself a little bit of a defending position.
"Then I got away at the pin end and I lost my lead after the start and I got really into trouble after that. The only thing I could do was to try to get out of the mess and sail in clear air, which was not simple because I had everyone tacking on me, including Marit because she was defending against me, so I ended up tacking way too many times up the first beat and I was 10th at the top mark, all the way last and the Irish was in third position, so it was like 'oh God'. But I know I am fast downwind and I tried to make the best of the shifts and the puffs, and that worked really well, so I was 4-5th at the bottom mark. On the second upwind I made too many mistakes, too much tacking and in the end I finished 3rd. But I was happy I came back from that 10th position. but not enough to win the Gold. I am happy with silver and there is one year to go until the Olympics. I remember in my last campaign I was winning everything the year before the Olympics and it didn't happen when it had to happen. I know what I have to practice."
Ironically while Bouwmeester has an English coach, van Acker's is from the Netherlands...
Again there was good news for the Brits in the Laser Radial. Charlotte Dobson finished the medal race second, leaving her four points from the podium, behind Ireland's talented but at present slightly up and down sailor, Annalise Murphy, who claimed the bronze. Alison Young almost made the medal race, and had a mixed set of results but which featured three bullets.
"It is good to come fourth and come so close to the medal, but hopefully I know what I need to do now to win a gold medal last year," Dobson told us. "This week feels like it has gone really well. I am really really pleased. Six months ago, windy sailing definitely wasn't a strength of mine and after a big winter in Australia it feels like I have made a lot of progress. It is good to see the results of the winter's training and hopefully the next couple of regattas we might get a couple of lighter days which I tend to prefer slightly. But it is great to know that a real weakness I have turned into a strength and to be mixing it around the medals. It has been fantastic."
At present there are four in the British Laser Radial squad (with Hannah Snellgrove finishing in 11th) who have been training together for the last three years. Dobson continues: "We just work on the basis that in the Laser there is no rig development stuff, there are no secrets...it is down to who executes on the day and who is the fittest, who is the strongest and who makes the best decisions, so I think it is a great set-up to have four boats in water you can always rely on. And Ali is SO fast in the breeze, she is a brilliant benchmark and it has been fantastic for me to sail against her."
But how to catch up with Bouwmeester and van Acker? "They look really dominant at the moment, but if you look around all the fleets, the dominant people flip around," says Dobson. "People can look absolutely impenetrable for a year and then next year after a bit of winter training everything flips around. The top three are a little bit ahead of everyone this week. They had a bit of pace to burn, so you have to keep working on your small process goals, keep working on all the things I know I need to improve upon and hopefully that should help."
Still it is a feather in the cap for Skandia Team GBR that they now appear to have competitive sailors and - dare we say it? - potential medallists, both in the Radial and the 470 Women, which did not seem to be the case a year ago.
As in the Laser, so in the 49er where no one seemed able to mess with favourite Nathan Outteridge and Iain Jensen's performance this week, a second place in the medal race leaving them 20 points clear of France's Stephane Christidis, who in Weymouth seemed to be sailing with Peter Hansen (isn't he Danish?) rather than his regular helm Manu Dyen (with whom he won Hyeres this year).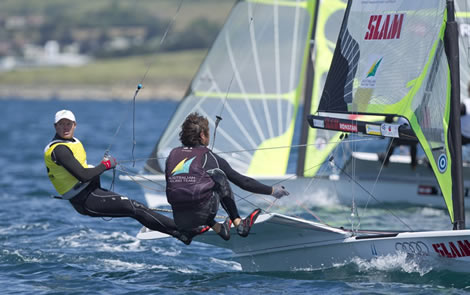 The 49er medal race was complicated by four boats being called OCS including Outteridge and Jensen (while the Sibellos, early leaders this week, scuppered their chances by not returning). "We got back into the mix," recounted Outteridge of their race. "We were seventh at the top mark and tried to stay away from the other boats and keep clear lanes and we got back to second, so we were pretty happy with that and a bit shocked as well! We had a bit of a bad start on the first day with some light winds and got caught out a few times, but since then we have kept them all in the top five or six, which is pretty hard to do in the 49er fleet."
Outteridge said they have enjoyed this week, but after such windy conditions, including a day of "survival" on Thursday, he feels they need more practice on Weymouth Bay in light conditions. Maybe this will come to pass in August for the Pre-Olympics/Test Event.
But the most jubilant in the 49er fleet today were Stevie Morrison and Ben Rhodes. Nippers John Pink and Rick Peacock were stand-out Brits all week until Friday when Morrison and Rhodes squeaked ahead of them by two points. A third place in the medal race, while Pink and Peacock finished seventh, was enough to keep Morrison and Rhodes ahead, and as well as taking the bronze medal at the regatta, it also gives them the berth at the Pre-Olympics/Test Event or in other words a first nod towards selection for London 2012. Impressively half the medal fleet in the 49er were Brit boats including other strong contenders such as Paul Brotherton/Mark Asquith and Chris Draper/Pete Greenhalgh.
More from Stevie Morrison next week...
In the Star Robert Scheidt/Bruno Prada and Freddie Loof/Max Salminen went into the medal race in the lead tied, but the Brazilians' third place to the Swede' sixth gave them gold. A fifth place was enough to keep Italians Diego Negri and Enrico Voltolini in the bronze spot, ahead of Poland's Mateusz Kusznierewicz and Dominik Zycki.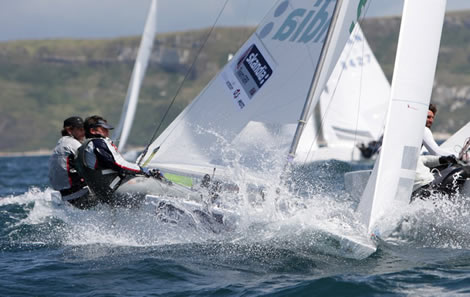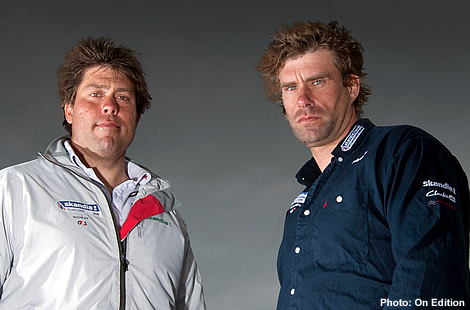 Iain Percy and Andrew Simpson came ashore having finished a disappointing fifth overall. After winning in Palma earlier this year, weren't they supposed to be in the chocolates this week? "We knew that people were coming into this event fully trained and we are just starting our campaign," explained a somewhat sheepish Percy. "The bottom line is that we haven't sailed in strong breeze really for five years probably apart from Holland last week, which was a struggle too, so you've just got to get that breeze pace back. We are pretty comfortable in the light, but it has blown all week and we have to work on it."
So a wake-up call? "I guess to an extent. We always knew that the others were in more of a trained state than us, but sometimes it is good to be punished. It has been thoroughly frustrating and painful having to slog out and not popping out into the front and battling for fifth and sixth. No one enjoys that. I think we knew we had a hell of a lot of work to do over the next five weeks going into the pre-Olympics and then over the next year. We knew we had to do it, but, sure, this is a bit of extra motivation. You have to remind yourself how good these guys are. They are solid professionals. This is serious stuff and you have to work your arse off if you want to be up there at the end.
"I personally find it very difficult to do one thing for four years. Our campaign, it is going to be a hard ramp in and it is going to have to be and now we have had an extra kick to make sure we work hard."
The three podium placers in the Star this week have all been training together on Lake Garda (where Schiedt now lives). "It is just form," Percy continues. "They are good in strong winds. Light winds in Palma, they weren't on their game at all, that is just what we've been used to. We have been training here in Weymouth a bit and not had any wind, just a sunny beautiful spring and then it pumps like hell when we get here!" In addition they had to spend the week prior to the regatta bedding in their new rig following their mast breakage in Medemblik.
In the Women's Match Racing it was the American team that proved dominant. Sally Barkow, Elizabeth Kratizig-Burnham and Alana O'Reilly recovered the form that took them so smoothly through the early rounds. They took the bronze medal from France's Claire Leroy, Elodie Bertrand and Marie Riou with a 2-0 sweep. It was not much different in the final, where Barkow's US compatriots, Anna Tunnicliffe, Molly Vendemoer and Debbie Capozzi swept imperiously past current World Champions and local favourites, Lucy Macgregor, Annie Lush and Kate Macgregor. Tunnicliffe and her team took the gold medal without the loss of a single race. It left the Brits with silver, sandwiched between the two US team in gold and bronze.
| | |
| --- | --- |
| | |
Tunnicliffe, the Laser Radial gold medallist from Beijing, commented: "In the first match we had a really good start, I just led her (Macgregor) off the line, we were able to extend our lead up the first beat, kind of just held on to that around the race course. We led off the line and we basically extended upwind. Then downwind the Brits were always going to close up the gap, and so they put some pressure on us at the leeward marks, but we stayed calm and we kept extending our lead. I think whenever you sail against the Brits they're such a great team you never really let your guard down, so it was close the whole time. We're very, very excited. We put a lot of work in and had a great week here in Weymouth."
There was more good news for the Brits in the RS:X, where the medal race belonged to Nick Dempsey, in second going in, who fought with overall leader New Zealander JP Tobin all the way round the course, eventually leaving all but Israel's Nimrod Mashiah in their wake. The points were so close it was a simple matter of winner takes all – and it was Dempsey who crossed the line just ahead of Tobin to take home gold, proving once again that he is king on Weymouth Bay, following his World Championship win here in 2009. Tobin had to settle for silver, and Dutchman Dorian van Rijsselberge secured bronze from the charging Israeli with a fourth place.
"It feels brilliant," said Dempsey. "We've had some pretty similar conditions most days so it's been immensely tight racing. JP and Dorian have been sailing amazingly, so I couldn't really put a foot wrong as they made it very difficult. But to finish off like that was amazing. That race is kind of what it's been like all week, so it's been tough but it's a really good result."
The RS:X Women saw a storming performance from Beijing bronze medallist Bryony Shaw. But Shaw hadn't done enough earlier in the week for her medal race win to get her anywhere near the podium – finishing eighth overall - and the real battle was fought behind her. The gold was decided between Poland's Zofia Klepacka and Spain's Marina Alabau - on equal points heading into the medal race. It went to Alabau with a solid second behind Shaw, Klepacka only managing a sixth to end up with silver. The bronze went to Israel's Lee Korzits, who beat Maja Dziarnowska by the one place she required to get third – the pair last and second to last...
The top sailors from each nation will be returning to Weymouth at the beginning of August for the Pre-Olympics/Test Event and we hope by that time they will have got the internet up to something faster than 1990s dial-up speed in the media centre.
Back to top
Laser Radials
| | | | | | | | | | | | | | | | |
| --- | --- | --- | --- | --- | --- | --- | --- | --- | --- | --- | --- | --- | --- | --- | --- |
| Pos | Nat | Helm | Q1 | Q2 | Q3 | Q4 | Q5 | Q6 | F1 | F2 | F3 | F4 | M | Tot | Net |
| 1 | NED | BOUWMEESTER Marit | 7 | 2 | 2 | 3 | 3 | 2 | 7 | 2 | 10 | -15 | 2 | 55 | 40 |
| 2 | BEL | VAN ACKER Evi | 4 | 2 | 3 | 3 | 10 | 1 | 4 | 3 | -32 | 14 | 6 | 82 | 50 |
| 3 | IRL | MURPHY Annalise | 33 | 4 | 1 | 2 | 1 | 1 | 13 | 1 | -37 | 1 | 12 | 106 | 69 |
| 4 | GBR | DOBSON Charlotte | 3 | 6 | 3 | 4 | 5 | 5 | 20 | 15 | -34 | 4 | 8 | 107 | 73 |
| 5 | FRA | DE TURCKHEIM Sophie | 1 | 5 | 18 | 6 | 2 | 7 | 1 | (DNC [47.0]) | 13 | 10 | DNFM [22.0] | 132 | 85 |
| 6 | SUI | BRUGGER Nathalie | 12 | 7 | 4 | 7 | 3 | 10 | -40 | 8 | 16 | 5 | 14 | 126 | 86 |
| 7 | | | | | | | | | | | | | | | |
| 8 | GBR | YOUNG Alison | 24 | 1 | 1 | 2 | 1 | 21 | -33 | 4 | 12 | 18 | 10 | 127 | 94 |
| 9 | SWE | OLSSON Josefin | 6 | 8 | 10 | 4 | 13 | 7 | 14 | 29 | -41 | 3 | 4 | 139 | 98 |
| 10 | NZL | WINTHER Sara | 6 | 8 | 10 | 10 | 15 | 11 | -34 | 5 | 5 | 21 | 16 | 141 | 107 |
| 11 | GER | GOLTZ Franziska | 1 | 3 | 22 | 12 | 5 | 10 | 8 | 10 | -26 | 20 | 18 | 135 | 109 |
| 12 | GBR | SNELLGROVE Hannah | 31 | 5 | 7 | 17 | 9 | 4 | -35 | 19 | 2 | 2 | - | 131 | 96 |
| 13 | FIN | MULTALA Sari | 3 | 1 | 6 | 5 | 2 | 5 | 29 | 23 | -35 | 23 | - | 132 | 97 |
| 14 | AUS | WEIR Krystal | 9 | 11 | 17 | 14 | 7 | 17 | 2 | 12 | 8 | -27 | - | 124 | 97 |
| 15 | USA | RAILEY Paige | 10 | 17 | 2 | 1 | 4 | 8 | 26 | -35 | 9 | 28 | - | 140 | 105 |
| 16 | CHN | XU Lijia | 2 | 10 | 11 | 10 | 10 | 3 | 24 | -39 | 3 | 33 | - | 145 | 106 |
| 17 | MEX | ELIAS CALLES Tania | 8 | 4 | 6 | (DSQ [47.0]) | 23 | 30 | 9 | 9 | 1 | 17 | - | 154 | 107 |
| 18 | BLR | DROZDOVSKAYA Tatiana | 11 | 10 | 7 | 9 | 20 | 14 | 6 | 24 | -29 | 8 | - | 138 | 109 |
| 19 | CZE | FENCLOVA Veronika | 17 | 3 | 13 | 21 | 9 | 3 | 16 | -31 | 17 | 12 | - | 142 | 111 |
| 20 | POL | DEBERNY Katarzyna | 9 | 16 | 5 | 15 | 8 | 6 | 28 | 14 | 20 | -35 | - | 156 | 121 |
| 21 | DEN | SCH�TT Maiken Foght | 5 | 16 | 12 | 8 | 17 | (BFD [47.0]) | 10 | 7 | 19 | 32 | - | 173 | 126 |
| 22 | ESP | CEBRIAN Alicia | 10 | 12 | 4 | 5 | 16 | 11 | -42 | 22 | 24 | 26 | - | 172 | 130 |
| 23 | ESP | REYES Lucia | 12 | 7 | 9 | 22 | 14 | 20 | 19 | -33 | 18 | 13 | - | 167 | 134 |
| 24 | CAN | BERTOLD Isabella | 33 | 15 | 16 | 1 | 6 | 9 | -44 | 18 | 33 | 6 | - | 181 | 137 |
| 25 | FRA | SARAH Steyaert | 7 | -27 | 15 | 19 | 19 | 15 | 15 | 27 | 15 | 7 | - | 166 | 139 |
| 26 | GER | FASSELT Lisa | 25 | 23 | -35 | 7 | 14 | 4 | 25 | 6 | 31 | 9 | - | 179 | 144 |
| 27 | DEN | LINDBERG Alberte Holm | 16 | 17 | 11 | 12 | 19 | 22 | 12 | 21 | 23 | -31 | - | 184 | 153 |
| 28 | DEN | RINDOM Anne-marie | 17 | 12 | 14 | 13 | 13 | 12 | 27 | 20 | 27 | -29 | - | 184 | 155 |
| 29 | AUS | KING Gabrielle | 21 | 19 | 14 | 13 | 16 | 9 | 32 | 13 | -43 | 19 | - | 199 | 156 |
| 30 | NZL | POWRIE Miranda | 22 | 14 | 26 | 14 | 8 | 6 | 17 | 40 | -45 | 11 | - | 203 | 158 |
| 31 | ITA | CLAPCICH Francesca | 8 | 29 | 29 | 26 | 21 | 19 | 5 | 11 | 11 | -40 | - | 199 | 159 |
| 32 | CAN | MERRY Claire | 14 | 22 | 8 | 19 | 4 | 15 | -39 | 26 | 14 | 38 | - | 199 | 160 |
| 33 | FIN | TENKANEN Tuula | 11 | 20 | 13 | 11 | 20 | 13 | 30 | 17 | 28 | -41 | - | 204 | 163 |
| 34 | CAN | ROSS Lisa | 16 | 13 | 16 | 28 | 28 | 22 | 3 | 32 | 7 | -43 | - | 208 | 165 |
| 35 | POL | SZYMCZYK Natalia | 38 | 6 | 9 | 9 | 11 | 16 | -45 | 43 | 25 | 16 | - | 218 | 173 |
| 36 | GER | HELBIG Anke | 25 | 9 | 25 | 16 | 6 | 8 | 31 | 30 | -38 | 24 | - | 212 | 174 |
| 37 | AUS | STODDART Ashley | 23 | 20 | 20 | 11 | 11 | 13 | 38 | 36 | 4 | -42 | - | 218 | 176 |
| 38 | NED | BLOM Claire | 32 | 19 | 20 | 8 | 12 | 2 | 18 | 38 | -40 | 30 | - | 219 | 179 |
| 39 | ARG | CARRANZA SAROLI Cecilia | 4 | 24 | 5 | (DSQ [47.0]) | 22 | 16 | 11 | 25 | 30 | 45 | - | 229 | 182 |
| 40 | LTU | SCHEIDT Gintare | 5 | 21 | 8 | 22 | 15 | (DNC [47.0]) | 23 | 16 | 39 | 39 | - | 235 | 188 |
| 41 | GBR | BREWSTER Andrea | -39 | 11 | 21 | 6 | 7 | 14 | 37 | 28 | 36 | 37 | - | 236 | 197 |
49ers
| | | | | | | | | | | | | | | | | | | | | |
| --- | --- | --- | --- | --- | --- | --- | --- | --- | --- | --- | --- | --- | --- | --- | --- | --- | --- | --- | --- | --- |
| Pos | Nat | Helm | Crew | Q1 | Q2 | Q3 | Q4 | Q5 | Q6 | F1 | F2 | F3 | F4 | F5 | F6 | F7 | F8 | M | Tot | Net |
| 1 | AUS | OUTTERIDGE Nathan | JENSEN Iain | -17 | 5 | 6 | 6 | 2 | 3 | 6 | 1 | 4 | 1 | 1 | 4 | 14 | 3 | 4 | 77 | 60 |
| 2 | FRA | CHRISTIDIS Stephane | HANSEN Peter | 7 | 3 | 13 | 1 | 1 | 10 | 8 | 9 | 2 | 6 | -25 | 5 | 1 | 6 | 8 | 105 | 80 |
| 3 | GBR | MORRISON Stevie | RHODES Ben | (33.0 BFD) | 8 | 5 | 4 | 1 | 1 | 18 | 14 | 1 | 5 | 11 | 8 | 3 | 5 | 6 | 123 | 90 |
| 4 | AUS | PHILLIPS Will | PHILLIPS Sam | -26 | 8 | 4 | 16 | 5 | 2 | 2 | 4 | 10 | 3 | 10 | 11 | 12 | 8 | 2 | 123 | 97 |
| 5 | GBR | PINK John | PEACOCK Rick | 8 | 5 | 1 | 1 | 6 | 2 | 15 | 5 | 5 | 11 | -19 | 13 | 7 | 7 | 14 | 119 | 100 |
| 6 | GBR | BROTHERTON Paul | ASQUITH Mark | 12 | 1 | 3 | 17 | 4 | 8 | 11 | -19 | 12 | 10 | 4 | 2 | 6 | 4 | 12 | 125 | 106 |
| 7 | GBR | DRAPER Chris | GREENHALGH Peter | 13 | 13 | 2 | 3 | 9 | 5 | 5 | 10 | 7 | 12 | -22 | 7 | 8 | 9 | 10 | 135 | 113 |
| 8 | GBR | EVANS Dave | POWYS Ed | 22 | (33.0 DNF) | 12 | 5 | 3 | 9 | 13 | 3 | 3 | 2 | 8 | 14 | 2 | 10 | 16 | 155 | 122 |
| 9 | FRA | D'ORTOLI Julien | DELPECH Noe | 1 | 6 | 6 | 4 | 3 | 14 | 16 | 8 | 18 | 4 | 9 | -21 | 21 | 1 | 18 | 150 | 129 |
| 10 | ITA | SIBELLO Pietro | SIBELLO Gianfranco | 2 | 1 | 2 | 2 | 8 | 3 | 17 | 11 | 16 | 8 | 18 | 1 | -24 | 19 | 22.0 OCSM | 154 | 130 |
| 11 | GBR | FLETCHER Dylan | SIGN Alain | 14 | 10 | 7 | 14 | (33.0 DNF) | 11 | 3 | 12 | 8 | 7 | 7 | 3 | 4 | 12 | - | 145 | 112 |
| 12 | NZL | BURLING Peter | TUKE Blair | (33.0 BFD) | 7 | 12 | 10 | 2 | 6 | 10 | 15 | 9 | 20 | 3 | 6 | 10 | 14 | - | 157 | 124 |
| 13 | AUT | DELLE KARTH Nico Luca Marc | RESCH Nikolaus Leopold | 2 | 2 | 5 | 11 | 6 | 22 | 12 | 16 | 14 | 13 | -23 | 10 | 15 | 2 | - | 153 | 130 |
| 14 | ESP | ALONSO Federico | ALONSO Arturo | 10 | 10 | 7 | 8 | 7.8 RDGaQ | 4 | 4 | 7 | -25 | 9 | 14 | 12 | 16 | 24 | - | 157.8 | 132.8 |
| 15 | DEN | WARRER Jonas | HANSEN Soren | 4 | 11 | 8 | 15 | 11 | 7 | 7 | -25 | 19 | 19 | 13 | 9 | 18 | 11 | - | 177 | 152 |
| 16 | JPN | MAKINO Yukio | TAKAHASHI Kenji | 3 | (33.0 DNF) | 10 | 9 | 7 | 14 | 9 | 18 | 6 | 23 | 16 | 17 | 11 | 15 | - | 191 | 158 |
| 17 | USA | STORCK Erik | MOORE Trevor | 11 | 11 | 8 | 13 | 18 | 4 | 1 | 13 | 13 | 14 | -24 | 22 | 17 | 17 | - | 186 | 162 |
| 18 | GER | SCHADEWALDT Tobias | BAUMANN Hannes | 15 | 2 | 9 | 3 | (33.0 DNC) | 1 | 23.0 RDG | 6 | 15 | 15 | 17 | 25 | 25 | 18 | - | 207 | 174 |
| 19 | GER | BRIESENICK-PUDENZ Lennart | MASSMANN Julian Morten | 1 | (33.0 DNF) | 13 | 2 | 9 | 15 | 19 | 17 | 21 | 21 | 2 | 24 | 13 | 23 | - | 213 | 180 |
| 20 | POR | LIMA Jorge | COSTA Jose | -27 | 17 | 16 | 11 | 5 | 7 | 21 | 2 | 17 | 18 | 12 | 19 | 19 | 20 | - | 211 | 184 |
| 21 | DEN | KRUGER ANDERSEN Peter | THORSELL Nicolai | 16 | 9 | 1 | 20 | 11.5 RDGaQ | 11.5 RDGaQ | (26.0 DSQ) | 23 | 11 | 22 | 20 | 20 | 9 | 16 | - | 216 | 190 |
| 22 | DEN | NORREGAARD Allan | LANG Peter | 18 | 19 | -27 | 12 | 7 | 5 | 23 | 22 | 20 | 16 | 5 | 18 | 5 | 21 | - | 218 | 191 |
| 23 | CRO | KOSTOV Pavle | CUPAC Petar | 6 | 15 | 3 | 21 | 14 | 10 | 14 | 20 | 22 | (26.0 DNC) | 15 | 15 | 20 | 22 | - | 223 | 197 |
| 24 | GER | RIEGER Max | RIEGER Moritz | 4 | 3 | 21 | 19 | 16 | 13 | 22 | 21 | 23 | 24 | 6 | 16 | 22 | -25 | - | 235 | 210 |
| 25 | POR | FREITAS Bernardo | ANDRADE Francisco | 10 | (33.0 DNF) | 15 | 17 | 8 | 6 | 20 | 24 | 24 | 17 | 21 | 23 | 23 | 13 | - | 254 | 221 |
Stars
| | | | | | | | | | | | | | | | | |
| --- | --- | --- | --- | --- | --- | --- | --- | --- | --- | --- | --- | --- | --- | --- | --- | --- |
| Pos | Nat | Helm | Crew | R1 | R2 | R3 | R4 | R5 | R6 | R7 | R8 | R9 | R10 | M | Tot | Net |
| 1 | BRA | SCHEIDT Robert | PRADA Bruno | 1 | 2 | 2 | 9 | 3 | 7 | 5 | 1 | (BFD [42.0]) | 2 | 6 | 80 | 38 |
| 2 | SWE | LOOF Fredrik | SALMINEN Max | 5 | 6 | 8 | 2 | 1 | 4 | 1 | 2 | (BFD [42.0]) | 3 | 12 | 86 | 44 |
| 3 | ITA | NEGRI Diego | VOLTOLINI Enrico | 9 | 14 | 4 | 12 | 5 | 6 | 3 | 8 | -23 | 1 | 10 | 95 | 72 |
| 4 | POL | KUSZNIEREWICZ Mateusz | ZYCKI Dominik | 2 | 1 | 7 | 6 | 6 | -26 | 10 | 3 | 12 | 22 | 8 | 103 | 77 |
| 5 | GBR | PERCY Iain | SIMPSON Andrew | 22 | 4 | 11 | 8 | 2 | 3 | 8 | 12 | (BFD [42.0]) | 6 | 4 | 122 | 80 |
| 6 | CAN | CLARKE Richard | BJORN Tyler | 3 | 16 | 14 | 14 | -25 | 1 | 2 | 6 | 17 | 18 | 14 | 130 | 105 |
| 7 | FRA | FLORENT Guillaume | RAMBEAU Pascal | 19 | 11 | 3 | 5 | 11 | 2 | 6 | 15 | -28 | 19 | 16 | 135 | 107 |
| 8 | USA | MENDELBLATT Mark | FATIH Brian | 13 | 5 | 6 | 25 | 9 | 8 | 17 | -31 | 19 | 13 | 2 | 148 | 117 |
| 9 | NZL | PEPPER Hamish | MONK Craig | 14 | 3 | 10 | 20 | 12 | 14 | 22 | 4 | -32 | 9 | 18 | 158 | 126 |
| 10 | POL | GRABOWSKI Maciej | LESINSKI Lukasz | -24 | 9 | 12 | 11 | 13 | 10 | 21 | 9 | 15 | 5 | DNFM [22.0] | 151 | 127 |
| 11 | SUI | MARAZZI Flavio | DE MARIA Enrico | 27 | 7 | 17 | 1 | 15 | 15 | 9 | 10 | (BFD [42.0]) | 16 | - | 159 | 117 |
| 12 | IRL | O'LEARY Peter | BURROWS David | 4 | 22 | 9 | 7 | 4 | 28 | 7 | 22 | (BFD [42.0]) | 20 | - | 165 | 123 |
| 13 | USA | SZABO George | STRUBE Mark | 8 | 10 | 13 | 19 | -23 | 21 | 23 | 21 | 7 | 7 | - | 152 | 129 |
| 14 | POR | LIMA Gustavo | BASILIO Rubrio | 7 | 24 | (DNC [42.0]) | 27 | 24 | 9 | 11 | 16 | 8 | 8 | - | 176 | 134 |
| 15 | USA | CAMPBELL Andrew | COLEMAN Ian | 10 | -26 | 15 | 18 | 19 | 19 | 19 | 7 | 26 | 4 | - | 163 | 137 |
| 16 | NOR | MELLEBY Eivind | MORLAND PEDERSEN Petter | 17 | 23 | 5 | 10 | 17 | 12 | 20 | 23 | (BFD [42.0]) | 10 | - | 179 | 137 |
| 17 | GER | SCHLONSKI Alexander | BOHN Matthias | 16 | 18 | 24 | 13 | 7 | 20 | 14 | -29 | 11 | 14 | - | 166 | 137 |
| 18 | AUT | SPITZAUER Hans | LOZLBAUER Adi | 23 | 13 | 1 | 17 | 8 | 13 | 26 | 11 | -31 | 30 | - | 173 | 142 |
| 19 | GER | STANJEK Robert | KLEEN Frithjof | 18 | 8 | 18 | 24 | 10 | 25 | 4 | 26 | -29 | 11 | - | 173 | 144 |
| 20 | USA | HORTON Andy | LYNE James | 12 | 27 | -28 | 21 | 18 | 16 | 18 | 13 | 10 | 12 | - | 175 | 147 |
| 21 | GER | BABENDERERDE Johannes | JACOBS Timo | 30 | -39 | 19 | 23 | 16 | 11 | 15 | 18 | 14 | 15 | - | 200 | 161 |
| 22 | FRA | ROHART Xavier | PONSOT Pierre Alexis | -36 | 30 | 33 | 3 | 21 | 5 | 12 | 30 | 1 | 34 | - | 205 | 169 |
| 23 | CRO | LOVROVIC Marin | MIKULICIC Sinisa | -39 | 21 | 25 | 4 | 14 | 29 | 16 | 5 | 25 | 32 | - | 210 | 171 |
| 24 | POR | DOMINGOS Afonso | MELO Frederico | 35 | 12 | 23 | (DNF [42.0]) | 22 | 24 | 13 | 17 | 2 | 25 | - | 215 | 173 |
| 25 | ESP | ECHAVARRI Fernando | RODRIGUEZ Fernando | 6 | 20 | 22 | 22 | (DNF [42.0]) | 27 | 24 | 20 | 6 | 35 | - | 224 | 182 |
| 26 | GER | POLGAR Johannes | KOY Markus | 15 | 29 | 26 | 15 | 20 | -32 | 28 | 25 | 3 | 24 | - | 217 | 185 |
| 27 | CRO | ARAPOV Mate | SITIC Ante | 11 | 15 | 21 | 16 | (DNC [42.0]) | 23 | 25 | 28 | 22 | 28 | - | 231 | 189 |
| 28 | BER | BROMBY Peter | WHITE Lee | 20 | 19 | 29 | (DNC [42.0]) | DNC [42.0] | 17 | 27 | 33 | 24 | 21 | - | 274 | 232 |
| 29 | NED | HEINER Roy | VAN DER HEIJDEN Gert | 28 | 25 | (DNC [42.0]) | DNC [42.0] | DNC [42.0] | 18 | 29 | 14 | 18 | 17 | - | 275 | 233 |
| 30 | USA | MACDONALD Andrew | NICHOL Brad | -38 | 17 | 32 | 34 | 29 | 36 | 30 | 24 | 5 | 33 | - | 278 | 240 |
| 31 | USA | MERRIMAN Rick | VON SCHWARZ John | 21 | 28 | 27 | 26 | 27 | 30 | 32 | 19 | (BFD [42.0]) | 36 | - | 288 | 246 |
| 32 | ESP | GARCIA-LAGO SOLER Fernando | TORO Jano | 29 | 33 | 20 | (DNF [42.0]) | 31 | 37 | 39 | 36 | 4 | 23 | - | 294 | 252 |
| 33 | JPN | SUZUKI Kunio | WADA Daichi | 31 | 35 | 16 | (DNC [42.0]) | DNC [42.0] | 38 | 35 | 32 | 9 | 27 | - | 307 | 265 |
| 34 | CRO | LOVROVIC Dan | LOVROVIC Marin | -37 | 31 | 34 | 30 | 28 | 34 | 34 | 27 | 30 | 29 | - | 314 | 277 |
| 35 | ARG | LABANDEIRA Julio | COSTA Martin | 33 | 34 | 31 | 32 | (DNF [42.0]) | 31 | 37 | 35 | 20 | 26 | - | 321 | 279 |
| 36 | SWE | CARLSON Philip | PETERSON Benjamin | 25 | 37 | 35 | 33 | (DNF [42.0]) | 35 | 38 | 34 | 16 | 31 | - | 326 | 284 |
| 37 | SUI | NIKLAUS Michel | HAGIN Vincent | 26 | (DNF [42.0]) | DNC [42.0] | 31 | 30 | 33 | 36 | 38 | 21 | 38 | - | 337 | 295 |
| 38 | IRL | TREACY Maxwell | SHANKS Anthony | 34 | 38 | 30 | 28 | 26 | 39 | 31 | (DNC [42.0]) | 27 | OCS [42.0] | - | 337 | 295 |
RS:X Men

| | | | | | | | | | | | | | | | |
| --- | --- | --- | --- | --- | --- | --- | --- | --- | --- | --- | --- | --- | --- | --- | --- |
| Pos | Nat | Sailor | Q1 | Q2 | Q3 | Q4 | Q5 | Q6 | F1 | F2 | F3 | F4 | M | Tot | Net |
| 1 | GBR | DEMPSEY Nick | 4 | 1 | -10 | 4 | 1 | 1 | 6 | 3 | 3 | 1 | 4 | 38 | 28 |
| 2 | NZL | TOBIN Jp | -6 | 2 | 1 | 1 | 5 | 2 | 4 | 2 | 2 | 4 | 6 | 35 | 29 |
| 3 | NED | VAN RIJSSELBERGE Dorian | 7 | 5 | 1 | 1 | 1 | 4 | 9 | 1 | DPI2 [3.0] | -14 | 8 | 54 | 40 |
| 4 | ISR | MASHIAH Nimrod | -11 | 8 | 4 | 2 | 2 | 1 | 10 | 7 | 11 | 3 | 2 | 61 | 50 |
| 5 | POL | MIARCZYNSKI Przemek | 4 | 4 | 2 | 7 | 3 | 3 | 3 | 14 | -22 | 8 | 10 | 80 | 58 |
| 6 | POL | MYSZKA Piotr Myszka | 1 | 1 | 12 | 9 | 7 | 8 | 1 | 6 | -18 | 2 | 14 | 79 | 61 |
| 7 | GRE | KOKKALANIS Byron | 3 | 6 | 6 | -9 | 4 | 3 | 7 | 8 | 7 | 5 | 16 | 74 | 65 |
| 8 | FRA | JULIEN Bontemps | 9 | 3 | 5 | 6 | 2 | 6 | 13 | -24 | 5 | 6 | 12 | 91 | 67 |
| 9 | NZL | ASHLEY Tom | 3 | 2 | 8 | 8 | 6 | 7 | -17 | 4 | 6 | 12 | 18 | 91 | 74 |
| 10 | ESP | PASTOR Ivan | 9 | 5 | 5 | 10 | 7 | 8 | 12 | -22 | 4 | 7 | OCSM [22.0] | 111 | 89 |
| 11 | GER | WILHELM Toni | 12 | 6 | 3 | 3 | 4 | 4 | 2 | 9 | -29 | 26 | - | 98 | 69 |
| 12 | POR | RODRIGUES Joao | 7 | 9 | 7 | 8 | 10 | 9 | 8 | -12 | 9 | 10 | - | 89 | 77 |
| 13 | POL | MAJEWSKI Micha | -32 | 10 | 6 | 5 | 6 | 5 | 14 | 19 | 10 | 9 | - | 116 | 84 |
| 14 | KOR | LEE Taehoon | 5 | 4 | 2 | 2 | 12 | 2 | -31 | 26 | 30 | 11 | - | 125 | 94 |
| 15 | CAN | PLAVSIC Zachary | 14 | -25 | 4 | 4 | 3 | 12 | 5 | 20 | 25 | 20 | - | 132 | 107 |
| 16 | ISR | ZUBARI Shahar | 19 | 7 | 12 | 12 | 12 | 9 | 16 | 13 | 12 | -25 | - | 137 | 112 |
| 17 | GBR | CARNEY Elliot | 13 | 12 | 18 | 7 | 13 | 19 | 11 | 5 | -27 | 18 | - | 143 | 116 |
| 18 | UKR | OBEREMKO Maksym | 10 | 7 | 7 | 6 | 8 | (OCS [44.0]) | 19 | 21 | 21 | 22 | - | 165 | 121 |
| 19 | FRA | LOUIS BENOIT Hug | 10 | 15 | 8 | 10 | 10 | 7 | 20 | -37 | 17 | 29 | - | 163 | 126 |
| 20 | FRA | LE GAL Nicolas | 15 | 11 | 18 | 13 | 16 | 14 | -22 | 11 | 15 | 13 | - | 148 | 126 |
| 21 | CYP | CARIOLOU Andreas | 15 | 18 | 9 | 5 | 5 | 6 | 27 | 18 | 26 | -34 | - | 163 | 129 |
| 22 | BRA | SANTOS Ricardo | 2 | 10 | 9 | 12 | 11 | (OCS [44.0]) | 21 | 10 | 31 | 27 | - | 177 | 133 |
| 23 | GRE | LEONETTI Stefanos | -25 | 16 | 15 | 16 | 17 | 16 | 18 | 16 | 16 | 15 | - | 170 | 145 |
| 24 | ARG | MARIANO Reutemann | 17 | -32 | 14 | 14 | 11 | 13 | 26 | 23 | 13 | 17 | - | 180 | 148 |
| 25 | RUS | POLISCHUK Dmitry | 31 | 21 | 3 | 3 | 8 | 5 | -39 | 15 | 36 | 32 | - | 193 | 154 |
| 26 | FRA | GAVERIAUX Martin | 11 | 13 | 21 | 17 | 20 | 21 | 15 | -25 | 14 | 24 | - | 181 | 156 |
| 27 | FRA | TILLIER Benjamin | 16 | 9 | 13 | 11 | 13 | 10 | DPI2 [31.0] | -36 | 24 | 31 | - | 194 | 158 |
| 28 | CHN | WANG Aichen | 19 | 14 | 16 | 18 | 15 | 15 | -36 | 28 | 20 | 16 | - | 197 | 161 |
| 29 | HUN | G�DORFALVI �ron | 8 | 13 | 24 | 21 | 9 | 11 | 34 | 35 | 8 | -38 | - | 201 | 163 |
| 30 | POL | W�JCIK Maksymilian | 18 | 19 | 17 | 17 | 16 | 13 | 24 | -30 | 19 | 28 | - | 201 | 171 |
| 31 | ESP | MORENO Juan Manuel | 2 | 11 | 14 | 16 | 15 | 15 | 33 | 33 | 35 | (BFD [44.0]) | - | 218 | 174 |
| 32 | FRA | LHUILLIER Maxime | 24 | 19 | 11 | 15 | 14 | 16 | 28 | -39 | 28 | 19 | - | 213 | 174 |
| 33 | FRA | PIERRE Le Coq | 8 | 8 | 22 | 22 | 28 | 22 | 23 | 27 | -34 | 23 | - | 217 | 183 |
| 34 | HKG | LEUNG Ho Tsun | 22 | 18 | 13 | 15 | 18 | 14 | -40 | 29 | 33 | 30 | - | 232 | 192 |
| 35 | SUI | STAUFFACHER Richard | 18 | 17 | 11 | (BFD [44.0]) | 9 | 10 | 30 | 17 | DNS [44.0] | DNS [44.0] | - | 244 | 200 |
| 36 | NOR | WANG-HANSEN Sebastian | -36 | 27 | 16 | 13 | 14 | 18 | 25 | 31 | 23 | 36 | - | 239 | 203 |
| 37 | KOR | CHO Wonwoo | 20 | 29 | 10 | 11 | 18 | 17 | 37 | 38 | -41 | 33 | - | 254 | 213 |
| 38 | ITA | ESPOSITO Federico | 5 | 26 | 19 | 27 | 19 | 19 | 32 | -41 | 39 | 39 | - | 266 | 225 |
| 39 | JPN | TOMIZAWA Makoto | 14 | 39 | 15 | 14 | 19 | 11 | -42 | 42 | 38 | 37 | - | 271 | 229 |
| 40 | CZE | LAVICKY Karel | 38 | 22 | 22 | 20 | 20 | 21 | 38 | 32 | -40 | 21 | - | 274 | 234 |
RS:X Women

Pos
Nat
Sailor
Q1
Q2
Q3
Q4
Q5
Q6
F1
F2
F3
F4
M
Tot
Net
1
ESP
ALABAU Marina
2
2
2
2
4
7
3
1
-14
10
4
51
37
2
POL
KLEPACKA Zofia
8
3
6
1
1
4
-9
6
1
3
12
54
45
3
ISR
KORZITS Lee
10
4
1
1
2
1
8
3
-25
18
18
91
66
4
POL
DZIARNOWSKA Maja Dziarnowska
10
9
5
6
5
2
2
2
5
-25
20
91
66
5
FRA
CHARLINE Picon
1
2
9
3
11
11
7
-12
11
8
6
81
69
6
ESP
MANCHON Blanca
1
1
3
8
12
4
(OCS [31.0])
9
12
9
10
100
69
7
UKR
MASLIVETS Olga
-14
12
4
9
7
13
1
11
4
4
8
87
73
8
GBR
SHAW Bryony
9
9
4
5
5
2
6
(OCS [31.0])
20
13
2
106
75
9
FRA
RICARD Eugenie
5
1
8
5
9
13
-23
18
7
12
14
115
92
10
FRA
RAMBAUD Marine
5
4
7
17
(DSQ [31.0])
11
11
19
3
2
16
126
95
11
CAN
GIRKE Nikola
19
14
1
8
1
3
5
4
-27
27
-
109
82
12
CHN
LI Ling
16
16
12
2
RDG [1.0]
1
14
13
-19
15
-
109
90
13
GER
DELLE Moana
2
7
13
10
13
10
21
-25
8
6
-
115
90
14
POL
HLAVATY Marta
14
11
7
12
13
5
13
5
-15
11
-
106
91
15
HKG
CHAN Hei Man
3
14
16
4
10
7
15
10
13
-26
-
118
92
16
NZL
KOSINSKA Natalia
6
7
9
16
15
16
17
-21
6
1
-
114
93
17
CHN
CHEN Qiubin
22
19
3
4
6
6
10
7
-24
17
-
118
94
18
FRA
PERRIN Pauline
4
10
8
7
8
8
18
17
-21
16
-
117
96
19
CHN
CHEN Peina
7
6
12
9
14
14
22
-28
10
5
-
127
99
20
POL
BRYGOLA Agata
3
6
10
14
14
17
16
15
-22
7
-
124
102
21
HKG
CHAN Wai Kei
16
12
13
11
12
12
12
14
2
-19
-
123
104
22
NZL
WILLIAMS Steffanie
26
24
2
7
4
8
4
8
26
-29
-
138
109
23
ITA
TARTAGLINI Flavia
11
5
15
12
6
5
20
16
-28
22
-
140
112
24
AUS
CRISP Jessica
7
8
16
16
7
9
(OCS [31.0])
20
16
21
-
151
120
25
CHN
HUANG Yue
13
8
22
25
10
10
-27
27
9
14
-
165
138
26
BRA
FREITAS Patricia
6
3
17
18
20
15
24
(DPI2 [26.0])
17
20
-
166
140
27
FIN
PETAJA Tuuli
11
18
14
18
9
9
-26
22
18
24
-
169
143
28