Skandia Sail for Gold part 1
Taking place on Weymouth Bay, next year's Olympic venue, this week's Skandia Sail for Gold has been the most important regatta of this Olympic cycle so far, featuring more competitors than even the Perth 2011 multiple world championship will see in December. Aside from Italy, that has already chosen its sailors for the Games next year, most nations were using it as a key component of their selection process and it was pretty much the first time this year that all the big guns across all the classes were present on the race course. While the competition is very different from the Olympic Games - which is one competitor per nation per class - the regatta was also the best form-indicator yet, 14 months out from the main event.
We found ourselves constantly drawn back to the inter-Brit competition within a competition, as the winners at Skandia Sail for Gold had been promised a berth in August's Pre-Olympic regatta/Test Event and also, without doubt, an initial hint towards who might be selected for next year. After three years (or more) of the sailors working up to this moment, there was a huge amount at stake.
The most dramatic race today was perhaps deliberately left until last, with Ben Ainslie aggressively defending his 16 point lead in the Finn, by performing a similar stunt to his famous final race at the Sydney Games against Robert Scheidt. Today's unfortunate recipient of being match raced around the course was Ainslie's own Skandia Team GBR Finn squad member, Giles Scott. But with a 16 point lead (the same as Outteridge/Jensen in the 49er and Aleh/Powrie in the 470 Women), where effectively Scott would have had to have won and Ainslie finished ninth, to topple him, were such hardcore tactics really necessary?
"I think so," Ainslie told us. "You never know with those medal races. Anything can happen and Giles is obviously a fantastic sailor and he is more than capable of going out and winning a race like that and if you make a mistake, then all of a sudden things don't look so comfortable. Sometimes it is necessary, but he put up a great fight and it was very close."
But it wasn't as if this came out of the blue to Scott as he was roundly raced around the course, escaping on the runs, including one big luff on the last, Ainslie ensuring he picked up no extra places. Presumably time on the World Match Racing Tour paid off for Ainslie today. "It certainly helped for sure! It is very different in boats like this, because they are so manoeuvrable that you can get out of trouble really easily. It is hard to give someone a hard time and stop them in their tracks," Ainslie told us.
Through these antics, Scott, 11 points ahead of Ivan Kljakovic Gaspic going into today's medal, came perilously close to losing his silver. Fortunately Gaspic failed to finish the necessary seven boats ahead. The medal race ended up being won by World Champion Ed Wright, who finished six points off the podium in fourth.
In the 470 classes there were two surprise British results. While Luke Patience and Stuart Bithell have been the top Men's team in the UK pretty much since their shock second place at the 2009 World Championship, just days after they first started to sail together, it was the new pairing (as of this spring) of double Olympic silver medallist Nick Rogers and Chris Grube (aka Twiggy), that came from behind this week. Patience and Bithell sailed a, for them, very average last couple of days allowing Rogers and Grube to slip past them, a major blow to their campaign.
"The first part of the event is about keeping yourself in the frame, and then yesterday we finally got our act together and started really sailing as well as we could. So it has come together really well," Rogers told us.
Rogers and Grube have certainly benefitted from having the Beijing Gold medallist helm Nathan Wilmot as their coach. But even given Rogers' pedigree in the 470, achieving so much in just three months has been impressive. "It has been hard and we haven't always moved forwards, that's for sure," Rogers admits. "There were some key lessons we had to learn in Palma particularly. But I am really pleased. Today was a real show at dealing with pressure and as a team Twiggy and I are happy with that. We stayed focussed on the job and we are both over the moon."
The question for Rogers' team now is – having self-funded their campaign to date (just like ye olde days), when will they start to see some money from the lottery?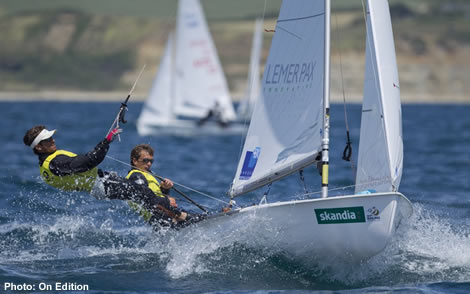 Elsewhere in the Men's 470 fleet, France's Pierre Leboucher and Vincent Garos (above), winners this year in Hyeres and of last year's Skandia Sail For Gold, were the decisive victors this week, also claiming the medal race. Australian World Champions Mat Belcher and Malcolm Page were nailed on the first beat and they ended finishing last, but fortunately this didn't affect their silver and the Australians are already feeling comfortable as they have got confirmation of their berth next year at the Olympics following their victory at the Delta Lloyd Regatta.
"We came here to keep an eye on our competitors and to see where we're at," said Belcher. "We seemed to be racing quite well. We didn't think we were as quick upwind as the French. The French are sailing very well, their team dynamics and picking the shifts. It is good to be here and understand the conditions and we are looking forward to the Test Event."
However there was change on the bottom rung of the podium with Israeli veteran Gideon Kliger and Eran Sela coming home ninth, allowing Greece's Panagiotis Mantis and Pavlos Kagialis to take bronze, and moving Rogers and Grube, who came home in second place, up to fourth.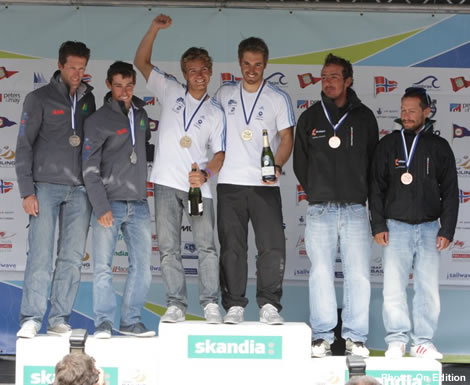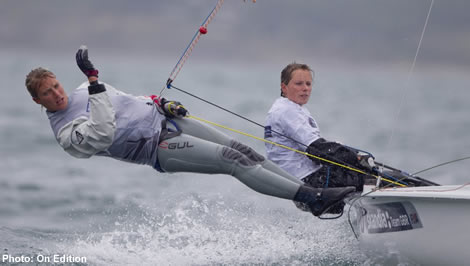 The Brit story has been similar in the 470 Women, where after Penny Clark and Katrina Hughes posted some good results at the beginning of this year, the new pairing of Hannah Mills and Saskia Clark have powered through at the last minute, today managing to pull up from bronze to the silver spot behind New Zealand's Jo Aleh and Olivia Powrie.
"We did have a strategy, but it was really gusty and hard to see the subtleties of the gusts," admitted Clark of today's race. "Off the start it was under control and the Israelis sailed underneath and around us on a bit of a gust and a lift that we didn't get, so we were nowhere at the windward mark. But we have been fast downwind all week, so downwind we got back in the fight. We rounded the leeward mark on their tail and then we got a nice lift around her up the second beat and it was under control from then onwards. But it was still a bit nerve wracking!"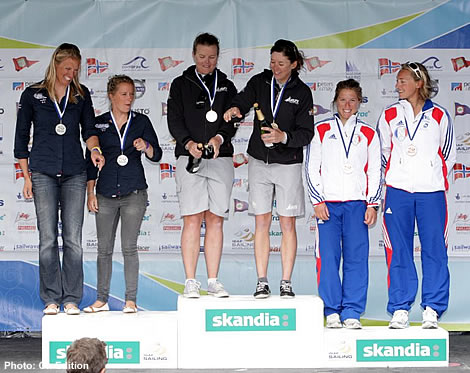 470 Women's winner Jo Aleh, who moved into the 470 for this Olympic cycle after going to Beijing in the Radial, this year has won all the regattas she has sailed in and this was despite her crew Olivia Powrie breaking her collar bone when she fell off her mountain bike, just four days before they were due to leave NZ for Princess Sofia. Impressively Aleh won in Palma and also the subsequent Spring Cup in France with a replacement crew...
"It was our first regatta together again after three or four months," Aleh told us. "We came here after a break, so we were a bit rusty at the beginning and it took a bit to get going, but it came right at the end." Aleh admits that due to the conditions they typically train in in New Zealand they are better in a breeze, which helped this week. They will be back for the Pre-Olympic/Test Event in August and will be racing at Perth 2011 ISAF World Championships in December after which Aleh says they will have their selection confirmed.
Paul Goodison, who went to into the Laser medal race assured of bronze at least, was seething when he came ashore today. He said there was contact between him and race leader Tom Slingsby just prior to the start that the umpires failed even to acknowledge. As he described it: "With about 20 seconds to go, it looked like there was going to be an incident between Tom and the Kiwi [Andrew Murdoch] and they left a little bit of space underneath, so I decided that this was my opportunity, because I decided I wanted to win - a second wasn't going to be any better than third - so I went underneath, I hooked him [Slingsby], he bore away to try and close the gap on me, and we just touched and it didn't get flagged and the jury were just oblivious to it. I am very very frustrated with how they reacted with it. We didn't even get a green flag. That made me a couple of seconds late messing about getting protests flags out from under my bib and I just missed the start by a second and in the end of the day the wind went left and I got forced out to the right and it was all over then. So I am pretty disappointed by today."
The job may be done, but for Goodison it has been a tough week in general, not least because his team mate Nick Thompson took the lead overall on Wednesday. "Nick started out fantastically, which piled on the pressure even more. It was hard for me not just to fire into the corners and really start to push things, but I held it together and kept sailing the way I normally sail and it was only a matter of time before people got found out and I got it right. So I am really pleased with how I sailed in the finals."
Goodison also observed that the course area they were sailing on this week was typically a lot further south than where he believed the Olympic course for the Lasers would be (although we understand from Rod Carr - read about this here - that unlike previous Games, classes won't be assured of racing on just one course next year).
"I've done very little sailing on the course area we raced on this week. We always thought the Olympic courses were a bit further north, so that is a good thing to know, and I'll be building that into my training for the next couple of months."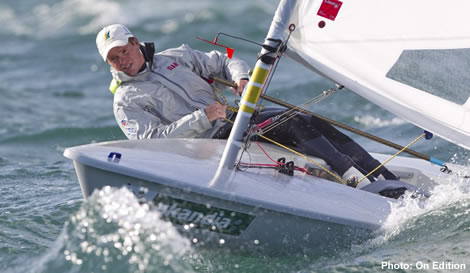 In the end, as expected, Australian Tom Slingsby was the class act in the Lasers this week, posting three bullets over the course of the series, with a second place today ending his regatta in the gold position, 16 points clear of Andrew Murdoch.
Continued in part 2 here

Back to top
Finn
| | | | | | | | | | | | | | | | |
| --- | --- | --- | --- | --- | --- | --- | --- | --- | --- | --- | --- | --- | --- | --- | --- |
| Pos | Nat | Helm | R1 | R2 | R3 | R4 | R5 | R6 | R7 | R8 | R9 | R10 | M | Tot | Net |
| 1 | GBR | AINSLIE Ben | 2 | -7 | 1 | 1 | 1 | 1 | 6 | 4 | 1 | 5 | 20 | 49 | 42 |
| 2 | GBR | SCOTT Giles | 6 | 3 | -9 | 3 | 2 | 2 | 4 | 9 | 8 | 1 | 18 | 65 | 56 |
| 3 | CRO | KLJAKOVIC GASPIC Ivan | 3 | 2 | 5 | 6 | 4 | 8 | -22 | 2 | 13 | 6 | 8 | 79 | 57 |
| 4 | GBR | WRIGHT Ed | 9 | 18 | 4 | 9 | 6 | -23 | 3 | 1 | 3 | 8 | 2 | 86 | 63 |
| 5 | DEN | HOGH-CHRISTENSEN Jonas | 4 | 4 | 12 | 2 | -23 | 4 | 12 | 6 | 6 | 12 | 14 | 99 | 76 |
| 6 | NZL | SLATER Dan | 1 | 1 | 10 | 10 | 5 | 9 | 10 | 17 | 2 | -23 | 12 | 100 | 77 |
| 7 | FRA | LOBERT Jonathan | 8 | 12 | 18 | 5 | 8 | 3 | 2 | -27 | 10 | 2 | 10 | 105 | 78 |
| 8 | GBR | MILLS Andrew | 15 | 5 | 6 | 8 | 16 | 12 | 5 | 7 | -31 | 13 | 6 | 124 | 93 |
| 9 | SWE | BIRGMARK Daniel | RDGa [10.4] | 19 | -20 | 13 | 11 | 11 | 7 | 3 | 5 | 7 | 16 | 122.4 | 102.4 |
| 10 | USA | RAILEY Zach | 5 | 17 | 13 | 4 | 3 | 21 | -28 | 20 | 7 | 9 | 4 | 131 | 103 |
| 11 | ESP | TRUJILLO Rafael | 16 | -22 | 11 | 19 | 14 | 6 | 1 | 16 | 20 | 4 | - | 129 | 107 |
| 12 | GBR | ANDREWS Mark | 7 | 11 | 7 | 12 | 15 | 24 | 18 | 10 | -32 | 3 | - | 139 | 107 |
| 13 | NED | POSTMA Pieter-Jan | 23 | 13 | 2 | 14 | 13 | 7 | 9 | 15 | 17 | -30 | - | 143 | 113 |
| 14 | FRA | LE BRETON Thomas | 21 | 9 | 8 | -28 | 10 | 13 | 14 | 13 | 15 | 18 | - | 149 | 121 |
| 15 | SLO | VINCEC Gasper | 18 | 14 | 3 | 16 | 7 | 19 | -24 | 14 | 23 | 10 | - | 148 | 124 |
| 16 | SLO | ZBOGAR Vasilij | 10 | 6 | 14 | -30 | 12 | 17 | 21 | 11 | 19 | 14 | - | 154 | 124 |
| 17 | FIN | NIRKKO Tapio | 19 | 15 | 19 | 7 | 20 | 25 | -30 | 22 | 12 | 24 | - | 193 | 163 |
| 18 | USA | PAINE Caleb | 24 | 25 | 22 | 22 | 17 | 15 | 19 | 12 | 14 | -29 | - | 199 | 170 |
| 19 | SWE | TILLANDER Johan | 28 | 16 | 30 | 11 | 9 | 14 | 16 | -31 | 22 | 28 | - | 205 | 174 |
| 20 | GER | KURFELD Jan | 33 | 30 | 27 | 23 | 24 | 5 | 15 | 8 | -36 | 15 | - | 216 | 180 |
| 21 | SWE | ALLANSSON Bjorn | -32 | 24 | 15 | 21 | 27 | 18 | 13 | 26 | 27 | 11 | - | 214 | 182 |
| 22 | EST | KARPAK Deniss | 30 | 10 | (BFD [60.0]) | 33 | 18 | 16 | 8 | 5 | 4 | DSQ [60.0] | - | 244 | 184 |
| 23 | AUS | TWEDDELL Oliver | 26 | 27 | 26 | 17 | 22 | 10 | -36 | 19 | 18 | 21 | - | 222 | 186 |
| 24 | AUS | CASEY Brendan | 12 | 23 | (BFD [60.0]) | 15 | 21 | 29 | 11 | 21 | 41 | 16 | - | 249 | 189 |
| 25 | NED | HAGOORT Timo | 13 | 20 | 31 | 25 | -38 | 27 | 29 | 24 | 26 | 20 | - | 253 | 215 |
| 26 | NZL | COUTTS Matt | 36 | 8 | 16 | 20 | 19 | -38 | 17 | 29 | 38 | 34 | - | 255 | 217 |
| 27 | ITA | BALDASSARI Filippo | 20 | 37 | 17 | 27 | 26 | 20 | 32 | 33 | 16 | -41 | - | 269 | 228 |
| 28 | POL | SZUKIEL Rafal | 25 | 28 | 24 | 24 | 29 | 26 | 26 | -32 | 24 | 22 | - | 260 | 228 |
| 29 | GER | MILLER Matthias | -41 | 21 | 23 | 26 | 32 | 28 | 25 | 25 | 33 | 19 | - | 273 | 232 |
| 30 | BRA | ZARIFF Jorge | 11 | 31 | 25 | 34 | 31 | 30 | 23 | 28 | -47 | 27 | - | 287 | 240 |
| 31 | CAN | DOUGLAS Greg | 22 | 26 | 28 | 18 | 45 | 22 | 34 | 18 | 34 | -48 | - | 295 | 247 |
| 32 | AUT | RAUDASCHL Florian | 27 | 29 | 38 | 38 | 42 | 32 | 20 | (DNF [60.0]) | 9 | 25 | - | 320 | 260 |
| 33 | RUS | SELIVANOV Alexey | 31 | 32 | 29 | 39 | -43 | 34 | 39 | 39 | 11 | 31 | - | 328 | 285 |
| 34 | POL | KULA Piotr | 14 | (DNF [60.0]) | 21 | 29 | 39 | 35 | 41 | DSQ [60.0] | 35 | 17 | - | 351 | 291 |
| 35 | CZE | VIKA Tomas | 34 | 34 | 32 | 32 | 34 | -36 | 35 | 34 | 28 | 32 | - | 331 | 295 |
| 36 | AUS | MCMILLAN Rob | 47 | 39 | 34 | 40 | 28 | 39 | (DSQ [60.0]) | 23 | 30 | 38 | - | 378 | 318 |
| 37 | CAN | ROBITAILLE Martin | 40 | 36 | 36 | 31 | 25 | (DPI2 [44.0]) | 38 | 37 | 44 | 35 | - | 366 | 322 |
| 38 | SUI | CHRISTEN Christoph | -50 | 43 | 37 | 44 | 36 | 40 | 37 | 41 | 21 | 26 | - | 375 | 325 |
| 39 | CAN | WILTON Brendan | 39 | 35 | 33 | 42 | 33 | 33 | 27 | 44 | -48 | 40 | - | 374 | 326 |
| 40 | USA | LAWRENCE Luke | 29 | (DNF [60.0]) | DNC [60.0] | 36 | 41 | 31 | 33 | 30 | 29 | 42 | - | 391 | 331 |
470 Men
| | | | | | | | | | | | | | | | | |
| --- | --- | --- | --- | --- | --- | --- | --- | --- | --- | --- | --- | --- | --- | --- | --- | --- |
| Pos | Nat | Helm | Crew | Q1 | Q2 | Q3 | Q4 | Q5 | Q6 | F1 | F2 | F3 | F4 | M | Tot | Net |
| 1 | FRA | PIERRE Leboucher | VINCENT Garos | 6 | 1 | 4 | 6 | 7 | 1 | 1 | -13 | 9 | 1 | 2 | 51 | 38 |
| 2 | AUS | BELCHER Mathew | PAGE Malcolm | -17 | 1 | 7 | 2 | 1 | 1 | 8 | 15 | 3 | 3 | 20 | 78 | 61 |
| 3 | GRE | MANTIS Panagiotis | KAGIALIS Pavlos | 5 | 9 | 1 | 9 | 4 | 10 | 13 | 7 | 6 | -22 | 8 | 94 | 72 |
| 4 | GBR | ROGERS Nicholas | GRUBE Chris | 10 | 5 | 6 | 15 | 2 | 6 | -21 | 14 | 4 | 9 | 4 | 96 | 75 |
| 5 | ISR | KLIGER Gideon | SELA Eran | 1 | 7 | 7 | 14 | 2 | 3 | 18 | 2 | -30 | 6 | 18 | 108 | 78 |
| 6 | GBR | PATIENCE Luke | BITHELL Stuart | 4 | 13 | 8 | 5 | 3 | 5 | 10 | 17 | 15 | -19 | 6 | 105 | 86 |
| 7 | ESP | BARREIROS Onan | SARMIENTO Aaron | 1 | 12 | 2 | -30 | 4 | 8 | 7 | 12 | 17 | 15 | 10 | 118 | 88 |
| 8 | POR | MARINHO Alvaro | NUNES Miguel | 3 | 4 | 13 | 4 | 8 | 6 | 11 | 16 | -39 | 13 | 12 | 129 | 90 |
| 9 | SWE | DAHLBERG Anton | OSTLING Sebastian | 9 | 2 | 1 | 8 | 3 | 2 | 22 | 5 | -36 | 30 | 16 | 134 | 98 |
| 10 | NZL | SNOW-HANSEN Paul | SAUNDERS Jason | 16 | 17 | 4 | 16 | 1 | 4 | 4 | 21 | -33 | 4 | 14 | 134 | 101 |
| 11 | FRA | CHARBONNIER Nicolas | MION Jeremie | 15 | 7 | 3 | 7 | 17 | 7 | 2 | 9 | 21 | -24 | - | 112 | 88 |
| 12 | GRE | KAMPOURIDIS Panagiotis | PAPADOPOULOS Efstathios | 7 | 16 | 5 | 26 | 5 | 3 | -37 | 3 | 11 | 14 | - | 127 | 90 |
| 13 | CRO | FANTELA Sime | MARENIC Igor | 2 | 3 | 5 | 11 | 9 | 18 | 17 | 22 | -29 | 7 | - | 123 | 94 |
| 14 | GER | WAGNER Jasper | BOLDUAN Tobias | 20 | 2 | 17 | 20 | 9 | 15 | 9 | 11 | 2 | -28 | - | 133 | 105 |
| 15 | GBR | SAXTON Ben | KOHLER David | 12 | 6 | 8 | 10 | 7 | 14 | 14 | 29 | 7 | -38 | - | 145 | 107 |
| 16 | ARG | CALABRESE Lucas | DE LA FUENTE Juan | 9 | 3 | 2 | 13 | 10 | 9 | 28 | 27 | 8 | -37 | - | 146 | 109 |
| 17 | ITA | ZANDONA Gabrio | ZUCCHETTI Pietro | 18 | 21 | 15 | 10 | 5 | 8 | 19 | 1 | 14 | -27 | - | 138 | 111 |
| 18 | JPN | HARADA Ryunosuke | YOSHIDA Yugo | 5 | 21 | 19 | 3 | 19 | 12 | -32 | 20 | 1 | 12 | - | 144 | 112 |
| 19 | GBR | ASHER Nic | WILLIS Elliot | 4 | 10 | 11 | 7 | (DSQ [40.0]) | 5 | 6 | 10 | 24 | 36 | - | 153 | 113 |
| 20 | NED | LE FEVRE Steven | KROL Steven | 2 | 14 | 11 | 13 | 10 | 7 | -39 | 18 | 22 | 23 | - | 159 | 120 |
| 21 | FIN | LINDGREN Joonas | LINDGREN Niklas | 7 | 6 | 10 | 9 | 32 | 16 | 5 | -33 | 10 | 26 | - | 154 | 121 |
| 22 | NED | COSTER Sven | COSTER Kalle | 13 | 24 | 3 | 1 | 26 | 14 | -31 | 6 | 16 | 21 | - | 155 | 124 |
| 23 | FRA | BOUVET Sofian | GUILLARM Vincent | 26 | 4 | 9 | 14 | 12 | 13 | 3 | -35 | 34 | 11 | - | 161 | 126 |
| 24 | JPN | MATSUNAGA Tetsuya | IMAMURA Kimihiko | 15 | 15 | 23 | 21 | 6 | 11 | 24 | -36 | 18 | 2 | - | 171 | 135 |
| 25 | USA | MCNAY Stuart | BIEHL Graham | 3 | 8 | 12 | 11 | 16 | 22 | -26 | 23 | 20 | 20 | - | 161 | 135 |
| 26 | SUI | BRAUCHLI Yannick | HAUSSER Romuald | 20 | 13 | 23 | -36 | 8 | 17 | 23 | 4 | 13 | 16 | - | 173 | 137 |
| 27 | AUT | SCHMID Matthias | REICHSTÄDTER Florian | 24 | 19 | 14 | 8 | 11 | 2 | 12 | 37 | 12 | -39 | - | 178 | 139 |
| 28 | GER | GERZ Ferdinand | PATRICK Follmann | 25 | 20 | 13 | 1 | 14 | 9 | -35 | 8 | 25 | 29 | - | 179 | 144 |
| 29 | AUS | KIVELL Sam | RYAN Will | 13 | 23 | 27 | 3 | 6 | 12 | 20 | 24 | -32 | 18 | - | 178 | 146 |
| 30 | GBR | SPARKS Philip | MASON Richard | 22 | 12 | 10 | 30 | 25 | 17 | -33 | 19 | 5 | 8 | - | 181 | 148 |
| 31 | KOR | PARK Gunwoo | CHO Sungmin | 14 | 22 | 9 | 6 | 18 | 10 | 34 | -38 | 26 | 10 | - | 187 | 149 |
| 32 | GER | ZEPUNTKE Daniel | BALDEWEIN Dustin | 8 | 22 | 14 | 19 | 14 | 19 | 25 | -26 | 19 | 17 | - | 183 | 157 |
| 33 | GER | ZELLMER Lucas | SEELIG Heiko | 10 | 11 | 17 | 17 | 20 | 15 | 16 | 28 | 23 | -32 | - | 189 | 157 |
| 34 | SUI | BUHLER Matias | BRUGGER Simon | 8 | 11 | 21 | 4 | 15 | 27 | -30 | 25 | 28 | 25 | - | 194 | 164 |
| 35 | SWE | MOLUND Johan | RAHM Mattias | 11 | 10 | 25 | 15 | 11 | 29 | 15 | -39 | 27 | 31 | - | 213 | 174 |
| 36 | SWE | BERGSTROM Victor | DACKHAMMAR Marcus | 19 | 35 | 12 | 17 | 19 | 4 | -38 | 34 | 31 | 5 | - | 214 | 176 |
| 37 | RUS | CHAUS Vladimir | GRIBANOV Denis | 22 | 8 | 22 | 2 | 24 | 26 | 27 | 31 | -37 | 35 | - | 234 | 197 |
| 38 | GER | BOGACKI Morten | STEINBORN Jens | 23 | 5 | 6 | 16 | 12 | 36 | 36 | 30 | -38 | 33 | - | 235 | 197 |
| 39 | USA | ROBERTS Adam | MARTIN Nick | 18 | 23 | 15 | 31 | 13 | 16 | 29 | 32 | -35 | 34 | - | 246 | 211 |
470 Women

| | | | | | | | | | | | | | | | | |
| --- | --- | --- | --- | --- | --- | --- | --- | --- | --- | --- | --- | --- | --- | --- | --- | --- |
| Pos | Nat | Helm | Crew | R1 | R2 | R3 | R4 | R5 | R6 | R7 | R8 | R9 | R10 | M | Tot | Net |
| 1 | NZL | ALEH Jo | POWRIE Olivia | 6 | (47.0 DSQ) | 2 | 7 | 14 | 2 | 1 | 1 | 7 | 2 | 10 | 99 | 52 |
| 2 | GBR | MILLS Hannah | CLARK Saskia | 1 | 20 | 6 | 1 | 5 | 6 | 16 | 8 | 1 | -34 | 6 | 104 | 70 |
| 3 | FRA | LECOINTRE Camille | GERON Mathilde | 7 | -23 | 1 | 9 | 6 | 15 | 13 | 2 | 2 | 3 | 16 | 97 | 74 |
| 4 | ESP | PACHECO Tara | BETANZOS Berta | (47.0 DSQ) | 6 | 10 | 6 | 7 | 4 | 12 | 14 | 3 | 22 | 4 | 135 | 88 |
| 5 | ISR | COHEN Gil | BOUSKILA Vered | 11 | 11 | 15 | 3 | 3 | 1 | 10 | 10 | 5 | -24 | 20 | 113 | 89 |
| 6 | ITA | CONTI Giulia | MICOL Giovanna | 13 | 1 | 4 | 18 | 13 | 10 | 2 | 18 | 10 | -31 | 14 | 134 | 103 |
| 7 | DEN | KOCH Henriette | SOMMER Lene | 4 | 14 | 12 | 5 | 17 | 20 | -30 | 20 | 9 | 1 | 2 | 134 | 104 |
| 8 | USA | MAXWELL Erin | K. FARRAR Isabelle | 9 | 3 | 8 | -24 | 15 | 17 | 22 | 6 | 4 | 11 | 18 | 137 | 113 |
| 9 | GER | KADELBACH Kathrin | BELCHER Friederike | 2 | -31 | 21 | 2 | 18 | 18 | 3 | 23 | 6 | 14 | 8 | 146 | 115 |
| 10 | GBR | CLARK Penny | HUGHES Katrina | (47.0 DSQ) | 17 | 3 | 4 | 4 | 9 | 26 | 4 | 32 | 6 | 12 | 164 | 117 |
| 11 | USA | CLARK Amanda | LIHAN Sarah | 17 | 13 | 20 | 14 | -25 | 3 | 5 | 12 | 23 | 19 | - | 151 | 126 |
| 12 | FRA | ROL Emmanuelle | DEFRANCE Helene | 3 | 32 | 5 | 27 | 8 | 22 | 9 | -37 | 13 | 8 | - | 164 | 127 |
| 13 | JPN | KONDO Ai | TABATA Wakako | (47.0 DSQ) | 9 | 9 | 17 | 2 | 11 | 18 | 19 | 21 | 23 | - | 176 | 129 |
| 14 | CHN | XU Xiaomei | YU Chunyan | 15 | 4 | 22 | -32 | 12 | 19 | 23 | 17 | 15 | 5 | - | 164 | 132 |
| 15 | GER | LUTZ Tina | BEUCKE Susann | 12 | 12 | 19 | 33 | 10 | 13 | 4 | 3 | -42 | 27 | - | 175 | 133 |
| 16 | ARG | SESTO Maria Fernanda | MONSEGUR Consuelo | 16 | 21 | 11 | 10 | 9 | 21 | 24 | 11 | 11 | -29 | - | 163 | 134 |
| 17 | NED | WESTERHOF Lisa | BERKHOUT Lobke | (47.0 DSQ) | 2 | 7 | 8 | 1 | 47.0 DNS | 31 | 5 | 29 | 9 | - | 186 | 139 |
| 18 | BRA | OLIVEIRA Fernanda | BARBACHAN Ana Luizaq | 5 | 15 | -29 | 11 | 19 | 28 | 14 | 15 | 22 | 17 | - | 175 | 146 |
| 19 | GBR | WEGUELIN Sophie | AINSWORTH Sophie | 19 | 25 | 13 | 15 | -27 | 24 | 19 | 21 | 18 | 4 | - | 185 | 158 |
| 20 | CHN | WANG Xiaoli | HUANG Xufeng | 24 | 7 | 18 | 30 | 20 | -41 | 8 | 13 | 27 | 21 | - | 209 | 168 |
| 21 | BRA | GRAEL Martine | MARQUES SWAN Isabel | 14 | 5 | (47.0 RAF) | 12 | 28 | 12 | 34 | 7 | 25 | 35 | - | 219 | 172 |
| 22 | USA | HAEGER Annie | PROVANCHA Briana | 10 | 29 | -32 | 20 | 30 | 23 | 15 | 9 | 28 | 13 | - | 209 | 177 |
| 23 | SWE | ERICSON Lisa | GABRIELSSON Astrid | 22 | 10 | 34 | (47.0 DNF) | 11 | 25 | 7 | 16 | 38 | 15 | - | 225 | 178 |
| 24 | RUS | IVANOVA Natalia | KRUTSKIKH Diana | 8 | 27 | 17 | 28 | -36 | 7 | 25 | 28 | 30 | 12 | - | 218 | 182 |
| 25 | RUS | ILIENKO Vlada | KHRYUKINA Elena | 18 | 18 | 24 | 19 | 22 | 27 | 17 | -33 | 24 | 16 | - | 218 | 185 |
| 26 | SLO | MRAK Tina | CERNE Teja | 26 | 30 | 28 | 16 | 24 | 16 | -37 | 30 | 14 | 10 | - | 231 | 194 |
| 27 | FRA | INGRID Petitjean | NADEGE Douroux | (47.0 DSQ) | 19 | 14 | 22 | 16 | 5 | 11 | 22 | 47.0 DNC | 47.0 DNC | - | 250 | 203 |
| 28 | JPN | YOSHISAKO Yuka | OKUMA Noriko | 21 | -36 | 27 | 23 | 26 | 30 | 20 | 26 | 26 | 20 | - | 255 | 219 |
| 29 | CRO | NINCEVIC Enia | ZUPAN Romana | 28 | 33 | -38 | 13 | 29 | 29 | 6 | 32 | 20 | 30 | - | 258 | 220 |
| 30 | CHN | CAI Liping | GAO Yang | 35 | -40 | 16 | 21 | 21 | 8 | 32 | 25 | 37 | 26 | - | 261 | 221 |
| 31 | ESP | GALLEGO Marina | LOBO Ana | 25 | 28 | 31 | 26 | -40 | 26 | 33 | 27 | 8 | 28 | - | 272 | 232 |
| 32 | GER | BOCHMANN Annika | LORENZ Anika | 23 | 34 | 39 | 31 | 37 | (47.0 DNF) | 21 | 24 | 33 | 7 | - | 296 | 249 |
| 33 | CHN | FENG Huimin | HUANG Lizhu | 30 | 26 | -36 | 35 | 34 | 33 | 28 | 31 | 19 | 32 | - | 304 | 268 |
| 34 | SWE | SODERSTROM Ingrid | WENNERGREN Linnea | 20 | -39 | 33 | 29 | 23 | 34 | 36 | 35 | 39 | 25 | - | 313 | 274 |
| 35 | GER | JURCZOK Victoria | BACH Josephine | 29 | 38 | 25 | (47.0 OCS) | 38 | 38 | 35 | 40 | 17 | 18 | - | 325 | 278 |
| 36 | EST | UMB Marjaliisa | UMB Elise | (47.0 DSQ) | 8 | 41 | 36 | 41 | 35 | 38 | 34 | 12 | 38 | - | 330 | 283 |
| 37 | GER | WAGNER Annina | STEINHERR Marlene | (47.0 DSQ) | 22 | 30 | 40 | 31 | 14 | 40 | 36 | 35 | 36 | - | 331 | 284 |
| 38 | SUI | HASLER Stephanie | HASLER Romy | 27 | 35 | 26 | 38 | 32 | 31 | -42 | 42 | 16 | 40 | - | 329 | 287 |
| 39 | GBR | BURNET Anna | STEWART Flora | 34 | 37 | 23 | 39 | 39 | 37 | 29 | 29 | 31 | -41 | - | 339 | 298 |
| 40 | AUT | VADLAU Lara | SCHIMAK Eva-maria | 31 | 24 | 35 | (47.0 DSQ) | 33 | 32 | 27 | 47.0 DNC | 36 | 37 | - | 349 | 302 |
Laser
| | | | | | | | | | | | | | | | |
| --- | --- | --- | --- | --- | --- | --- | --- | --- | --- | --- | --- | --- | --- | --- | --- |
| Pos | Nat | Helm | Q1 | Q2 | Q3 | Q4 | Q5 | Q6 | F1 | F2 | F3 | F4 | M | Tot | Net |
| 1 | AUS | SLINGSBY Tom | 4 | 3 | 7 | 1 | 1 | 5 | 3 | 1 | -12 | 12 | 4 | 53 | 41 |
| 2 | NZL | MURDOCH Andrew | 13 | 3 | 1 | 4 | 9 | 2 | 1 | 4 | -19 | 8 | 12 | 76 | 57 |
| 3 | GBR | GOODISON Paul | 8 | 6 | 8 | 9 | 5 | 3 | -18 | 3 | 3 | 1 | 18 | 82 | 64 |
| 4 | GER | GROTELUSCHEN Simon | 4 | 1 | 11 | 10 | 3 | 3 | 12 | 31 | -53 | 11 | 2 | 141 | 88 |
| 5 | GBR | THOMPSON Nick | 2 | 11 | 6 | 1 | 3 | 1 | 32 | -34 | 5 | 26 | 8 | 129 | 95 |
| 6 | AUS | BURTON Tom | 9 | 13 | 6 | 6 | 4 | -23 | 8 | 17 | 15 | 3 | 14 | 118 | 95 |
| 7 | GER | BUHL Philipp | -34 | 2 | 2 | 8 | 2 | 11 | 13 | 2 | 20 | 19 | 20 | 133 | 99 |
| 8 | NZL | MALONEY Andy | 3 | 9 | 5 | 19 | 11 | 7 | 5 | 5 | 26 | -28 | 10 | 128 | 100 |
| 9 | NED | VAN SCHAARDENBURG Rutger | 1 | 5 | 4 | 5 | 2 | 1 | 15 | -48 | 4 | 47 | 16 | 148 | 100 |
| 10 | BRA | FONTES Bruno | 18 | 1 | 10 | 11 | 6 | 4 | 11 | 21 | -23 | 14 | 6 | 125 | 102 |
| 11 | ESP | JAVIER Hernandez | 9 | 17 | 14 | 15 | 7 | 9 | -30 | 10 | 21 | 7 | - | 139 | 109 |
| 12 | AUT | GERITZER Andreas | 2 | 9 | 1 | 3 | 12 | 9 | 23 | 7 | (BFD [63.0]) | 51 | - | 180 | 117 |
| 13 | ARG | ALSOGARAY Julio | 12 | 5 | 5 | 17 | 18 | 26 | 10 | -39 | 22 | 5 | - | 159 | 120 |
| 14 | AUS | PALK Ryan | -25 | 16 | 14 | 12 | 10 | 16 | 20 | 18 | 1 | 20 | - | 152 | 127 |
| 15 | SWE | WIGFORSS Johan | 14 | 12 | 3 | 4 | 11 | 13 | 28 | 13 | 34 | -42 | - | 174 | 132 |
| 16 | AUS | BURMAN James | 5 | 34 | 13 | 12 | 5 | 17 | -36 | 11 | 9 | 27 | - | 169 | 133 |
| 17 | KOR | JEEMIN Ha | 29 | 14 | 9 | 9 | 13 | 24 | 16 | -38 | 13 | 6 | - | 171 | 133 |
| 18 | SWE | MYRGREN Rasmus | 18 | 13 | 7 | 7 | 16 | 11 | -47 | 22 | 18 | 21 | - | 180 | 133 |
| 19 | NZL | MEECH Sam | 14 | 27 | 16 | 16 | 20 | 6 | 2 | 15 | -36 | 22 | - | 174 | 138 |
| 20 | NED | BOUWMEESTER Roelof | 12 | 18 | 17 | 14 | 1 | 4 | 26 | 20 | -52 | 33 | - | 197 | 145 |
| 21 | GER | KAMRATH Malte | 16 | 19 | 4 | 7 | 16 | 19 | (DNF [63.0]) | 44 | 16 | 9 | - | 213 | 150 |
| 22 | CHI | DEL SOLAR Matias | 23 | 37 | 13 | (DNC [63.0]) | 7 | 5 | 22 | 8 | 14 | 25 | - | 217 | 154 |
| 23 | NZL | JUNIOR Josh | 27 | 15 | 10 | 2 | 24 | 16 | 42 | 9 | 10 | -48 | - | 203 | 155 |
| 24 | SWE | ST�LHEIM Jesper | 1 | 2 | 21 | 29 | 4 | 8 | 6 | 60 | (DSQ [63.0]) | 30 | - | 224 | 161 |
| 25 | FIN | WESTMAN Fredrik | 52 | 19 | 19 | 18 | 8 | 6 | 7 | 19 | -55 | 17 | - | 220 | 165 |
| 26 | GBR | MILLS BARTON Alex | 17 | 40 | 28 | 28 | 17 | 15 | 24 | -42 | 2 | 4 | - | 217 | 175 |
| 27 | CAN | WRIGHT David | 3 | 20 | 22 | 15 | 14 | 12 | 41 | 16 | 33 | -52 | - | 228 | 176 |
| 28 | NOR | RUTH Kristian | 24 | 4 | 8 | 16 | 15 | 21 | 27 | 53 | 8 | -55 | - | 231 | 176 |
| 29 | NZL | BULLLOT Mike | 6 | 17 | 11 | 13 | 27 | 10 | 40 | 32 | 24 | -46 | - | 226 | 180 |
| 30 | USA | FUNK Brad | -39 | 24 | 19 | 14 | 6 | 17 | 37 | 26 | 29 | 10 | - | 221 | 182 |
| 31 | FRA | JEAN-BAPTISTE Bernaz | 10 | 16 | 9 | 21 | 30 | 14 | 38 | 30 | -44 | 18 | - | 230 | 186 |
| 32 | NED | VAN VIANEN Eduardo | 10 | 6 | 16 | 24 | 19 | 24 | 34 | 24 | -37 | 34 | - | 228 | 191 |
| 33 | FRA | CABAZ Rodrigue | 21 | 21 | 31 | 2 | 9 | 21 | 33 | 6 | -56 | 56 | - | 256 | 200 |
| 34 | USA | JOHNSON Clay | 7 | 7 | 40 | 21 | 19 | 31 | 9 | 36 | 31 | -54 | - | 255 | 201 |
| 35 | NED | BROEKENS Douwe | 34 | 11 | 12 | 23 | 22 | 13 | 19 | -55 | 25 | 43 | - | 257 | 202 |
| 36 | SWE | CEDERGARDH Emil | 29 | 4 | 3 | 3 | (DNF [63.0]) | 2 | DNE [63.0] | 47 | 54 | 2 | - | 270 | 207 |
| 37 | URU | FOGLIA Alejandro | 22 | 10 | 29 | 13 | 12 | 22 | 4 | 37 | 59 | -61 | - | 269 | 208 |
| 38 | ESP | GUITIAN Pablo | 23 | 7 | 18 | 11 | 26 | 20 | -58 | 45 | 17 | 41 | - | 266 | 208 |
| 39 | USA | CRANE Robert | 30 | 36 | 22 | 25 | 20 | 20 | 43 | 14 | 6 | (DNC [63.0]) | - | 279 | 216 |
| 40 | GUA | MAEGLI Juan Ignacio | 5 | 8 | 2 | 5 | 32 | (DNF [63.0]) | 56 | 28 | 38 | 45 | - | 282 | 219 |
Back to top