Ainslie v Scott bout
The third day of the Trofeo Princesa Sofia Mapfre was not the easiest one. Opposing winds and unsettled conditions made life difficult for sailors and race committees alike. Some classes managed to complete their first race in the northeasterly gradient while others had to wait for the sea breeze to fill in. The RS:Xes were sent back to shore during the transition, while the Finns waited over three hours on the water before they could start racing in the new wind. The fifth race of the Star had to be cancelled when the change occurred, delaying racing. In other classes like the Laser Radial and the 470 women, the changed occurred during the first race. As a result some sailors didn't make it to the finish line within the time limit. Tonight, the jury room is busy with requests for redress.
With five races completed at least in each class, all sailors can now discard their worse race result which will become handy for the leaders who have for most collected a bad race in the last two days's shifty conditions. Scores are very tight at the top, half way through the regatta.
In the Laser, the top three are within two points with Beijing Gold medallist Paul Goodison leading by one point over World Champion Tom Slingsby (AUS), and two over team mate Nick Thompson. Both British sailors won a race today.
As Goodison described it: "This morning we had the offshore breeze, it got quite windy and then it started to die but we managed to get a race in in that. I managed to get quite a good lead at the top mark and extend so that was nice. After a couple of hours of sitting, waiting around a decent sea breeze came in from a different direction and was a lot more stable, the waves were a bit bigger. Again I started well, led around the first mark and then managed to get quite a nice lead so I'm pretty happy with today."

Goodison is hopeful of a podium finish in Palma after what he deems was a disappointing outing at the last World Cup event in Miami, where he won bronze.

"I was a little bit disappointed in Miami after leading most of the week and then just slipping up in the medal race. I had a bit of a tricky start yesterday, I should have won the first race but didn't quite and then had an incident in the second race which left me in the late 20s at the second windward mark and pulling back, so it's nice to have a good day today and fingers crossed for the rest of the week."
Other tight results are in the 470 Men where the top four are within two points after this third day of racing. Olympic champions Mat Belcher and Malcolm Page won a race and lead, despite collecting 20 points in the day's final race. They are now on equal points with France's Charbonnier/Meyer-Dieu who had a good day posting a third and a fifth. Third and fourth place overall are early leaders Luke Patience and Stuart Bithell (GBR), who posted two bullets today and are on equal points with defending champions from here and Skandia Sail for Gold winners Pierre Leboucher and Vincent Garos.
In the RS:X Men the Netherland's Dorian van Rijsselberge (NED) proved he has learned from yesterday's racing conditions with two bullets in medium wind added to his good score in heavy wind Monday. He moves back to top place, three points ahead of Britain's Nick Dempsey. Byron Kokkalanis (GRE) moves up to third after a second and a third today.
"It was not easy today," explained van Rijsselberge. "The first race was much tougher than the second race. They were typical Palma conditions: the left side was favoured and I went left and so I won the race."
Nick Dempsey added: ""I am pretty pleased with how it's all going. I've spent the whole winter away so this is pretty much the first big event of the season – certainly the first big event of the European season. You often turn up here and you don't really know just how well that winter's gone. You're probably at your most nervous at the beginning of the year and it's quite a relief to see that I am on the pace and I'm sailing well. It's not such a big outcome regatta, it's not all about the result. It's more about testing myself in the different conditions here and so far that's all going really well."
In the RS:X Women, Spain's Marina Alabau augmented her lead with a win and a second. After discarding her DNF collected after braking equipment on windy Monday, Charline Picon (FRA) is climbing to second overall in front of Italy's Alessandra Sensini in third.
The top of the Laser Radial fleet had mixed results in the shifty breeze. Paige Railey (USA) managed to maintain her top place despite failing to finish within the time limit and collecting high scores. With the discard coming into play and good results on the previous day, the American is not affected by her DNF. Meanwhile, Evi van Acker (BEL) is in second position and World Champion Marit Bouwmeester (NED) is third. It was a great day for Fatima Reyes (ESP) who climbed to fifth overall thanks to her second and a first, and for Sarah Winter (NZL) who is now 6th after scoring two bullets.
Japanese crew Ai Kondo and Wakako Tabata (JAP) have increased their lead in the 470 Women ahead of Cohen/Vered (ISR) and Aleh/Barbarich-Barber (NZL). But with many protests still being heard the 470 women results could change.
The Stars sailed from the Real Club Nautic de Palma, had their race abandoned when the northeasterly attempted to transform into the sea breeze. In the end, only one race was sailed, which was won by Mark Mendelblatt and Ian Fatih (USA). Clarkes Shoes wearers Iain Percy and Andrew Simpson keep the lead in the Star after a third place toda, five points ahead of Poland's Kusznierewicz/Zycki and 11 from Robert Scheidt and Bruno Prada.
The Finns and the 49ers were last off the water. In the former Ben Ainslie ended the day one point ahead of Giles Scott, with France's Thomas Lebreton up into third.
"It's been an interesting event," said Ainslie. "The first day we obviously had a lot of wind and that was hard work for everybody – I haven't raced in that amount of wind for a long time, so that was a good experience but hard work! The last couple of days has been a bit lighter and trickier winds and it's been good racing."

With four top five results including a race win, France's Manu Dyen and Stéphane Christidis have taken the lead in the 49ers. The defending champions are 15 points ahead of Danes Peter Krugger Andersen and Nicolai Thorsell in second position with Italy's Sibello brothers, Pietro and Gianfranco third.

"We had a very good day with four races in the top five," said Dyen. "We have a good lead so it is a good position to go into the finals tomorrow. We won the event last year and would like to win the title again."
Thierry Schmitter (NED) has conserved his lead in the 2.4 after taking his fourth victory, despite a bad move in the second race when he finished sixth: "Today the first race went well. During the second race I went completely to the right, and there was no wind at all. Therefore I was the last one at the first windward mark. I can not remember in my sailing career to be the last one at the top mark! Then I went left and came back to finish sixth."

Four points away in second overall is Heiko Kroger who finished the day with a second. Megan Pascoe (GBR) is third with consistent top 4 results.

In the Women Match racing, the six teams in the Repechage Group were first up, sailing three flights of their round robin. The New Zealand team of Stephanie Hazard, Jenna Hansen, and Susannah Pyatt had a very successful morning winning all three of their matches.
"It was a good day," said Hazard. "We had good sailing conditions for all of our matches apart from the hour or so we postponed. The Race Committee did a good job with what they had this morning and it was good racing all around. We were happy with our results. We didn't make too many mistakes and kept everything pretty simple. We got pretty decent starts – we were ahead every start which definitely helps and then we had great crew work and great communication around the course. Overall, a good day."
Anna Tunnicliffe (USA) and Claire Leroy (FRA) lead the Gold Group with three wins each. And in the Silver Group Anna Kjellberg (SWE) leads the way with three wins from three matches.
Lucy Macgregor, Annie Lush and Kate Macgregor have booked their berth in the quarter-finals. They overcame the Danish team helmed by Lotte Meldgaard and Anne Claire Le Berre's French team in their first two matches before succumbing to Anna Tunnicliffe (USA) in their final round robin bout, but a second place in their opening group was enough to see them proceed directly to the quarter-finals.
Tomorrow will see the completion of the round robins with the top two from the Repechage Group joining the six teams from the Gold Group in the knock-out Quarter-Finals.
Full results here for 470 Men, Finn, RS:X Men, 49er, Laser, Star, 470 Women, RS:X Women, Laser Radial, Womens Match Racing, 2.4m
Robert Deaves' Finn Focus:
Unstable winds and large shifts characterised the third day of racing at the Trofeo SAR Princesa Sofia MAPRE in Palma. After two more races Ben Ainslie (GBR) takes a one point lead over Giles Scott (GBR) into the finals with third placed Thomas Le Breton (FRA) a further eight points back. Race wins today went to Zach Railey (USA), Ioannis Mitakis (GRE), Ainslie and Le Breton.
Day three brought another postponement for the Finn class as the land breeze died, but today the postponement stretched into the afternoon before the sea breeze built enough to allow racing to start. The fleet finally got away in 8 to 11 knots just after 14.00 after a very long wait on the water.
In race five, Zach Railey (USA) finally found the front and led the blue fleet across the line followed by Jan Kurfeld (GER) and Jorge Zarif (BRA), while the current European Junior champion Ioannis Mitakis (GRE) won the yellow fleet from Gasper Vincec (SLO) – who turned 30 yesterday – and Michele Paoletti (ITA).
Mitakis said, "I had a great start on the left, which was the good side. I was first at the top mark but then Gasper passed me and I sailed in second for a while, but managed to pass him again on the run before the finish."
Railey said, "I was able to get in phase right away and had good boat speed. I rounded first mark in second then had a good downwind to take the lead. I was free to sail where I wanted on the second beat and was able to pull out to lead to the finish and had a nice lead on the pack. It was good to get in a win."
Ben Ainslie (GBR) won the yellow fleet in race six - his third this week - from Rafa Trujillo (ESP) and Jonathan Lobert (FRA). After a long wait for the wind to settle and a number of black flag starts, Thomas le Breton (FRA) won the blue fleet from Giles Scott (GBR) and Ed Wright (GBR). The yellow fleet had finished their race before the blue fleet actually started theirs.
After struggling so far in the regatta, Lobert picked up a welcome third place. "It has been bit difficult for me these days, but I am not giving up and I will try to come back. For race six it was again a little bit tricky and the wind was shifting hard to the right, and Ben just sailed away. Anyway it is good to be back racing with the guys and I hope to have nice races for the end of the regatta."
Ainslie, who won race six with a useful lead of about 150 metres, said, "It's been an interesting event. The first day we had a lot of wind and that was hard work for everybody – I haven't raced in that amount of wind for a long time, so that was a good experience but hard work. The last couple of days has been a bit lighter and trickier winds and it's been good racing."
"We've got so many good sailors in the UK squad at the moment, there's always going to be a British boat somewhere around the top of the fleet so I'm obviously happy to be up there at the moment. I've raced here a lot over the years and I've always enjoyed it, it's a great venue. We've been training here since January and we've been very fortunate with the conditions we've had. We'll see where we end up for the medal race – things are going OK so far, but it's a really tough field here."
Railey, who has now climbed into the top 10 for the first time also said, "I finished fifth in race six, which was a very hard race with big wind shifts. I'm glad to have had a solid result and a good day before the gold finals over the next two days." Railey spoke about how he adapts to different conditions. "It is the smaller changes that are always the hardest to figure out but also the most important. Also I make some small adjustments in my technique and also with how I approach the racing. Those are also very important."
With Ainslie and Scott eight points clear at the top and just nine points separating third to 11th, it will come down to who gets the small things right in the remaining races to find out who gets into that all important medal race on Saturday.

After six races, the fleet will now be split into gold and silver fleets, with four more races over the next two days before the medal race for the top 10 on Saturday.
More from Jesus Renedo of www.sailingstock.com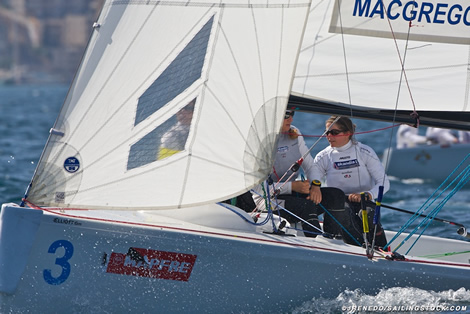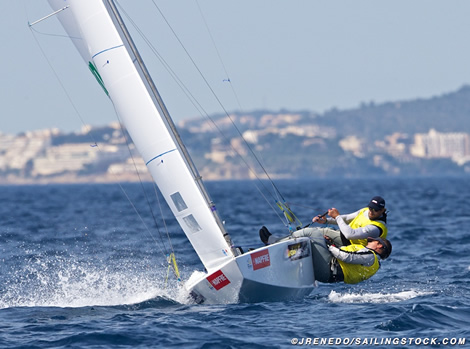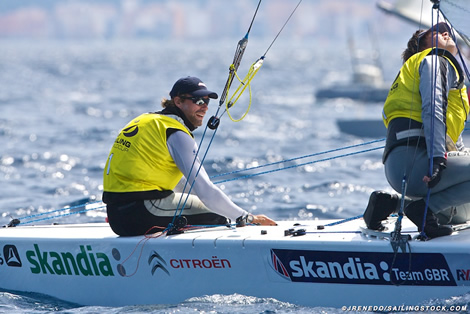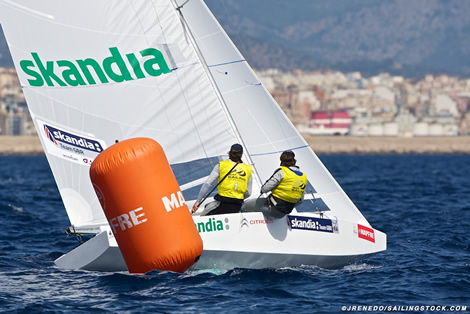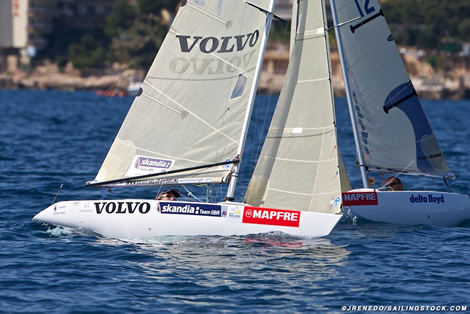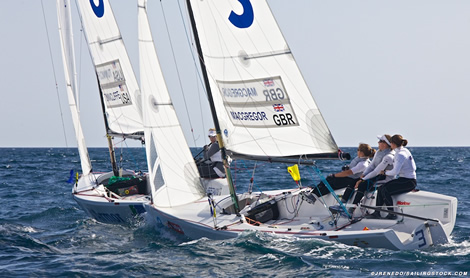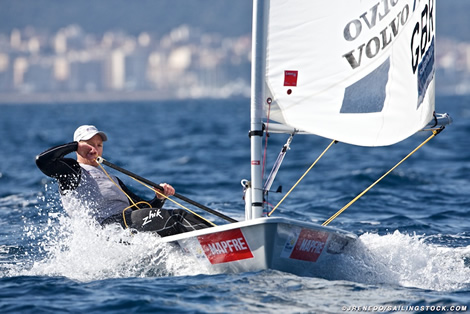 From Nico Martinez/www.nicomartinez.com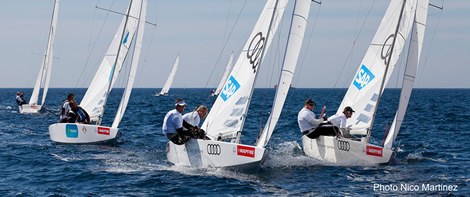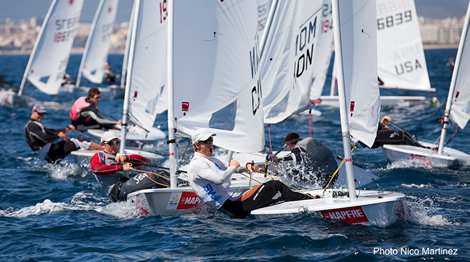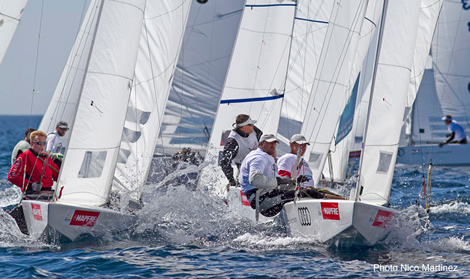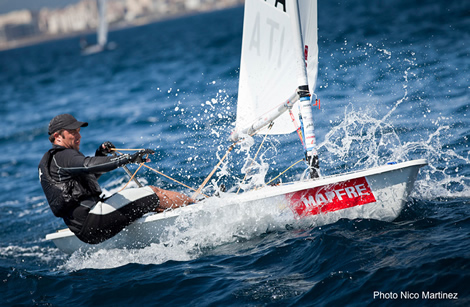 Back to top
Back to top