Trio of bullets for Outteridge
Belmont delivered it's famed 18 knot ENEerly gusting to over 20 for day two of the 2011 Zhik Moth Worlds providing an action packed day full of swims, stacks and rescues –and not just at the back end of the fleet.
Nathan Outteridge (AUS), despite not always having the early lead, escaped unscathed adding three wins to his score. On the other course, Peter Burling (NZL) nailed an impressive three bullets. ISAF Sailor of the Year Tom Slingsby (AUS) and 2008 Moth World Champion John Harris take the cake for impressive stacks.
In the Blue Fleet, John Harris (AUS) led Nathan Outteridge (AUS) and Bora Gulari (USA) around the first windward mark, but Outteridge was able to slip by when Harris, then Gulari took a swim. Brad Funk (USA) and Slingsby kept up for 2nd and 3rd, and despite Gulari's swim, the Americans were able to keep 2 in the top ten with Dalton Bergan in 6th.
There was awesome high-speed lead-swapping between Outteridge and Slingsby throughout Race 2, with Outteridge ultimately taking the gun. Harris was deep early on and made an impressive fight back to the leading pack of Funk, Gough and Gulari.
More than 20 boats were back in the boat-park by the start of the 3rd and final race for the day. The 'usual suspects' started to emerge with with Outteridge, Funk, Harris, Gough and Slingsby. Arnaud Psarofaghis (SUI), and Josh Mcknight (AUS) making his debut, both finished the day with all top ten finishes.
In Yellow Fleet, Burling took no prisoners, consistently leading the charge around the marks and taking all 3 finishes. Scott Babbage and fellow Aussie Iain Jensen duelled for 2nd overall for the day. The tussle escalated in Race 2 when Babbage hit the mark. His penalty turn put him back to 10th, but he fought back to 4th. Yesterday's standout Joe Turner (AUS) still had some fire in the breeze and hangs on to 3rd overall for the combined fleets going in to Day 3. Andy Budgen (GBR) loved the bigger breeze with a consistent 5, 5, 6.
Charlie McKee (USA) rocketed the Wing-sail to the windward mark in the first race, finishing with a 5th, but had to pull out of the second race to recover from compression failure below the forestay. Back on for race 3, he limped through the course hanging on to a 21st finish after suffering further damages.
Forecast promises a building sea-breeze and after a good feed, the fleet is already busy with tweaks and tunes for a 13:00hr (AEDST) start tomorrow.
Full results here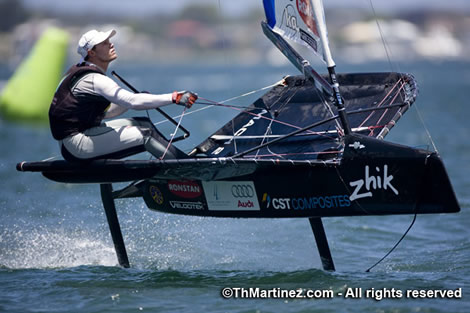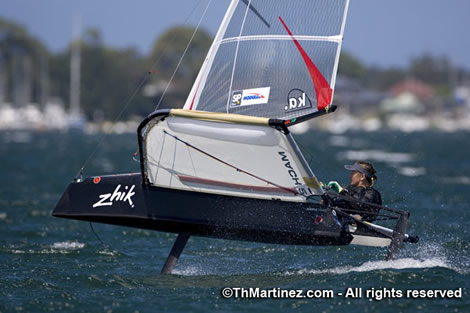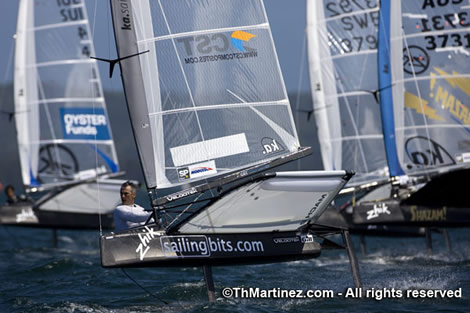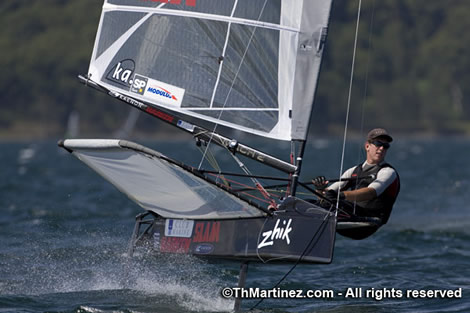 Back to top
Back to top