Day for the rookie crews
Rookie 18ft Skiff skipper Jack Macartney and his Rag & Famish Hotel crew mates Tom Clout and Drewe Waller continued to impress when they recorded a 1m47s victory in the Syd Barnett Memorial Trophy race on Sydney Harbour today.
Rag & Famish Hotel and Red Claw (Matt Searle, Archie Massey and Mike McKenzie) staged a race long battle before The Rag gained the upper hand on the final spinnaker leg of the course. Third place went to Fisher & Paykel, which was led by another rookie skipper Andrew Chapman and crewed by Tim Baraclough and Euan Duckworth, which finished a further 26s back.

The race began in a light, patchy ENE breeze which created many problems for the fleet on the windward leg to the 3-buoys marks at the Beashel Buoy.

In the unpredictable conditions, John Winning's Yandoo sailed brilliantly to lead Fisher & Paykel, Rag & Famish Hotel, Red Claw, Gotta Love It 7 (Seve Jarvin) and Thurlow Fisher Lawyers (Euan McNicol) before the positions changed as the 3-buoys system took effect.

Fisher & Paykel gained the lead after rounding the 'red' buoy, and although Yandoo was second boat to round (white buoy) she actually dropped back behind Red Claw, Rag & Famish Hotel, Gotta Love It 7 and TF Collect (Mark Kennedy), all of which benefitted from the shorter mark roundings.

Fisher & Paykel continued to lead the fleet down the spinnaker legs back to the Clarke Island bottom mark, but Red Claw managed to round inside Fisher & Paykel as the pair turned for the second windward leg.

Rag & Famish Hotel was in third place, ahead of Yandoo, DeLonghi (Simon Nearn) and Gotta Love It 7 and a bunched fleet, which included TF Collect, Thurlow Fisher Lawyers, Appliancesonline.com.au (Jeremy Wilmot), Smeg (Trevor Barnabas), Project Racing (Andy Budgen), Pure Blonde (James Francis) and Panasonic (Jonathan Whitty).

The breeze was a little fresher and certainly steadier for the windward leg back to the Beashel Buoy marks again.

This time Red Claw had the 'penalty' of going to the 'white' buoy and although first to round that mark fell behind Rag & Famish Hotel and Fisher & Paykel, which both went to the 'blue' mark.

Although it may sound complicated, the 3-buoys system was working as intended as it produced a continual changing at the head of the fleet.

Rag & Famish Hotel and Red Claw continued their battle on the spinnaker run down the centre of the course with The Rag holding a 5s lead at the bottom mark. Over the final lap of the course the positions remained relatively unchanged before Rag & Famish Hotel went on for her final victory.

There will be no racing over the Christmas-new year period. The next race will by Race 1 of the Australian Championship on Sunday, 9 January.
Full results here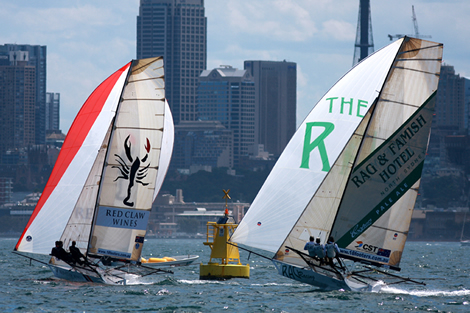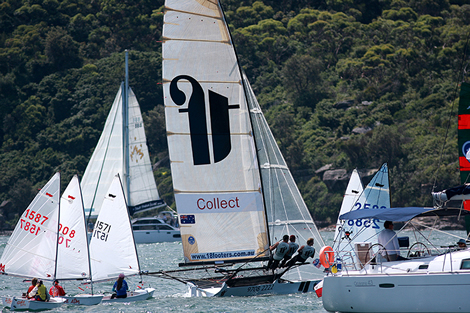 Back to top
Back to top