Slingsby earns his third Laser World Championship title
With a 14th from a dramatic, blustery 14th and final race off Hayling Island, Australia's Tom Slingsby clinched his third Laser World Champion title in four years ahead of Skandia Team GBR's Nick Thompson, who took silver.

The title finale saw the strongest winds so far of the seven day regatta, gusting up to 23 knots kicking up the big waves that Hayling Bay is renowned for.

By winning the final dramatic blustery race New Zealand's Andrew Murdoch secured his second World Championships bronze medal of his career.

There were heart-stopping times for both Slingsby and Thompson during the final race when both capsized on consecutive legs, early in the final race.

Slingsby is delighted to have returned to the top of the class after a disappointing 2008 Olympics where he finished 22nd and sailing to a modest 17th at the worlds last year.

On his 26th birthday, today his journey back from despair seems to be on course. It is also his second world title in as many weeks, after winning the Etchells Worlds last week on Dublin Bay crewing for America's Cup legend John Bertrand. Laser world champion in 2007 and 2008, he won the Olympic pointer, Skandia Sail for Gold off Weymouth last month.

Slingsby had to tread carefully through the final pair of races after being disqualified from the first Finals race. He proved his superior speed in the 13+ knots breeze on Saturday with back to back wins by a considerable distance, but today was about sailing a couple of steady, safe scores rather than blowing the doors off the opposition.

With an assured sixth in the first race Slingsby looked to have done enough, rising through the pack to take sixth in the first race today.
But in the last race, when it looked like his name was already on the overall trophy, he gave himself a few nervous minutes when, lying 15th, he capsized, turning his boat completely upside down. After recovering Slingsby prudently elected to cruise steadily and safely to the finish.

After a seventh, finishing on Slingsby's stern in the first race Britain's 2009 ISAF World Cup winner Nick Thompson had all but secured a medal. He started smartly in the next race and was in control of most of the fleet, certainly inside the top five of Race 14 when he too made a handling error and capsized.

Ducking behind an opponent Thompson lost control, tipping the boat in to leeward to lose more than 25 boats. He fought back to 26th place, his discard, which left him ten points clear of Murdoch. His silver medal is one better than his 2009 finish in Nova Scotia and ensures he finishes inside his pre-regatta target of top three.

Olympic champion Paul Goodison, after a desperate pair of DSQs Friday and Saturday bounced back to win the first race today and then took a tenth to recover to ninth overall.

In the Junior World Championships in finishing in eighth Denmark's Thorbjoern Scheirurp kept Italy's Francesco Marrai at bay to win the Junior title. Britain's Alex Mills-Barton finished with a second to take the bronze medal.

Aided in no small way by seven days of consistent easterly breezes Hayling Island SC delivered a memorable, well run world championships, the first time since 1988 that the event has been hosted in England.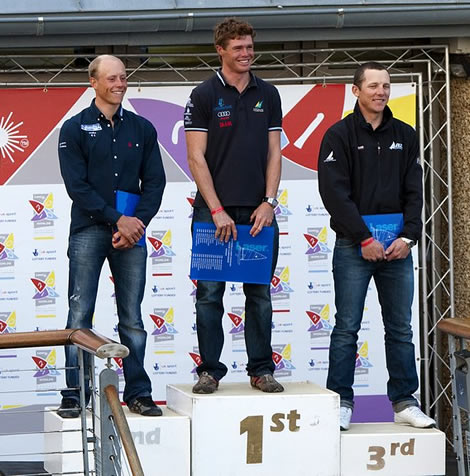 Tom Slingsby commented: "It is amazing for me after four and a half months in Europe, to finish off with two world titles in two weeks and today being my birthday, it could not be better.
"The first race I was steady sitting around 10-15 and then I jumped up at the end to get close to Nick which I was really happy with. And then in the second race I though I would stay on the same side of the course as Nick and he went off the pin end and tacked and crossed the fleet I thought I needed to just reel him in a bit, but then I saw him capsize in to leeward. And then he went back out to the left side and then he overlaid the top mark, so I had a nice little buffer around the top mark. On the first run I capsized and did a full turtle. And then as soon as I got the boat back up I put the vang on, put the daggerboard down and then just took it easy to make sure I did not make any more mistakes.

" I'd say that this one is one of the most satisfying for sure. After last year I was wondering if I still had the drive and the talent to get back to the top, a few big questions asked of myself. And this year I have proven that I still deserve to be there. I feel great and it is great to win a couple of years out from the Olympics.
"I'm not to sure what it is that kept me going. I love the lifestyle, for me I love winning. I am the most competitive person you will ever meet, whether that is table tennis or world Laser titles. The competition is just great. The Laser is just the most exciting boat to sail competition-wise. I am just rapt!
" After the Olympics, going in as one of the favourites and coming away with 22nd, I was really destroyed. I wondered if I wanted to do it again. After a few months I decided to go again but I would take it a bit easy, but then last year I was taking it a bit easy, not training so much and I was just getting flogged at every regatta so I decided to pick up the training and go back to my schedule to win, and I have been working hard since and the results are starting to pay.
"Victor Kovalenko, our head coach, always says you learn more from losing than winning and so I learned a lot about China. I learned how to lose and picked up the things I did wrong and how to improve them, and I have to go through the motions, I've learned to tick every box and go there as prepared as I can be."

Nick Thompson commented: "The second race I had to pretty much stay next to Pavlos to guarantee my silver medal. I had a great start, managed to roll Pavlos and put him back in the fleet, then tacked and I was looking good, tried to duck a boat and actually capsized so that made it tough again. I had to fight back and get near Pavlos again managed to do that.
"I'm really pleased. We've had an absolutely cracking event. I don't think we've done many events where we've got the racing in and pretty much on time so it's been really good from that point of view and it's been a good challenge as well. We've pretty much had every condition thrown at us so I'm really, really pleased to have come away with a silver.
" I think both Paul and I have proven that we're capable of medalling so this evens things up a little bit more between us I guess, but Paul's a very, very, very good competitor. I feel a bit bad for him this week – he really sailed well and just fell on the wrong side of some bad luck.
"Tom's sailing pretty fantastically at the moment. There's not many people that can really get too near him. It has been his conditions this week – we've had some breeze and that's usually his thing but he's sailing great at the moment and deserved to win."

Laser World Championships, Hayling Island, England.
Standard Senior
1 Tom Slingsby (AUS), 1,8 (29)3,1,1,5,1 (BFD),8,1,1,6,14, 50pts
2 Nick Thomspon GBR 2,3,(25),6,9,7,9,8,4,2,17,12,7,(25),86pts
3 Andrew Murdoch (NZL) 6,4,11,2,8,(22),9,1,(24),24,14,8,8,1,96pts
4 Julio Alsogaray (ARG) 8,(39),11,1717,6,23,5,(DNC),7,3,5,5,2,109pts
5 Pavlos Kontides (CYP) 4,3,21,4,5,(27),1.1,10,15, (36),13,3,32,112pts

Juniors
1 Thorbjoern Schierup (DEN) 3,3,6,(19),6,2,6,4,1,1,(11),3,35pts
2 Francesco Marrai (ITA), 2,3,(7),5,5,3,1,1,(17),6,6,8,40pts
3 Alex Mills-Barton (GBR) 12, (BFD), 5,2,1,(21),1,1,15,4,10,2,53pts
4 Kachper Zieminski (POL) 7,10,3,13,7,(22),8,6,(26),12,4,5, 75pts
5 Filip Jurisic (CRO) 7,(35),1,27,1,(29),3,5,8,2,2,21 77pts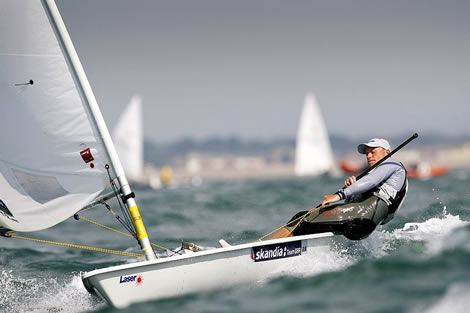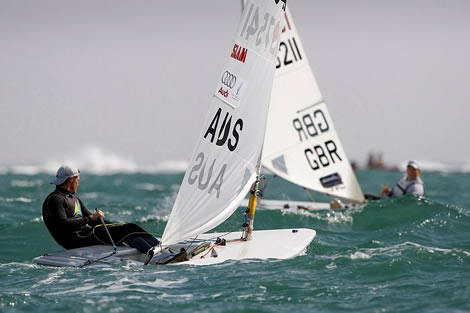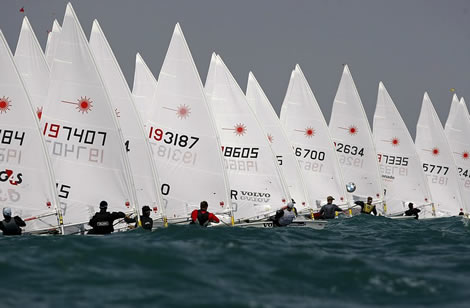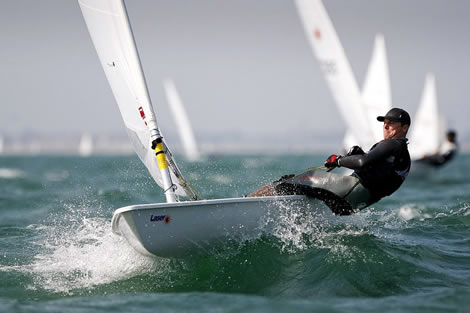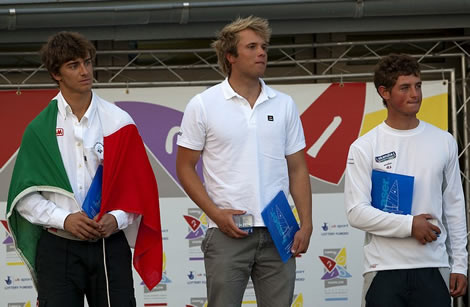 Back to top
| | | | | | | | | | | | | | | | | | | |
| --- | --- | --- | --- | --- | --- | --- | --- | --- | --- | --- | --- | --- | --- | --- | --- | --- | --- | --- |
| Pos | Sailor | Nat | Q1 | Q2 | Q3 | Q4 | Q5 | Q6 | Q7 | Q8 | F1 | F2 | F3 | F4 | F5 | F6 | Tot | Net |
| 1 | Slingsby Tom | AUS | 1 | 8 | -29 | 3 | 1 | 1 | 5 | 1 | (BFD [54.0]) | 8 | 1 | 1 | 6 | 14 | 133 | 50 |
| 2 | Thompson Nick | GBR | 2 | 3 | -25 | 6 | 9 | 7 | 9 | 8 | 4 | 2 | 17 | 12 | 7 | -25 | 136 | 86 |
| 3 | Murdoch Andrew | NZL | 6 | 4 | 11 | 2 | 8 | -22 | 9 | 1 | -24 | 24 | 14 | 8 | 8 | 1 | 142 | 96 |
| 4 | Alsogaray Julio | ARG | 8 | -39 | 11 | 17 | 17 | 6 | 23 | 5 | (DNC [54.0]) | 7 | 3 | 5 | 5 | 2 | 202 | 109 |
| 5 | Kontides Pavlos | CYP | 4 | 3 | 21 | 4 | 5 | -27 | 1 | 1 | 10 | 15 | -36 | 13 | 3 | 32 | 175 | 112 |
| 6 | Junior Joshua | NZL | 3 | 22 | 1 | 2 | 7 | 5 | 8 | -29 | 12 | 21 | -25 | 7 | 22 | 4 | 168 | 114 |
| 7 | Bernaz Jean-Baptiste | FRA | -33 | 2 | 14 | 12 | 5 | 1 | 19 | 3 | 15 | 6 | 15 | 3 | 23 | -28 | 179 | 118 |
| 8 | Fontes Bruno | BRA | (BFD [54.0]) | 4 | -33 | 22 | 4 | 9 | 4 | 3 | 22 | 20 | 13 | 9 | 12 | 3 | 212 | 125 |
| 9 | Goodison Paul | GBR | 3 | 1 | 9 | 4 | 3 | 7 | -15 | 7 | (BFD [54.0]) | 17 | DNF [54.0] | 10 | 1 | 10 | 195 | 126 |
| 10 | Stipanovi Tonci | CRO | -19 | 14 | 15 | 4 | 1 | 8 | 2 | 11 | 3 | 13 | 32 | 17 | 13 | -39 | 191 | 133 |
| 11 | Schadewaldt Tobias | GER | 7 | -36 | 12 | 13 | 13 | 12 | 19 | 2 | 6 | -34 | 5 | 22 | 2 | 23 | 206 | 136 |
| 12 | Buhl Philipp | GER | -39 | 17 | 2 | 12 | 25 | 5 | -31 | 4 | 27 | 14 | 2 | 2 | 17 | 16 | 213 | 143 |
| 13 | Myrgren Rasmus | SWE | -37 | -25 | 15 | 16 | 6 | 2 | 22 | 7 | 25 | 12 | 8 | 6 | 16 | 9 | 206 | 144 |
| 14 | Bullot Michael | NZL | 1 | 2 | 5 | 13 | 9 | 3 | 3 | -23 | (BFD [54.0]) | 30 | 26 | 16 | 21 | 17 | 223 | 146 |
| 15 | Radelic Luka | CRO | 2 | 2 | -42 | 1 | 18 | 10 | 13 | 8 | (BFD [54.0]) | 32 | 20 | 4 | 37 | 6 | 249 | 153 |
| 16 | Maloney Andrew | NZL | 2 | -22 | 4 | 10 | 2 | 11 | 3 | 4 | 20 | 5 | -37 | 35 | 28 | 31 | 214 | 155 |
| 17 | Pruvot Felix | FRA | 15 | 18 | 10 | 3 | 14 | 19 | 5 | -30 | 18 | -35 | 18 | 21 | 9 | 7 | 222 | 157 |
| 18 | Brunning Ashley | AUS | 12 | 9 | 10 | 12 | 3 | 3 | 1 | -19 | 26 | (DNC [54.0]) | 23 | 36 | 4 | RDG [21.0] | 233 | 160 |
| 19 | Bouwmeester Roelof | NED | 14 | 3 | 17 | 9 | 10 | 12 | -36 | 13 | 11 | -31 | 27 | 14 | 14 | 18 | 229 | 162 |
| 20 | Hernandez Javier | ESP | 5 | 15 | 6 | -19 | 4 | 12 | 13 | 10 | 21 | 1 | 21 | (DSQ [54.0]) | 20 | 38 | 239 | 166 |
| 21 | Geritzer Andreas | AUT | -33 | 6 | 2 | 1 | 2 | 22 | 9 | 9 | -37 | 16 | 16 | 25 | 26 | 34 | 238 | 168 |
| 22 | Bottoli Giacomo | ITA | 9 | 4 | 3 | 6 | 3 | 8 | -29 | 24 | 16 | 25 | 10 | -40 | 27 | 35 | 239 | 170 |
| 23 | Wigforss Johan | SWE | -40 | 19 | 17 | 16 | 11 | 2 | 16 | 2 | 2 | 11 | 30 | -32 | 25 | 20 | 243 | 171 |
| 24 | Schaardenburg Rutger | NED | 19 | 20 | -29 | 13 | 5 | 15 | 10 | 11 | 14 | 27 | 6 | 30 | (DNC [54.0]) | 5 | 258 | 175 |
| 25 | Romero Diego | ITA | 9 | 12 | 26 | 7 | 11 | -29 | 8 | 25 | 1 | 3 | 34 | 11 | 31 | (DSQ [54.0]) | 261 | 178 |
| 26 | Meech Sam | NZL | 10 | -46 | 5 | 14 | 7 | 13 | 24 | 2 | (BFD [54.0]) | 33 | 19 | 24 | 19 | 11 | 281 | 181 |
| 27 | Stalheim Jesper | SWE | -30 | 5 | 9 | 26 | 23 | 15 | 18 | 17 | 9 | 9 | -39 | 23 | 15 | 12 | 250 | 181 |
| 28 | Leigh Michael | CAN | 4 | 11 | -44 | 19 | 8 | 14 | 5 | 14 | 34 | 18 | 12 | -37 | 11 | 33 | 264 | 183 |
| 29 | Vujasinovic Milan | CRO | 28 | 7 | 3 | 10 | 1 | 13 | (DSQ [54.0]) | (DNF [54.0]) | 7 | 40 | 9 | 20 | 10 | 43 | 299 | 191 |
| 30 | Powell Mark | GBR | 17 | -28 | 27 | 9 | 17 | 10 | 17 | 22 | 17 | -43 | 7 | 28 | 18 | 15 | 275 | 204 |
| 31 | Cedergardh Emil | SWE | 13 | 35 | 28 | -45 | 14 | 2 | 4 | 7 | 19 | 28 | 35 | 18 | (DNC [54.0]) | 8 | 310 | 211 |
| 32 | Kamrath Malte | GER | 28 | 10 | 1 | 18 | 7 | 23 | 32 | -39 | 23 | -41 | 4 | 27 | 24 | 21 | 298 | 218 |
| 33 | Bougiouris Adonis | GRE | 6 | (OCS [54.0]) | 21 | 41 | 6 | 9 | 11 | 12 | 31 | 26 | 11 | -42 | 34 | 22 | 326 | 230 |
| 34 | Rammo Karl-Martin | EST | 3 | 1 | 29 | 27 | 9 | -36 | 25 | 18 | -40 | 4 | 40 | 19 | 30 | 29 | 310 | 234 |
| 35 | Del Solar Matias | CHI | 4 | 5 | 16 | 34 | 2 | -35 | 17 | 6 | 41 | 38 | -47 | 29 | 36 | 13 | 323 | 241 |
| 36 | Komissarov Sergey | RUS | 13 | 12 | 16 | 5 | 24 | 15 | 12 | -30 | 5 | 44 | -51 | 33 | 38 | 26 | 324 | 243 |
| 37 | Berecz Zsombor | HUN | 12 | 17 | 19 | -29 | 12 | 23 | 10 | 5 | (BFD [54.0]) | 42 | 24 | 15 | 29 | 37 | 328 | 245 |
| 38 | Dold Christopher | CAN | 22 | 11 | -35 | 25 | 10 | 11 | 30 | 15 | 8 | 46 | 22 | 26 | (DNC [54.0]) | 19 | 334 | 245 |
| 39 | de Haas Marc | NED | 7 | 18 | 7 | 18 | 18 | 17 | 11 | -38 | (BFD [54.0]) | 22 | 28 | 34 | 44 | 24 | 340 | 248 |
| 40 | Van Vianen Eduardo | NED | 5 | 9 | 20 | 24 | 15 | 1 | -25 | 14 | 32 | 37 | 29 | -45 | 42 | 27 | 325 | 255 |
| 41 | Andrews Max | NZL | 12 | -41 | 19 | 7 | 26 | 8 | 4 | 34 | 13 | 10 | -49 | 43 | 41 | 45 | 352 | 262 |
| 42 | Foglia Alejandro | URU | 23 | 15 | 18 | -30 | 12 | 4 | 18 | 27 | 29 | 19 | -43 | 38 | 32 | 30 | 338 | 265 |
| 43 | Maegli Juan | GUA | -29 | 12 | 7 | 5 | 29 | 7 | 12 | 20 | 33 | 39 | 33 | -50 | 35 | 36 | 347 | 268 |
| 44 | Lolic Aron | CRO | 7 | 6 | 3 | 3 | 15 | 17 | -19 | 6 | 36 | 45 | 46 | -49 | 45 | 42 | 339 | 271 |
| 45 | Pelt Gijs | NED | 18 | 14 | 4 | 11 | 11 | 21 | -27 | 21 | -42 | 23 | 38 | 41 | 33 | 40 | 344 | 275 |
| 46 | Stelmaszyk Jonasz | POL | 16 | 8 | 2 | 30 | -35 | 19 | 2 | 23 | 35 | -51 | 31 | 31 | 39 | 47 | 369 | 283 |
| 47 | Barrows Thomas | ISV | 10 | 29 | 8 | 15 | 16 | -33 | 17 | 14 | 28 | -50 | 48 | 39 | 40 | 44 | 391 | 308 |
| 48 | Mollatt Mathias | NOR | 10 | 10 | 30 | 5 | 10 | 30 | -38 | 4 | 38 | -48 | 41 | 47 | 43 | 46 | 400 | 314 |
| 49 | Collura Pierre Angelo | FIN | 11 | 7 | 30 | -47 | 20 | 23 | 7 | 21 | 30 | 29 | 45 | 44 | (DNC [54.0]) | DNC [54.0] | 422 | 321 |
| 50 | Sandall James | NZL | 42 | 7 | 6 | 14 | 14 | (RAF [54.0]) | 12 | 5 | 43 | 49 | -50 | 46 | 47 | 48 | 437 | 333 |
Back to top