Volvo to back more Team GBR Olympic sailors
Sarah Ayton, one of the original 'three blondes in a boat', has today unveiled her bid to become the first British woman to win three successive Olympic gold medals.
With the start of the London 2012 Olympic Games now less than 30 months away, Sarah Ayton has announced her plans to campaign for a third gold in London, in the two person 470 dinghy with her team-mate confirmed as seasoned 470 campaigner Saskia Clark. Their long-awaited news was revealed in conjunction with the announcement that Volvo Car UK will be backing their campaign as part of the Team Volvo for life sponsorship programme in addition to their support from Skandia Team GBR, the British sailing team.
Sarah Ayton has not rushed her decision, making sure she has picked the right boat and crew to succeed, but also manage her work life balance as a mother and one of Britain's top athletes. "After thinking really hard about my campaign and experimenting with match racing, it was an easy decision in the end to choose the 470. Teaming up with Saskia seemed the most natural route and we are already building up a strong understanding and can't wait to get started on our campaign. The next event is Hyeres, where the conditions are going to really test us, but this first year is about building up the relationship and proving ourselves as a team."
Saskia Clark finished sixth at the Beijing Games in the Women's 470, and is looking forward to the path ahead to 2012. "The new partnership in the 470 class is really interesting as with Sarah being a double gold medallist I can learn a lot from her experience. Whereas I have a lot of competitive experience in the 470, so as a team I think we complement each other really well. In January Sarah came to the World Cup event in Miami at the last minute to see how we got on as a new team. It was a really successful trip as we performed much better than we thought finishing 13th. To be a part of Team Volvo for life and all the support that it brings gives us a really good chance to concentrate on what we have to do to win gold in 2012."
Also announced as part of the new-look Team Volvo for life was Sarah Ayton's husband, windsurfing world champion and Olympic bronze medallist Nick Dempsey. After narrowly missing out on a medal in Beijing, Nick will be looking to make amends in London in front of his home crowd in Weymouth. He is basing much of his time in 2010 training in Weymouth with his goal to win the Skandia Sail for Gold regatta in August. "2012 will come around really quickly and by getting as much practice in Weymouth as possible it will really improve my chances for a successful Olympics."
Paul Goodison turned his agonising fourth place finish in Athens into a gold medal in China four years later. Volvo Car UK has backed Paul to glory since 2005 and will continue to do so as the proud Sheffield lad is aiming to become the cities first double gold medallist in 2012. Paul also happens be Saskia Clark's partner, with the pair being neighbours to the Sarah and Nick in Weymouth. "I am really happy to have the backing of Volvo for another Olympic campaign. I want to replicate what I have done in the past by securing gold at the games here in 2012, as well as successfully defend my European and World Laser Championships."
No sailing team would be complete without the inclusion of Britain's most successful ever Olympic sailor; Ben Ainslie. Ben was a founding member of Team Volvo for life in 2001, when he had just one silver and gold medal to his name. Since then he has, of course, won two more gold medals – he will be bidding for that historic fifth medal at London 2012.
Volvo Car UK has also pledged to continue their support for leading Paralympic sailor Helena Lucas. She beat her British male competitors to be selected for Beijing, but narrowly missing out on a podium place. Now she is working tirelessly to turn disappointment to success in 2012. Helena has started her 2010 season off well winning a silver media last month at the Princess Sofia Regatta in Palma.
Duncan Forrester, Head of Public Affairs, Events and Sponsorship for Volvo Car UK explained the company's ongoing commitment to sailing in the UK. "It's a privilege to be working with such an inspirational group of athletes in what is going to be a very exciting few years for British sport. Volvo has had great success with their sponsorship of Team Volvo for life since the programme started in 2001. The sailors we have supported have gone onto win six medals at the last two Olympics, including four- golds. We hope our backing will enable the current Volvo sponsored sailors to attain their ultimate goals. Volvo has supported British sailing since 1999 and remains committed to the sport in everything from the grassroots through to this inspirational group of sailors."
The new look Team Volvo for life will be inviting the public to become more involved in their campaigns in the build up to London via a new Team Volvo for life website and Facebook page. The Facebook page will offer a level of interaction with the athletes that has never been offered before. Each month one of the sailors will post a new video including their views, coaching and expert tips, fans will be encouraged to give their views as well as asking questions directly to the sailors on during their monthly live chats.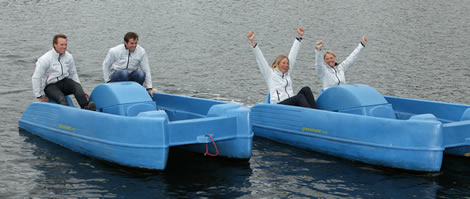 Back to top
Back to top