France gunning for further 'roast beef' silverware
After another commanding performance in last year's Rolex Fastnet Race, France is lining up to claim further silverware from the Royal Ocean Racing Club's trophy cabinet - this time the Brewin Dolphin Commodores' Cup. A win for France would mark the tenth anniversary of their last victory in the RORC's biennial event for three boat teams with Corinthian crews, that this year takes place over 23-30th July.
According to Jean-Philippe Cau, President of the Union Nationale de la Course au Large (UNCL), which was tasked with selecting the France teams, initially they had around 15 interested parties wishing to compete and intended to have four teams. However he notes "in fact two French boats have joined other teams." Philippe Bourgeois' Dunkerque - Les Dunes de Flandre is part of Flanders North Sea, and another has joined a team yet to be announced.

So this year France is fielding three teams:

France Blue
Teasing Machine - A13 (1.175) - Eric De Turckheim/Laurent Pages
GOA - Ker 39 (1.117) - Gilles & Samuel Prietz/Samuel Prietz
Cifraline - Sunfast 3200 (1.000) - Daniel Andrieu

France White
Lann Ael 2 - JND 39 (1.118) - Didier Gaudoux
Pen Koent - First 40.7 (1.046) - Emmanuel Le Men
Foggy Dew - JPK 1010 (1.002) - Noel Racine

France Red
Stamina - JND 39 (1.129) - Andrew Hurst/Joe Lacey
Timeline - JPK 1080 (1.047) - Marc Alpérovitch
Realax - A35 (1.027) - Jean-Yves Le Goff/ Alexandre Korniloff

All three are strong, bristling with talent, but France Blue stands out.

At present Eric De Turckheim's powerful A13 Teasing Machine is one of the world's most well-travelled race boats. In December she was winning the Rolex Sydney Hobart until she ran into a hole off Tasmania dropping her to seventh overall, but still finished first in IRC 3. After some hurried shipping, she raced the RORC Caribbean 600 finishing third overall on corrected. Her action-packed schedule currently sees her competing in the Volvo Round Ireland Yacht Race.
Two years ago when Teasing Machine was new, she put in a mixed performance at the Brewin Dolphin Commodores' Cup, winning the offshore race and an inshore race, but also suffering some deep results. This year we can expect no such inconsistency.

In France Blue, Teasing Machine will be racing alongside Gilles & Samuel Prietz's GOA. This will be the Prietz's fourth Brewin Dolphin Commodores' Cup, following 2008, 2010 and 2014 when they achieved the third best individual boat score. Since then, they have traded their trusty A40 for a more Anglo-Saxon Ker 39. In this, they have enjoyed even more success, winning IRC 1 in last year's Rolex Fastnet Race, ahead of Teasing Machine.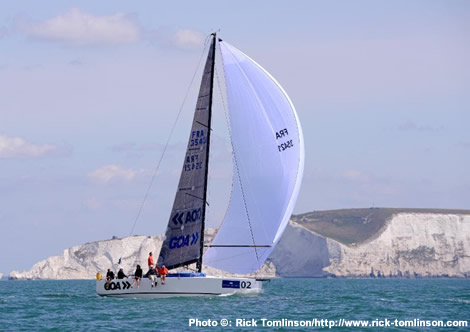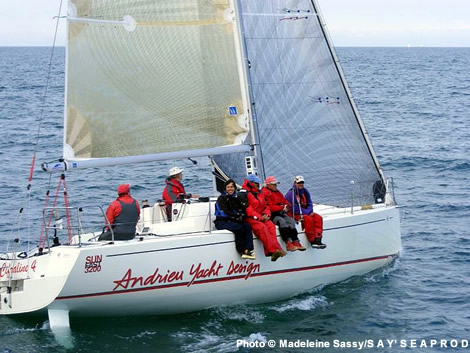 Completing the France Blue trio is eminent French yacht and America's Cup designer Daniel Andrieu, campaigning a masterpiece from his own drawing board - a Jeanneau Sun Fast 3200. Andrieu's Cifraline had much work carried out on her over the winter, including a mast and keel change. This seems to have worked: At Spi Ouest-France this Easter, her 1-1-2-2 scoreline blew the socks off the competition in IRC 3, ahead of a normally dominant flotilla of JPK 1010s.
As Cau observes: "Daniel has done a lot of work to optimise his boat and his results are very, very consistent. Now they are at the level of the best JPK 1010s or even better..."

'Big boats' in both France White and France Red are new JND39s, a Joubert-Nivelt design featuring a powerful hull and substantial chine. Didier Gaudoux, owner of Lann Ael 2 in France White, previously campaigned a JPK 110 in which he won his class in last year's ArMen Race, one of France's leading offshores. Meanwhile leading the charge in France Red will be Stamina, campaigned by 'well-known Frenchman' and Editor of Seahorse magazine, Andrew Hurst. The new Stamina is owned by RORC Committee member Michel Péretié, replacing his previous A40. Péretié is campaigning her in the RORC offshores this season, while Hurst has her for the Brewin Dolphin Commodores' Cup and IRC Nationals. Hurst is a previous winner of the Commodores' Cup, with Germany in 1998.

Racing alongside Lann Ael 2 in France White is another repeat Brewin Dolphin Commodores' Cup competitor in Emmanuel Le Men's First 40.7 Pen Koent - part of the France Red team that finished second two years ago (below).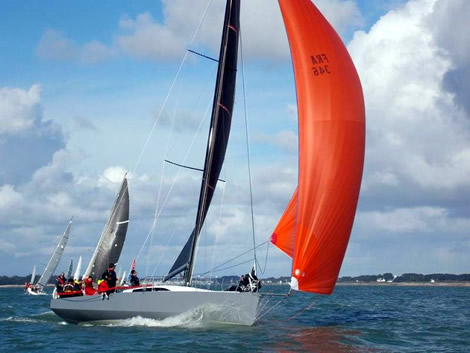 Then there is the familiar JPK 1010, Foggy Dew, of Noel Racine, which finished third overall in the RORC's Season Points Championship both last year and in 2014 and was second overall in the 2013 Rolex Fastnet Race.
France Red sees the return of Marc Alpérovitch, campaigning his new boat, Timeline, a JPK 10.80 sistership to Géry Trentesaux's 2015 Rolex Fastnet Race winner, Courrier de Leon. Alpérovitch previously competed in the 2008 and 2010 Commodores' Cup with his A35, Prime Time.

As Cau observes: "Marc sailed for a very long time on his A35 with very good results. He spent two or three years deciding what new boat to buy before he bought a JPK 1080. Although he is not yet at the same level as he was in his former boat, he is very serious and I know he will get there."

Finally there is Jean-Yves Le Goff and Alexandre Korniloff on board their A35 Realax, which finished one place ahead of Timeline and two ahead of Pen Koent in IRC at Spi Ouest-France this year.

While France Blue might be tipped as favourite, there is both talent and maturity in the other French teams, which suggests that all three are capable of getting on this year's podium.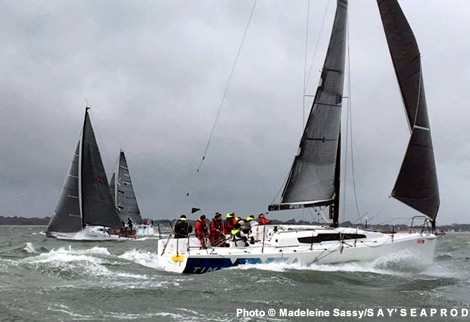 Back to top
Back to top