Victory for Beyou
After three days of twists and turns in teasingly light conditions in the Bay of Biscay, Jérémie Beyou on Maître CoQ won the inaugural New York – Vendée (Les Sables d'Olonne) Race presented by Currency House and SpaceCode at 12:37:52 UTC today

"This win is super important in itself, because the New York - Vendée is a big ocean race, but it is also important for the Vendée Globe: it's going to be hard for me to hide now." Beyou said. "I felt I could afford a smile when I realised that I was able to keep Seb (Josse) at bay. I was up to speed with the best, it was a good sign. I really felt that it was possible when we ended up as a trio, and then I realised that it was pretty much done after his gybe yesterday morning towards the north Spain. That didn't work and I was left out in front. I knew there would still be some soft stuff, but that everyone would suffer."

The race between what is arguably the financial capital of the world to what is indisputably the capital of offshore racing, was won by one of French sailing's favourite sons. The 39-year-old skipper from Lorient, who learned to sail with his father in the Bay of Morlaix in Brittany, showed why he regards this stretch of water as his playground.

With the spotlight on them ahead of the start of the 2016-17 Vendée Globe in November, Beyou held off the challenge from his fellow French sailor, Sébastien Josse (Edmond de Rothschild), who should finish second later today, ahead of British sailor, Alex Thomson (Hugo Boss).

Beyou covered the course in 9 days 16 hours 57 minutes and 52 seconds. He sailed 3,460 miles at an average speed of 14.85 knots. Except for two brief spells, Beyou has led the race since he deposed Thomson on Saturday afternoon. His advantage was never greater than 30.9 miles, but it was notable that of the three he happily declared that he was used to managing leads of 0.3 of a mile for four days and he relished this close-quarter combat.

"I know that there was an abandonment, and some damage [to other boats], but I held out against skippers who are real champions," Beyou said. "Alex Thomson is reference-point in the IMOCA class, and I'm not even going to try and sum up Sébastien Josse, who has incredible ability."

The 41-year-old Josse led the race for only 15 minutes in total, on Saturday, June 4, and he tracked Beyou across the North Atlantic. The hunt was on, but it was it was Beyou that kept striking. Thomson, 42, rallied from the north to take back the lead for an hour yesterday (Tuesday) morning. But Beyou found the wind as Thomson stalled and from then on he seemed uncatchable.

Beyou is already in exalted company as one of the few people to win French solo sailing's finishing school, La Solitaire du Figaro, three times. But this was his first win in a solo IMOCA race. After being forced to abandon during the last two Vendée Globes, Beyou will hope this bodes well for third time lucky.

Victory will be doubly satisfying for Beyou because he has an old generation boat (the former Banque Populaire, which finished second in the last Vendée Globe in 2012-13), which has recently been retrofitted with foils. He was able to beat Josse and Thomson, both of whom have new boats designed with foils.

Leaving Manhattan's spectacular skyline behind on Sunday, May 29, Beyou needed his share of luck as he, Josse and Thomson avoided the damage at the start which saw five boats - Pieter Heerema (No Way Back), Yann Eliès (Quéguiner – Leucémie Espoir), Jean-Pierre Dick (St Michel – Virbac), Morgan Lagravière (Safran) and Armel Le Cléac'h (Banque Populaire) - head back to port for repairs on Monday, May 30. That narrowed the odds for Beyou because the last four of those were potential winners, four of them new generation foiling boats.

In a fantastic downwind opening phase to the race, Thomson set the pace in a 20-25 westerly wind, but the leading trio had already emerged from the reduced fleet by Wednesday, June 1 as they all posted big 24-hour runs. Thomson's 487 miles at an average speed of 20.3 knots remains the best run of the race, but Beyou managed 467 miles at 19.5 during the same period.

The trio asserted their domination as they gybed north on Wednesday away from the rest. Thomson continued north on Thursday skirting the ice exclusion zone and opening a lead over Beyou that was 102 miles at one point. With a cold front descending from the north and bringing 35-40 knot winds, Beyou and Josse were angling more directly to Les Sables d'Olonnes while Thomson was dicing with getting caught in storm forces winds. Beyou and Josse made 80 miles back quickly on Thomson after his crash tack and recovery on Thursday night, and Beyou gradually edged past into a more favourable and ultimately winning position as they headed towards the slowdown. Thomson "perhaps went a little too far north," Beyou said on Sunday.

The trio had managed around 3,000 miles at an average speed of 16 knots in a week by the end of Sunday, June 5, as they approached the Bay of Biscay. The last 450-odd miles have taken two and a half days, with average speeds over 24 hours plunging down to 5 knots. Beyou proved himself the shining star of the Vendée Waltz.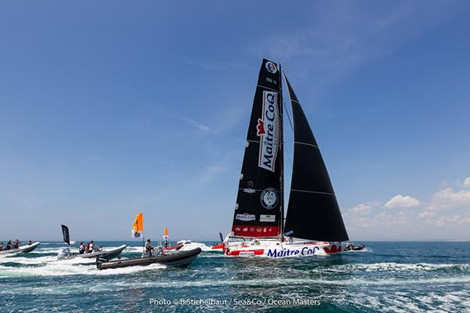 Back to top
Back to top