British Figaro sailors come good
The 13th Solo Maître Coq for the Figaro class got underway today and the two relatively short coastal races, sailed in light airs, were won respectively by British skippers Alan Roberts on Vasco da Gama and Nick Cherry on Redshift.
The two short courses were set off Les Sables d'Olonne due to the light, shifty, southeasterly wind. The first 17.5 miles long course was claimed by Roberts along Damien Cloarec on Saferail had led for most of the way. Former Mini Transat winner Corentin Douguet on Sofinther – Un maillot pour la vie was third.
Race two was set at 18.8 miles but had to be shortened as the wind dropped. Again, the victory went to a subject of Her Majesty with Nick Cherry coming home ahead of Will Harris on Artemis 77 and Swiss former Mini and Volvo Ocean Race sailor Justine Mettraux on Teamwork.
At the close of the opening day of the Solo Maître Coq, Nick Cherry leads overall from Alan Roberts with Corentin Douguet third.
Among the rookies, Aymeric Decroocq on Bretagne CMB Espoir came home fourth overall to lead the 'bizuth' class.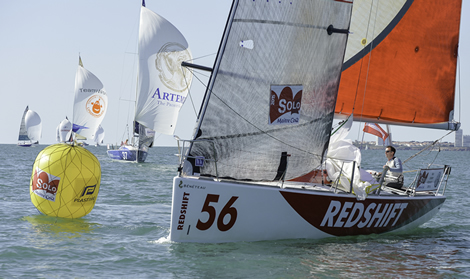 Of his day, Redshift skipper Nick Cherry commented: "The day was excellent. The first race was very intense. I made a bad gybe and Alan Roberts took advantage of it, but I was very happy with my fourth place. In the second race, it was great. I rounded the first windward mark in the lead and then I controlled the fleet. Mary Rook just made me a little scared" I am very pleased to take first place overall although there's a lot left to be done. "
Alan Roberts, skipper of Vasco da Gama described his day: "I kicked off the Solo Maître Coq with a good start to the first race. I managed to sail well and was ahead at the top mark. On the second race, I knew everything was going to the right on the water. I tried to keep that side but, at one point, I went left - it was unnecessary and I lost ground. But I managed to finght back at the end. So it was a good day. On the down side, there were a lot of jellyfish in the bay - I got one around the keel and I was forced to manoeuvre to release it. I hope tomorrow the course will be clearer! "
Mary Rook skipper of Artemis 37 said: "I had a great day. The first race was a little hard but it was interesting with lots of wind shifts and therefore a lot of strategy. The second race was really cool. I went from third to first and second. I made some mistakes before the end and finished fourth, but it was great. I'm glad that happened because so far I have not sailed a lot on this boat and every time I sail it's good practice. Today was informative."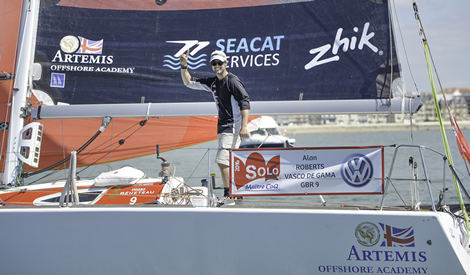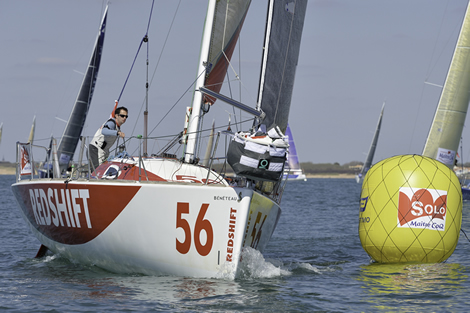 #
Results:

| | | | | | | | | |
| --- | --- | --- | --- | --- | --- | --- | --- | --- |
| Pos | Boat | Skipper | Column1 | Nat | Rookie | R1 | R2 | Tot |
| 1 | REDSHIFT | Nick | Cherry | GBR | | 6 | 1 | 7 |
| 2 | VASCO DA GAMA | Alan | Roberts | GBR | | 1.5 | 7 | 8.5 |
| 3 | SOFINTHER - Un Maillot Pour la Vie | Corentin | Douguet | FRA | | 4.5 | 6 | 10.5 |
| 4 | BRETAGNE CMB ESPOIR | Aymeric | Decroocq | FRA | * | 7.5 | 5 | 12.5 |
| 5 | Artemis 77 | Will | Harris | GBR | * | 12 | 2 | 14 |
| 6 | SAFERAIL | Cloarec | Damien | FRA | | 3 | 14 | 17 |
| 7 | OVIMPEX-SECOURS POPULAIRE | Anthony | Marchand | FRA | | 9 | 9 | 18 |
| 8 | TEAMWORK | Justine | Mettraux | SUI | * | 15 | 3 | 18 |
| 9 | Skipper Espoir CEM | Pierre | Quiroga | FRA | * | 10.5 | 11 | 21.5 |
| 10 | TEAM VENDEE | Benjamin | Dutreux | FRA | | 13.5 | 8 | 21.5 |
| 11 | Artemis 37 | Mary | Rook | GBR | * | 21 | 4 | 25 |
| 12 | TEAM VENDEE FORMATION | Marc | Noesmoen | FRA | * | 16.5 | 12 | 28.5 |
| 13 | Artemis 64 | Andrew | Baker | GBR | | 18 | 16 | 34 |
| 14 | Un bateau pour demain | Arthur | Le Vaillant | FRA | | 24 | 10 | 34 |
| 15 | De la Solitaire au Globe | Benoît | Hochart | FRA | | 22.5 | 13 | 35.5 |
| 16 | REGION NORMANDIE | Sophie | Faguet | FRA | | 19.5 | 19 | 38.5 |
| 17 | PORT DE CAEN OUISTREHAM | Claire | Pruvot | FRA | | 27 | 15 | 42 |
| 18 | Artemis 23 | Hugh | Brayshaw | GBR | * | 25.5 | 20 | 45.5 |
| 19 | FAUN Environnement | Arnaud | Godart-Philippe | FRA | | 28.5 | 18 | 46.5 |
| 20 | HORS LA RUE | Yves | Ravot | FRA | | 30 | 17 | 47 |
| 21 | #théoenfigaro | Théo | Moussion | FRA | * | 31.5 | 22 | 53.5 |
| 22 | CECILE CHERCHE SPONSORS | Cécile | Laguette | FRA | * | | | |
Back to top
Back to top