Matson and Elsey fired up
Artemis Offshore Academy sailors Sam Matson and Robin Elsey will embark on their first transatlantic crossing together on Sunday, as they take on the 3,890 mile Transat AG2R La Mondiale from Concarneau, France to St Barts in the Caribbean.

Boasting a formidable line-up of top Figaro sailors, the Transat AG2R is the only double-handed, one-design race of its kind and Matson and Elsey, on board their 33ft Figaro Bénéteau one-design, Artemis, will be up against some tough competition.

"The weather for the start is looking quite tricky," Matson explained. "We're looking at light airs out of Concarneau for the first night, but once into the Bay of Biscay it gets pretty wild."

"The forecast is predicting a fast downwind reach across the Biscay with winds of up to 35 knots," added Elsey. "Things calm a little once around Cape Finisterre, but we're still looking at around 20 knots, which will be nice and fast. We should reach our first waypoint at La Palma in around six to seven days."

For Matson – whose personal sponsor is Chatham Marine Footwear – and Elsey, the Transat AG2R La Mondiale will be the longest race they will have attempted. Ages just 25 and 23 respectively, and both from the southwest of England, the Brits are two of the youngest skippers taking on this transatlantic challenge.

"We only finalised our entry six weeks ago," Matson explained. "So we haven't really had a chance to think about it. Come Saturday night, I'm sure there will be feelings of apprehension. We are ultimately sailing into the unknown. This is a race you can prepare your boat for, but you can't really plan it to the finish line, we are Rookies again."

In the build-up to the start, the pair have been busy in Concarneau, attending press conferences, photo calls and meeting school children and local groups. They have also been preparing themselves mentally for the ordeal ahead, putting the final touches to their boat and attending pre-start weather, safety and official race briefings as Elsey explained:

"We've been working hard to prepare the boat, renewing what we can and getting ready to sail her 3,890 miles. Planning what to take has been difficult. We could be on board for up to 25 days so we need to make sure we have enough food and water, but equally we don't want to over-pack and be hauling unnecessary weight.

"We're taking 70kg of food, mostly wet pouches, boil in the bag and then the usual tins of tuna, dried fruit and nut mixes that we would take on the Solitaire."

Artemis is the only British entry in a French-dominated 15 boat fleet. Turkish sailor Tolga Ekrem Pamir is the only other international competitor.

This year's edition is the 14th time the biennial race has been run. The inaugural race in 1992 race was won by two-time Vendée Globe winner Michel Desjoyeaux and Jacques Caraes, in a time of 24 days, 8 hours, 40 minutes and 34 seconds.

"We're looking to finish in the top half of the fleet, that is our aim," said Matson. "The experience among the fleet is varied. There are some top Figaro sailors, four Rookie teams including us and a good range of ages taking part. We're expecting quite a widespread fleet by the time we reach St Barts, but it's always tight at the front."

As first-timers to the race and about to set sail on a transatlantic crossing that is double the length of the entire four-leg Solitaire Bompard – Le Figaro, Matson and Elsey know they are up against a challenge.

"Compared to the intensity of the Solitaire, the AG2R is a long game of endurance and skill," Elsey concluded. "Each Solitaire leg is relatively short, and you can pretty much plan for the whole race. With this race, we can only plan for the start and then get prepared to react to the forecasts we receive. It's a different way of racing."

Both Matson and Elsey have had their own successes on the solo Classe Figaro Circuit and the Transat AG2R La Mondiale is the next step in their training and development.

The 15 boats will cross the Transat AG2R La Mondiale startline at Concarneau at 13.08 local time (12.08UK) on Sunday.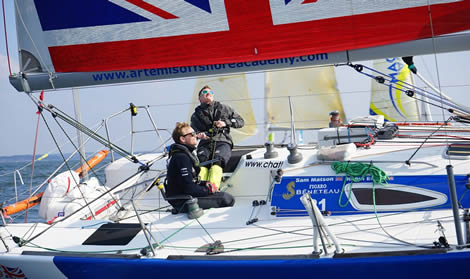 Back to top
Back to top