Giant turn out
Skippers, both fully signed up and 'pre-inscrits' (ie those not fully there yet) were present at the Pavilion Gabriel in Paris for the traditional standing-room only Vendée Globe press conference. Eight months out from the start (Les Sables d'Olonne on Sunday, 6 November), the Paris presser always provides a good indication of the competition in next winter's singlehanded non-stop round the world race.
For this, the eighth Vendée Globe, there once again seems to be a record turn-out with 28 skippers signed up and an extra three 'pre-inscrits'. This list also currently doesn't include a number of other skippers such as Britis hope Phil Sharp and American Ryan Breymaier, nor Irish telecoms mogul Enda O'Coineen, who did so well in the St Barts-Concarneau race last autumn, still hopeful of making it to the start line.
This could present a problem, with Race Director Denis Horeau adamant that the maximum of number of entries this year will remain at 27. According to Horeau, the limit is due to the number of available berths alongside at the famous Vendée Globe dock in Les Sables d'Olonne's Port Olona. This was the same number as in 2012 (when it was reduced from its previous limit of 30 in 2008).
Jeremie Beyou
FRA
Maitre CoQ
VPLP-Verdier 2011
ex Foncia, Banque Populaire
Tanguy de LaMotte
FRA
Initiatives Coeur
Farr 2006

ex PRB, Akena Verandas
Vincent Riou
FRA
PRB
VPLP-Verdier 2010
Morgan Lagraviere
FRA
Safran
VPLP-Verdier 2015
Armel le Cleac'h
FRA
Banque Populaire
VPLP-Verdier 2015
Paul Meilhat
FRA
SMA
VPLP-Verdier 2011
ex MACIF
Sebastien Destremau
FRA
FaceOcean
Finot-Conq 1998
ex-Gartmore
Eric Bellion
FRA
Comme Un Seul Homme
Finot-Conq 2008

ex DCNS
Jean-Pierre Dick
FRA
St Michel-Virbac
VPLP-Verdier 2015
Fabrice Amedeo
FRA
Newrest-Matmut
Farr 2007

ex-Gitana 80, Renault, Synerciel
Sebastien Josse
FRA
Edmond de Rothschild
VPLP-Verdier 2015
Yann Elies
FRA
Queguiner-Leucemie Espoir
VPLP-Verdier 2007

ex-Safran
Thomas Ruyant
FRA
Le Souffle du Nord
VPLP-Verdier 2007

ex-Groupe Bel
Nicolas Boidevezi
FRA
Adopteunskipper.net
Farr 2007

ex-BT, Veolia Environnement, Hugo Boss
Kito de Pavant
FRA
Bastide Otio
VPLP-Verdier 2010

ex Paprec-Virbac 3, Hugo Boss
Jean le Cam
FRA
?
Farr 2007

ex Foncia, Mare, Mapfre, Maître Coq, Cheminées Poujoulat
Bertrand de Broc
FRA
MACSF
Finot-Conq 2007

ex BritAir
Louis Burton
FRA
Bureau Vallee
Farr 2006

ex Delta Dore
Nandor Fa
HUN
Spirit of Hungary
Nandor Fa 2014

Rich Wilson
USA
Great American IV
Owen Clarke 2006
ex Temenos II, Mirabaud

Alex Thomson

GBR
Hugo Boss
VPLP-Verdier 2015
Arnaud Boissieres
FRA
La Mie Caline
Farr 2007

ex-Virbac Paprec 2
Richard Tolkien
GBR
?
Finot Conq 1998
ex-Sodebo, VMI, Brit Air, Akena Verandas, Team Plastique
Alan Roura
SUI
Un Vendee pour la Suisse
Rolland 2000
ex Armor-Lux/Foies Gras Bizac ; We Are Water
Stephane le Diraison
FRA
?
Finot Conq 2007
ex Hugo Boss, Energa
Peter Heerema
NED
?
VPLP-Verdier 2015
Romain Attanasio
FRA
?
Lombard 1998
ex-Whirlpool, Tiscali, ProForm, Initiatives Coeur
Didac Costa
SPA
?
Owen Clarke-Humphreys, etc 2000
ex Kingfisher, Educación Sin Fronteras, Fòrum Marítim Català, One Planet One Ocean & Pharmaton
Pre-instricts
Alessandro di Benedetto
ITA
Owen Clark 2008
ex Aviva
Jean-Francois Pellet
FRA
Come in Vendee
Conrad Coleman
NZL
Lavranos-Artech Design Team 2005
ex Galileo, Maisonneuve
Others
Eric Holden
CAN
O Canada
Owen Clarke 2006
ex-Spirit of Canada
Phil Sharp
GBR
Enda O'Coineen
IRL
Currency House Kilcullen
Owen Clarke 2008
ex-Ecover 3,

Gamesa
Entries
Horeau admits he is surprised by the large turn-out this time, which flies in the face of other round the world races, which are typically scrabbling for entries. "It is a cycle: In 2008 we had plenty of boats and in 2012 we had less boats and 2016 we have plenty of boats again. Secondly the economic crisis is a little less tough now and thirdly the attraction of the Vendee Globe keeps continuing."
Another trend is the increased number of young French entries, which Horeau refers to as the "Francois Gabart effect. He was quite unknown apart from within our small universe. So this beginner came in and wins, so I guess that that has inspired a lot of young guys who feel they can do the same."
With Spain's Didac Costa screeching in at the last minute, the total number of official entries as of yesterday stood at 27 (ie full).
Of these only six are not French. So international entries are well down compared on previous years, with eight from a starting grid of 20 in 2012 or 13 from a field of 30 in 2008. So compared to the similarly-sized fleet eight years, international entries have halved…
Part of the problem is the Brits. Past involvement has been
2000 – 4 (when Ellen came second)
2004 – 3 (when Mike Golding came third)
2008 – 7 (when Sam Davies was fourth)
2012 – 3 (when Alex Thomson finished third)
While the talented Phil Sharp is still money hunting, at present in this year's race there are just two Brits: Alex Thomson is entered on his latest Hugo Boss - boat and skipper in theory with race winning potential, assuming they can be kept together for longer than they managed in the Transat Jacques Vabre last autumn.
A surprise entry is the return of former British banker Richard Tolkien, who has been involved in shorthanded offshore racing since the mid-1980s and has entered the Vendée Globe on numerous occasions, making it to the start line in 2000 when he forced out with rig problems.
Tolkien, a past winner of the Royal Western YC's two handed Round Britain and Ireland Race, acknowledges that taking part in the Vendée Globe is unfinished business and his main objective is to get round. To do the job he has acquired the boat which Italian Alessandro di Benedetto raced in the last Vendée Globe as Team Plastique and before that has had a long, illustrious career in the race, first going round as Thomas Coville's Sodebo, finishing fifth in 2000. Helping Tolkien on the shore side – at present focussing on the boat's refit in Concarneau - are his long term co-skipper Peter Foot, plus Nick Leggatt and Paul Peggs.
With any luck – or so OC's Charles Darbyshire assures us – the lack of British Vendée Globe entries on this occasion may be a temporary, generation-change thing as for 2020 several luminaries of the Artemis Offshore Academy are likely to be coming of age, ready to make their first attempts - the Sam Goodchilds, Nick Cherrys, Jack Bouttells, Henry Bombys of this world…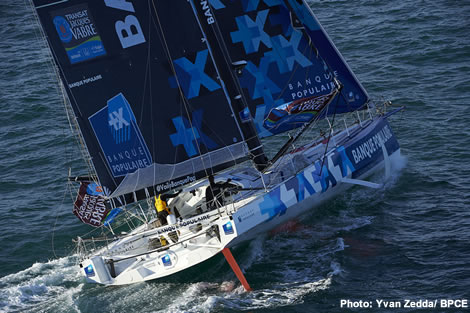 New hardware

In addition to Hugo Boss, there will be four or five other latest generation VPLP-Verdier IMOCA 60s. The design partnership that won the last Vendée Globe with Francois Gabart's MACIF in 2012, have the monopoly on the design of all six new boats that have been built for this race (lucky IMOCA didn't make their class one design!)
Obviously those with new boats are typically the best financed teams with the best skippers and, at this early stage, of these we think the favourites are Armel le Cleac'h on Banque Populaire and Seb Josse on Edmond de Rothschild, followed by Jean-Pierre Dick on St Michel Virbac.
Rather tediously for him, Le Cleac'h has finished second in the last two Vendée Globes and is thought to have the team which has thrown most resource into development of its boat's new, all-important foils. Josse may have been out of the IMOCA class for some time, but he is the most rounded of all the skippers competing with a CV that includes skippering a boat in the 2005-6 Volvo Ocean Race (ABN AMRO Two) and some top results in the MOD 70 trimaran class with his present team. Having finished fifth aboard VMI (now Richard Tolkien's boat) in 2004, Josse will be looking to make amends after being forced out of the 2008 race with a broken rudder system (that afflicted many of the 2008 generation Farr IMOCA 60 designs).
Jean-Pierre Dick has probably got more IMOCA 60 miles under his personal keel than any other skipper in the race, but still lacks that profound grounding that 10 years in the Figaro class provides and which at least one third of this year's skippers possess (including le Cleac'h and Josse, but particularly Yann Elies and Jeremie Beyou too).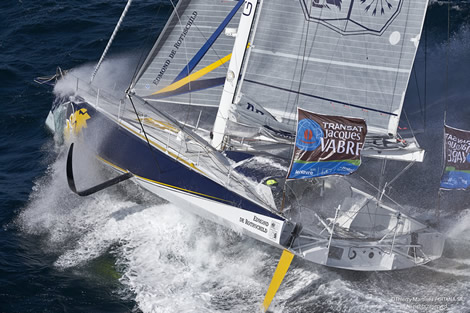 Les foils
The biggest issue this year is the foils. Any cost savings that the class may have incurred by requiring the fitted of a one design keel and mast have more than wiped out by the high R&D and build costs of these complex foils that don't appear even an especially good solution for a race such as the Vendee Globe.
Our feeling is that the foils are coming possibly a Vendée Globe cycle too early for the IMOCA 60s and that the class should have waited for the Minis to carry out some serious R&D work on the foils on their boats at a smaller scale (albeit something which Banque Populaire has already done…) rather than the other way round (at present Classe Mini is genuinely waiting to see how use of the foils pans out in the IMOCA 60 class, before they decide how to legislate their use in their own class).
If foils are going to be used in anger then there also needs to be a change to the IMOCA rule to allow more appendages than the five presently permitted (2x rudders, 1x canting keel, 2x daggerboards/foils) – something which PRB skipper Vincent Riou believes. Ideally if the boats are to remain the same fat beasts they are now, they need to have seven appendages to allow them to have the present Rambler 88 set-up (of 2x rudders 1x canting keel 2x daggerboards plus 2x DSS-style lateral foils) and insisting that the foils be straight as two of these will be cheaper than one of the present highly complex, compound curve foils, we're seeing on the new generation boats, which are both time-consuming and expensive to build. This would also allow proper daggerboards to be fitted, causing the boats to regain some upwind ability (the Achilles heel of this latest generation 60s).
Alternatively this might change if teams start to try (and the rule pushes them in this direction) to gain more righting moment and vertical lift from their lateral foils allowing, for example, narrower, lighter hulls and a general winding back on the power spiral. Gain enough lift from the lateral board and you could go for a narrower hull, you could have a single rudder, you could have a fixed keel – smaller, simpler, lighter and, in theory, possibly even cheaper…
Putting the crystal ball away, at present there is a big question mark over whether a foiling boat will win the Vendee Globe over a non-foiler. For example, of the five new generation foilers that entered November's Transat Jacques Vabre, only one – Banque Populaire VIII finished. And even she didn't win, victory going to Vincent Riou and Seb Col on the non-foiling PRB, with Banque Pop second and Solitaire du Figaro winner Yann Elies and Charlie Dalin on the conventional foiled Queguiner - Leucemie Espoir close behind them.
"The foils are a revolution," acknowledges Denis Horeau. "Everyone wants to foil, foils are a big deal. But you will never succeed in doing this in just a few months, so it is just the beginning of the story."
Most of the teams with new boats are still licking their wounds after the devastation caused in the Transat Jacques Vabre.
Second to pull out of that race after Seb Josse and Charles Caudrelier on Edmond de Rothschild, was Morgan Lagraviere and Nicolas Lunven on Safran. Safran was the first of the new generation VPLP-Verdier IMOCA 60s to be launched last year, but unlike Banque Populaire and Edmond de Rothschild, skipper Morgan Lagraviere is new to the IMOCA class having just graduated up from the Figaro, taking over the Safran campaign from Marc Guillemot.
According to Lagraviere, they pulled out of the TJV after a split of more than 2m long developed in the hull around the location of the new foils. Since the incident they have been going over what happened with all parties to establish the causes, but don't seem to have come to a conclusion, other than it clearly 'needs to be stronger…' Repair work has been underway at CDK in Port la Foret since the start of January and Lagraviere says that it extends for 2m ahead and 2m astern of the foils.
So what has he learned about the foils since he started using them? "It is really important to get right the incidence between the shaft and the tip. We learned from our version 1 foils and our version 2 foil are being built at the moment." These will be ready for Safran when she competes in the IMOCA Ocean Masters New York to Les Sables d'Olonne race in May. "The goal with this new foil is for it to be better when we are close to the wind. We have to make the tip bigger so it has more surface area and to optimise the profile. When the foil has a better section you can have a much better performance."
Even Lagraviere admits that it is not certain at this stage whether or not a foil-born boat will win the Vendée Globe. "If we can have the faster boat at times, but we are still not sure if it will be the best boat around the world because we can't use it 100% all the time."
Denis Horeau agrees and observes that the generation of boats on from the latest one will be conceived very differently.
Big budget newbie

The sixth of the new generation VPLP Verdier IMOCA 60s has been bought by Dutch businessman Pieter Heerema after it was launched in August, after it was originally built by Persico for Italian skipper Andrea Mura under the watchful eye of Team Manager Antoine Mermod. Sadly Mura ran out of money and the boat was subsequently acquired by Heerema.
Heerema is to known to us following his tenure in the RC44 class, where he campaigned No Way Back. This seems a million miles away from IMOCA 60s and the Vendee Globe, RC44 racing being inshore, one design and fully crewed. However despite not being an official entry as yet, Heerema seems keen to compete in the Vendee Globe and is soon to set off on his state of the art, foil-born IMOCA 60 for some lengthy training, allegedly working with two time Vendée Globe winner Michel Desjoyeaux's company, Mer Agitée.
Aside from the six new boats, there are a lot of powerful teams campaigning older generation boats. Of these, to date Jeremie Beyou's Maitre CoQ (the VPLP-Verdier design that raced as Banque Populaire in the last Vendee Globe) is the only one which is definitely retrofitting the new generation foils. This immensely laborious task is being carried out at CDK, the boat's old daggerboard cases and their internal structure being completely removed, before a new case is fitted to accept the new curved foil (being built by Heol Composites in Vannes and designed by a team including Nick Holroyd, who up until June last year was Technical Director for Emirates Team New Zealand).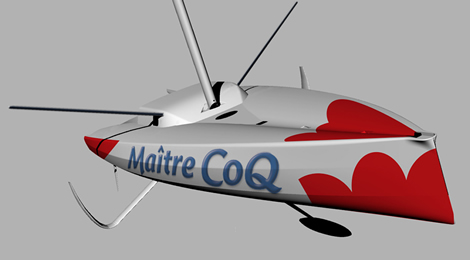 For Beyou, who joined the exclusive 'Solitaire du Figaro three-time winners club' (alongside Michel Desjoyeaux, Jean le Cam and Philippe Poupon) in 2014, this Vendée Globe will be a case of third time lucky after he was forced out with rig problems on Delta Dore (now Louis Burton's Bureau Vallee) in 2008 and with a broken keel ram on his previous Maitre CôQ in 2012.
Another race favourite, Vincent Riou, has said that he will make a decision on whether to fit new foils to his present PRB mid-March. Riou, who won the Vendée Globe in 2004, was forced out of the last Vendee Globe in his present PRB after a collision with a buoy that took out one of his boat's deck spreaders. Given Riou and his steed's performance winning the last Transat Jacques Vabre, they don't appear to be short of speed, even low riding.
Also one to watch is the Yann Elies on Queguiner-Leucemie Espoir. Elies nearly became the first person in Figaro history to win three Solitaire in a row in 2014, but finally joined Beyou and the others in the Solitaire's triple winners club last year. Like Beyou, he too has yet to complete a Vendee Globe. In 2008 he campaigned the Finot-Conq designed Hugo Boss/BritAir sistership Generali, but broke his femur while south of Australia. He was rescued by the Australian authorities after Marc Guillemot on Safran stood by. The two skippers have since raced together doublehanded and appropriately his currently boat is the former Safran (one of the first VPLP-Verdier designs to be launched) and one of the most developed boats in the IMOCA fleet.
Another noteworthy former Figaro skipper competing is Paul Meilhat, who has taken his Figaro sponsor SMA into the IMOCA class with the acquisition of the 2012 Vendee Globe winner, MACIF. However Meilhat is a rookie in the IMOCA class and while his boat certainly has the legs among the non-foilers, it is hard to tell how well he will get on. However, as was the case with Francois Gabart in 2012, Meilhat's campaign is being managed by Mer Agitée and having Michel Desjoyeaux's company involved must count from some beneficial miles/day in the race.
The oldies

Elsewhere in the line-up are ye olde skipper/salty dogs including Bertrand de Broc on the confusingly named MACSF. As if this weren't awkward enough, MACSF and MACIF are both insurance companies, MACSF specialising in health insurance, while MACIF's business appears to be wider reaching, including accident, personal and life insurance cover. De Broc is sailing the former BritAir, which as Votre Nom autour du Monde avec EDM Projets he sailed to ninth place four years ago.
No Vendée Globe is complete these days without Jean le Cam, aka King Jean. Le Cam at present has a boat – formerly Michel Desjoyeaux's 2008 Vendée Globe winning Foncia – but like several other people on the official entry list, is currently in the hunt for a sponsor.
Former Solitaire winner Kito de Pavant, is another skipper who has yet to have much luck in the Vendee Globe. Like Beyou, de Pavant has suffered two retirements - his previous boat, Groupe Bel (now Thomas Ruyant's Le Souffle du Nord) dismasted in the 2008 race and suffered a collision in 2012. However he's back with a more competitive boat, Bastide Otio, another VPLP-Verdier design that was previously Jean Pierre Dick's Virbac-Paprec 3, that finished fourth, despite being keel-less, in the last Vendée Globe.
With slightly different credentials to these gentlemen, but someone who has been racing offshore shorthanded for every bit as long as they have, is American Rich Wilson. After finishing 9th in the 2008-9 Vendée Globe, he returns with Great America IV (previously Dominique Wavre's 2006 vintage Owen Clarke design Temenos II/Mirabaud).
We can expect Wilson to be battling it around the world with round the world legend Hungarian skipper Nandor Fa, who gets the IMOCA class' long service award, having sailed his first Vendee Globe in 1992-3 when he finished fifth, just three days astern of Yves Parlier. He entered again on a new boat Budapest four years later, but was then forced to retire following a collision.
Fa returns with another new boat, designed largely by himself and built by Pauger Carbon Composites in Hungary (where the RC44s are built…) The boat has had its teething problems, including major delamination after it was first launched in 2014, but Fa made it around the world with Kiwi-American Conrad Coleman (another Vendée Globe potential entry this year) doublehanded in the Barcelona World Race.
Alongside Jean le Cam, who sailed an early Whitbread with Eric Tabarly, Fa certainly has some of the greatest tales from the high seas, including becoming in 1987 the first Hungarian to sail around the world, which was achieved before the Iron Curtain fell. This voyage led to him racing singlehanded around the world in the 1990-1991 BOC Challenge and then on to his first Vendée Globe.
Up and coming
Nipping at the heels of the leaders will be the next generation sailors some experienced IMOCA skippers like the ever popular Arnaud Boissieres who finished seventh in 2008-9 aboard Akena Verandas and repeated this position (but coming a fortnight faster) in 2012-3. He's back in a sistership to his last boat, formerly Jean Pierre Dick's Virbac Paprec 2, a 2007 generation Farr design.
Also to be watched in this group is former Class 40 skipper and journalist Fabrice Amedeo, on board Newrest-Matmut, formerly Loick Peyron's Gitana 80 (a sistership to Boissieres' boat) while former Mini Transat winner Thomas Ruyant has Le Souffle du Nord (ex-Groupe Bel). Nicolas Boidevezi has secured one of the best boats of this generation in the 2008 Farr design that Alex Thomson sailed to third place in the last Vendée Globe. However it is now known as Adopteunskipper.net until her new French skipper secures funds.
While the number of non-French competitors has effectively halved (unless some of those not yet on the official entry list hurry up and get on it), another blow to the race is the absence for the first time since the second race in 1992-3, of any female competitors.
Probably the race has come too soon after the Volvo Ocean Race for any of the Team SCA crew to come forward – like past competitors Sam Davies and Dee Caffari or even Liz Wardley (a past Figaro sailor). There are a fresh crop of female Figaro sailors coming through like Isabelle Joschke and Sophie Faguet. Hopefully the Magenta Project, set up to continue Team SCA's legacy from the Volvo Ocean Race will lend their support to a women's Vendee Globe campaign.
Back to top
Back to top