Icebergs and 45 knots boat speed
IDEC Sport crossed the finishing line off Ushant at 1650 UTC today, Friday 8 January, Francis Joyon and his crew of five having taken 47 days 14 hours and 47 minutes to complete their attempt on the Jules Verne Trophy - the third best time in the history.
The sun was going down over Ushant's Le Créac'h lighthouse and it was under fairly clear skies with a few clouds that IDEC Sport returned to her home waters.
Francis Joyon, Alex Pella, Clément Surtel, Boris Herrmann, Gwénolé Gahinet and Bernard Stamm hugged and High 5ed each other, as they arrived in Brest harbour. While they didn't break the Jules Verne Trophy record, they did, with a crew of just six, improve on the boat's own record time by 17 hours, compared to the Jules Verne Trophy record set by Franck Cammas his nine crew when he claim the Jules Verne Trophy on this boat as Groupama 3, back in 2010.

Above all, this adventure will be remembered for the human aspect. There were some great moments, like the record sprint towards the Equator in heavy weather and just one gybe to start the adventure. Then, there was the outright record set across the Indian Ocean, when they dived a long way south down into the ice. They suffered in the Pacific, which was a bit too light culminating in very strange, peaceful rounding of Cape Horn. In the middle of the South Atlantic they were able to admire the sight of a giant iceberg.
During the voyage they pushed to the limit with some wild moments surfing at 45 knots. While they sailed fast, they laughed a lot, got to know each other and shared their dreams. They enjoyed themselves and fought hard.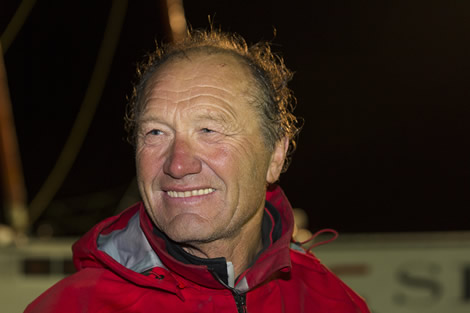 Francis Joyon commented: "There were a lot of great moments. I shall most remember a classic one: rounding Cape Horn in very pleasant conditions and in an incredible light… But the most important thing was the pleasure of being with a crew. We really worked well together and got on well. Our skills were fairly complementary. There were several solo sailors in this crew and that made a good mixture. We really worked hard on the boat, for example last night. I may sound a bit tired, but it's true we didn't get much rest, as we carried out manoeuvres through the night in squalls, but there was a good atmosphere and we all enjoyed it. At one point during the night, Bernard fell over in the boat. It was quite violent… Will we do it again? If we could set off again as a crew on this boat, we'd willingly do it. We are all very positive about what happened between us."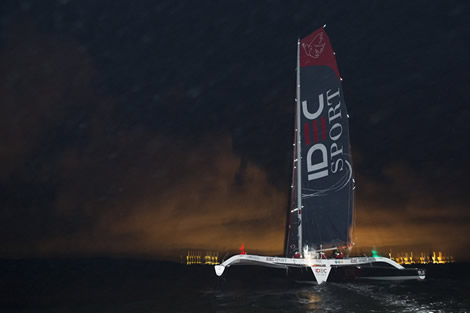 Bernard Stamm: "If I had to pick one moment, it would be surfing along at 45 knots. I can't remember when it was exactly, but I think it was in the Indian Ocean. The boat is very demanding at between 35 and 40 knots. When you spend a long time above 40 knots, it's not something you forget."

Gwénolé Gahinet: "One of my strongest memories is going right down in the Southern Ocean for the first time south of the Kerguelens and Heard Island. We had to go a long way south to get the record in the Indian Ocean. It was a real baptism of fire diving down to almost 60°S with the sea temperature at 2°C. And you just keep going at 35 knots watching out for icebergs… it was demanding and exciting, and the cold was particularly tough. One night, the boat actually froze. The nets and deck were frozen, which is exceptional, when you're sailing. It was a huge moment! But more generally, what was fantastic in this round the world adventure was the human aspect and the way we all pulled together as a crew. We had some great times and this was a wonderful voyage around the world. We were all quite different and had lots of stories to tell each other. Each time we changed watch, there were lots of anecdotes, we chatted a lot and laughed a lot too! That's the main thing."

Boris Herrmann: "One great memory for me was when we met up with Spindrift close to New Zealand… It was incredible crossing paths like that after sailing half way around the world. There was a great atmosphere on board, but it was the round the world voyage in general that was such a great experience. I think I learnt a lot of little things with this crew and became a little more mature as a sailor. It was an enriching experience with the others on board this magnificent boat."

Clément Surtel: "For me, the greatest moment was Cape Horn. Getting away from the Southern Ocean so close to this legendary rock, which I was rounding for the first time with a magnificent sunset was something else. It's a great image, which sums up the moment you get away from the Southern Ocean. There was a great atmosphere on board. Everyone supported each other. We discovered each other, as we didn't really know each other before setting off and that is never easy when there are six of you on board a boat like this. We laughed a lot. And after 47 days together, we know each other better now."

Alex Pella: "Of course, we're pleased to finish this round the world voyage with a very good time, even if we didn't break the record. There were some great times on board and a fantastic atmosphere, which I'm sure you felt back on dry land. If I had to choose one particular 'photo', one magic moment, for me it would be seeing that huge iceberg in the South Atlantic on a magnificent sunny day. Out on deck, we were all amazed at this sight. It was as if it had been placed there just for us! There was also a great atmosphere on board. I like to laugh. I think that contributes to your performance and efficiency, and it helps too when things aren't going so well. That's important… There were some great people aboard!"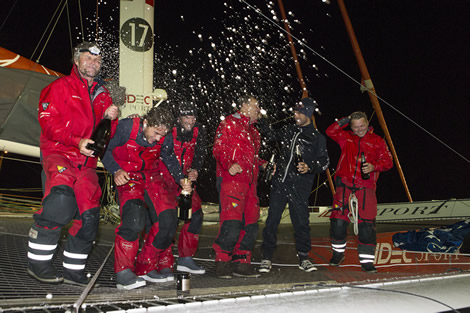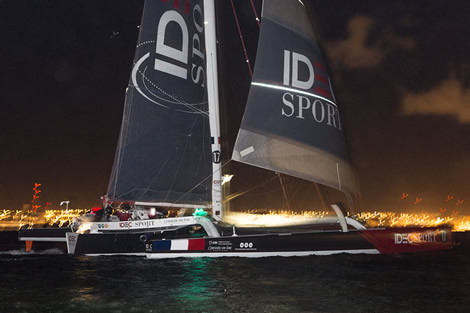 Back to top
Back to top