Catching the Port la Foret express
Thursday December 10th 2015, Author:
James Boyd
, Location: none selected
Since making their 'big gybe north' on Tuesday night, the race leaders in the 3370 mile IMOCA Ocean Masters Transat St Barth-Port la Forêt yesterday managed to key into stronger winds to the south of a giant north Atlantic depression. Now they are once again eating up the miles back to Brittany.
The northerly option was only taken by the lead three boats which enabled them to catch the 'Port la Forêt express' and put on some 80-120 miles on those behind. Séb Josse on Edmond de Rothshild continues to lead, while Paul Meilhat on SMA holds second on a track just to the north with Morgan Lagravière's Safran is third, to the south.

These three being in relatively close proximity is causing followers of the IMOCA Ocean Masters World Championship to pay close attention as it provides some early indications of how a latest generation foil-assisted boat (Edmond de Rothshild) compares with older generations such as SMA, formerly Francois Gabart's 2012 Vendée Globe winner MACIF, and the 2008 generation Farr-designed Safran. Inevitably the newer boats are faster, but not by much – over a 12 hour period up until 1000 UTC this morning, Edmond de Rothschild covered 202.3 miles towards the finish compared to 196.9 for SMA and 183.2 for Safran. And obviously many other factors come into play, like how hard the skippers are pushing and Josse being massively experienced compared to Meilhat and Lagravière, both sailing their first solo IMOCA 60 races.
Over the next few days the three leaders will attempt to stay aboard the Port la Forêt express as it thunders east. By being ahead – 50 miles at the 1100 UTC sched today – Edmond de Rothschild should stay in stronger breeze for longer, increasing her lead.

This morning Thomas Ruyant, skipper of fourth placed Le Souffle du Nord was kicking himself for not having followed the leaders north. He had gybed but then gybed back east when he received a new forecast indicating that he would not be able to 'catch the express train'. He finally gybed north yesterday at 1400 UTC: "The forecasts are a bit complicated and unreliable," he explained. "Yesterday, they showed the depression being further north - that's why I went back - but this morning, the pattern is not the same and I have lost a lot. Yesterday I was up with the leaders. Today I'm more of a follower…"

Also resigned to his predicament this morning was Eric Holden on O Canada, lying in sixth. While Edmond de Rothschild was speeding along at 17+ knots 400 miles to her northeast, O Canada was languishing in an area of high pressure.
"It has been pretty light the last couple days and it looks like another light day before the next weather system brings some more wind," reported Holden, who over the course of this morning has gybed north and gybed back again. The benign conditions have allowed him to carry out maintenance: His J2 jib sustained a tear along its leech and is out of action, but he has managed to resolve an electronics problem that was preventing O Canada's keel canting.
"I shouldn't complain," Holden observes. "She deserves a major refit, but she has allowed us a lot of amazing sailing for putting relatively little into her."

Otherwise Holden is enjoying being gently eased into his first singlehanded oceanic race but is aware of possible storms looming next week. "It has been very frustrating watching the leaders while I wallow here in the tropics. But I need to focus on learning from every opportunity to make the most of this experience."

Bringing up the rear, Enda O'Coineen on Currency House Kilcullen has been enjoying playing catch up in the Trade Winds as those immediately ahead of him wallow. Setting off from St Barth on Monday, Currency House Kilcullen was 234 miles astern of O Canada. Two and a half days on, this is down to 132 miles. While Currency House Kilcullen has been sailing a direct route across the southeasterly trades, she is soon to slow in softer breeze, but tomorrow should benefit by being first to pick up the new southerly breeze when it fills in.

Aside from gaining miles O'Coineen is very much enjoying his time at sea on his own. He reported: "I am taking it quite conservatively but it is actually brilliant sailing. I was always dreading the north Atlantic in December and it is all yet to come but I am happy out here. I am not driving the boat as hard as might. She's a great boat and I'm just happily sailing along."
Image above courtesy of Expedition and PredictWind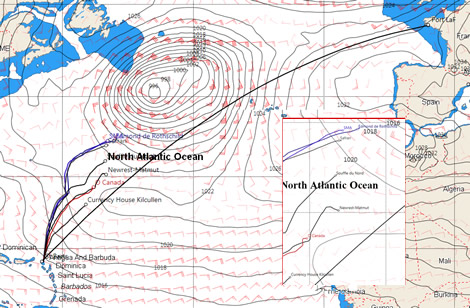 Back to top
Back to top