Vendee Globe warm-up
Friday December 4th 2015, Author:
James Boyd
, Location: none selected
Eight IMOCA 60s are due to compete in the IMOCA Ocean Masters Transat St Barth-Port la Forêt. This eastbound transatlantic race sets sail from the glamorous French Caribbean island of St Barth this Sunday, 6th December, bound for the Breton short-handed sailing capital, Port la Forêt in France, 3,400 miles away.
Previously known as the Transat B to B, the race is traditionally held the year before the Vendée Globe. Previous editions were won by Loick Peyron on Gitana 80 in 2007 and, in 2011, by Francois Gabart's MACIF, the subsequent Vendée Globe winner.

This singlehanded race is important in the calendar, providing IMOCA 60 skippers with valuable solo racing experience, but also qualification miles for the Vendée Globe.
This year for the first time, the Transat St Barth-Port la Forêt is being organised by Open Sports Management and forms part of the IMOCA Ocean Masters Championship that runs over 2015-6, culminating in the Vendée Globe. The event follows on from OSM's inaugural IMOCA Ocean Masters New York-Barcelona race last summer and will be followed in 2016 by the Transat New York-Vendée (Les Sables d'Olonne).

The skippers competing include a mix of old hands and talented newcomers. Among the former group is Sebastien Josse, who finished fifth in the 2004 Vendée Globe and is entered in the 2016 race with Edmond De Rothschild. Among the line-up of hardware entered, this is the only latest generation VPLP-Verdier design, featuring the latest foil technology that causes the boat to fly partially. Having retired from the Transat Jacques Vabre, Josse will be looking to complete this race in his new speedster.
Josse commented: "Following our retirement and the varying degrees of damage observed among our rivals in the Transat Jacques Vabre, it would seem that the latest generation monohulls have a few teething trouble to resolve. In consultation with our in-house design office and our naval architects - notably Guillaume Verdier – it was agreed that Edmond de Rothschild's structure should be reinforced. In the Transat Jacques Vabre, in our 'misfortune', we had the opportunity to retrace our steps early on and in this way we were able to make the most of this precious time to make the necessary reinforcements quickly.
"It was a short turnaround time, but we were able to make effective use of it so we could make the start of this Transat Saint-Barth - Port-la-Forêt. I often say this, but in our race for reliability and performance, nothing beats miles covered on the water and everyone knows that those racked up in races are worth their weight in gold! Having these two transatlantic races under our belts – the delivery crewed and the return singlehanded – is important for the next stage of our programme and I think it will be an advantage."
This Transat will be Josse's first singlehanded race in a monohull since the Vendée Globe in 2009. "That's going back a bit! But I have since done other singlehanded sailing on multihulls – notably in the last Route du Rhum – which has taught me a great deal in terms of stress management and high speeds for example. I'm really eager and happy to be getting going on this, as it's another stage in our preparation, another step forward in discovering the potential of Edmond de Rothschild. Added to that is the objective of qualifying for the Vendée Globe.
"However, that's not all as the line-up is good, with some high quality competitors and we mustn't forget that at this time of year, the route can prove to be very demanding with some bracing winter conditions throughout our crossing. We have all the ingredients for a fine transatlantic race!"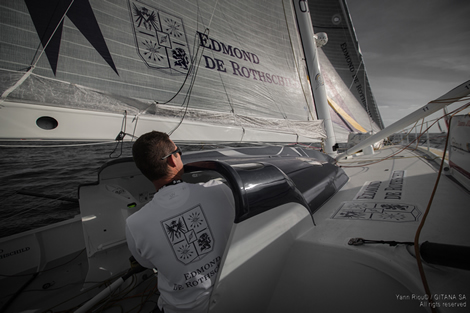 Another experienced IMOCA skipper, also a three time La Solitaire du Figaro winner, is Yann Eliès, skipper of Queguiner - Leucémie Espoir, who returns to the IMOCA class aboard the much developed 2008 generation ex-Safran.
Two other noteworthy former Figaro sailors are competing: Paul Meilhat on SMA and the Safran team's latest skipper, Morgan Lagravière.

While work is carried out back in France to develop and improve his brand new Safran, Lagravière must qualify himself for the Vendée Globe and so is participating in the IMOCA Ocean Masters Transat St Barth-Port la Forêt aboard a borrowed boat, Nicolas Boidevézi's adopteunskipper.net (ex-Hugo Boss, Veolia Environnement, BT, etc).
Similarly great things are expected of Meilhat on SMA, the boat which as Francois Gabart's MACIF won this race four years ago.

While French skippers dominate the line-up of the IMOCA Ocean Masters Transat St Barth-Port la Forêt, two are non-French in Ireland's Enda O'Coineen and Canadian Eric Holden. Both are racing Owen Clarke designs: Holden's O Canada was Derek Hatfield's Spirit of Canada in the 2008 Vendée Globe, while Currency House Kilcullen was formerly Mike Golding's 2007-built Ecover 3/Gamesa, which came sixth in the last Vendée Globe.

For O'Coineen, Currency House Kilcullen marks his return to the 60ft class following the 1990-1 BOC Challenge singlehanded round the world race. In that race his yacht dismasted, so singlehanding an IMOCA 60 round the world remains unfinished business: "I really want to do some personal sailing. The IMOCA class is a way to do it as I am happiest on the ocean taking part in long distance challenges. This is a personal odyssey, something on my bucket list and an adventure before my bones get too creaky," O'Coineen confides.
In sailing circles, O'Coineen is best known for having founded the NCB Ireland entry in the 1989-90 Whitbread Round the World Race and for being Chairman of the Green Dragon campaign in the 2008-9 Volvo Ocean Race.
Of the Transat St Barth-Port la Forêt he says: "My only expectation is to finish it and not to have to eat Christmas turkey in the Azores or the Canaries." During the race he intends to practice his trumpet and harmonica playing "where no one can hear..! But most important to me is to promote and raise money for the Atlantic Youth Trust and the development of the sport in Ireland - as Ireland's first ever participation."
Technically this race could be O'Coineen's qualifier for the 2016 Vendée Globe, however it will also be his own personal assessment of whether he thinks he is up to the challenge.

Best known as skipper of the winning boat in the 2013-4 Clipper Round the World Race, Eric Holden is Canada's top offshore sailor, a recipient of the Sail Canada Awards for Rolex Sailor of the Year and the Gerry Roufs Trophy.
"The Vendee Globe has been a dream for a long time," says Holden, a professional meteorologist from Vancouver. "After winning the Clipper race you wonder what is the next challenge. Going around again solo it is…" This puts Holden on the same path as Hugo Boss skipper Alex Thomson, who won the Clipper Race in 1998-9.
While he intends to compete in next year's Vendée Globe, Holden's O Canada campaign is still short on funds, but he has had a good pitch: To date no Canadian has finished the non-stop singlehanded round the world race (although Benoit Parnadeau in 2004 was half Canadian). And there has been a high price paid in trying. Groupe LG skipper Gerry Roufs was sadly lost in the Pacific in 1996, while Derek Hatfield was forced to retire with spreader damage to his yacht mid-way through the 2008 race.
O Canada competed in the Transat Jacques Vabre this autumn, but was forced to retire with a broken mast track. This is fixed. Now in the IMOCA Ocean Masters Transat St Barth-Port la Forêt, Holden faces his first ever singlehanded race. "We just crossed the Atlantic doublehanded but we were in solo mode to make sure we are comfortable with the alarm and autopilot systems, which are always temperamental." For Holden the race will be an exercise in learning as well as Vendée Globe qualification.
| | | |
| --- | --- | --- |
| O Canada | Eric Holden | CAN |
| Le Souffle du Nord | Thomas Ruyant | FRA |
| Edmond De Rothschild | Seb Josse | FRA |
| SMA (FRA 1859) | Paul Meilhat | FRA |
| Groupe Queguiner - Leucémie Espoir | Yann Elies | FRA |
| Newrest - Matmut | Fabrice Amedeo | FRA |
| ADOPTEUNSKIPPER.NET | Morgan Lagraviere | FRA |
| Currency House Kilcullen | Enda O'Coineen | IRE |
Below - image courtesy of Expedition and PredictWind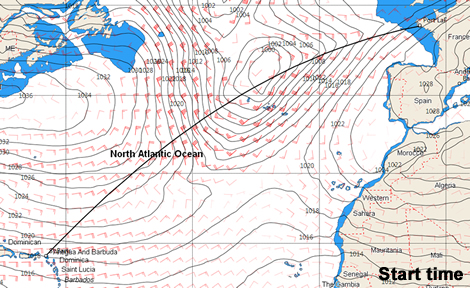 Back to top
Back to top