Riou double, Le Roux treble
Celebratory magnums of Moet champagne and potent local Caiprinhas were in evidence on the winners' dock as Itajaí welcomed, in short order, the winners of the Multi 50 class and the white hot IMOCA monohull class, but the key, respective skippers were also toasted for their own personal triple and double triumphs on the biennial Transat Jacques Vabre race.

Multi 50 class winner Erwan Le Roux made it three Multi 50 wins, two back to back, when he and Italian co-skipper Giancarlo Pedote brought FenêtrêA-Prysmian across the finish line this morning in Brazil, on the boat he helped Franck Yves Escoffier build as Crépes Wahou in 2011.
After sharing a maiden race victory with Escoffier in 2011 into Puerto Limon, Costa Rica, Le Roux won the last edition with Yann Eliès. He admitted back then that he had learned to up his intensity from three times Solitaire du Figaro winner Elies, but this win was as much about passing on his learning to his Italian co-skipper Giancarlo Pedote, who today realised a dream of completing the Transat Jacques Vabre, which he had harboured for 14 years, ever since standing on the dock as a preparateur.

A double, back to back, win was also completed by 2004-5 Vendée Globe winner Vincent Riou when he and Seb Col guided PRB across the finish line this afternoon with second placed Armel Le Cléac'h on Banque Populaire VIII, the last surviving new generation IMOCA still in the race, lying 60 or so miles behind in second.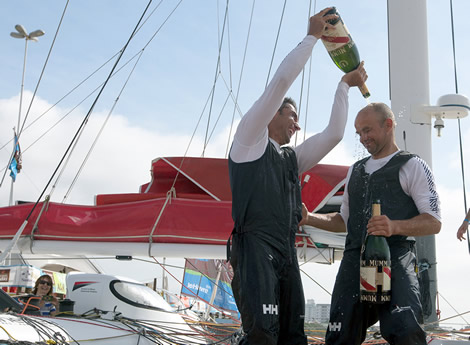 Although Riou and Col set a new IMOCA class reference time for the 5,400 miles course, 19 minutes and 23 seconds faster than in 2013, Riou revealed on the dock that they had sailed all of the course with no wind instruments, only GPS-derived Course over Ground and Speed over Ground. Their enforced back to basics approach, sailing by feel and instinct, saw them sail 4.45% faster than in 2013 covering 4.35% more ground. As Riou bids for a second Vendée Globe win next year, his objective was to learn from America's Cup helm and grand prix monohull ace Col.

Col noted: "Ultimately, this electronic damage is a good lesson. We realise that we are increasingly reliant on gizmos in life in general. As human beings we are capable of doing great things by instinct and feel. There is a nice lesson for a performance. And I learned how complete you need to be to sail an IMOCA."

Riou and Col led all the way in the southern hemisphere, executing their game plan to the letter. Their objective was to be in the leading posse at the Cape Verde islands. That they then wriggled free of the Doldrums with a tiny lead was just enough for them to extend in the southerly trade winds. And after having to retire consecutively from both the Vendée Globe and last year's Route du Rhum, Riou will take some considerable confidence in arriving in such good shape in Itajai, winning the IMOCA fleet in a pre-Vendée Globe year from a race which imposed a high rate of attrition, 11 boats of the 20 starters retiring during a brutal first seven days of racing.

Vincent commented: "We made a very special race. We worked this Transat Jacques Vabre by feel. From the first night race we had a navigation system failure. After that we did everything with one single display, COG and SOG. We never had wind strength or direction. We even thought of putting ribbons in the rigging as we did when we were sailed our 420 dinghies as nippers. We did everything without electronic help. But if you had told me before the start we would do this, I would have said not a chance. It's not possible. But we had to sharpen up our senses and make it work. Then with some simple benchmarks, it's not too hard to find the right settings. But you always want to be well pressed for the best feelings. But for us the lesson is that you can learn from the feelings and it's not so bad.

"It was a good battle behind us. They gave us no respite at all. Until yesterday morning I think there was never more than 35 miles of difference between first and second. On a race of 5,400 miles that is permanent engagement. There was a bunch of lead changes, everyone seemed to get a crack at the top of the fleet. It was a good race and we got what we came for….competition! The choice to go west for the depression to the west of Ireland was the only option. For me it was safer for the boats because those who went left earlier were bounced around much more. On the long reach down the Atlantic then you just have to keep the pace up. After eight days we found ourselves with a strange Doldrums. There it was game on a bit. But we got out well. You have to have strong nerves. It was complex. At the horn of Brazil it was interesting. I wanted to go offshore right away but (Jean Yves) Bernot our weather trainer had warned us about the coast of Brazil but it was still quite risky. But we got a little jump there. Everything went good. We got through the stormy front (at Cabo Frio) well, ahead of the others."

Erwan Le Roux dedicated his Multi50 win to the late Hubert Desjoyeaux, composites and boat building expert brother of double Vendée Globe winner Michel. Hubert was one of the founders of the Port la Foret-based boatbuilders CDK in 1984 and passed away in May 2011 the year the Multi50 was launched as Crépes Whaou!

"Every win is different," said Le Roux. "This one has a special flavour especially with this boat. That's three wins on this boat. And with that come a lot of emotions. I have been thinking of Hubert Desjoyeaux who encouraged us to build the boat with Franck-Yves (Escoffier)​​. All of those memories come back now. And so I want to pay a tribute to them today. All of this today is thanks to them all. They built a great boat. I helped with the building of this boat also. It's really a great boat. The best tribute is to win races. I dedicate this victory to Hubert. He was a great man and a great boat builder. This finish is full of emotions. It was not easy. We had tough times, the first 5-6 days ... We lived on our stomachs and our wits. It was tricky. Life on board is complicated. The movements are brutal, you crash, just live in the foul weather gear. Even basic needs are difficult, taking a crazy energy. That first complicated week. The conditions were not necessarily super hard, but it was long. Five days in a washing machine it's hard.

"With Giancarlo, it was good. We managed our goals. There was a great story from the start. The aim was to pass on my experience and my multihull experience on this boat. We worked on it all year. We built this victory from the ground up. We won all the races of the Multi50 category. Our winning combination is achieved! Job Done!!

Giancarlo Pedote, co-skipper on board said: "It's magic, I have dreamed of this race since 2001. I was preparateur. Every night, I dreamed that one day I would leave the docks to do the race. And fourteen years later, I have realized my dream, and on top of that I have won. There is such a lot of emotions. The finish of my first transatlantic was also in Brazil. So this cocktail of emotions was with me these last 10 miles. We shared our feelings together. That was a beautiful moment.
"I was very tired at the beginning of the race. I was a bit stressed with the conditions, because I had no idea what could happen. I was seasick. I did not eat for 48 hours. It was hard, I gritted my teeth. After that it's amazing. I regained energy. I got used to it. And now because I was so fit it had the opposite effect. I do not feel too tired. "

Second placed IMOCA Banque Populaire VIII is due to finish this evening.
Back to top
Back to top