Victory for MACIF
Frenchmen François Gabart and Pascal Bidégorry on the brand new 30m trimaran MACIF crossed the Transat Jacques Vabre finish line at 05:59:27 UTC this morning in Itajaí, Brazil to take line honours in the Ultime class.
The elapsed time for Gabart, 32, and Bidégorry, 47, was 12 days 17 hours 29 minutes and 27 seconds, sailing at an average speed of 17.68 knots for the theoretical course distance of 5400 miles. The new VPLP design, which was only launched in August, actually sailed 6,340 miles at a real average speed of 20.75 knots

It is the first time that Gabart, who won the solo round the world Vendée Globe race in 2013 on his first attempt at the age of 29, has triumphed in the Transat Jacques Vabre, although his MACIF finished second in the IMOCA class on his first ever ocean race in the class in 2009. Bidégorry was on the winning multihull in 2005.

MACIF chased early race leaders Thomas Coville and Jean-Luc Nélias aboard Sodebo Ultim' until the Doldrums, but were never more than 70 miles behind. Two of the four Ultime trimarans which started had to abandon, including Prince de Bretagne which capsized off the northwest coast of Spain and Yves le Blevec's trimaran Actual which pulled out with rig problems.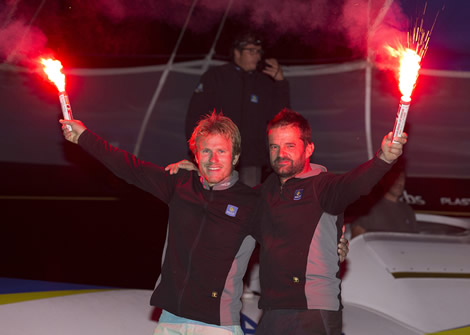 Sodebo Ultim' led MACIF out of the Channel and across the Bay of Biscay, both tris hanging a sharp left hand turn at Ouessant and outrunning the worst of the weather. MACIF was never more than 70 miles behind Coville and Nélias. Defining moves, according to Bidégorry this morning, were when they gybed inside the more westerly line taken by Sodebo, just as they lined up to pass west of the Cape Verde islands. MACIF led briefly here, but stayed close to take the match of the giants into the Doldrums. Gabart and the wily Bidégorry took a nice wind shift on their exit from the Doldrums, keeping them further east of Sodebo. From there, in the southeasterly trades MACIF was quicker, extending first into the strengthening, lifting breeze while their single foil, benefitting them on port tack, gave them a noted speed edge on Sodebo Ultim. As they raced down the Brazilian coast MACIF extended her lead to 258 miles, but a the stormy low off Cabo Frio, just east of Rio, proved a final hurdle to slow them allowing Sodebo to catch up. And when Gabart and Bidégorry sealed the maiden race triumph for MACIF this morning, their rivals were just 88 miles behind.
Pascal Bidegorry commented: "I have one memory, when we were passing Guernsery and we took a big hit on a 125°reach and the boat hit 40 knots. Another image is when we gybed inside our rivals on Sodebo just at the Cape Verdes. That was our defining moment of the race. Before that we had sailed really well and that was without the foil. We had found the right setting, we took our opportunities. And then there was our windshift on our more easterly exit of the Doldrums. That was bliss. We were reaching at 30 knots. With this stuff at the end they were not so far away. It was complicated for us. We have had to fight and work a bit these last 24 hours. 0.8 miles from the finish our gennaker dropped to the deck. Boom! However we have a bit of success right now. The boat is born, it is proven, it is good, a super boat. "
For Gabart, MACIF's victory saw him adding the Transat Jacques Vabre title to his Route du Rhum and Vendée Globe wins. He becomes only the second sailor after Michel Desjoyeaux to collect all three titles.
François Gabart commented on the problems on board: "We did not capsize. But in fact not too many technical problems. It was exceptional for a new boat like this. We had very little problems. And I have to thank our team for that, they worked for two years from the conception of the boat and it only went in the water two months ago, to be able to start, to race the course and to win. So Bravo to the team. We are only finishing that work. The biggest problems have been in the last couple of days in the area at the back of the boat, a little problem with the rudder, and a little bit of electronics with the pilot."

MACIF missed out on the course record of 11 days 5 hours, set by Seb Josse and Charles Caudrelier on the Multi 70 trimaran Edmond de Rothschild in 2013 by 1 day 12 hours, largely accounted for by a much slower Doldrums passage.
Gabart's very shrewd choice of co-skipper was a fundamental component of MACIF's win. Bidégorry is undoubtedly one of France's very top navigators as well as a fabulously talented, extremely tough and driven all round sailor, a great technician and very successful skipper in his own right. Basque-born Bidégorry came late to competitive sailing, but has won in everything from D35 catamarans, through to the Solitaire du Figaro, to MOD70 tris across the Atlantic and round Europe, skippering the giant Banque Populaire tri to a North Atlantic record that still stands and an all-out 24 hour distance record of 908 miles. He joined Gabart straight from the Volvo Ocean Race where he was navigator on DongFeng Race Team.
Winning the first ever race for the new VPLP design is a certain endorsement that Gabart's five years programme has started on the best possible footing. Still in early development stages of their foil package, MACIF raced with only one foil, set for port tack. The boat is slightly shorter than Sodebo Ultim' but 1.5 tonnes lighter and slightly narrower and is evolved for solo records and racing with a smaller, more compact pod on the main hull. Gabart's record programme is billed to start out next year with the Route of Discovery – east to west between Cadiz and San Salvador in the Bahamas – the Atlantic and the Mediterranean before going on to a solo round the world record challenge in 2017.
When they took their winning gun, Thomas Coville and Jean-Luc Nélias on Sodebo Ultim' were 88 miles in their wake, going on to finish runners up 7 hours, 18 minutes later at 13:17:38sec.
Coville commented: "It is not a disappointment. We are pleased to have a fight to the end. We pushed on the first night and the last. Last night we pushed just for us, for the pleasure of pushing the boat hard. It was a beautiful race, great to share and njoy it with two. It is magic to sail two up on these two boats. In fact, last night, I realized how privileged we are to sail on a boat like Sodebo. Thank you to Sodebo for this Ultime adventure , it was daring. I also had the privilege to sail alongside a man like Jean-Luc Nélias, thank you to Jean-Luc."

Jean-Luc Nélias added ': "It was played out on the tactical-strategy level at that gybe at Cape Verde. Macif were later in gybing than us and we were outside to the west. That gave them a position at the entrance of the doldrums in a slightly lateral position. We thought our position was the best. But eventually it is they who came out best. This is often the case in the Doldrums. You make your play and we are never sure what will work. He came out first from the Doldrums, got the strongest wind and in a mulithull that is massive. The initial differences are very important and multiply quickly."
Back to top
Back to top