Tenacious Spaniards
A few days out from the start of the second leg of the Mini Transat îles de Guadeloupe, the fleet is switching into race mode. For some, like for Fidel Turienzo (Satanas) and Nacho Postigo (Vamos Vamos), the Canary Islands stopover has not been a break.
At the end of the Proto pontoon, Fidel Turienzo is hard at work. For the Spanish sailor, Lanzarote stopover has been a long race against the clock to receive and step a new mast, following Satanas' dismasting on the first leg.
The only option was to obtain the wingmast fitted to 198, the sistership of his 304. Rising to the challenge, Turienzo travelled to Brittany to recover this vital compoent for the second leg: a 24-hour sail brought him safely to Lorient where the Mini solidarity chain moved into action: After picking up the mast in Lorient, he went to La Trinité sur Mer to meet the mast's owner, Sébastien Picault, to sign a rental agreement.
Then he made a detour to see composite specialist Thierry Fagnent who gave him some tips on modifying his boat, initially designed to step a conventional mast on the modifications that would be required. The journey continued with a few stops, include Les Sables d'Olonne to recover the measurer's scales, La Rochelle to catch up with Iker Martinez, for whom he is a technical shorecrew, before arriving in Santander where he undertook the preparatory work to step his new mast. Once ready, the mast was taken to Cadiz and onto the ferry to Lanzarote.
Meanwhile, Fidel returned to Madrid to catch a flight, the trip being cheaper than by boat... In Lanzarote, the Spanish sailor finally recovered his mast and equipment and after a week of work, he had built a new base, altered the chainplates and built reinforcements to support the wing mast. He did his first sea-trial on Monday. Since then, he has passed the measurement and safety tests with just three days to spare in which to ensure his boat is in otherwise optimum condition. But the Asturian sailor remains confident: "I have been able to test the boat, the first sensations are good". Sometimes determination can move mountains.

Spanish America's Cup sailor Nacho Postigo has also showed unusual determination. Victim of a terrible grounding while being towed out of of Douarnenez en route to the leg 1 start, he had to endure the battles of experts concerning his damaged keel, obtain permission to move his boat by road to Portugal, have a new keel fin made, then move his boat by trailer to Portimao in southern Portugal, to finally set sail and deliver Vamos Vamos safely to Lanzarote.

If the Spanish sailors have had mixed fortunes in this first leg, they also know they can count on the advice of Anna Corbella, who has already taken part twice in the Barcelona World Race, in which she finished third in the last edition. Corbella, too, began in the Mini class, where in turn she was able to benefit from the advice and experience of Jaume Mumbrú.
Today she coaches a group of Spanish sailors from the new Mini base in Barcelona. "My first task, rather than telling them what to do, is to guide them about mistakes to be avoided. For example, together we set up a race programme of progressive difficulty. It is pointless to begin with a Mini Fastnet, which is surely one of the most demanding pre-season races. The Mini Transat îles de Guadeloupe is, for all these Spanish racers, an opportunity to understand a project in its totality. I am here to guide them, to help them, under no circumstances to set them in a mould. This is the most beautiful of races - they must be able to live it fully".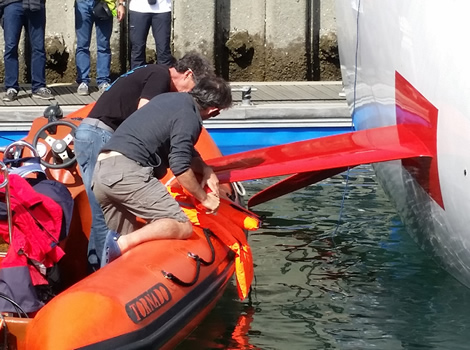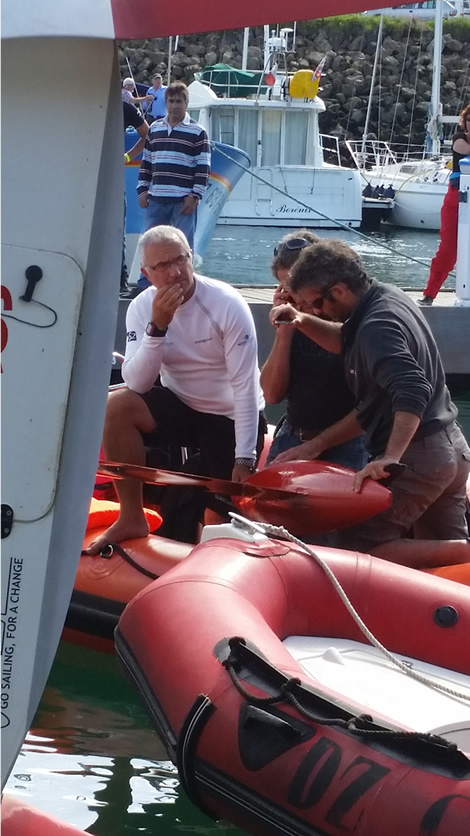 Back to top
Back to top