Transat Jacques Vabre preview
For the 46 boats taking part in the doublehanded Transat Jacques Vabre that sets sail from Le Havre tomorrow bound for Itajai, Brazil, it will be a case of 'calm before the storm'. The forecast has been changing wholescale all week, but the main focus has been on a severe depression cruising in from the mid-Atlantic (as is normal at this time of year). At present the centre of this low is measuring an ear popping 968mB…
Rather than beating seven bells out of the competitors as they head down the Channel tomorrow night, instead the depression and its associated fronts have been held up by a giant area of high pressure, that, come start time tomorrow, is forecast to be centred over Le Havre. However this high is scheduled to shift east rapidly tomorrow with SSEerlies filling in behind it. Despite this, the depression (and its associated fronts) are forecast to remain halted to the west of Ireland and the GRIB files are showing the boats having to take on 40+ knot winds before they can break through the fronts and the wind veers into the northwest, enabling them to tack south.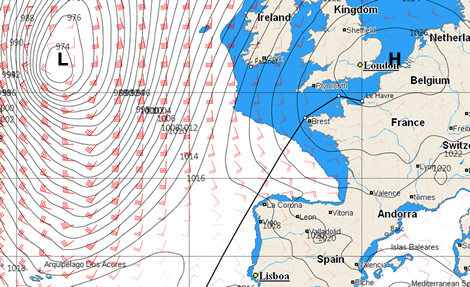 Start time...
However as Edmond de Rothschild skipper Seb Josse explains, it is not the wind, but the waves, that are going to be heinous: "The conditions forecast for 36 hours after the start are very bad for our boats. Overnight on Monday and through into Tuesday, we're going to cross a depression. Prior to this, there will be a southerly wind, while afterwards it will kick in from the north. This change will happen so quickly that the seas won't have time to reorganise themselves - that means the heavy southerly sea with 7-8m waves will continue and then be transformed into a cross sea and finally a northerly sea, which will prevail with the new wind. The GRIB files are predicting 7-8m waves, and in practice some will be more than 10m. We don't have many options other than to batten down hatches or to run with it. At that point, we'll have to switch into another mode, neglecting the race to a degree! Our game plan be will simply not to damage the boat…"
Inevitably in this morning's meteo briefing many of the skippers of new boats - in particular Pascal Bidegorry sailing the new 100ft trimaran MACIF with Francois Gabart, Banque Populaire's Armel le Cleac'h and St Michel-Virbac's Jean-Pierre Dick - were arguing hard that the start should be postponed until Tuesday. However the TJV's veteran PRO Sylvie Viant was having none of it, retorting with the 'it being each skipper's responsibility' argument.
Even after the inhospitable depression, the going is likely to remain difficult with the Azores high forecast to expand east towards Africa later in the week. If the giant multihulls in the Ultime class can get south fast enough they might get through before the door closes at the Canaries on Thursday. Conversely the slower boats will have to stay west so that they can key into the favourable northeasterly trade winds once they fill in to the south of the Azores at the end of the week. The boats in between, the IMOCA 60s and Multi 50s could well get stuck.
It should be remembered that this Transat Jacques Vabre is, as in 2013, back on a course to Brazil (rather than Costa Rica – as it was in 2011) requiring the boats to cross the Doldrums and the Equator and on into the southeasterly trades on the northern South Atlantic. The course to Itajaí is a shade over 5400 miles on the great circle, making this by far the longest of all transatlantic races.
The fleet
The composition of the fleet is interesting this time. In general terms, on the ascent are the IMOCA 60s and Ultimes, while the Class40s and Multi50s fleet sizes are down. In fact this is the first time in the last decade that Class40s have numbered less than the IMOCA 60s in one of the classic French transatlantics. The reasons for this are multiple – this is the year before a Vendée Globe and as usual coincides with the launch of several new IMOCA 60s which are using this (and also December's singlehanded St Barts to Port la Fôret race) as vital training and boat proving prior to next autumn's non-stop round the world race (that at present looks set to have a record-sized turn out) as well as earning points for the IMOCA Oceans Masters World Championship. Meanwhile Class40 numbers are down probably because the bulk of the fleet, the Corinthian sailors, either feel unable to compete due to the level in the class regularly raising, or simply because they can't take the month or more off work it takes to complete the giant course and its build-up.
Boat
Crew
Design
Launched
Bretagne - Crédit Mutuel Élite
Nicolas Troussel (FRA), Corentin Horeau (FRA)
Humphreys
2013
Carac Advanced Energies
Louis Duc (FRA), Christophe Lebas (FRA)
Akilaria RC1.5
2008
Club 103
Alan Roura (SUI), Juliette Pêtrès (FRA)
Elie Canivec
2010
Concise 2
Phillippa Hutton-Squire (RSA), Pip Hare (GBR)
Akilaria RC2
2010
Creno Moustache Solidaire
Thibault Hector (FRA), Morgan Launay (FRA)
Tyker

40
2010
Eärendil
Catherine Pourre (FRA), Antoine Carpentier (FRA)
Mach 40 Mk3
2015
Groupe Setin
Manuel Cousin (FRA), Gérald Quéouron (FRA)
Rogers
2007
Le Conservateur
Yannick Bestaven (FRA), Pierre Brasseur (FRA)
Verdier
2014
Solidaires En Peloton ARSEP
Thibaut Vauchel-Camus (FRA), Victorien Erussard (FRA)
Mach 40
2014
Team Concise
Jack Bouttell (GBR/AUS), Gildas Mahé (FRA)
Ker
2013
Teamwork 40
Bertrand Delesne (FRA), Nils Palmieri (SUI)
Manuard
2012
V and B
Maxime Sorel (FRA), Sam Manuard (FRA)
Mach 40 Mk3
2015
Zetra
Eduardo Penido (BRA) , Renato Araujo (BRA)
Mach 40
2013
Class40

Among the Class40s it will be interesting to see if the two new boats in the 14 strong fleet can outstrip the older, more proven craft.
The new hardware are both latest generation Mach 40s, designed by Sam Manuard. They have a tough act to follow - first generation Mach 40s have typically cleaned up in recent years - Joerg Reichers' mare.de (see our guided tour to this boat here) claiming the Solidaire du Chocolat and the Atlantic Cup in 2012 and the Normandy Channel Race in 2013, while Seb Rogues' GDF Suez continued this trend winning the last TJV and then the Normandy Channel Race in 2014. With Seb Rogues now a GC32 foiling catamaran sailor, his boat has been sold to a Brazilian crew, Eduardo Penido and Renato Araujo and rechristened Zetra.
Of the two brand new Mach 40s, probably the more potent is Maxime Sorel's V&B, which has the Mach 40's designer Sam Manuard on board for this race. Aside from being an accomplished Mini sailor, Manuard also won the Transat Jacques Vabre in 2011 with Yves le Blevec on board the Multi 50 Actual.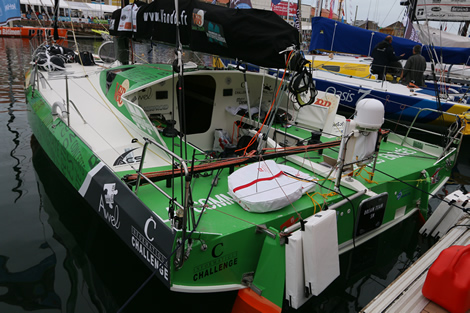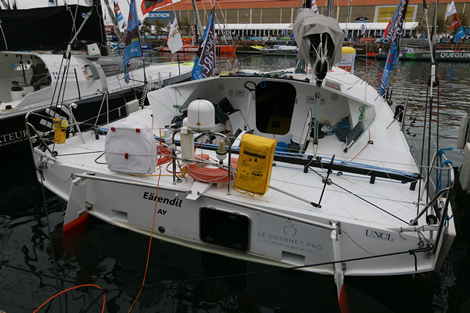 The second and newer Mach 40 v3 is Eärendil (sounds like the Elf kingdom in Lord of the Rings…) of high flying French executive Catherine Pourre, who is sailing with Antoine Carpentier, one of the latest generation sailors from this famous French sailing family.
While the form of the new boats remains unknown, of the existing boats one of the favourites is Le Conservateur of former Vendée Globe skipper Yannick Bestaven. This is a 2014 generation Guillaume Verdier designed Tyker 40, in which Bestaven won the Les Sables d'Olonne-Horta and back race this year. For the TJV he is being joined by former Mini skipper Pierre Brasseur, who came third on mare.de two years ago.
Constantly on form is the 2014 generation Mach 40 Solidaires en Peloton / ARSEP of Thibault Vauchel-Camus. This boat won the return leg of the Les Sables-Horta-Les Sables race, was second in both this year's Normandy Channel Race and in last autumn's Route du Rhum. The 2012 generation Mach 40, Teamwork 40, sailed by another top former Mini sailor, Bertrand Delesne, and Nils Palmieri has also regularly been on, or close to, the podium. Similarly never to be discounted is two time Solitaire du Figaro winner Nicolas Troussel on the Humphreys designed Bretagne-Crédit Mutuel Élite (see guided tour here), which won the Normandy Channel Race this year. For the TJV Troussel is sailing with up and coming Figaro sailor Corentin Horeau.
Competition from the north side of La Manche is a bit thin on the ground this year, represented solely by the two Team Concise boats – with former Artemis Offshore Academy and more recently Volvo Ocean Race sailor Jack Bouttell and French Figaro sailor Gildas Mahé racing the radical Jason Ker-designed Concise 8 and the all-female duo of South African Philippa Hutton-Squire and Pip Hare on the older Akilaria RC2, Concise 2.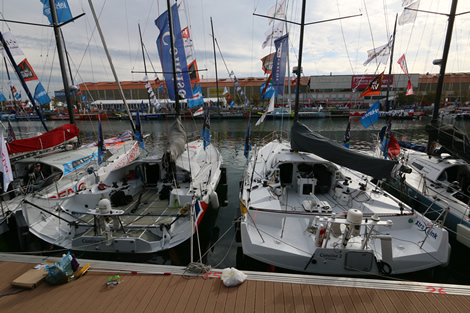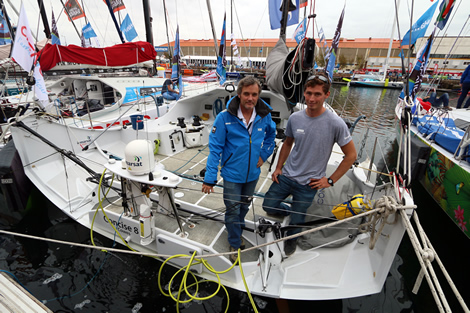 Time for Concise 8 to prove herself…

For Jack Bouttell 2015 has been a busy year. The Aussie-Anglo graduate of the Artemis Offshore Academy, who was top rookie in la Solitaire in 2013, this year finished a promising 10th in the solo offshore racing's effective world championship. This was after winning leg three of the Volvo Ocean Race with Charles Caudrelier and Pascal Bidegorry on board Dongfeng Race Team. Following this year's Solitaire he teamed up with French Figaro sailor Gildas Mahé to race Concise 8.
It is fair to say this Jason Ker penned Forty(1)Design (see our original guided tour here) has suffered more than its fair share of teething problems, notably repeated rudder breakage that started when Ned Collier Wakefield and Sam Goodchild first raced her in the Transat Jacques Vabre two years ago. These – touch wood - have now been rectified and the boat came close to winning this summer's Rolex Fastnet Race, ultimately just beaten by Gonzalo Botin's Tales II, sailed by a group of Spanish hotshots including Nacho Postigo and Tonio Piris.
"The Fastnet was the first test of the boat to see how it was like," says Bouttell of his latest ride. "Tales passed us on a part of the race where we didn't know how to set the boat up. They passed us going a knot faster, so we changed our trim and were a knot faster again - that was our learning period. It was good to know that the boat has it in her, but it's just a case of getting it out of her."
According to Bouttell they came away with a giant job list which they have since been working through. "I don't think there is a part on the boat we haven't pulled apart and put back together or modified or changed – in the time scale we've had, we have done as much as we can. Now it is just about getting on with it!"
Bouttell and Mahé completed their 1000 mile qualifier and since have been training full time in Port la Fôret with Bretagne-Crédit Mutuel Élite.
Concise 8 has some radical features including what appears to be maximum volume in the bow, her giant chamfer and her big gulwings at the stern) to raise the runner attachment/spinnaker sheeting point a la 2011 generation VO70s… "For sure reaching it is a good boat," acknowledges Bouttell. "Upwind, when we first sailed against Nico [Troussel] we were quite scared and we have really progressed a lot. The boat goes a lot better upwind. It is still not as good as some of the other boats, but now we can hang on to them upwind.
"Reaching – we've been working out the sail configurations more than anything. We did a lot of work on what sails we are going to take and what worked where and how many reefs you put in, etc."
However Bouttell says that compared to the rest of the fleet, especially the boats mentioned earlier on in this article, he and Mahé remain on the back foot, lacking time on the water compared to their competition.
Even though the Class40 is not a similar boat, having sailed the Figaro certainly helps getting to grips with it, says Bouttell, "in terms of how you sail and your mental set-up and everything apart from how the boat is - the best school to learn to go offshore sailing is the Figaro. The Volvo helped with this and Gildas has brought a lot to the table as well."
Beyond this Transat Jacques Vabre, Bouttell says he would be keen to do a full Volvo Ocean Race and would always be up for doing the Figaro. However his aim remains the 2020 Vendée Globe. "That is still the big goal - working towards that and finding a sponsor and a boat and everything else that goes with that."
However at the moment he cannot thank enough Tony Lawson who is bankrolling the ever expanding Concise campaign – currently comprising two Class40s and a MOD70 trimaran. "The whole thing has been great. Tony helped me out with the Figaro this year and we then moved into this. He has been great and pretty chilled and just lets us get on with it, which is pretty nice."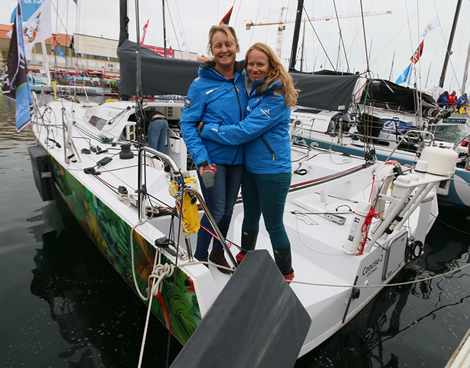 Pip power/Glady Knights and the Pips, etc.
Tony Lawson has always been keen to encourage female offshore sailors and this year his older Class40, the Akilaria RC2 Concise 2 was given a crazy paint job in the colours of Hed Kandi, one of the record companies of Ministry of Sound (a company in which Lawson is a significant player).
The boat competed in the Rolex Fastnet Race with an all-female crew led by South African round the world sailor Philippa Hutton-Squire, including 2012 420 World Champion, Annabel Vose, one of Vose's regular crew, Amy Prime, plus experienced offshore sailors Samantha Evans and Joy Fittzgerald.
For the Transat Jacques Vabre Hutton-Squire was teamed up once again with former Mini sailor Pip Hare, with whom she sailed the Normandy Channel Race two years ago. Again preparation time has been in short supply having only made the call to do the race in July which has only allowed them to put in around 10-12 days on the water.
As Pip Hare puts it: "The difficulty for us was that we only confirmed that we were going to enter in July and then in August we both had Fastnet campaigns that weren't the same and then August was done and then you are into raising money for the race and all that sort of thing."
Being sponsored by Hed Kandi, there is of course kickin' music on board. As Philippa puts it: "Pip can't go sailing without that. The moment she can't find her headphones, we are in Dire Straits."
Pip: "Yes - Daft Punk for me all the way!"
While the aim for Concise 8's crew is nothing other than line honours, on Concise 2, which is the third oldest boat in the Class40 fleet, the Pips say they would be satisfied with being in the top half of the fleet or top ten at least.
As Pip Hare observes: "There is such a different between the power that the newer boats have got and the power that we've got. But we have 'Pip Squared' on our side! And lots of tea!" And this is proper PG Tips, builder's tea, rather the Earl Grey, the perfumed preference of the likes of Miranda Merron, Steve White and Sam Davies. When we come on board, individual toilet rolls are also being lovingly wrapped in their own Ziploc bags… "I'm vegetarian - most of my diet is lentils," Pip explains…
As to the potentially heinous conditions, the Pips are not overly worried about them. As Philippa says "These Akilarias are pretty solid. We sailed for 14 days upwind in the Southern Ocean in one and we didn't break anything! Alex Thomson told me that there are going to be 10m waves or something. It is going to be what it's going to be."
Personally for Hutton-Squire, she will be looking to get over her disappointing Route du Rhum when on the first night of last autumn's singlehanded race her boat was rudely rammed by Yannick Bestaven's Class 40, sustaining sufficiently bad damage to her rigging that she was forced to retire. "I think once we get across the Bay of Biscay I'll have recovered from that," she says.
But in a twist of fate it was thanks to this incident that Tony Lawson offered her the use of Concise 2 this season.
Anyway, let's hope they don't get...pipped at the post...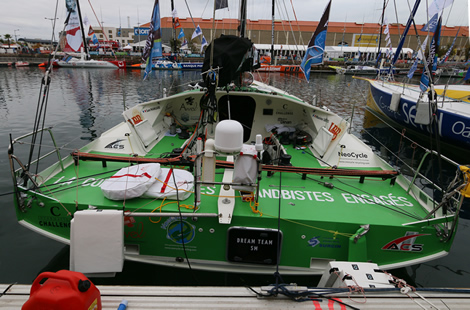 V&B - latest generation Sam Manuard-designed Mach 40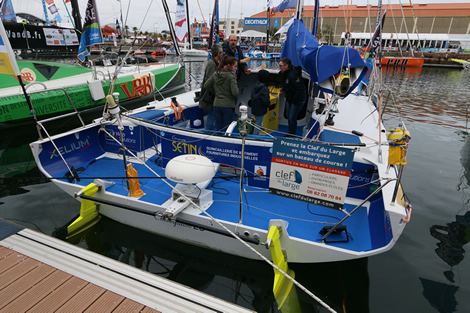 Still going strong - 2007 generation Simon Rogers design, once upon a time Tanguy de Lamotte's boat now, Groupe Setin of Manuel Cousin and Gerald Quérouron.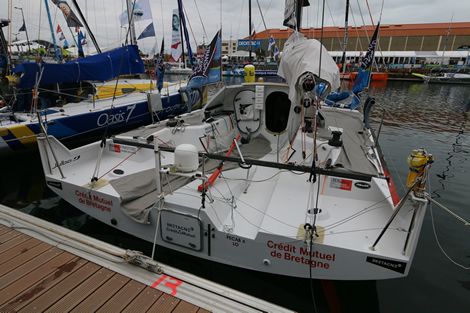 Bretagne-Credit Mutuel Elite - 2013 Humphreys design and one of the race favourites in the hands of two time Solitaire du Figaro winner Nicolas Troussel.
SNBSM / Espoir Competition - the 2012 generation Akilaria RC3 of Valentin Lemarchand and Arthur Hubert.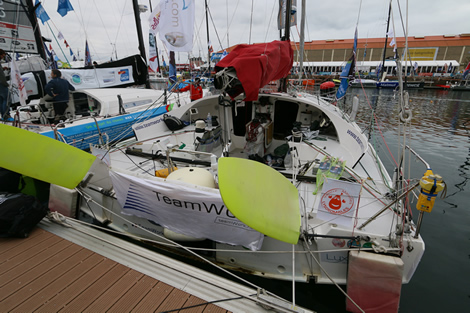 2012 generation Mach 40, Teamwork 40 of Bertrand Delesne and Nils Palmieri.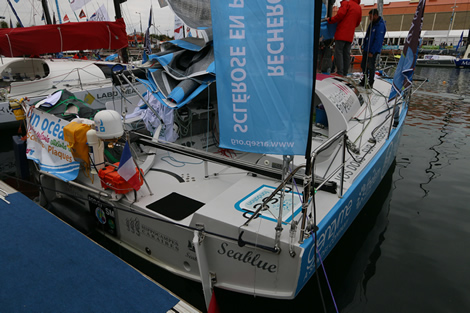 2014 generation Mach 40 Solidaires en Peleton / ARSEP of Thibault Vauchel-Camus and Victorien Erussard.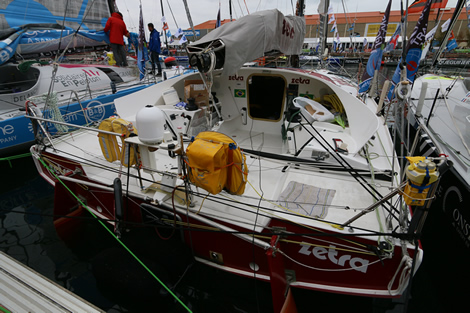 2013 Mach 40, Zetra (ex GDF Suez) of Brazil's Eduardo Penido and Renato Araujo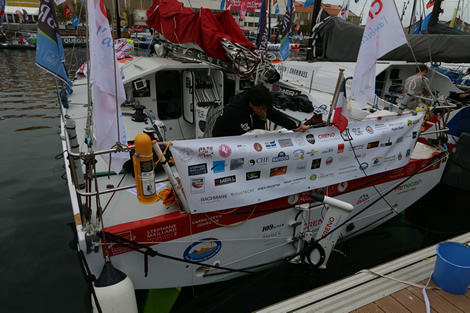 Creno / Moustache Solidaire - 2010 generation Guillaume Verdier design, sailed by Thibault Hector and Morgan Launay
Back to top
Back to top