PRB claims first IMOCA Ocean Masters event
The world's largest offshore race, in terms of its participation, this week launched the 2015-16 IMOCA Ocean Masters World Championship. Celebrating its 90th birthday this year, the Royal Ocean Racing Club's biennial Rolex Fastnet Race from Cowes to Plymouth via the Fastnet Rock, had 356 entries, having attracted the largest and fastest multihulls and monohulls from around the world to small family cruisers. It provided an ideal platform to launch the new IMOCA Ocean Masters World Championship.
Among the nine doublehanded IMOCA Ocean Masters teams, for several the race represented their competitive debut in the IMOCA 60 class. There were a few familiar boats being campaigned by new owners, such as Yann Eliès's Quéguiner – Leucémie Espoir (ex-Safran) or the ex-MACIF, winner of both the last Vendée Globe and the 2013 Rolex Fastnet Race, now Paul Meilhat's SMA. Then there were Le Souffle Du Nord (ex-Groupe Bel), with Mini Transat and Route du Rhum winner Thomas Ruyant at the helm, Comme Un Seul Homme (ex-DCNS) skippered by Eric Bellion and Kilcullen Voyager (formerly Mike Golding's Gamesa) sailed by Irish former BOC Challenge competitor Enda O'Coineen.
But all eyes were on the two new generation boats – Morgan Lagravière's Safran and Armel le Cléac'h's Banque Populaire, both boats featuring radical side foils, designed to turbocharge their performance.
The forecast for the Rolex Fastnet Race was ultra-light and for the start at 1110 UTC on Sunday, there was zero wind, the ocean racing speedsters barely able to cross the line. Finally creeping away from Cowes in the lead was Le Souffle Du Nord, but by the time the boats exited the Solent, 10 miles up the course it was PRB which had moved ahead.
The breeze held for the first night and as the boats sailed out into the mid-Channel SMA had edged into the lead, just ahead of PRB and Quéguiner – Leucémie Espoir. Problems began as the boats returned from the mid-Channel, to get out of the foul tide by coming in close to Cornwall's famous Lizard Point. Here the most painful stage of the race began, as the boats attempted to turn the corner at Land's End and reach the Celtic Sea - the wind dropped to zero, the boats only moving with the tide. It took an entire day for them to cover just 70 miles, and yet somehow the three leaders - SMA, PRB and Quéguiner-Leucémie Espoir - managing to stay ahead.
Finally the wind filled in on Tuesday morning and the IMOCA 60s were able to get up to speed. SMA and Quéguiner – Leucémie Espoir were first into the new breeze and SMA led around the Fastnet Rock at 20:36:44 BST, 22 minutes ahead of Quéguiner – Leucémie Espoir, with PRB a further 15 minutes behind. Appropriately the Irish crew on Kilcullen Voyager were fourth.
A brisk reach back from the Fastnet Rock towards Bishop Rock to the west of the Scilly Isles saw the IMOCA 60s occasionally hitting 25 knots in winds gusting up to 30. Sadly a mistake made by the SMA crew caused them to miss out Bishop Rock, a mark of course, and, despite leading, they chose to retire. Rounding Bishop Rock, PRB held a 5.5 mile lead over Queguiner - Leucémie Espoir with the new Banque Populaire third. However soon after positions reshuffled with Banque Populaire dropping back and Safran moving up to third.
Eventually PRB speeded into Plymouth finishing at 12:19:53 on Wednesday in an elapsed time of 3 days 9 minutes and 53 seconds.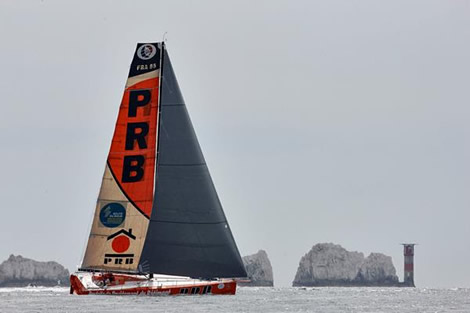 Pleased to have got off to a strong start in the IMOCA Ocean Masters World Championship, winning skipper Vincent Riou commented: "It was a very difficult race because there were two days with no wind and then there was lots of wind for the finish and a very hard end because everyone was tired. But we finished well and we are happy."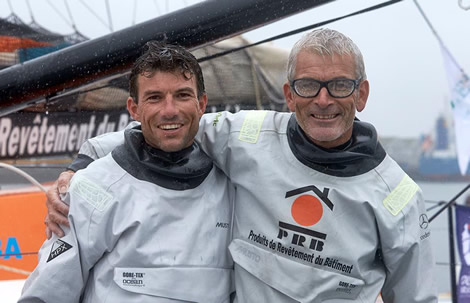 His co-skipper Sébastien Col added: "The first part was quite demanding because it was a game of the leaders sailing into a hole and the trailing boats being able to escape around them. Twice we were in very good position and twice we were passed this way. It was frustrating because each time we had to furl the Code 0 [which requires a lot of effort]. And there wasn't too much sleep."
Riou says he is still evaluating the new boats to see if he needs to modify PRB by fitting side-foils like they have. He believes the new boats have yet to show their potential – Safran finished third and Banque Populaire sixth - but it is too early to read much into this: even without side foils these boats are new and complex. The side foils represent a giant additional science project for each team.
Finishing second 34 minutes after PRB, Yann Eliès, racing Quéguiner – Leucémie Espoir with Charlie Dalin, said conditions in the Rolex Fastnet Race – sun and light winds - benefitted 'Figarists'. "But Charlie and I, we're burned out when it comes to light winds – we had enough of them on the Solitaire this year!"
Eliès previously raced his new boat with its former skipper Marc Guillemot in the Transat Jacques Vabre in 2011, but in the Rolex Fastnet Race spent much time struggling to find the right 'mode' for the boat. "We don't know the boat well, so we were not very fast and I was not completely happy with the race. We now just have to learn to understand why and how to be more competitive. Maybe we have to change the ballast of the boat."
However both Eliès and Dalin enjoyed the fast second half of the race. "We pushed hard and we went fast in big waves and winds and we didn't break anything, which was good."
Eliès agrees with Riou when it comes to the new boats and is in the same situation in terms of modifying his own boat. He remains impressed with the speed of SMA. "SMA is the fastest boat - if it were mine, I wouldn't touch anything!"
IMOCA 60 results - 2015 Rolex Fastnet Race
1st PRB, Vincent Riou – Sébastien Col, 3d 00h 09mn
2nd Quéguiner - Leucémie Espoir Yann Elies – Charlie Dalin, 3d 00h 44mn
3rd Safran, Morgan Lagravière – Nicolas Lunven, 3d 01h 28mn
4th Le Souffle du Nord, Thomas Ruyant – Adrien Hardy, 3d 02h, 09mn
5th Initiatives Cœur, Tanguy de Lamotte – Sam Davies, 3d 02h 33mn
6th Banque Populaire VIII, Armel Le Cléac'h – Erwan Tabarly, 3d 04h 45mn
7th Comme Un Seul Homme Eric Bellion – Anthony Marchand, 3d 06h 04mn
8th Kilcullen Voyager, Enda O'Coineen – David Kenefick 3d 07h 46mn
DNF SMA, Paul Meilhat – Michel Desjoyeaux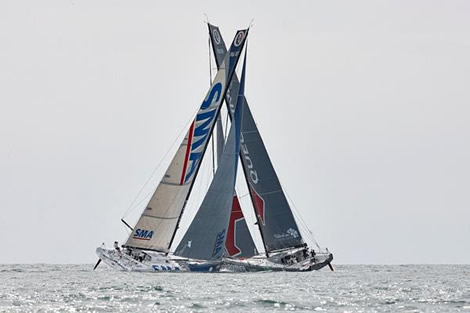 Back to top
Back to top