Big, small or somewhere in between?
With a record-sized fleet of 335 in the running, the question 'who will win the 2015 Rolex Fastnet Race' on handicap is a tough one.

As ever, the corrected time prize is raced under IRC, which this year aims to equalise a fleet as diverse as Jim Clark and Kristy Hinze Clark's VPLP-Verdier 100 Comanche (with a IRC TCC of 1.975) to the modest Contessa 32 Hurrying Angel 4 of Lucinda Allaway (TCC of 0.872); from state of the art carbon fibre racers, such as the new IRC 72 Mini Maxi Momo, to Matt Brooks' classic Dorade, the 52 footer which won the Fastnet Race outright in 1931 and 1933 under young designer-skipper Olin Stephens. In between are every imaginable flavour of cruising yachts, cruiser-racers to out and out performance machines.
The winner will be partly determined by the weather. If the race has a strong start and a light finish then it is typically a 'big boat' race. If the opposite is true, and the wind only fills in later, then it is a 'small boat' race as occurred in 2005 when one of the smallest and slowest boats in the race, Jean-Yves Chateau's Nicholson 33, Iromiguy, claimed the victor's Fastnet Challenge Trophy.

Whichever boats wins, IRC seeks to ensure that it is among the best sailed in the fleet.

As usual, the Rolex Fastnet Race features many of the world's best sailing teams. While Niklas Zennström's Rán II, which won the race in 2009 and 2011, is not competing, the race is being contested by two similar Judel Vrolijk designs, Momo, the new Maxi 72 of German Dieter Schön and the more travelled Bella Mente of American Hap Fauth. Winner of this spring's RORC Caribbean 600, Bella Mente has been fitted with a deeper fin and among her all-star crew is Britain's Adrian Stead, who was central to Rán's winning afterguard.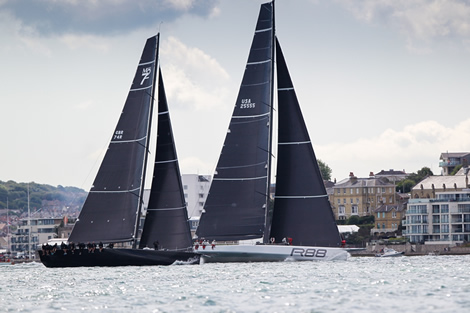 "With Belle Mente we've got a pretty good chance of winning," says Stead. "But I think any well sailed, well prepared and optimised boat has always got a chance in the Fastnet."

Amongst the group of canting keel boats there are some strong candidates including George David's Rambler 88 and Vincenzo Onorato's Mascalzone Latino, one of two canting keel Cookson 50s (a design that has won the race before and a proven offshore race winner).

Nipping at the heels of the Maxi 72s will be Bryon Ehrhart's Reichel-Pugh 63 Lucky, recent winner of the Transatlantic Race (and winner of the 2011 Rolex Sydney Hobart as Stephen Ainsworth's Loki). Around 50ft, the hottest competition will be between former Admiral's Cup winner German Tilmar Hansen and his Elliott 52 Outsider, Peter Harrison's TP52 Sorcha, race legend Piet Vroon's Ker 51 Tonnerre 4, and the new Carkeek 47, Black Pearl, of German Stefan Jentzsch.

In recent years, dominating the sub-40ft classes as well as the overall results has been France. Eric Tabarly, the event's first French winner aboard Pen Duick III in 1967, would have been proud of the 2013 result when 13 of the top 16 boats were from his side of La Manche, the event won outright for the first time by a doublehanded crew in father and son Pascal and Alexis Loison. Even two years earlier, in a race theoretically favouring the 'big boats', half of the top 22 boats were still French.

And this situation remains in 2015. At present in the RORC Season's Points Championship, French boats occupy the top three spots, all tipped for success this year, and interestingly all are boats from French manufacturer JPK.
Overall leader is Louis-Marie Dussere's JPK 1010 Raging Bee, a sistership of the Loison's 2013 winner Night & Day. Dussere is relatively new to sailing, it taking over from windsurfing as his sport of choice six years ago. He has been campaigning Raging Bee since 2013.

As part of the preparation for the Fastnet Race, there are also some equipment choices to be made specifically for the race, Dussere advises, particularly over the use of asymmetric or symmetric spinnakers (or both): "In the five last Fastnets, there was only one where the weather was good for asymmetrics. If you have a northwesterly from the Fastnet Rock or it is westerly from the Scilly Isles to Plymouth it is good for symmetric spinnakers."

Among the French, Dussere rates the Loisins, who are returning this year once again aboard their JPK 1010 Night And Day, and veteran campaigner Géry Trentesaux who is competing in JPK's latest model the 1080, Courrier Du Leon. As Dussere describes it: "After the 1010 I didn't think they could create a better boat, but the 1080 is better."

Trentesaux has won his class in the Rolex Fastnet Race no less than three times and was fourth overall in 2013. But this season he has had the most extraordinary win rate including victories in the Cervantes Trophy, the Myth of Malham and the De Guingand Bowl.

If the weather gods smile on him, you would not bet against Trentesaux.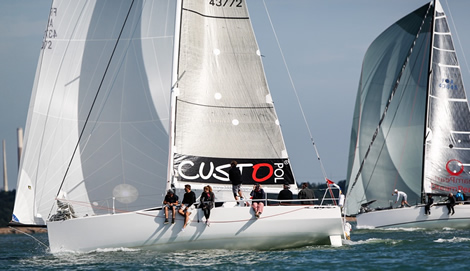 Back to top
Back to top