War stories of the giants
Since Bryan Ehrhart's Lucky secured line honours in the Transatlantic Race yesterday afternoon, two of the race's largest boats have finished.
Crossing the line off the Lizard at 21:30:21 UTC last night, Clarke Murphy's 100ft Nomad IV arrived second, after a tense 24 hours when she'd done well to close on Lucky.
Navigator Mike Broughton explained: "We cut the corner a bit, but at the same time the last part was a bit light." They were further hampered by sailing for the last 30 hours unable to use their big headsails because their halyard box had pulled off the mast during a crash round-up to avoid a semi-submerged container on Thursday.
This was just one of a catalogue of technical problems Nomad IV suffered during the race, such as having to sail for all but the first two days without the hydraulics vital for most of her sail controls and filling her water ballast tanks.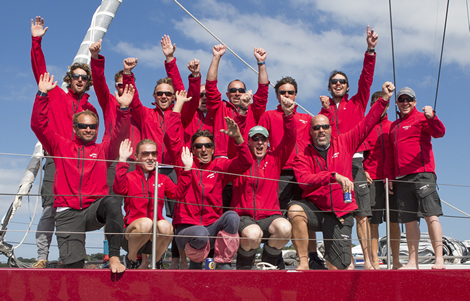 Clarke Murphy summarised their difficulties: "Luckily we have a lot of muscle on board. It is nice to have pictures on the website of people chain-ganging, but to gybe a 15-story high mainsail [without hydraulics], you have to prepare for an hour to make sure it goes perfectly and you have no power to grind things back in. We cursed a few times, but we got everything done super slowly, by being really well prepared and coordinated. But I'm not complaining. You have to deal with the hand you're dealt."
Murphy praised Nomad's crew and their problem-solving skills in learning how to use the traveller, main sheet, vang, etc. all without hydraulics. "Just before we finished we figured out how to unfurl the J2 [headsail] manually with someone at the top of the rig and someone at the middle of the sail. The determination to come up with solutions brought this group together."
Murphy's most memorable highlight was screaming along in big wind and the Gulf Stream, making high daily averages early on in the race. His worst was getting disorientated and stressed, sailing at night in fog approaching Ireland.
Third home on the water, finishing at 02:21:18 UTC, was Mariette of 1915, the biggest, heaviest and - celebrating her centenary this year – oldest boat in this year's Transatlantic Race.
For the crew, sailing this ancient Herreshoff design, which measures 80 feet long on the water, 108 feet on deck and 138 feet overall, felt like history in the making. Mariette led the fleet east across the North Atlantic for the majority of the race, during which they cranked the 165 ton gaff schooner up to a top speed of 17.8 knots.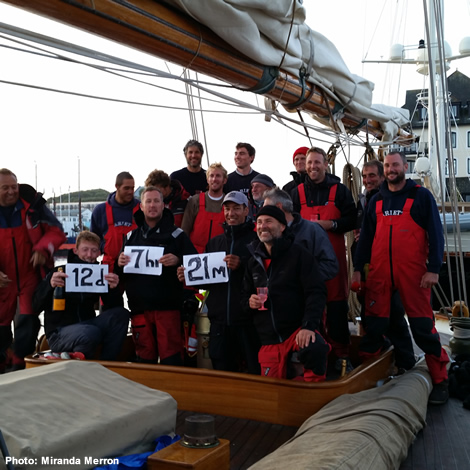 Skipper Charlie Wroe explained: "All boats have their limitations, but you get on a boat like Mariette and she gets a rumble on and you feel it from your toes - it is pretty special. This boat is amazing to sail, she just keeps on giving. She is an amazingly competitive boat."
While yesterday's forecast indicated that Mariette would finish in pressure ahead of a cold front, in fact the front stalled. They were faced with six hours of light winds yesterday evening and when the front did arrive, it only delivered 20 knots.
Throughout the race, the crew was referencing the passage of American sailing legend Charlie Barr, the Russell Coutts of his day, who drove the 227ft three-masted schooner Atlantic from New York to the Lizard (within 50 miles of the length of the present course) in a time of 12 days, 4 hours, 1 minute and 19 seconds during the New York Yacht Club's Transatlantic Race in 1905. Sadly, Mariette finished just outside of this time.
Mariette is lining up to claim the Classic class and IRC Class 4 on handicap.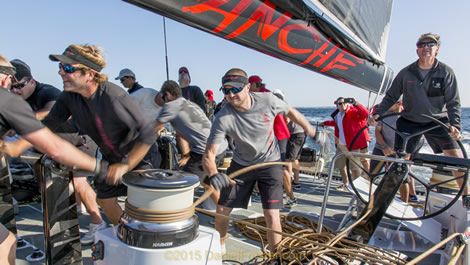 Comanche sets new 24 hour record

In stark contrast to the two days they spent wallowing in no wind last week, a corridor of strong southwesterly winds straddling the breadth of the North Atlantic for the last 48 hours has provided last Sunday's starters with conditions to cover huge mileage.
A boat built exactly for this is Jim Clark and Kristy Hinze-Clark's VPLP-Verdier designed 100ft maxi Comanche, which this morning broke the monohull 24-hour distance record. In the period between 0530 UTC Friday and 0530 this morning, Comanche covered 618.01 nautical miles (or 25.75 knots average); however, it is important to note that this is subject to ratification by the World Sailing Speed Record Council.
This betters the previous record of 596.6nm set by Torben Grael and the Ericsson 4 VO70 crew during the 2008-9 Volvo Ocean Race. Two Ericsson 4 crew, Tony Mutter and Ryan Godfrey, are sailing on board Comanche in the Transatlantic Race.
"As a group, we are very excited about it," confirmed skipper Ken Read, paying tribute to owner Jim Clark and his vision of high technology and amazing machines, as well as the designers, boat builders, crew and shore crew, that all contributed to the record. "This was the 100-foot boat that Jim Clark wanted: The fastest monohull in the world."
As to what it was like on board, Read added: "Our top speeds were into the mid-30s a bunch of times. It is not like you are surfing down a wave, you just go….fast. The boat is amazing! You sail it heeled over and it feels like you are right on the edge, but when you grab the wheel you are in control. The boat is a phenomenal piece of machinery."
On board the shorter Rambler 88, owner George David reckoned that they covered 587 miles over a similar period, "but for me that is my personal best. I did 584 on Rambler 100."
Despite communication being difficult over satellite phone from what sounded like a water-born war zone, David summarised: "We've been going along the bottom side of a low and we've had wind speed of 24-26 knots for almost 48 hours. Boat speed has been 25-26 knots, around 1.5 knots off Comanche's pace, which is not unexpected given their bigger righting moment and stability."
David said that they have their special side foil deployed to leeward, and this has been helping to keep the bow out of the water. "It helps keep water off the deck but there is still a lot of water on the deck. When you are going 25 knots in these sea conditions, you are going faster than the wave train and you [go over a wave and] slam into the back of the next one.
"Everyone is fine and everyone's wet and it is a production getting foul weather gear on and off, but it is a good ride. I think it will back off in the next 12-15 hours, because we are slowly outrunning it."
Back to top
Back to top