Solo offshore racing world championship
After a week in Bordeaux, the annual heavyweight offshore fest that is La Solitaire du Figaro set sail from Pauillac on the Gironde river on Sunday.
The course this year is a four leg monster, 2185 miles in total, starting with the shortest leg at a mere 461 miles as the crow flies - across the Bay of Biscay and around Finisterre bound for the Pedro Campos stronghold of Sansenxo on the west coast of Spain.
The good news is that with such a sizeable British contingent in the race, the course also visits Torquay where it will be over 17-21 June.
The course is:
Leg 1: Bordeaux (Pauillac) to Sansenxo, Spain 461 miles
Leg 2: Sansenxo, Spain to La Cornouaille via L'Ile d'Yeu (522 miles)
Leg 3: La Cornouaille-Fastnet Rock-Torquay, UK (602 miles)
Leg 4: Torbay-Lundy-Dieppe (600 miles)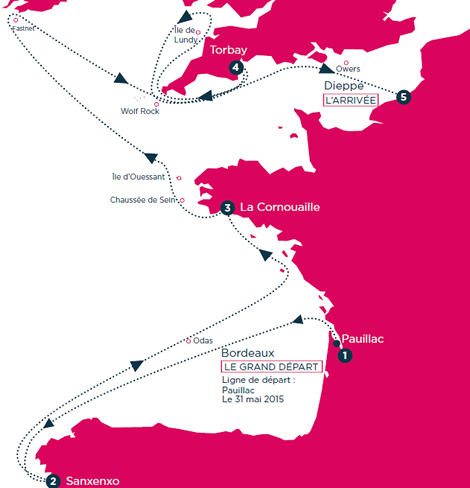 The secret of doing well in La Solitaire is being as consistent as possible, stringing a good series together, bearing in mind that the event is one of the few left of its type scored on culmulative elapsed time across all four legs, rather than on a points system. This is in itself hardcore – one set-back or bad result at any point, during what is almost one month of racing, is potentially terminal to one's result and there are of course no discards or any way to lighten the impact when mistakes are made.
| | | | | |
| --- | --- | --- | --- | --- |
| Skipper | | Boat | Participations | Born |
| Aymeric | ARTHAUD | REEL - PGO AUTOMOBILES | 0 | 15-Mar-89 |
| Andrew | BAKER | ARTEMIS 23 | 0 | 09-Jan-90 |
| Jérémie | BEYOU | MAITRE COQ | 14 | 26-Jun-76 |
| Vincent | BIARNES | GUYOT ENVIRONNEMENT | 6 | 21-Mar-74 |
| Henry | BOMBY | ROCKFISH / RED | 3 | 31-Jan-91 |
| Jackson | BOUTTELL | GAC CONCISE | 2 | 18-Jan-91 |
| Rob | BUNCE | ARTEMIS 37 | 0 | 12-Jun-94 |
| Thierry | CHABAGNY | GEDIMAT | 13 | 03-Feb-72 |
| Nick | CHERRY | REDSHIFT | 3 | 19-Mar-85 |
| Charlie | DALIN | SKIPPER MACIF 2015 | 3 | 10-May-84 |
| Corentin | DOUGUET | UN MAILLOT POUR LA VIE | 6 | 23-Jun-74 |
| Benjamin | DUTREUX | TEAM VENDEE | 0 | 05-Apr-90 |
| Yann | ELIES | GROUPE QUEGUINER - LEUCEMIE ESPOIR | 15 | 31-Jan-74 |
| Robin | ELSEY | ARTEMIS 43 | 0 | 05-Sep-92 |
| Yannick | EVENOU | LOI et VIN | 2 | 07-Apr-64 |
| Sophie | FAGUET | REGION BASSE NORMANDIE | 0 | 17-Feb-87 |
| Gwenolé | GAHINET | SAFRAN - GUY COTTEN | 1 | 01-Jan-84 |
| Alain | GAUTIER | GENERALI 40 | 15 | 08-May-62 |
| Arnaud | GODART PHILIPPE | FAUN ENVIRONNEMENT - AFRIKARCHI | 3 | 01-Jan-81 |
| Adrien | HARDY | AGIR RECOUVREMENT | 7 | 13-Jul-84 |
| Corentin | HOREAU | BRETAGNE - CREDIT MUTUEL PERFORMANCE | 3 | 13-Jun-89 |
| Isabelle | JOSCHKE | GENERALI - HORIZON MIXITE | 6 | 27-Jan-77 |
| Martin | LE PAPE | OVIMPEX - SECOURS POPULAIRE | 0 | 28-Sep-88 |
| Yannig | LIVORY | LORIENTREPRENDRE | 4 | 04-Aug-66 |
| Alexis | LOISON | GROUPE FIVA | 9 | 11-Aug-84 |
| Xavier | MACAIRE | SKIPPER HERAULT | 4 | 28-Apr-81 |
| Gildas | MAHE | QUALICONFORT - THE BEAUTIFUL WATCH | 5 | 26-May-75 |
| Benoit | MARIETTE | ENTREPOSE | 0 | 22-Jan-84 |
| Sam | MATSON | CHATHAM | 1 | 21-Feb-91 |
| Gildas | MORVAN | CERCLE VERT | 19 | 31-Jul-68 |
| Tolga Ekrem | PAMIR | UN JOUR UN HOMME UN ARBRE | 0 | 02-Feb-75 |
| Laurent | PELLECUER | NC | 15 | 10-Feb-74 |
| Marc | POUYDEBAT | FRANCE AVC | 0 | 23-May-64 |
| Arthur | PRAT | GUADELOUPE GRAND LARGE 2 | 0 | 28-Oct-88 |
| Claire | PRUVOT | PORT DE CAEN - OUISTREHAM | 2 | 11-Mar-77 |
| Yoann | RICHOMME | SKIPPER MACIF 2014 | 5 | 12-Jul-83 |
| Alan | ROBERTS | MAGMA STRUCTURES | 1 | 12-Mar-90 |
| Clément | SALZES | BORDEAUX TERRE ATLANTIQUE | 1 | 14-Mar-83 |
| Sébastien | SIMON | BRETAGNE - CREDIT MUTUEL ESPOIR | 1 | 06-May-90 |
| Nicolas | THOMAS | GUADELOUPE GRAND LARGE 1 | 0 | 12-Feb-90 |
Line-up
In this year's race there is the normal array of ocean racing legends. As normal, possibly half of the 40-strong fleet is capable of winning a leg, but this year's race is unusual in having two stand-out skippers, both are multiple past La Solitaire winners and also skippers from the IMOCA class: Yann Elies won La Solitaire in 2012 and 2013 and missed out on making it the first hat trick in Solitaire history when, sadly, he dismasted off Wolf Rock. Hungry to make amends this year? That's not the half of it.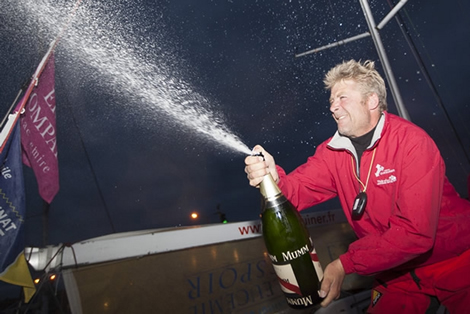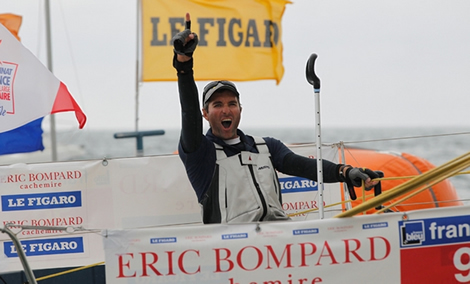 However Maitre CoQ skipper Jeremie Beyou is also a strong contender and following his victory in 2005, recently has won this race in the years Elies hasn't ie 2012 and 2013, when he became one of the elite club of triple Solitaire winners comprising Philippe Poupon, Jean le Cam and Michel Desjoyeaux. Can Elies enter this club in 2015 (as he deserved to last year) or can Beyou set a new benchmark in becoming La Solitaire first four time winner?
After Elies and Beyou come a substantially larger group of contenders. According to Redshift skipper Nick Cherry, the Figaro's class two major warm-ups this year, the Solo Maitre CoQ and the Solo Concarneau, weren't great indicators of form, however he points to Charlie Dalin on Skipper MACIF 2015, who has been very quick in training, and Skipper Herault's Xavier Macaire. "He had a bad year last year, but a good 2013 and he could be coming on form." Similarly second generation Figaro sailor Corentin Horeau on Bretagne-Credit Mutuel Performance, had a strong 2014 season, but a terrible start to this year.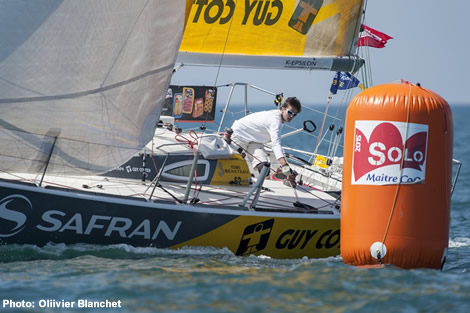 Another second generation Figaro sailor strongly on the ascent is Gwénolé Gahinet (son of yacht designer Gilles) on Safran-Guy Cotton. According to Cherry, Gahinet who was top 'bizuth' in 2014, last year was good on the longer legs but less so on shorter inshore courses, but seems to have rectified this now.
The best newcomer Cherry reckons is Sébastien Simon on the other Bretagne-Credit Mutuel Espoir boat. "He has been really good in training and he has been consistently near the top five in all three races this year. He is definitely one to watch."
Adrien Hardy on AGIR Recouvrement has the potential to do well but is something of a corner banger. "In the training race, has was always doing something a bit weird," observes Cherry. "In one race he might make two good calls and one really bad one and still do quite well out of it. He could 'do a Nicolas Troussel', ie sail five miles away from the fleet and pick something up and destroy everyone in one leg. I think that if he is sensible he has got the pace to win the race or at least be on the podium, but he's a bit firey."
Such behaviour is unusual in the Figaro fleet where typically all the sailors are very conservative, and stick with the pack – just as we're seeing in the present Volvo Ocean Race.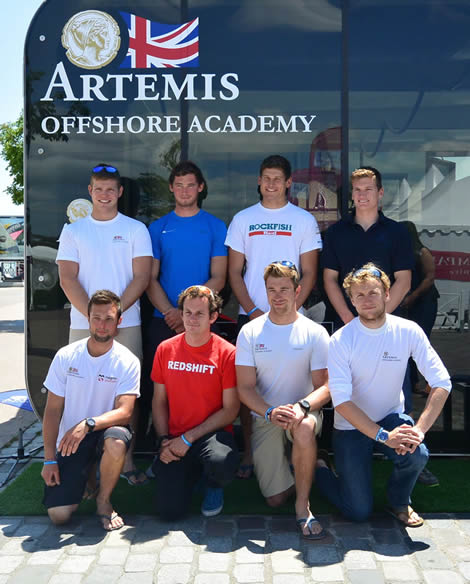 Top row (l to r): Rob Bunch, Jack Bouttell, Henry Bomby and Sam Matson. Bottom row (l to r): Alan Roberts, Nick Cherry, Andrew Baker and Robin Elsey,
Come on the Brits

As in 2014, there is a large British contingent taking part in La Solitaire, comprising eight of the 39 starters. This includes several old hands like Cherry and Rockfish skipper Henry Bomby (both on their fourth races) and GAC Concise skipper Jack Bouttell on his third. In 2013, Bouttell was the first Brit to win the 'Bizuth' prize for top first timer and this time returns with Charles Caudrelier's 2004 Solitaire-winning boat, after competing alongside Caudrelier on Dongfeng Race Team in the Volvo Ocean Race.
Sam Matson on Chatham and Alan Roberts on MAGMA Structures are both returnees following their 'Bizuth' races last year. Impressive, given it was his first attempt, Matson was the top British finisher in last year when he finished 15th, just two places away from winning Gwénolé Gahinet's 'bizuth prize'. Both boats are backed by UK marine industry companies to be commended for their vision.
Of the Brit returnees, Cherry observes: "Sam [Matson] doesn't do anything wrong. He is fast. The longer legs suit him – he has a good work ethic. He will definitely be one to watch. I think Henry [Bomby] is due for a good year - he has been going well in training. Alan [Roberts] has been going fast in training. Jack [Bouttell] was probably the fastest in our group on the last day. But there is not much in it. Out of the five of us, some of us should be able to put a decent result in. I would like that to be me – I don't see why it shouldn't."
Then there is the fresh influx of Figaro rookies from the Artemis Offshore Academy - Andrew Baker, Rob Bunch and Robin Elsey – sailing their inaugural Solitaires.
Generally the standard of British Figaro racing goes up every year, Cherry maintains: The first couple of times they raced it, they felt privileged just to make it to the start line and get around the course. Now they have some pedigree in the race they are expecting some decent results. As he puts it: "We aren't here just to make up the numbers."
However there still remains the sore fact that no British Figaro sailor has made it into the top 10 of this race since Clare Francis' fifth place…40 years ago! This year one of the Brits needs to finish in the top five on one of the legs and/or to break into the top 10 overall. These sound pathetically average targets, but are indicative of the extraordinary high level in the class – for the Figaro really is similar to Olympic classes in terms of sailors having to be full-time to take it on, given the amount of preparation and training time required to succeed.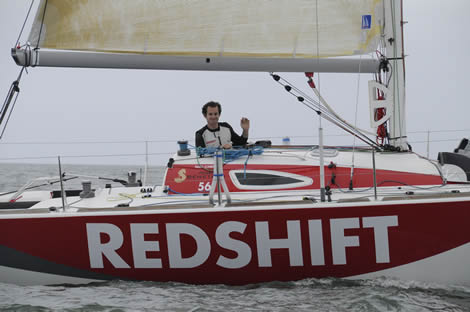 Personally Cherry, after his 25th, 17th and 26th placed finishes since 2012, feels he is in good shape this year: "My training has gone well. We had one last training session with the five British lads who've done it before and Andrew Palfrey has been coaching me throughout the year, looking at new sails, speed testing etc.
"I felt good in the first two races of the year, although I had a bit of a shocker in the Solo Concarneau: I got an uncharacteristic (!) wrap with my kite – it was pretty much tied around the forestay in really quite simple conditions when I was pushing for the top five a few hours into the race. I lost a couple of miles and never had the opportunity to get it back. So in this race I think I could finish anywhere between 5th and 30th depending on how it goes – we'll find out. The potential is obviously there, but there are a lot of people who probably feel like that."
This is his fourth Figaro campaign but the first occasion when – thanks to the private backer of his Redshift campaign - he has had adequate funding to emulate the top French skippers and spend his time focussing on training, rather than scrabbling around money hunting with the end result being a half-baked campaign. In a fleet so highly refined as the Figaro, only full time training and development, carried at a level you'd only otherwise see in an Olympic campaign is adequate to gain a top place in the class.
"Last year was really last minute and the year before I only got the boat in March," Cherry continues. "So this was the first time I had a full run in, with a proper program of winter training planned from the end of last year. It makes it all a bit more relaxed. We've had some good ideas and haven't been trying to chase our tail to get everything working. The boat's got a decent bottom job and good sails I'm happy with. I am confident with my rig settings and my sail setting. It is a different approach - it is not turning up and seeing how it goes. This time it is a case of 'I want to finish in the top 10.'"
All eight British sailors received coaching in France this season with Henry Bomby and Jack Bouttell up at the famous Pol Atlantique Figaro training centre up in Port la Foret. Here, in addition to full-on grand prix race coaching, they also take part in fitness training, weather training with the likes of Jean-Yves Bernot, etc. Whereas the rest of the Brits, including Cherry, have been working with coach Tanguy Leglatin in Lorient.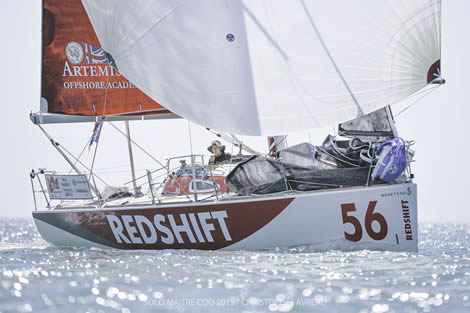 However Cherry has also been using the eminent Andrew Palfrey as his coach. Palfrey is a leading one design keel boat sailor and coach (to the Artemis Racing AC team among others) who, one hopes, has brought his weight to bear on Cherry's campaign. Cherry provides his assessment: "It is interesting because he had never seen a Figaro before December. He is very organised, very analytical, he has good eyes from off the boat. We go out sailing and work out what is fast and look at photos of that – the way he puts it is 'developing instincts' - just spending a lot of time just making sure the set-up is right at every angle and to tick that off.
"He is good in the planning stage – from the end of last year, working back from La Solitaire, when it is important to rest or okay to go away for two weeks knowing that there is stuff happening to the boat or when it is important to work hard and put the hours in. A lot of it is just reassurance. We aren't doing anything revolutionary, but it is nice to have an outside view, explaining what I think the priorities are and what's going on and him okaying that. But I think the key is to do a lot of sailing and to have thought about it long and hard yourself."
Equally vital – and a slightly bigger issue for Cherry this season - has been finding a good shore crew, as many of the top French guys already have good jobs while a number have also graduated up to the larger campaigns in the IMOCA 60 class or giant multihulls – of which there are many in France at present.
"I have struggled a bit there," admits Cherry. "I had a bit of help in December and January and ideally I would have had that person working all the way through, but there is a real shortage of experienced French preparateurs these days. Fortunately I have an English guy for this event called Pete Woodward, who has worked on Peter Harrison's TP52 Sorcha and a lot of big programs. It is great to be able to give him a list, he gets on with it, and he does it better than I would and it is just for me! It is a bit more relaxing and I can focus on doing everything else better."
Into his fourth Figaro season, Cherry still faces the same challenges that solo offshore racing presents to every competitor, the biggest of them all of course not being the sailing skills, but the ones of personal management and especially sleep: Sleep deprivation, sleep management and dealing with tiredness.
"Sometimes I really feel like I have got it nailed, but at other times I will go really slowly or I'll be really tired for a bit. It is still the biggest areas for improvement. There are always ways to do it better. It is not easy. Most of the sleep is about planning when you can rest and getting that in early and then toughening up when you need to be fast. That is where the motivation and digging deep comes in. As long as you are sensible around those two and tough, then you will probably get it right."
Eminent meteorologist Christian Dumard is working with the Brits en masse via the Lorient training group and all the sailors are now very familiar working with him. "We have been doing training races, like Solitaire legs when we have had a weather briefing with him and a debrief. We have been through the course with him," says Cherry.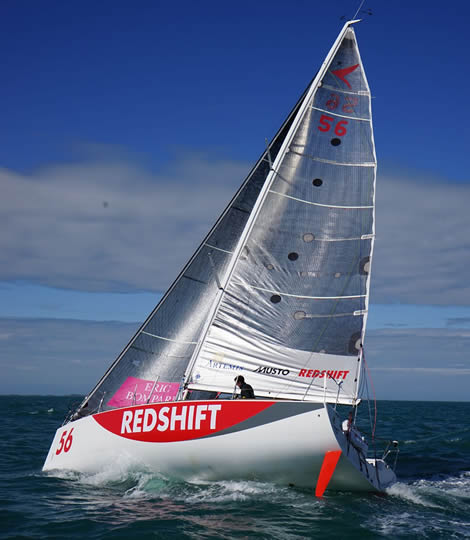 The long course
As to the Solitaire du Figaro's lengthy course this year Cherry says it looks good, although he doesn't relish the legs crossing the Bay of Biscay when there is no coast by which to gauge himself.
"The first leg - going around Finistere and coming into Spain could be pretty light and fluky for the finish. That leg will be hard and open at the end. The 'Fastnet' leg three - from Concarneau to Torquay - will be long, but they have options to shorten it. Leg four will be interesting - heading off from Torquay and turning right and heading up around around Lundy and a buoy off south Wales – that is a bit of water that no one's really sailed in and it will be quite tidal. Plus there are quite some aggressive rocks - I think that will be tough."
"We have had a couple of training sessions where we just talk through it. We have known the course for ages and we started that quite a long time like on the way to the Solo Basse Normandie at the start of the year we camped off of Torquay and did some races around the headland there. And we went around Start Point at different states of the tide and then analysed our tracks. So those local bits – we have built up a good level of knowledge now."
So will Cherry or any of the other Brits have what it takes to make an impression finally on what for decades has been a French dominated sport? Watch this space over the next weeks.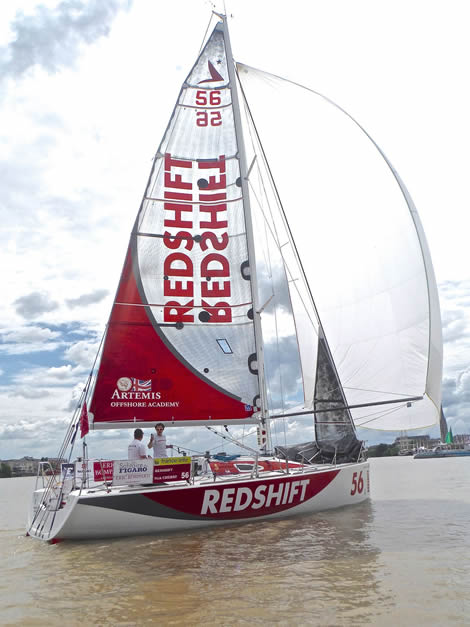 Back to top
Back to top