Sixth place for Renault Captur
Jorg Riechers and Sebastien Audigane brought their Barcelona World Race to an end today when they sailed Renault Captur across the finish line off the Catalan capital's landmark W-Hotel at 11:35:22 UTC to take sixth place. The German-French duo completed the 23,321 mile theoretical course in 105 days 23 hours 35 minutes and 22 seconds, finishing 21d 17h 44m 22s behind the winners Cheminées Poujoulat. In reality Riechers and Audigane sailed 29,701.24 miles on the water at an actual average speed of 11.68 knots.
Their relief was immediately evident as they finish. For Reichers and Audiagne, their race started with moderately high, but realistic expectations. On paper a podium position was not beyond their abilities, nor their boat. But their two-handed round the world race has been plagued by challenges and disappointments and it has taken all of their proven stamina and inner strength to complete it. Their biggest problem surfaced between 15-16 February when Renault Captur suffered an unspecified damage to her starboard rudder blade. They successfully repaired the blade with a spare sheath, but it rendered the boat uncontrollable at anything close to high speed and big waves resulted in many frightening and debilitating wipe-outs and Chinese gybes.
Lying in fourth at 200 miles behind GAES Centros Auditivos and gaining on the Spanish duo Anna Corbella and Gerard Marín, they had to take the very tough, but prudent decision to divert 750 miles, turning back to the northwest to stop in Wellington, New Zealand the nearest haven with a suitable boatbuilding/repair facility to attend to the rudder. They were passed by We Are Water and then One Planet, One Ocean & Pharmaton as they made their course towards Wellington, dropping to the sixth position where they finish today.
"We lost 2000 miles and two places, but it has happened, there is nothing we can do about that," Riechers said upon leaving Wellington on 23 February after their 40 hours pitstop. But the remodelling and reshaping of the blade proved to be of limited improvement. Riechers and Audigane still had to govern their speed to around 15-16 knots for much of the Pacific crossing, effectively ending any remote prospect of catching back the lost places.
One of their greatest sources of satisfaction from their circumnavigation though was their seamanlike passage, in the most ferocious conditions, of Cape Horn experienced by a pair of co-skippers in this or any recent edition of the Barcelona World Race. There they had to outrun hurricane force wind to round Cape Horn itself, but immediately after then had to endure squalls of 70 knots and huge seas, reduced to sailing with just a triple reefed mainsail for much of the time.
On the eve of his 47th Birthday Audigane, who raced the 2010-11 Barcelona World Race with Kito de Pavant, but had to withdraw into Ushuaia with keel damage, noted: "Is Cape Horn just the gateway to hell? It could well be that for us. The tropical low to the north of Renault Captur, which has been following us since New Zealand is in the process of turning into a weather monster. For us it's a race against the clock. If we're quick enough we'll get by just losing a few feathers with winds up to 45 to 50 knots and 7m high waves."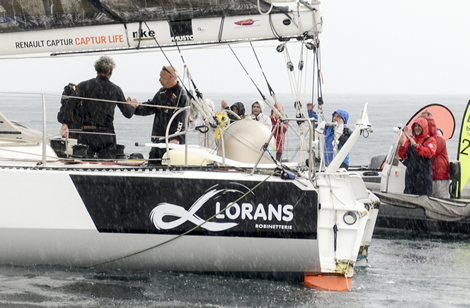 Their reward for such endeavours at Cape Horn and in the Pacific simply never came. Renault Captur's passage up the South Atlantic saw them pressed up against the South American coast either upwind or dealing with long periods of unsettled, unsteady light winds.
They have always communicated their experiences and feelings directly and from the heart, the German co-skipper wearing his heart on the sleeve of his foulweather jacket: "This sucks!" became his recurring joking assessment, while even the patience of the more experienced, tall, laconic Frenchman was stress tested to the extreme. To compound their displeasure they had very strong contrary, easterly winds while attempting to pass through the Strait of Gibraltar and in the Alboran Sea which required them to slow right back to 3-5 knots at times. As a result their final 500 miles have been as frustrating as any during the race.
The irony that the boat which won the race - Cheminées Poujoulat - was extensively optimised and updated when it was in Riechers' hands as part of his Vendée Globe 2016-17 preparations still hurts the German sailor. His sponsor pulled out of his project and he lost the boat to Bernard Stamm for this race, instead having to adopt the Finot-Conq design which although had a good previous record, including a second place in the 2008-9 Vendée Globe as Brit Air, has given the duo many technical problems around this Barcelona World Race course.
Back to top
Back to top