Two Brits in the top ten
The first event of Classe Figaro's season, the Solo Basse Normandie took place this weekend. Starting and finishing in Granville, the 188 mile race open to single and doublehanded teams took the competitors on a complicated tour of the Channel Islands, including a lap of Jersey.
Despite being a relatively short compared to other Classe Figaro events, the Solo Basse Normandie was intensely physical with competitors having to tackle not only the navigational complexity of the course, but also strong tides and 30 knot winds.
Double Solitaire du Figaro winner Yann Elies on Groupe Queguiner–Leucemie Espoir took line honours by just 18 seconds ahead of second place Charlie Dalin on Skipper Macif 2015 with Thierry Chabagny on Gedimat arriving 15 minutes later.
The Solo Basse Normandie also provided a first real test of the now sizeable British contingent of Figaro sailors including the new recruits in the Artemis Offshore Academy.
Redshift skipper Nick Cherry put the 'Cherry on top' for the British team, dicing with the leading pack for the duration of the race and eventually finishing ninth of the 24 competitors, just 15 seconds behind Isabelle Joschke on Generali Horizon Mixité in 8th.
"It was a good race," said the multiple British match racing champion turned offshore sailor, upon finishing. "It was a pretty tough course with lots of changes in the wind and a lot of sail changes to be done. Starting off nearer the front was gave me a lot of motivation to work hard and stay there, so I didn't get much sleep – I'm pretty broken now.
"The low point of the race, which is shouldn't of been because we knew it was going to happen, was coming into Granville and them not finishing us because of the tides. I had to do another two legs and if I'd finish then I would've been in quite a good position, but it was a pretty fun leg actually. Just sitting around outside the harbour wasn't so much fun.
"Going round Jersey was pretty windy. I kept putting off changing to my smaller jib, when in hindsight I should have changed about two hours before. I probably lost quite a lot because of that, and it wouldn't have done my big jib any favours. You can't come racing without learning something. I had a pretty good start, but then made plenty of mistakes so I've still got a lot to learn. I'm really pleased with my result, satisfied."
Jack Bouttell on GAC Concise came in 10th having only sailed his Figaro for a few training trips ahead of the race. Just three seconds separated Jack in 10th and Yoann Richomme on Skipper Macif 2014 after 188 miles.
Filled with confidence after sailing a leg with Dongfeng Race Team, Boutell has his mentor Charles Caudrelier's own Solitaire du Figaro-winning boat this season. Caudrelier sent his congratulations from aboard Dongfeng after the leg, also joking that perhaps he needs to up the charter price of his speedy boat.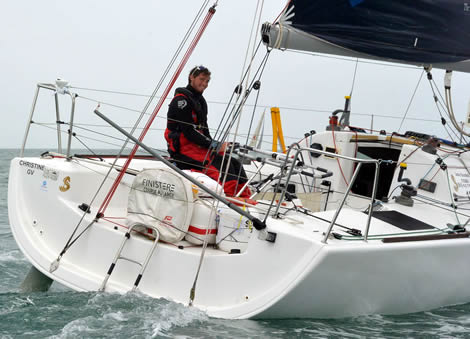 Bouttell commented: "The race was fairly enjoyable except for the fact I didn't sail very well around the top of Jersey, which was quite frustrating. Despite that it was a good race. It's the third time I've sailed the boat so there's still a lot to figure out, but yeah, I'm happy with a top ten finish.
"How did I stay with the first half? I avoided the 'follow the leader' programme. I think I sailed the rhumb line whereas everyone else sailed and followed the leader. I lost a bit when I should have been following the rhumb line, but I sailed up to join everyone and avoid some of the risk. But in hindsight, I could have just continued sailing on the course as I was, and probably could have done better."
For Chatham skipper Sam Matson a bad start that saw him trailing the fleet, but in an exceptional performance he climbed 12 places in 12 hours to see him finish 12th overall. Matson said: ""It was an up and down race. I didn't have a very good start or first leg, which is a bit of a shame. I'd planned everything that I wanted to do on the start and on that first stretch, and I ended up being forced to do completely the opposite, which was pretty disappointing. I spent the next 24 hours working my way back up through the fleet, which was rewarding. It was pretty windy around Jersey, which I was pretty prepared for and made a lot of gains there. Generally it was all pretty good, especially after the first leg when I was on the way up.
"It was a pretty full on course, there were no legs longer than 30 miles, so there wasn't much time for sleeping and we were always on a different cross over with sail – it meant there was a lot to plan and to do. It kept us on our toes, and being that busy does help you to forget about how tired you are. The most challenging conditions were around the top of Jersey when the wind picked up to about 30 knots."
Establishing himself in the top 10 early on, Henry Bomby on Rockfish Red had a great race, eventually finishing 13th: "It was really good. From the start I was fighting in amongst the top ten which was my objective going into the race, so it was really good to be a part of that. Then I got it all wrong in two big shifts on the last 20 mile beat which saw me lose three miles of where I was and four places from I think ninth to 13th. We had one 40 degree and one 50° shift and I was on the right when it went left, and I was on the left when it went right and the sailors that were about a mile behind me before the shift seemed to be right up with me. It was just two big shifts that I got massively wrong and I lost big time on it. The boat speed was really good, I felt as though that's improved so that's really good and hopefully that's going in the right direction.
"Going up into Jersey there was quite a lot of wind so taking the boat upwind was hard work and it was freezing cold, but I gained a lot there throughout the night and just gybing really helped so I'm sure a lot of people were on the pilot and sheltering quite a bit so it gave me the motivation to stick it out and just drive. It was good that all of the legs were around 20 miles long, it means that you can do a bit of a speed test on each of the 20 miles, whereas in the Solitaire du Figaro you would get a 100 mile leg – so this race was perfect as a training race.
"I was fighting close quarters in the top 10 for the majority of the race, which was really good and I felt I progressed a lot so I'm happy with that. It's just a shame that I couldn't come away with a top 10 result – it would have been nice to start the season off, but that's how it goes sometimes."
Magma Structures skipper Alan Roberts came home 16th, also climbing places from the back over 24 hours and finishing just 17 seconds ahead of Solitaire du Figaro leg winner, Alexis Loison on Groupe Fiva.
Roberts described his race: "It was a good first race of the season. We had an interesting start where the fleet kind of got into groups from then. It got pretty windy up by Jersey, and I had a bit of an issue where I got my kite sheet stuck in-between my rudders and got stuck in Ines trying to solve the problem because I couldn't steer. Other than that it was a good race, I was quick upwind and average downwind in the night, but it was good fun.
"For me, the night time stuff was hard work. I think I lost out when we peeled from spinnaker to headsail going to the first mark – I lost probably 50 metres on a couple of guys around me. Then downwind at night time on reaching, I lost a little bit of pace, so those were the harder parts.
"I've definitely come away with a huge amount from this race – I just need to go away and write it all up. It's more on the changes that I learnt (for example the kite to jib) which you have to lead rather than follow, because if you follow you're already too late. I would say I'm happy. The results were average, but I think I've taken a lot more away from it as a training race."
Academy Rookie Robin Elsey finished 18th landing himself the 'Premiere Bizuth' title. He said: "I did alright, it was a bit of an intense race, but it was good. I was first of the Artemis rookies, and we were in the third pack but I can't quite work out the overall placing. I think I was first rookie overall though.
"I think I got 5-10 minutes sleep the whole trip, I'm pretty tired and it was a bit intense to say the least. It's quite understandable why I didn't get much sleep. I also didn't really eat a lot because there were so many corners on the course. It was pretty intense because there were lots of corners, it got pretty breezy around the back of Jersey so it was quite a challenge but it was good fun."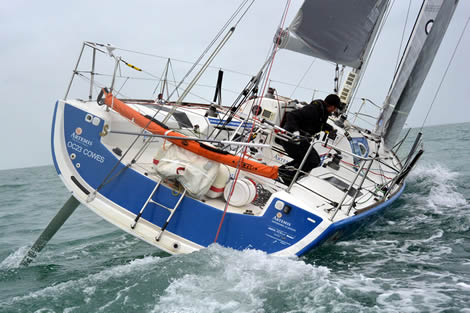 Making it a double on the Rookie podium, Andrew Baker finished 20th overall and third Rookie. He said: "It was a tricky race for sure, not a lot of sleep, tight racing and a lot of tactical elements to thing about. The wind shifts were doing the complete opposite to what you wanted them to do with the tide, so it was a bit of a gamble at times as to what was going to pay off. It was definitely tiring, both physically and mentally. The weather was also very variable, we had sun, rain, thunder storms and a lot of wind at times. It was really good for a first race, getting a feel for it all.
"I was doing quite well for the first half of the race, but I ended up trying to bank too much of it ended up last at the first mark. At that moment I thought, what am I doing. I had a bit of a word with myself, and managed to over take six boats. The first night was pretty hard, there was a lot of tight reaching and it was quite foggy, so it was quite easy to get lost in yourself. I had to rely on what all of the instruments onboard were telling me as you couldn't see any other boats. On the last beat to the finish line, a big shift came in but there was a lot of tide coming the other way, which made it a bit of a tactical nightmare."
"I've learned about where I fit into the fleet. I know I can be competitive and I can be fast, it's making silly mistakes and making the wrong calls tactically that was letting me down. I felt like I was in the mix a few times in the race, and that I was competitive and no slower than any of the boats around me. It's now going to be about ironing out those silly mistakes."
The youngest competitor in the fleet, Rob Bunce finished 23rd. "It was a pretty good race to start with, we saw everything out there," he said. "I didn't get much sleep at all, or get the chance to eat much but it was certainly good fun. The toughest part of my race was when my pilot ram fell off its mount and I couldn't use the pilot. I'm glad to be on dry land, I'm looking forward to a larger and a hug!"
Next up in the Classe Figaro Bénéteau calendar is the Solo Mâitre Coq in April, starting from Les Sables d'Olonne.
| | | | |
| --- | --- | --- | --- |
| Pos | Boat | Sailor | Time |
| 1 | GROUPE QUEGUINER-LEUCEMIE ESPOIR | ELIES Yann | 18:55:12 |
| 2 | SKIPPER MACIF 2015 | DALIN Charlie | 18:55:30 |
| 3 | GEDIMAT | CHABAGNY Thierry | 19:09:48 |
| 4 | SMA | MEILHAT Paul | 19:10:09 |
| 5 | BRETAGNE CREDIT MUTUEL ESPOIR | SIMON Sebastien | 19:18:50 |
| 6 | GENERALI 40 | GAUTIER Alain | 19:19:19 |
| 7 | SAFRAN-GUY COTTEN | GAHINET Gwenole | 19:22:45 |
| 8 | GENERALI HORIZON MIXITE | JOSCHKE Isabelle | 19:25:00 |
| 9 | REDSHIFT | CHERRY Nick | 19:25:15 |
| 10 | GAC CONCISE | BOUTTELL Jackson | 19:29:24 |
| 11 | SKIPPER MACIF 2014 | RICHOMME Yoann | 19:29:27 |
| 12 | CHATHAM | MATSON Samuel | 19:34:19 |
| 13 | ROCKFISH -RED | BOMBY Henry | 19:37:40 |
| 14 | AGIR RECOUVREMENT | HARDY Adrien | 19:43:00 |
| 15 | BRETAGNE CREDIT MUTUEL PERFORMANCE | HOREAU Corentin | 19:44:05 |
| 16 | MAGMA STRUCTURES | ROBERTS Alan | 19:46:30 |
| 17 | GROUPE FIVA | LOISON Alexis | 19:46:47 |
| 18 | ARTEMIS 43 | ESLEY Robin | 20:04:15 |
| 19 | ENTREPOSE | MARIETTE Benoit | 20:08:50 |
| 20 | ARTEMIS 23 | BAKER Andrew | 20:10:00 |
| 21 | OVIMPEX-SECOURS POPULAIRE | LE PAPE Martin | 20:12:05 |
| 22 | PORT DE CAEN OUISTREHAM | PRUVOT Claire | 20:15:01 |
| 23 | ARTEMIS 37 | BUNCE Rob | 20:25:30 |
| 24 | REGION BASSE NORMANDIE | FAGUET Sophie | 20:48:40 |
Back to top
Back to top