No laurel resting
Thursday March 12th 2015, Author:
Helen Fretter
, Location: none selected
Cheminées Poujoulat's lead in the Barcelona World Race is being eroded the rate of over 100 miles a day by the ever tenacious duo of Guillermo Altadill and José Munoz on Neutrogena, while at the back of the fleet Spirit of Hungary is less than 1000 miles from Cape Horn.
But with a lead of 1165 miles and 2589 miles to sail to the finish in Barcelona, right now Bernard Stamm and Jean Le Cam are not going to be biting their nails unduly. The advance of Neutrogena is only one stress among others.
The leaders have constantly spoken out against complacency, letting their guard down. They know that misfortune has visited skippers in the closing stages of many of the recent IMOCA 60 Round the World Races. They know that after more than 21,500 miles of hard racing the boats are at least as tired as their skippers. And the concept of....... 'well, we have made it this far, so chances are we should make to the finish' holds no substance.' Indeed the regular, almost metronomic slamming upwind in the NE'ly trades at best works your dental fillings loose, and worst exposes the small weaknesses to become big problems. As ever, setting the red line, how hard to press, is probably more relevant now for the top three boats as it is at any time in the race.
Images below (click to enlarge) courtesy of Expedition and Predictwind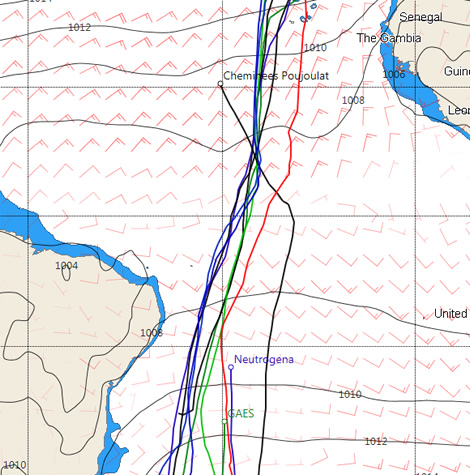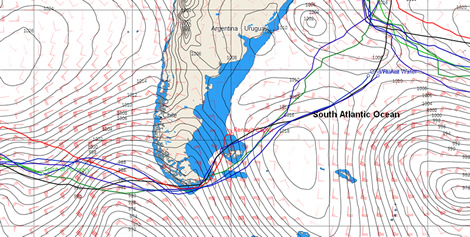 The last cut is the deepest?

Jean-Pierre Dick lost the four tonne bulb off his keel of Virbac-Paprec 3 with just over 2000 miles to go during the last Vendée Globe and lost third place to Alex Thomson. Spain's Javier Sanso lost his keel 360 miles south of the Azores while on course to complete that same race and had to retire. In the previous edition in Feburary 2009 Marc Guillemot dropped his entire keel 960 miles from Les Sables d'Olonne. Days earlier Roland Jourdain lost second place in that edition, chasing victor Michel Desjoyeaux, when his keel fell off Véolia Environment 600 miles from the Azores.
Estrella Damm, during the last Barcelona World Race had their strongest winds, and boat breaking conditions when Pepe Ribes and Alex Pella were returning back through the Straits of Gibraltar.
It is never, ever over until the finish line is crossed.
Guillermo Altadill, the well travelled Spanish skipper on Neutrogena is clearly continuing to press his Farr designed IMOCA 60 as hard he and Munoz dare. They have opened distance on third placed GAES Centros Auditivos again today and are 233 miles ahead of Anna Corbella and Gerard Marín this afternoon.
Since yesterday Neutrogena has added more than 40 miles to her advance ahead of their pursuers, as well as clawing back 278 miles on the leaders. But, in comparison to Stamm and Le Cam, Altadill and Munoz are reaching, making easier miles in easterly trades, while the leaders are slamming, almost upwind in moderate northeasterly trades. Cheminées Poujoulat will pass the Cape Verdes tomorrow and likely have another two or three tacks to make before Gibraltar which they should reach on 21 March.
Duelling Duos
And within that race for the top five places two duels endure. Neutrogena v GAES Centros Auditivos has ebbed and flowed since Altadill and Munoz restarted from New Zealand on 13 February. Corbella and Marín got as close as five miles astern of them in the Pacific, but in the Atlantic, Neutrogena stepped away steadily. But they have a Doldrums 'lite' experience ahead, with a relatively straightforwards transition expected.
If the fight for second and third is maybe opening out, the battle for fourth and fifth remains close. This morning there was just seven miles - terms of distance to finish - between We Are Water in fourth and One Planet, One Ocean & Pharmaton in fifth. Aleix Gelabert and Didac Costa continue to defy predictions with the former Kingfisher and this evening there is 23 miles between them and the Garcia brothers on We Are Water which has been faster this afternoon
Didac Costa on One Planet, One Ocean & Pharmaton said: "We are pushing hard towards Barcelona not because we want to get the fourth position. We know we are very clsoe to fourth position, but we want just to arrive in Barcelona and to sail as fast as we can to get there. Before the race we learned a lot about the boat and its performance and so now we do know how to go fast with this boat. And also we are really confident with the boat and we have had very good weather conditions. This has been more the reasons that have made the difference because we are going faster than in the beginning. We are more confident and know the boat better."
Positions at 1400 UTC
1 Cheminées Poujoulat (B Stamm – J Le Cam) at 2589 miles to finish
2 Neutrogena (G Altadill – J Muñoz) + 1165 miles to leader
3 GAES Centros Auditivos (A Corbella – G Marin) + 1398 miles to leader
4 We Are Water (B Garcia – W Garcia) + 2846 miles to leader
5 One Planet One Ocean & Pharmaton (A Gelabert – D Costa) + 2863 miles to leader
6 Renault Captur (J Riechers – S Audigane) + 3851 miles to leader
7 Spirit of Hungary (N Fa – C Colman) + 5415miles to leader
ABD : Hugo Boss (A. Thomson - P. Ribes)
Back to top
Back to top