Cheminees Poujoulat speeding up the South Atlantic
Thursday February 26th 2015, Author:
Andi Robertson
, Location: none selected
If, in the end, the Pacific ejected race leaders Cheminées Poujoulat without too much of a fight and since Wednesday morning the Atlantic, in turn, has opened a fast toll-free lane northeast to Bernard Stamm and Jean Le Cam, the Pacific seems rather more keen to hold on to second and third placed Neutrogena and GAES Centros Auditivos. Renault Captur in sixth has been deflected back to the northeast by headwinds as they pursue We Are Water and One Planet, One Ocean & Pharmaton. Both of the Barcelona-based IMOCA 60s have been in light breeze, windstrengths more usual for summer in their native Mediterranean than the south Pacific.
Stamm and Le Cam have added a further 120 miles to their lead since they rounded Cape Horn, sliding rapidly past the Falklands and this afternoon morning are making 19 knots. Meanwhile Neutrogena and GAES Centros Auditivos are less than 600 miles from Cape Horn, but in moderate breeze, set to built, but averaging around 15 knots boat speed. With 83 miles separating them, they are due at Cape Horn Saturday morning and late afternoon respectively.
Image below (click to enlarge) courtesy of Expedition and Predictwind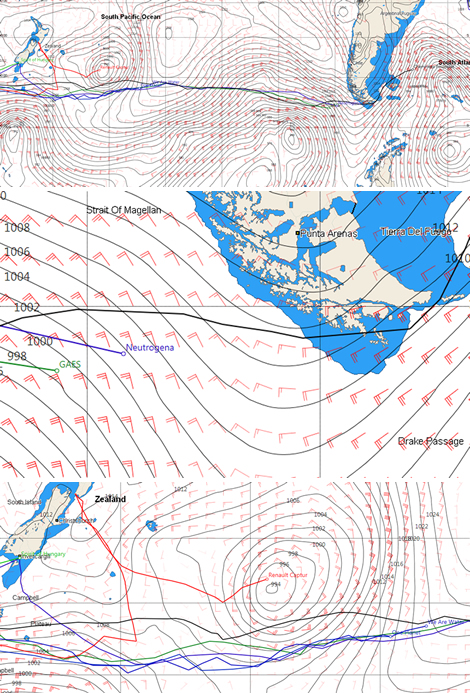 Today both Alex Thomson runner-up in the first edition, and two time winner Jean Pierre Dick voiced their admiration of the race sailed so far by the experienced Swiss-French duo.
"We really did not know how Bernard and Jean would go together, but they seem to form an incredible crew," said Dick, who is building a new IMOCA 60 right now. "I wish you good luck and take care not to break anything. I say that, of course, with the voice of experience. There are often surprises in the last part."
Dick makes reference to his 2012-2013 Vendée Globe when he lost third place on the podium when his keel fell off 3,000 miles from the finish line. He had led the solo, non stop race around the world six times and had to relinquish third to Thomson.
Even if this Barcelona World Race ended for Alex Thomson and Pepe Ribes on the night of 14 January with Hugo Boss' dismasting, both skippers still follow the race avidly. Thomson, whose racing stable 5 Degrees West owns and runs the Neutrogena IMOCA 60 campaign, still communicates every few days with his good friend, colleague and former co-skipper Altadill with whom he finished second in the 2011 Transat Jacques Vabre.
Empathising with the 'race bubble world' that the Catalan is locked into for three months, Thomson - in Barcelona yesterday - remarked that he simply emails Altadill with lightweight chat about his life on land, preparing his new IMOCA 60 and extra curricular topics rather than anything to do with the race.
He admitted that Altadill would be his first pick as co-skipper for this year's Transat Jacques Vabre on the new Hugo Boss.
"I tell Guillermo what I am doing every day, some stories. I think when you're on the boat you're always focused on the race, what's going on, immersed in it and to have a moments of distraction from the life of someone else, I think is interesting. "
Will two become three again?

Jorg Riechers and Sebastien Audigane are focused entirely on regaining the fourth place they gave up because of their pitstop in Wellington.
Riechers said today: "We hope to have a three boat race in the Atlantic. At the moment we are five or six hundred miles behind but we hope we can close the gap a bit by Cape Horn. So we will see what happens with the low pressure system we are dealing with right now. Probably they will have less winds than we have right now. We have upwind conditions, that is not really super for us, but our whole motivation right now is to regain our fourth place. We are racing ahrd and watching the other boats, like we are racing for victory. Coming fourth would be, for us, like coming first. First place is being taken anyway by my old boat. We are fully motivated and we continue racing hard."
Audigane added: "The aim is to get as close as possible before Cape Horn. And then we are looking at match of three. The goal is to finish before both of them. "
Nandor Fa and Conrad Colman have their jobs list all but completed in Bluff NZ, and the Spirit of Hungary skipper seemed to confirmed they plan to leave Friday evening (local time). Today at 2250hrs this evening UTC will mark 48 hours since they halted for their it stop.
"We have had a very busy day. We did a lot of jobs, what we wanted to do. We finished the mast, lifted the boat and changed the keel bolts and made a very nice job. We had a good help from the local people and now the boat is back in the water, the boat is perfect, the keel is perfect. It does not leak and not a drop of water comes in. Now we have some jobs on the mainsail, some patches and small details. We finish tomorrow morning, we have an issue with the engine and have to change the Fleet Broadband cable, the cable was broken. So that is tomorrow morning. In the afternoon we buy some fresh things. And in the evening we are going to start some time, not sure exactly what time. We have got all the jobs done, the quality is good. I am really happy with the boat and we go back and sail.
"We have a small team, me, Conrad and Conrad's uncle, Gray. Today we had some help from some local people, from the crane driver and a forklift. We working day and night. We are a very, very good shore team.
"We made a full check, bow to the stern. There was no problems with the fairings. There was some chafing on the keel from the fishing nets. So it is all very positive."
Positions at 1400
1 Cheminées Poujoulat (B Stamm – J Le Cam) at 6315 miles to finish
2 Neutrogena (G Altadill – J Muñoz) + 1208 miles to leader
3 GAES Centros Auditivos (A Corbella – G Marin) + 1291 miles to leader
4 We Are Water (B Garcia – W Garcia) + 3425 miles to leader
5 One Planet One Ocean & Pharmaton (A Gelabert – D Costa) + 3611 miles to leader
6 Renault Captur (J Riechers – S Audigane) + 4160 miles to leader
7 Spirit of Hungary (N Fa – C Colman) + 5128 miles to leader
ABD : Hugo Boss (A. Thomson - P. Ribes)
Back to top
Back to top