The downside of the Antarctic Exclusion Zone
Thursday January 29th 2015, Author:
Andi Robertson
, Location: none selected
Becalmed in the South Indian Ocean with no escape south because of the Antarctic Exclusion Zone means a painful waiting game for Anna Corbella and Gérard Marin on GAES Centros Auditivos.
For all that the Southern Ocean is renowned for big winds and big seas, the Spanish duo which lies in third place in the Barcelona Round the World Race maybe found it incongruous that they spent time today trying to make just two or three knots of boat speed in next to no wind, but all the time fourth placed Renault Captur were catching miles back on them, and the two leaders were moving further away.
Corbella and Marin were putting a brave face on their delicate predicament, and reported that they would use the enforced downtime to make small repairs and get their IMOCA 60 close to 100% potential again.
Image below (click to enlarge) courtesy of Expedition and Predictwind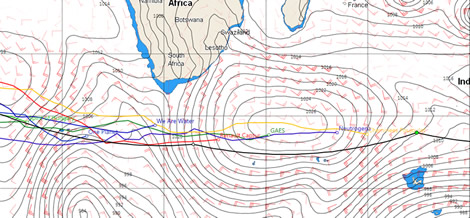 GAES Centros Auditivos have seen Jorg Riechers and Sébastien Audigane on Renault Captur gain 60 miles on them in the last 24 hours to 1400 UTC this afternoon, while Cheminées Poujoulat, race leaders for two weeks now, have moved another 121 miles ahead of GAES Centros Auditivos.
"It is a frustrating day on GAES Centros Auditivos today. We are caught in the anticylone and are losing miles. We can not do anything. Having a limiting zone to the south to avoid ice, there is no way to avoid this happening. If there were no exclusion zone we would head south but we dont want to find ice. It's a bit unfair, but this is a long race and we hope to get our chance to recover these lost miles. We will use this lull to repair, to get our jobs list back to zero, and get ready for the rest of the Big South. So it is not all bad."
Crew on race leader Cheminées Poujoulat will scarcely have taken time to reflect on the fact they have been making the pace at the front of the fleet now for two weeks, half of the race duration so far. Bernard Stamm and Jean Le Cam, who should pass north of the Crozet Islands tomorrow, have made a slight southwards arc in the last 36 hours and are now just 30 miles north of the course taken by second placed Neutrogena, Gullermo Altadill and José Munoz. Cheminées Poujoulat have a margin now of 225 miles although boat speeds of the two leading IMOCA 60s are much more even now.
As well as enjoying some of the best conditions on the race course just now and making the best gains - 70 miles on boats both ahead and behind - Bruno and Willy Garcia sent a hearfelt message of solidarity and admiration to Nandor Fa and Conrad Colman today, expressing their huge respect for the Hungarian and Kiwi duo's grit and determination, as well as their repairing skills: "This is our first time sailing in these latitudes and we are discovering everything with open eyes as amateurs who are passionate about sailing and life as we are. We were sent a picture of your misfortune with the halyard of the mainsail with you Nandor up the mast showing the repair performed by you both.
"We don't think we would be able to perform such a repair even if we share the intense determination to finish our round the world race as best as we can. We feel that we don't have the same skills as you despite we share the fact that our preparation was also really short. Anyway we want you to know that we are really proud to participate in such a great adventure with people like you Conrad and Nandor. That really gives an idea to people of how double handed sailing is, or should be. And above everything you show to us that it is not the position in the race that makes boats and crew better, but their story and the demonstratio n of determination and human skills."
Spirit of Hungary's Nandor Fa returned his thanks to the Barcelona brothers who have been such an influence on the careers of other younger solo and shorthanded ocean racers who followed in their wake, like Alex Pella, Corbella and Marin. For his own return to the South, for the first time in 23 years, Nandor Fa was delighted to be back in the lower latitudes:
"Nothing has changed. The wind is wind and the waves are waves. The boat is changed and the company has changed. Now I am in a nice boat with Conrad. We have seen a few birds and I feel in myself very well."
From One Planet One Ocean Aleix Gelabert reported:" Now it is windy, we have 33 to 34 knots of wind which is normal, we have a front coming and so we need to be careful. We feel very good for the moment in the south. The south will be worse for sure in the next days in the next weeks, but then one of the things about the south is that it is very hard, it is very long and so we need to be careful and keep going every day and then there will be the exit from the south. We are really enjoying it here in the south, it is more or less what we expected. We are okay so we feel good."
Positions at 1400 UTC
1 Cheminées Poujoulat (B Stamm – J Le Cam) at 16 154,8 miles to finish
2 Neutrogena (G Altadill – J Muñoz) +225 miles
3 GAES Centros Auditivos (A Corbella – G Marin) + 721,9 miles
4 Renault Captur (J Riechers – S Audigane) + 1193,4 miles
5 We Are Water (B Garcia – W Garcia) + 1728,2 miles
6 One Planet One Ocean & Pharmaton (A Gelabert – D Costa) + 2333,7 miles
7 Spirit of Hungary (N Fa – C Colman) + 2890,7 miles
Back to top
Back to top