And then there were seven
Friday January 16th 2015, Author:
James Boyd
, Location: none selected
Prior to the start Alex Thomson warned that one third of the Barcelona World Race would fall by the way side due to attrition and at the time he had his fingers and toes crossed that his IMOCA 60 Hugo Boss would make it through. Sadly, this was not to be the case when on Wednesday night, Alex and Pepe Ribes' race came to an end thanks to the central pin on their headsail furling drum shearing. IMOCA 60s are obliged by their class rule to have one fixed (ie not removable) forestay but the furling drum proving the weak link in Hugo Boss' set-up, and left the mast with no support forwards.
Hugo Boss is currently motoring towards Salvador de Bahia in Brazl under jury rig. The Alex Thomson Racing shore team is en route to Brazil to meet the boat. They will have to board a rescue craft to carry provisions and supplies as Hugo Boss' engine consumes the vessel's limited emergency fuel reserve. This operation will take between 48–72 hours to complete.
Image below (click to enlarge) courtesy of Expedition and Predictwind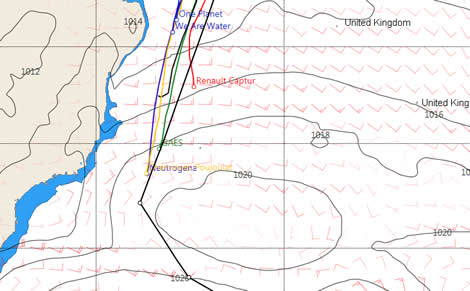 The Barcelona World Race is now down to seven competitors and is increasingly turning into a competition between the 2008 generation Farr designs, these boats now holding the top three positions. Fortunately, even without Hugo Boss, the race remains formidably close. After 16 days of racing just seven miles separate race leader, Bernard Stamm and Jean le Cam on Cheminees Poujoulat and the remaining 5 West boat Neutrogena, sailed by Guillermo Altadill and Jose Munoz - which has just gone into 'stealth' mode, so for 24 hours we won't know her position.
Neutrogena is probably pulling this move because currently 500 miles due east of Rio, they are contemplating when to make their 'left hand turn', allowingn them for the first time to put some east into their heading, indicating that they are past the western extremity of the St Helena High. The high is in a rapid state of transition over the next 24 hours and over this time the leaders will see the wind backing into the northwest. Then it will be a case of whether the boats continue south on starboard or whether they gybe and head east.
Medium-term the scenario is not looking great for the front runners. They don't have much choice other than to ride the northwesterlies generally in a southeasterly direction. However the wind they will be in is effectively a corridor between two areas of high pressure which is forecast to merge over the course of Sunday night. Will this provide enough time for the leaders to get through before the wind shuts down? What does this mean for the boats behind? We'll see what transpires on Monday.
Back to top
Back to top