Pre-race favourites
Tuesday January 6th 2015, Author:
James Boyd
, Location: none selected
Having finished second with Andrew Cape in the first Barcelona World Race and having had to cry off the second when he suffered an appendicitis two days before the start, Gosport's finest, Alex Thomson, has started the third running of the doublehanded round the world race as favourite.
While the IMOCA 60 in which he finished a very respectable third in the last Vendée Globe is now in the hands of Guillermo Altadill and Chilean Jose Munoz as Neutrogena – that campaign also managed by Thomson's team – Thomson is on this occasion sailing the VPLP-Verdier-designed former Virbac Paprec 3, Jean-Pierre Dick and Loick Peyron's winner of the last Barcelona World Race. In reality, the latest Hugo Boss is the only 2012 generation IMOCA 60 taking part and so should have a speed edge over its competition. However Thomson also made the wise decision to team up with his co-skipper Pepe Ribes early on. Ribes comes with huge experience, particularly in the Volvo Ocean Race, which he has sailed four times, but also competed in the last Barcelona World Race, finishing fourth with Alex Pella on Estrella Damm.
"Pretty good - we should be among the favourites," said Thomson of his prospects prior to the start. "We have the boat which won it last time and Pepe and I are really strong. We have been preparing for this for a year and we have done a lot of miles. We have broken the boat and fixed it, broken it and fixed. So we feel like we have learned all that stuff. We feel pretty confident."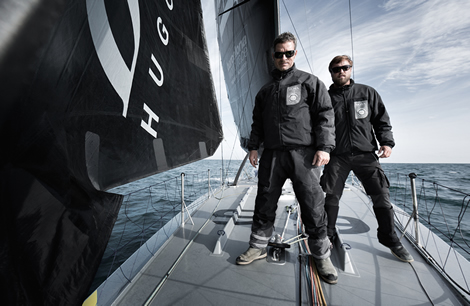 Work carried out on board includes changing the engine, and resecuring the mast track (after it came away during the IMOCA Ocean Masters New York to Barcelona Race last summer). As Pepe Ribes puts it: "Many areas of the boat have been improved. If there was something was wrong, it was replaced with a new one, because the boat has sailed three laps of the world already so we have be very careful with what we are doing."
They have been playing with the daggerboard angles to find out what works best. For the Barcelona World Race, Hugo Boss also has a new suit of sails from Doyles New Zealand, designed by Richard Bouzaid. The new mainsail is a little smaller with less power in its head and more reinforcement – a sail designed to survive two and a half months of abuse in a non-stop round the world race.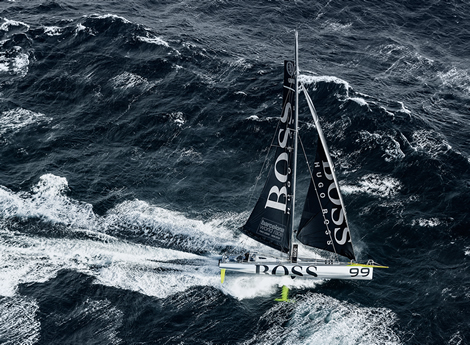 While the boat had the catamaran-style twin cabintops with the lines for the pit running aft in between, as on Thomson's 2008-generation Finot-Conq designed Hugo Boss, this has since been filled in and the deck layout has been modified so that it is more in line with other of Thomson's boat in terms of which lines run where, etc.
Over the course of this year Thomson and Ribes have managed to get around 15,000 miles on the clock on board. In addition to the New York to Barcelona Race, this included doublehanded training from Portugal to the UK and from Denmark back to the UK.
They have also had the opportunity to train against Neutrogena. So prior to the start Thomson said they had a good idea of where they stood against this 2008 generation Farr design, but not against Cheminees Poujoulat, formerly MichDes' 2008 Vendée Globe winner and a sistership to Neutrogena, but which has undergone modifications, in particular the fitting of a new bow, with extra buoyancy.
"I think in some areas we could be a bit slower, but in other areas we are faster. In the predominant wind we'll see around the world, we are a little bit faster," says Thomson, who reckons that Neutrogena and the highly experienced Franco-Swiss duo of Jean le Cam and Bernard Stamm on Cheminees Poujoulat will be their principle competition in this year's doublehanded non-stop round the world race.
Ribes also plays down their being favourite. He was on board Telefonica in the last Volvo Ocean Race when on paper the Spanish team was pre-race favourite, and indeed led for the early stages of the race before seeing victory slip through their fingers. Similarly in the 2005-6 VOR he was on another pre-race form boat, movistar, which he, as part of Bouwe Bekking's crew, had to abandon after it started sinking mid-Atlantic. "If people look at the sailors, we have done well our job and have a good tool and have developed the boat - but that doesn't mean anything. You have to go out into the ocean for three months and we know that statistically 30% of the fleet doesn't finish - whether it is 10 boats or 30. So we hope we are not in that 30% and if that is the case we have a good chance to be in the leading group. Of course we are trying to win, but in this kind of race it is difficult."
Ribes also rates Neutrogena and Cheminees Poujoulat. "Cheminees Poujoulat was chopped in the middle and they put on a new bow on her, so she is close to being a new generation boat, with volume [in the bow] like we have and she was a very fast boat already compared to the other ones. I think Guillermo [Neutrogena] has had the most training with his boat and with his crew. Then I think Renault is a good boat, but it is not as fast as this. Spirit of Hungary [the only new IMOCA 60 in the race] – no one knows."
So why did Thomson choose this boat and this co-skipper? "We wanted the best boat we possibly could and we were in a position early on to get this boat," he says. "Then I needed someone who complimented my skills - it is useful having a Spanish guy around here and some of the local knowledge. Plus Pepe is one of the hardest working guys I have ever sailed with. He is very solid, his experience is rounded in every way. Technically he is way better than me in terms of fixing stuff…..which is quite handy. We are quite different personalities, so we have done some specific work on understanding who we are and how we work together and what is going to make us work well together and not work well together. That has been an interesting process."
This has involved a sports psychologist and the process Thomson says has been different to his sessions on the couch prior to the Vendée Globe, when it was more a case of how to deal with the solitude. On this occasion it has been more 'relationship counciling'. "I have personally had marriage guidance and it is not that different! We started by doing a Myers Briggs test – to properly understand what our personalities are and how we work well together. That has been very useful. Pepe had never done anything like that before.
"This works for marriage as well – when someone is behaving in a certain way and you don't know why, by doing this work you can find out that your own behaviour is causing their behaviour and if you alter your behaviour slightly, then their behaviour will alter slightly too. It is super interesting. You have to buy into the whole thing, but it makes a lot of sense and for this kind of thing, we need to be able to push ourselves and challenge each other and be constructive. In fact in a marriage you probably wouldn't push each other quite so hard! So, making sure we stay constructive and never get negative is very important."
How individually they work the boat has also been slightly different. Thomson says he is happy to run a fairly casual watch system, whereas Ribes prefers more structure. In practice they run three to four hour watches, but alter it according to what is required. "If there's big conditions and we end up driving, we'll probably go to one hour on, one hour off," says Thomson. "But as soon as we can, we'll go back up. You are constantly trying to look out for the other guy. The view is that if you can keep one man fresh then someone is always able to make rational decisions. Apart from that we are equal in every respect. We'll do everything together."
Typically in manoeuvres, it is whoever has been asleep down below that typically works the foredeck as whoever was on deck before will have a better feel for the conditions - clearly some of Ribes' VOR know-how shining through.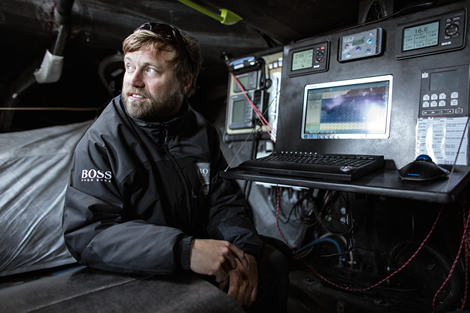 They share all the navigation, with one person running the routing and then the other checking it to make sure they don't make any wrong decisions. However Thomson acknowledges that Ribes is more of a natural and more skilled when it comes to fixing things without getting advice from the shore.
"I think it is a good boat, but it is like all the latest generation boats – you have to be careful," advises Ribes. "The boats are lighter and lighter and therefore you need to use it more and more carefully. So you can push, but you can't make mistakes. You make a mistake maybe an old boat allows it, but with a new boat you need to be careful.
"This boat is also a bit different to the previous one - you have to sail it with much more heel because of the hull, so it is fast ,but sometimes it isn't pleasurable. With more heel, it is fast, but you can't walk, you have to crawl around on all fours like a cat! You can't stand up for days – that is your life - for eating, sheeting, for everything."
So how much do they expect to helm? "We helm quite a bit. Obviously the pilot is faster on reaching angles, particularly after 45 minutes. Then it is better to trim the main and let the pilot helm. But downwind and upwind you have to helm, because you are better than the pilot," says Ribes.
Of particular importance in a lengthy race non-stop around the world is that a maintenance schedule is kept up to ensure that any potential problems are discovered and resolved before they become major race-threatening ones.
Thomson says of this: "We have a plan of maintenance checks that we need to go through throughout the race, which is quite big. As always with these races we run through what the potential issues could be – whether you hit something, rudder damage, keel damage, hull damage – what would the fixes be, what materials would you need and that affects what stuff we take. I think all the boats will carry a lot of spares – we'll be able to fix quite a lot of stuff. We have some experience of that! The majors are the ones we want to avoid – the keel and the mast. Our biggest worry is having a problem that stops us performing."
As reported, a new feature of this Barcelona World Race is the 'ice wall'. Essentially this replaces the familiar 'gates' with a continuous a line running through the Southern Ocean which competitors are forbidden to dip south of.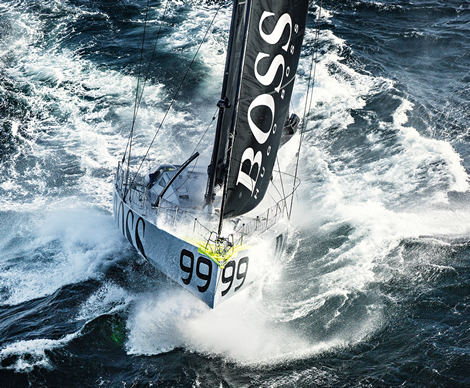 Thomson says he is in favour of this: "In the last Vendée Globe when we had gates, and on one occasion my routing took me down me down underneath the gate, so I pretty much went due north back to a gate through an ice field. So if you don't want to see ice, I think the 'wall' is a great idea. I'm sure that some people will win from it and some will lose, but I think it is great to try it. It takes some pressure away from the organisation and some stress away from us."
Meanwhile as Thomson sails around the world, the latest VPLP-Verdier designed Hugo Boss is currently under construction at Green Marine in Hythe, due for launch this summer. As is expected on the other new IMOCA 60s due for launch in the first half of 2015, this boat will be fitted with quasi DSS-style foils that will have the joint function of preventing leeway while also providing vertical lift to leeward.
"It is very exciting," says Thomson of these developments. "Everyone is playing their cards very closely to their chest. I think the reality is that the boats will come out very similar. They're all being designed by the same people and the reality is that no one knows if it will work yet, although I think it will. In theory the performance boost is around 10 to 30%. I view it as being a revolution like when canting keels came in. It will be interesting to see what happens. It is really important that this class has some ability to continue to develop in some areas. I would be very very disappointed if that wasn't the case."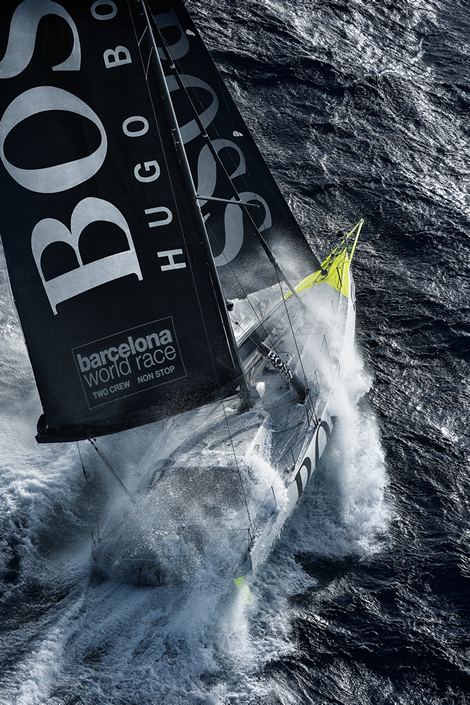 Back to top
Back to top