MichDes - back in the Volvo Ocean Race
The skipper of the Spanish Team in the Volvo Ocean Race 2014-2015, Iker Martínez, has confirmed his final crew.
The Spanish Team will have a larger squad than it has had for previous races allowing sailors to rotate between legs.

10 sailors, plus the onboard reporter, form the Spanish crew. Between them they have 13 participations in the Volvo Ocean Race, while six of them will be making their debut in the race.

Together with Iker Martínez (skipper), Xabi Fernández (watch captain), Rafa Trujillo (trimmer/helmsman), Antonio "Ñeti" Cuervas-Mons (bowman) and Nico Lunven (navigator), it has been confirmed that Michel Desjoyeaux will sail onboard for some the legs on the role of watch captain. This will be MichDes' fourth participation in the race having made his debut in the Whitbread 1985-1986 with Eric Tabarly aboard Cote d'Or. He was back twice after that, in 1989 on Charles Jourdain and 1993 back with Tabarly this time on the maxi ketch La Poste, although on both occasions he only sailed one of the six legs completed. MichDes' formidable sailing CV includes being the only person to have won the Vendee Globe twice, plus victories in the Route du Rhum and the Transat (OSTAR).
"I've known Iker (skipper Martínez) and Xabi Fernández (watch captain) since they rented my old boat for the Barcelona World Race," commented Desjoyeaux. I really like both their personalities," he explains. "I've had plenty of offers in the past to go and sail in the Volvo Ocean Race in one or more stages but it's never been possible because of the timing. To be at the start of the project, was the deciding factor. This one fell perfectly for me, it's a great opportunity."
He says he's particularly looking forward to racing on board the new one-design Volvo Ocean 65. "I'm learning all the time, I never stop," he says.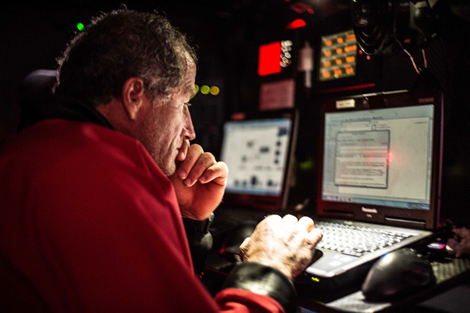 André Fonseca, "Bochecha" (36) is, so far, the only Brazilian sailor who will be competing in the 2014-2015 race. With two Volvo Ocean Race campaigns under his belt (Brasil 1 in 2005-2006 and Delta Lloyd in 2008-2009], Fonseca will also be a watch captain on board the Spanish boat.

Besides Lunven and Trujillo, Frenchman Anthony Marchand (trimmer/helmsman), Spaniard Carlos Hernández (trimmer/bowman) and Britain's Sam Goodchild (trimmer/bowman) will be the rookies of the crew. Marchand and Goodchild are both very well-known sailors in the Figaro circuit, where they have competed five and three times respectively. Hernández has experience in many different boats and classes, including offshore boats such as Giovanni Soldini's modified VO70 Maserati (formerly Ericsson 3).

Argentinean Francisco Vignale will be the onboard reporter.

Crew for the Spanish team in the Volvo Ocean Race 2014-2015
1. Iker Martínez (ESP), skipper
2. Nicolas Lunven (FRA), navigator
3. Xabi Fernández (ESP), watch captain
4. Michel Desjoyeaux (FRA), watch captain
5. André Fonseca "Bochecha" (BRA), watch captain
6. Rafa Trujillo (ESP), trimmer/helmsman
7. Anthony Marchand (FRA), trimmer/helmsman *Under 30 crew member
8. Antonio "Ñeti" Cuervas-Mons (ESP), bowman
9. Carlos Hernández (ESP), trimmer/bowman. *Under 30 crew member
10. Sam Goodchild (GBR), trimmer/bowman. *Under 30 crew member
11. Francisco Vignale (ARG), onboard reporter
Back to top
Back to top