Five way head to head for the VO65s
The RORC's Sevenstar Round Britain and Ireland Race sets sail from Cowes at midday on Sunday 10 August. The non-stop 1800 mile course is most likely to take the 28 entered yachts clockwise around - although this has to be finalised (due to the weather forecast the boats went anticlockwise when the race was last held four years ago).
Favourite for line honours is the race's only mulithull - the MOD70 trimaran Musandam-Oman Sail. With skipper Sidney Gavignet is Irish Volvo Ocean Race sailor Damian Foxall now elevated to co-skipper, joined by America's Cup and Volvo Ocean Race veteran Jan Dekker, who previously served as bowman on Franck Cammas' Groupama ORMA 60 trimarans and on Grant Dalton's winner of The Race in 2000-1.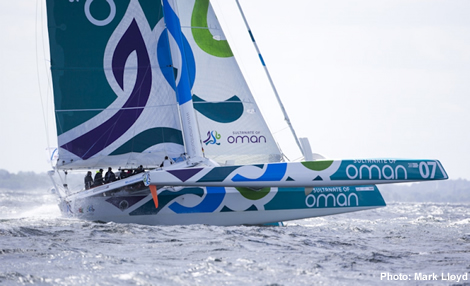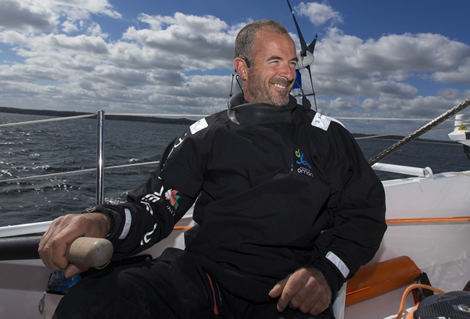 "We are extremely fortunate to have Jan with us for the Seven Star Round Britain and Ireland Race and think we will all benefit from his experience, energy and drive," said Foxall. "He has been round the world four times including once on Club Med and remains one of the strongest multihull experts in the business so he knows how to make these boats go fast. Hopefully we can tap into some of that knowledge to learn a few new skills and maybe claim a line honours win."
Dekker commented: "I enjoy sailing multihulls, but I've never sailed on a MOD70 and I have never done the Round Britain before – I'm looking forward to it! The MOD70s are good, solid, fast boats and the aim is to win but it's important that we keep the boat in good shape. Because Sidney is doing the Route du Rhum later in the year, we can't take any risks."
The other half of Musandam-Oman Sail's crew will be all-Omani, in Fahad Al Hasni, Sami Al Shukaili and Yassir Al Rahbi, members of Oman Sail's M34 squad for the Tour de France a Voile, who switched to the MOD70 earlier this year.
Sidney Gavignet is familiar with these waters - four years ago he set the outright singlehanded record for the course in the 105ft trimaran, Oman Air Majan, in a time of 4 days, 15 hours, 9 minutes and 27 seconds. However, the outright record for the course will be a tough one to beat. In 2011 Banque Populaire 5 (now Spindrift 2), under skipper Loick Peyron, completed the course in 3 days 3 hours 49 minutes and 14 seconds, at an average speed of 23.38 knots...
But the big draw for this year's Seven Star Round Britain and Ireland Race is that it will be one of the few occasions the new generation VO65 one designs will get to compete before the start of the Volvo Ocean Race proper from Alicante on 11 October. To date three - Team Brunel, Team SCA and Team Campos lined up in a 650 mile race around the Canary Islands, won by Bouwe Bekking's crew with the Spanish narrowly beating the all-women's crew into second. Next Thursday some will compete in the Artemis Challenge, around the Isle of Wight.
Five VO65s are entered in the Seven Star Round Britain and Ireland Race, including Team Campos, Abu Dhabi Ocean Racing, Alvimedica, Dongfeng Race Team and Team SCA. Sadly this line-up lacks Team Brunel, which oddly has chosen to continue training in the Canaries rather than take up the opportunity of getting in valuable race miles before the start of the 'main event'. It also doesn't feature the mystery 'seventh VO65', which is rumoured to be campaigned as 'a private entry' fielded by a Danish businessman, with Chris Nicholson as skipper and a crew line-up including several young Danish match racers.
Either way the boats will be attempting to break the monohull course record of 5 days, 21 hours and 26 minutes, set in 2010, by Franck Cammas' eventual Volvo Ocean Race winner, Groupama.
Abu Dhabi Ocean Racing skipper, Ian Walker commented: "I have never taken part in this race before, nor completed a lap of Britain. It is a great race course and a perfect test for our fleet of boats in the run up to the start of the Volvo Ocean Race. You have to be ready for anything when sailing this course. I don't think we will get much sleep and the currents and numerous headlands will make for very tough training. I love the big starts in Cowes and I can't wait to see what the top of Scotland is like. I hope it is kind to us."

The Canting Keel class includes Andy Budgen's Humphreys-designed former Team Russia VO70, Monster Project, and it will be interesting to see how the bigger boat fairs against the newer, but smaller, pro-sailor filled VO65s.
Also in the CK class is the powerful Rogers-designed IMOCA 60 Artemis-Team Endeavour, formerly Jonny Malbon's 2008 Vendée Globe steed, which was the overall winner of the 2010 Sevenstar Round Britain and Ireland Race. This year it will be skippered by Mikey Ferguson, who was on the boat four years ago, and has a crew including Jules Verne Trophy winner and Vendee Globe skipper Brian Thompson. This season the boat has taken part in many RORC races with crew including injured members of the armed forces. Artemis-Team Endeavour is jointly funded by the Team Army Sports Foundation and the Endeavour Fund, an initiative created by The Royal Foundation of The Duke and Duchess of Cambridge and Prince Harry.
One of the most experienced sailors on this race course is Sir Robin Knox-Johnston, for whom this will be his ninth race around the British Isles, having established the first RORC race record in the 48ft More Opposition in 1976, winning Class One in just under 11 days.
However RKJ, now a spritly 75, is better known for his participation in the Royal Western YC's doublehanded race on the same course. This starts and finishes in Plymouth, with 48 hour long stops in Crosshaven, Barra (Hebrides), Lerwick (Shetlands) and Lowestoft. Sir Robin has sailed in all but two between 1970 and 2002.
In his first race he and future Whitbread skipper Les Williams manhandled their Ocean 71 maxi, Ocean Spirit around the course winning by two days, winning again four years later on his maxi-catamaran British Oxygen. Sir Robin last took part in the race in 2002, aboard the 45ft trimaran Spirit, but early in the race was forced retire with damage. 14 years ago he also made a solo non-stop attempt on the course record failing to break it by just three hours.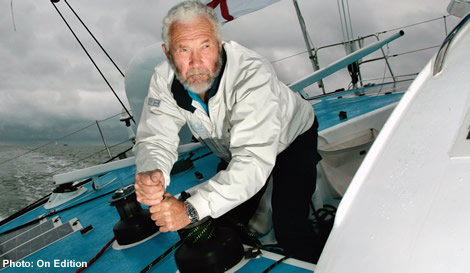 For this year's non-stop RORC race, Sir Robin is competing aboard his Open 60 Grey Power, which he raced around the world singlehanded in the 2006-7 Velux 5 Oceans. He is using the Sevenstar Round Britain and Ireland Race for training in the build-up to this autumn's singlehanded Route du Rhum, but in the RORC's race is in the doublehanded class sailing with his former Velux 5 Oceans shore crew, Simon Clay, now of yacht brokers WhiteCap.
Knox-Johnston commented: "This race has some excellent entries and will provide some tough competition, but it makes for a perfect practice build-up for my participation in the Route du Rhum in November. I am very happy with how my newly fitted out Open 60 is performing so far, but I look forward to testing it further on this race."
Aside from the VO65s one of the top races will be in the Class40 between the Ned Collier Wakefield skippered Concise 8 and Guadeloupe Grand Large, of Burkhard Keese and skippered by Nicolas Thomas. The former is the first example of the Jason Ker-penned McConaghy China-built Forty(1)Design while the latter is the latest example of the Sam Manuard-designed Mach 40, examples of which - including mare and GDF Suez have cleaned up in most of the major regattas for the class over the last few seasons. Provided Concise 8 has fully overcome her teething problems, then the race should be an interesting one.
In addition Team Concise has a race record to defend following the time she set in 2010 of 9 days, 13 hours, 32 minutes and 20 seconds.
Collier Wakefield commented: "Four years ago we competed in the Sevenstar RBI on our then new Class 40 Concise 2. The challenging forecast made for a wet and wild ride and enabled us to break the 40ft record. We are now back with our new Forty(1)Design and weather depending, will be looking to break our own record. The race offers a fantastic shake down for our boat for the Route du Rhum and will certainly act as a great test for boat and crew. We are all greatly looking forward to being on the start line and it is always good when you get round the top and start the journey home."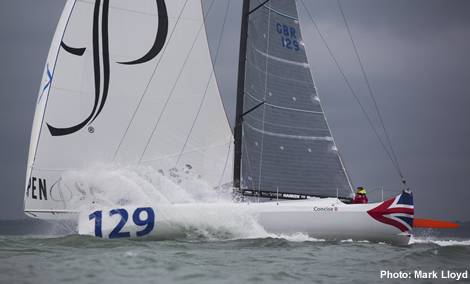 Six boats of the 28 will be raced doublehanded. One, Rare, is being skippered by Ian Hoddle with crew Conrad Manning, who hope theirs will be the smallest yacht to ever complete the race. The bright pink Figaro II has been a familiar sight at RORC races for the past four years, including two Rolex Fastnet Races.

"This will be the longest race Rare has done to date," said Hoddle. "It is an incredibly tough undertaking to race this course Two-Handed. We have to finish the race in 14 days or we will be out of food and out of leave from work.
"We will be raising money for the children's cancer charity CLIC Sargent as my six year old nephew James was diagnosed with an inoperable brain tumour earlier this year. Both he and his family, who live on the Isle of Wight, have been supported extensively by this fantastic charity as James very bravely battles this disease. We have raised nearly £5,000 so far and wish to exceed this target."

Full entry list here
Back to top
Back to top