Irish whitewash at Brewin Dolphin Commodores' Cup
Ireland's three boat team, comprising Anthony O'Leary's Ker 39 Antix, Marc Glimcher's Ker 40 Catapult and Michael Boyd and Niall Dowling's Grand Soleil 43 Quokka 8, today scored the most comprehensive victory in the 22 year history of the Commodores' Cup.
The Irish previously won the Royal Ocean Racing Club's biennial flagship event for national teams with amateur crews in 2010, but were unable to defend in 2012. This year they returned with a vengeance finishing the regatta on 268 points, with an unprecedented lead of 173.5 points.
After a disappointing result in yesterday's race around the Isle of Wight, Ireland bounced back strongly in today's double points scoring inshore held on a round the cans course in the central Solent in a light northerly. Impressively the Irish boats claimed three of the top four places on corrected time. Antix put in a particularly powerful performance following the damage she sustained when she hit the rocks close to St Catherine's Point yesterday that bent the aft end of her keel and split the bottom 1ft of her rudder. Lifting the boat out in Cowes yesterday evening, her shore crew worked through the night to ensure she was ready for racing today.
"We were determined after yesterday's fiasco to finish stronger, which thankfully we did," said Anthony O'Leary. Today Antix led around the weather mark and ultimately claimed her third bullet of this Brewin Dolphin Commodores' Cup.
"The amount of work that all 31 people have put in over the last five or six months has been considerable," said O'Leary of the Irish team's victory. "We are very lucky that it all paid off in the end. There is a lot of experience with three boats and it gelled very well and there was great encouragement from one boat to the other. You don't often get a chance to sail as a team - which is the really good thing about this event."
Making his debut at the Brewin Dolphin Commodores' Cup in the Irish team was American Marc Glimcher who had brought his 'turboed' Ker 40 Catapult over from the USA. Rating-wise Catapult was the fastest boat at this year's regatta and across the 27 boat fleet finished highest placed individual boat.
"What a great week - this is absolutely my number one regatta," enthused Glimcher. "And what an unbelievable team! We had the 'surgeon' - Antix - telling us what to do and the 'clean-up crew' - Quokka - which would always come to the rescue. It was a great group and we sailed the boat better than we ever have. Next time we need to bring a bunch more Americans!"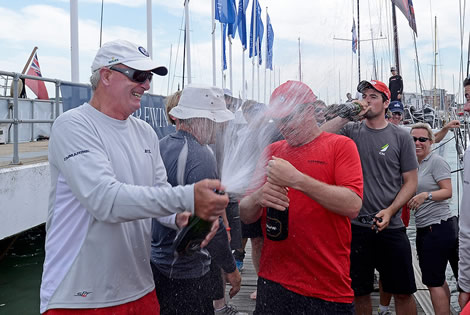 Being the lowest rated boat in the Irish team, Quokka 8, co-skippered by Royal Ocean Racing Club Vice Commodore Michael Boyd and Niall Dowling, had the hardest job among the trio of attaining consistent results.
"It has been a very long campaign this," admitted Boyd. "We are newcomers to the event, but we have had fantastic leadership from team captain Anthony O'Leary and we were very fortunate to choose Quokka. It is just very satisfying to have mission accomplished and to do it in a such a comprehensive way today is a huge bonus. At our level as amateurs, the Brewin Dolphin Commodores' Cup is the pinnacle of racing."
While the Irish have been the stand out performers this year, the fight remained fierce for the remaining podium positions, where French teams scored a coup. Going into today's final race, France Green was holding second 100 points behind the Irish, with GBR Red third, 15.5 points behind them. After today's race both lost their hold on the remaining podium positions to France Red - comprising Emmanuel le Men's First 40.7 Pen Koent; Oliver Pesci's Grand Soleil 40 Beelzebuth 3 and Hervé Borgoltz Grand Soleil 44R Eleuthera - and France Blue comprising Jean Claude Nicoleau's Grand Soleil 43 Codiam, Gilles and Samuel Prietz' A40 Goa and Bernard Gouy's Ker 39 Inis Mor. This was a particularly spectacular turnaround for France Red jumping from fifth to second after today's race.
"Without the Irish it would have been better!" joked Eleuthera's Hervé Borgoltz of his team's performance. "It has been a fantastic race, a fantastic level and a very honest attitude on the water. Two years ago we were third, this year we are second and when we come back in two years we will be first. So slowly, but surely!
"What is incredible is how the level is going up - Codiam was second at SPI Ouest France and Inis Mor was Yacht of the Year with the RORC last year."
After winning the 2012 event, the performance of GBR's four teams was disappointing with GBR Red the top British team, finishing fourth. Among GBR's 12 boats, Robert Lutener's Ker 40 Cutting Edge was the top performer and second in this regatta. Despite his team's result Lutener remained upbeat: "It was an absolutely top week. Ireland was the top team and they have a top boat and they sail it very very well, but we were close to them and unfortunately the wind let us down yesterday on the offshore. Otherwise everyone is delighted and has thoroughly enjoyed themselves."
GBR Scotland big boat, James McGarry's Swan 45 Eala of Rhu was also a top performer. "We had a couple of disappointing results, but there were very very difficult sailing conditions," admitted McGarry.
"We've been up there consistently inshore and struggled offshore. Otherwise we have had a fantastic week. We have had our moments of glory and we are pretty confident that the boat is going well, just sometimes you don't get the roll of the dice.
"The regatta is superb. The level is second to none. You can see why it is billed as the 'premier amateur yacht racing regatta'. Everyone has performed exceptionally; it has just been fantastic fun and a nice atmosphere as well."
The prizegiving for the Brewin Dolphin Commodores' Cup was held this evening at the Royal Yacht Squadron.
Team results
| | | |
| --- | --- | --- |
| Pos | Team | Points |
| 1 | Ireland | 268 |
| 2 | France Red | 441.5 |
| 3 | France Blue | 446.5 |
| 4 | GBR Red | 448 |
| 5 | France Green | 456.5 |
| 6 | Scotland | 457 |
| 7 | GBR White | 526 |
| 8 | GBR Blue | 557.5 |
| 9 | France White | 613 |
Boat results

| | | | | | | | | | | | | | | |
| --- | --- | --- | --- | --- | --- | --- | --- | --- | --- | --- | --- | --- | --- | --- |
| Pos | Sail No | Boat | Type | Team | TCC | R1 | R2 | R3 | R4 | R5 | R6 | R7 | R8 | Tot |
| | | | | | | | | PF2.5 | | | | PF1.5 | PF2 | |
| 1 | USA1253 | Catapult | Ker 40 | Ireland | 1.21 | 7 | 4 | 7.5 | 2 | 13 | 6 | 25.5 | 8 | 73 |
| 2 | NED40010 | Cutting Edge | Ker 40 | GBR Red | 1.199 | 10 | 8 | 5 | 1 | 5 | 4 | 40.5 | 10 | 83.5 |
| 3 | FRA35421 | Goa | A40 | France Blue | 1.088 | 6 | 6 | 17.5 | 10 | 10 | 7 | 15 | 14 | 85.5 |
| 4 | GBR7745R | Eala Of Rhu | Swan 45 | Scotland | 1.181 | 2 | 2 | 37.5 | 4 | 1 | 5 | 36 | 6 | 93.5 |
| 5 | GBR2215L | Quokka 8 | Grand Soleil 43 | Ireland | 1.1 | 23 | 5 | 27.5 | 7 | 2 | 9 | 19.5 | 4 | 97 |
| 6 | IRL3939 | Antix | Ker 39 | Ireland | 1.131 | 1 | 1 | 50 | 6 | 3 | 2 | 33 | 2 | 98 |
| 7 | FRA38757 | Teasing Machine | A13 | France Green | 1.174 | 4 | 27 | 2.5 | 3 | 16 | 1 | 37.5 | 22 | 113 |
| 8 | FRA29960 | Pen Koent | First 40.7 | France Red | 1.047 | 15 | 17 | 20 | 17 | 22 | 22 | 3 | 16 | 132 |
| 9 | GBR8888N | Cobra | King 40 | GBR Red | 1.118 | 3 | 3 | 40 | 21 | 6 | 11 | 31.5 | 18 | 133.5 |
| 10 | NED7025 | Eleuthera | Grand Soleil 44 R | France Red | 1.111 | 8 | 24 | 35 | 12 | 14.5 | 8 | 27 | 20 | 148.5 |
| 11 | GBR8140C | Zephyr | First 40 | Scotland | 1.092 | 17.5 | 16 | 25 | 15 | 8 | 21 | 24 | 26 | 152.5 |
| 12 | FRA38749 | Chenapan3 | A35R | France Green | 1.042 | 9 | 13 | 15 | 22 | 14.5 | 18 | 6 | 56 | 153.5 |
| 13 | GBR1242R | Yeoman of Wight | J/109 | GBR Blue | 1.028 | 14 | 10 | 30 | 14 | 11 | 19 | 1.5 | 56 | 155.5 |
| 14 | FRA5040B | Beelzebuth 3 | Grand Soleil 40 | France Red | 1.061 | 16 | 20 | 42.5 | 5 | 23 | 13 | 7.5 | 34 | 161 |
| 15 | GBR741R | Hooligan VII | Ker 40 | GBR White | 1.192 | 27 | 11 | 10 | 27 | 24 | 14 | 39 | 12 | 164 |
| 16 | FRA36777 | Codiam | Grand Soleil 43 | France Blue | 1.102 | 12 | 19 | 32.5 | 19 | 19 | 25 | 22.5 | 24 | 173 |
| 17 | IRL39000 | Localletterbox Zero II | Mills 39 | GBR White | 1.117 | 5 | 7 | 62.5 | 9 | 9 | 3 | 28.5 | 56 | 180 |
| 18 | FRA35080 | Dunkerque Plaisance - Gill Racing Team | A35 | France White | 1.03 | 17.5 | 18 | 22.5 | 18 | 27 | 17 | 4.5 | 56 | 180.5 |
| 19 | GBR8601R | INO | Corby 36 | GBR White | 1.081 | 11 | 22 | 55 | 16 | 20 | 10 | 12 | 36 | 182 |
| 20 | GBR3213L | Dusty P | First 40 | GBR Blue | 1.079 | 22 | 23 | 52.5 | 11 | 12 | 15 | 18 | 32 | 185.5 |
| 21 | FRA35439 | Inis Mor | Ker 39 | France Blue | 1.123 | 25 | 9 | 45 | 8 | 7 | 24 | 30 | 40 | 188 |
| 22 | FRA56002 | Motivé | Farr 30 | France Green | 1.056 | 13 | 21 | 47.5 | 24 | 18 | 23 | 13.5 | 30 | 190 |
| 23 | GBR7737R | Aurora | Corby 37 | Scotland | 1.094 | 19 | 25 | 57.5 | 13 | 4 | 20 | 34.5 | 38 | 211 |
| 24 | FRA27691 | MUSIX | Grand Soleil 37 | France White | 1.026 | 20 | 14 | 60 | 20 | 21 | 16 | 9 | 56 | 216 |
| 25 | GBR1466R | Diamond Jem | J/109 | GBR Blue | 1.025 | 21 | 15 | 65 | 25 | 26 | 26 | 10.5 | 28 | 216.5 |
| 26 | FRA35950 | Nutmeg Sparkling Charter | J/122 | France White | 1.077 | 26 | 26 | 12.5 | 23 | 25 | 27 | 21 | 56 | 216.5 |
| 27 | GBR3700L | Fatjax | X 37 | GBR Red | 1.037 | 24 | 12 | 67.5 | 26 | 17 | 12 | 16.5 | 56 | 231 |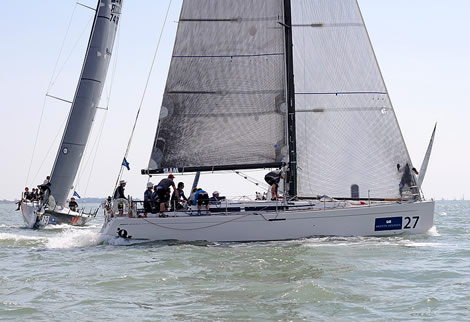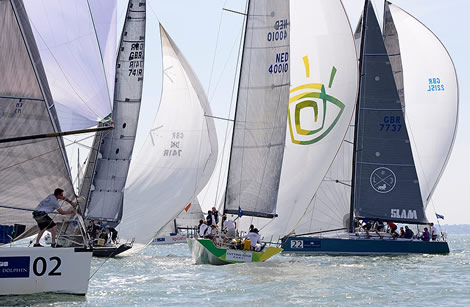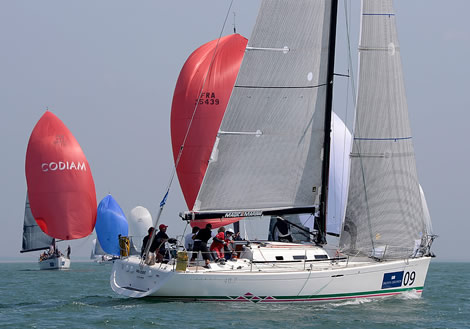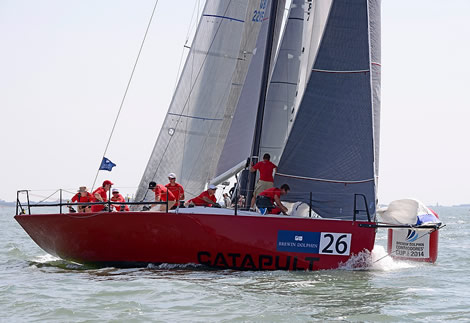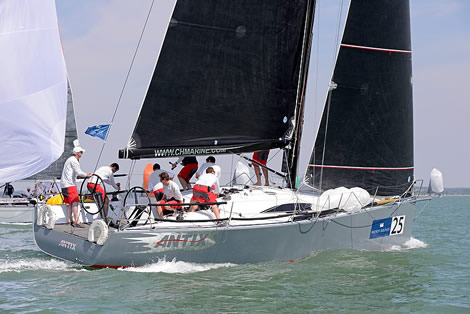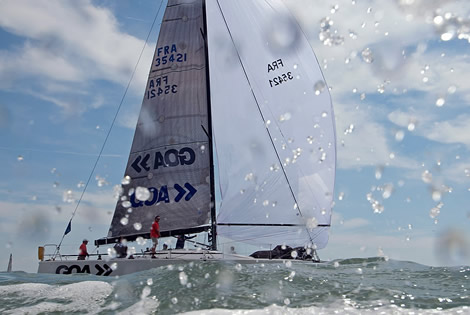 Back to top
Back to top