Unlucky race four
Day four of the Royal Ocean Racing Club's Brewin Dolphin Commodores' Cup was one Principal Race Officer Stuart Childerley and his team would prefer to forget.
With the best wind forecast for early morning, the 27 boats in nine teams started an hour early from a line off Peel Bank. The plan was for them to sail north to the North Ryde Middle mark and then east out of the Solent and into Hayling Bay onto a windward-leeward course.
Childerley recounted: "The boats started reaching out towards the Forts and there were a few big holes there and then six of the boats got to St Helens [mark in Hayling Bay]. Meanwhile the rest of the fleet was being affected badly by big holes in the wind, so we had a situation where probably over half of the fleet wouldn't have finished within the time limit. So we had to abandon that one."
There followed a long wait for the boats in the Solent to reach the new start area in Hayling Bay before a second attempt at race four of the series could be made - this time a windward-leeward in an offshore northeasterly breeze of 6-7 knots. Unfortunately as the boats were approaching the leeward mark the wind shifted hard right, by more than 90⁰, into the south. The race committee spotted this quickly enough to lay a new weather mark, but after the top six boats had rounded it the breeze dropped away to nothing and the fleet came to a standstill. This race was abandoned too.
"It was just pretty unsatisfactory," said Childerley. "We have had one race in this series when there was a bit of a shut down. I am trying at all costs to avoid that again."
Unfortunately conditions for the next two days are not looking much better.
Mike Broughton, meteorologist for the Irish team, current leader in the Brewin Dolphin Commodores' Cup, explains that there is currently an area of high pressure centred over Norway, bringing Mediterranean conditions to the UK, but making conditions difficult for yachting. "The northeasterly wind has to come all the way across 150 miles of land to get to us and so it is very patchy and shifty. Then you have a sea breeze that is trying to make it in and is fighting it. Today we had a full on fight with no one winning. It is difficult, but it is what it is."
Broughton says that tomorrow it could be even worse with a trough passing over, bringing rain showers.
RORC Vice Commodore Michael Boyd, who is the co-charterer with Niall Dowling of the Irish team's Grand Soleil 43 Quokka 8, commented: "It was an impossibly challenging day for the PRO and I don't envy his job. In retrospect maybe he could have shortened the courses, but that is all 20-20 hindsight."
Boyd added that he was happy with the position the Irish boats were in when the two attempts at race four were abandoned today. "We would have advanced a few more points, but the races weren't fair. In the first there were four separate fleets.
"The forecasts we have seen for the next three days is for a declining wind. So I think we just have to sail in what God gives us and be patient. This is a sport and you just have to stay focussed and alert."
Jean Philippe Cau, sailing on Hervé Borgoltz' Grand Soleil 44R Eleuthera in the France Red team, said that in the first attempt at race four they had been very pleased with their performance, matching Anthony O'Leary's Ker 39 Antix. He observed that when that race was abandoned there had been a gap of more than a mile between the front runners and those astern.
"And in the second race we did well also," Cau continued. "We were in the match with the first group of boats including Quokka, and at the weather buoy when the wind disappeared it was very difficult to pass the boats. We were not happy with Quokka [overlapped on the outside of them at the second weather mark] so we had a little fight with them! There were red flags going up!"
In addition to sailing, Cau has also been responsible for putting together the giant French four team entry in this year's event. He says he is pleased with his country's performance, particularly France Green, which includes Eric De Turkheim's radical new A13 Teasing Machine and Eric Basset's modified Farr 30 Motivé. "If the Farr 30 is able to do reasonably well in the next races, which is especially possible in light winds, I think there is really the possibility to do well. My prognostic is that we will have two teams on the podium."
Tomorrow the race management team will once again aim to get racing underway at 10:00 BST. Childerley concludes: "If we can get at least one in tomorrow, Saturday is looking more promising and, with a couple of jiggles around, we'll get the series in. But most important is that I want to give people really good racing. That is the key."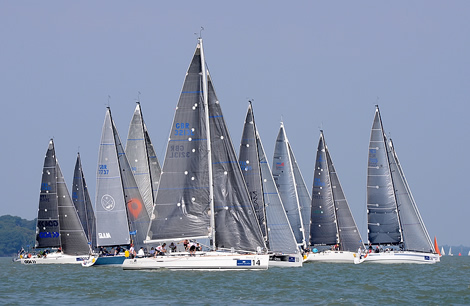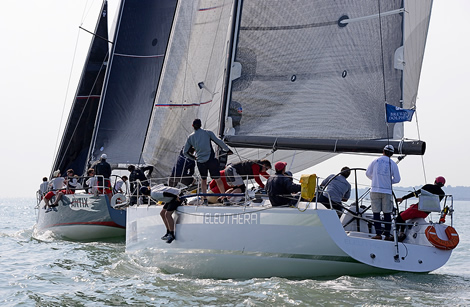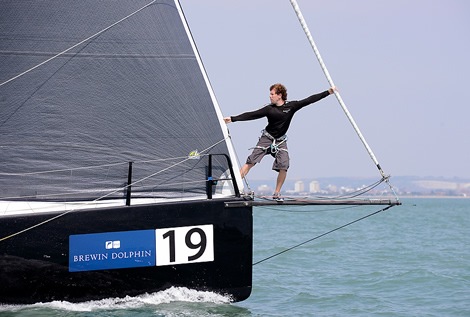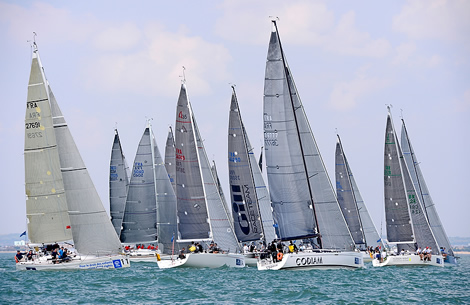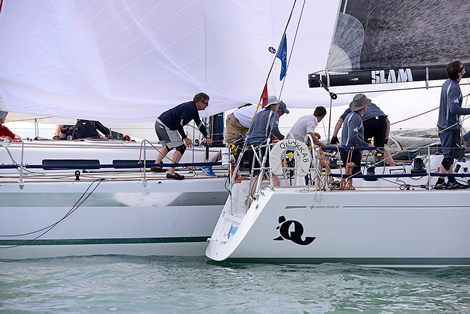 Back to top
Back to top