Team GBR out to defend title
Britain returns to the Brewin Dolphin Commodores' Cup as the defending champion following the victory of GBR Red in 2012. Like the French, the home nation will be fielding four teams, including a team from Scotland, when racing gets underway this Sunday 20th July in the Royal Ocean Racing Club's biennial week long regatta for amateur national three boat teams.

Compared to previous years the form of the 2014 British teams is harder to judge with many first time competitors. In fact, of the 12 boats, only two competed in 2012. Father and son team, Michael and Seb Blair, are returning with their King 40, Cobra, in GBR Red and David Aisher's J/109, Yeoman of Wight, is back in GBR Blue. One reason for this is due to many boats changing hands - all three of the 2012 GBR Red line-up are in new ownership. However Jonathan Goring, owner of GBR Red's winning Ker 40 Keronimo in 2012, has returned as a Team GBR selector.

The Blairs are excited to be in GBR Red: "We are feeling quietly confident," says son Seb. "Hopefully it will be another win for a GBR team and we will stay in the top three somewhere, hopefully first. We are a very strong boat this year. We have been modifying bits and pieces over the season between the races."

Cobra will sail with a similar line-up to 2012 with core crew including helmsman Chris Warmsley, Nick Piper and Freddie Hall, but with a new tactician in Tim Thubron. While last time they were new to their King 40, having only acquired it four months beforehand, this time they are much better acquainted with her.

The Brewin Dolphin Commodores' Cup is the premier event in Cobra's sailing program, says Blair. "This is what we have been training for and put everything into this year and where all my work holiday is going. It is a very prestigious event and we love the fact that it has a wonderful heritage behind it. It blows everything else out of the water. It is the Formula 1 of sailing in England, the best that's going on and with wonderful sponsors."

Cobra is joined in GBR Red by the Ker 40, Cutting Edge, which was the top placed boat in the Benelux team in 2012 when she was campaigned as Baraka GP by the de Graaf family. Robert Lutener's team has Stacey Clark helming, and with North Sails' Sam Richmond and Figaro sailor Nick Cherry as its Group 3 professionals. The lowest rated boat in GBR Red is Iain Kirkpatrick's X 37, Fatjax, one of the most successful race boats on the East Coast, also a four time Cowes Week class winner.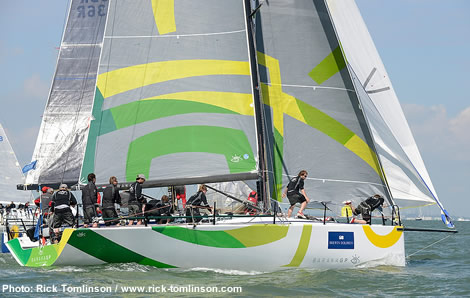 "It is a privilege and exciting to be given the opportunity to represent GBR," says Kirkpatrick. "For us as a team it is a unique opportunity to demonstrate all the hard work put in over a number of years." Fatjax's crew has been travelling to the Solent from Edinburgh, Norwich, Ipswich and London on a weekly basis to train.

GBR Red is traditionally the RYA's top team and in previous years has been the stand out British team overall but this year, as RYA Team Manager Nigel King says, GBR White is at the same level. "As it's panned out GBR Red and GBR White are two very even teams with similar boats. It is fair to say the GBR Blue is the least experienced, but if they have the right weather and they sail well, they will be okay too."

GBR White comprises another Ker 40 - Ed Broadway's Hooligan VII, sailed by a young and enthusiastic crew, and James Neville's Corby 36, INO (ex Inga from Sweden), which has former pro big boat navigator Nat Ives onboard, who has come out of retirement and is now onboard as a Group 1 amateur. The third boat in the team is Localletterbox Zero II, the Mills 39 now skippered by James Gair, that as marinerscove.ie was part of the 2010 winning Irish team.

Gair typically campaigns the boat through his Cowes Race School, but not this time; instead the line-up includes former crew from Neil Kipling's J/122, Joopster, and the Artemis Offshore Academy's Alex Gardiner.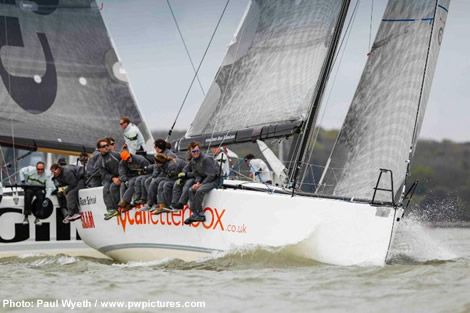 Helmsman on board is Admiral of the RORC, Andrew McIrvine, who reckons that this time GBR White may prove as strong, if not stronger, than GBR Red. "I think our team is at least competitive. I would be surprised if we won, but I would be disappointed if we didn't come out best British team or best English team."

Part of the GBR four is Scotland featuring as its highest rated boat, James McGarry's Swan 45, Eala of Rhu, plus Rod Stuart and Bill Ram's Corby 37 Aurora and Steve Cowie's First 40 Zephyr. They are all strong teams and with pro sailors including Eala of Rhu tactician Kevin Sproul, who competed on GBR Red's winning boat Keronimo in 2012 and Volvo Ocean Race sailor Ian Budgen on Zephyr.

The fourth GBR team is GBR Blue, featuring two J/109s - Robert Stiles' team from Brighton on Diamond Jem, David Aisher's Yeoman of Wight and Richard Patrick's First 40 Dusty P.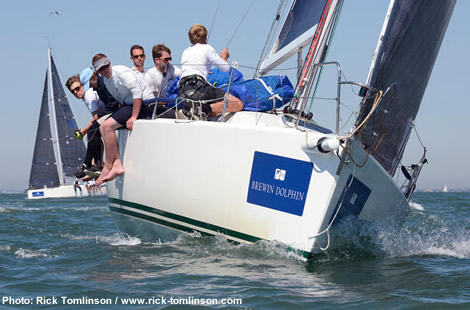 Andrew McIrvine sums up why he's returning for his third Brewin Dolphin Commodores' Cup: "It is a fantastic event - international and very high pressure. It is unique in that there is a high standard of racing, where you need the whole team all to do well - you can't just have one flash boat. The combination of relentlessness, no discard, and inshore and offshore races for a whole week is one of the toughest mixtures."

The Brewin Dolphin Commodores' Cup 2014 will be held between 19-26 July at Cowes, Isle of Wight.
Back to top
Back to top