Victory for Tanit
After more than six days at sea, the final two contestants in the 2014 Round Ireland Yacht Race are due to cross the finish line later this evening.
Of the initial 36-strong fleet there were three retirals resulting from damaged equipment and gear failure and in the final event 33 will have completed the course.
The overall winner is Richard Harris' Sydney 36 Tanit, from Serpent YC in the Clyde, which finished at 09.04 on Wednesday morning, although the winner will not be official until after the race is formally closed.
Liam Shanahan in the National Yacht Club J/109 Ruth, had a good chance of catching them right up until the last minute, however lost the wind close to the line and missed out by just 7 minutes and 14 seconds on corrected time after completing a race of 704 nm through widely differing seas and tidal gates and had to settle for the runner-up position.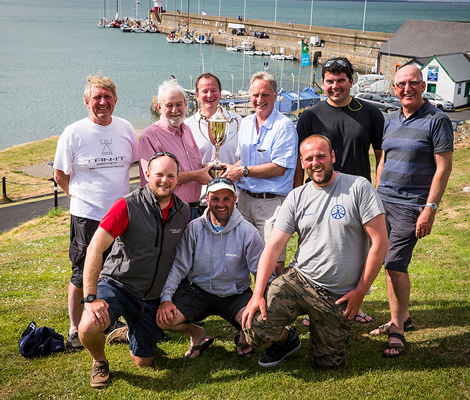 Ian Hickey on the Royal Cork YC Granada 38 Cavatina held the lead on several occasions throughout the race. They too could have achieved first place, and have become the first three-time winner, until they hit the slack winds of the west and northwest coasts.
Third place went to Laurent Gouy Ker 39's Inis Mór, a team with strong French connections from Clifden BC, just over 1.5 hours behind Ruth. Frank Doyle's Royal Cork YC A-35 in Endgame and Cavatina took fourth and fifth respectively. Two of the first four boats are the sons of former winners; Frank Doyle - whose father Denis won in Moonduster in 1982 & 1984 and Liam Shanahan's father (again, Liam) won in Lightning in 1988. And two of the first five boats are from Cork, maintaining the strong association which Cork has with this race.
Finally, three nationalities are reflected in the first three boats - UK/Scotland, Ireland and France.
This year, again, the race lived up to its billing as a quality race for sailors, with the overall results on corrected time changing frequently and several dramas played out at various stages of the race. Perhaps not the strong winds and consequent sleigh rides up the west coast that we often get, but at least no rain and lots of clear skies, with varying degrees of wind challenging the fleet.
Another classic, then, in 2014, the 18th of the series. Planning is already underway for the next biennial race, with the provisional date set for 18 June 2016.
Back to top
Back to top