Done and dusted
On Wednesday 2 July, eight wind swept, salt crusted and physically exhausted British solo sailors dropped onto the docks in Cherbourg, France having just finished the 2000 mile Solitaire du Figaro 2014. Team Plymouth skipper Sam Goodchild was the first British skipper across the Leg 4 finish line in 13th, seeing him finish his fourth Solitaire du Figaro 22nd overall.
Cheerily popping his celebratory bottle of Pol Roger champagne, after finishing Leg 4 23rd and 26th in the ranks overall, REDSHIFT skipper Nick Cherry summed up the skippers windiest leg yet with "that was hard, I'm knackered."
Pushing hard over the final 10 miles of the shortened 440-mile course, 2014 British Rookie Sam Matson regained three positions on the home straight – enough to see him cross the finish line 25th and third Rookie in the leg. On the overall leaderboard, Matson secured a superb 15th position overall in his first Solitaire du Figaro and second Rookie overall – a fantastic follow up for the Artemis Offshore Academy and British solo sailing after Sam Goodchild's best of British result (11th) and Jack Bouttell's historic British Rookie win in 2013.
"Coming in from a tough fourth and final Solitaire du Figaro leg to find out that I was 15th overall and second Rookie was absolutely overwhelming," said an elated Matson on the docks. "It's an unbelievable achievement. My main goal was to get on the Rookie podium and I've done that and to finish 15th overall is absolutely incredible. When you look at Jack last year finishing top Rookie in 21st overall, and this year for me 15th is second in the Rookie division – it really shows the level of the Rookie competition this year. It's not been easy, but Gwenolé Gahinet is a great guy and he deserved the win." Gahinet took the overall Rookie win after Leg 2, widening the gap between him and Matson by 52 minutes and 19 seconds by the end of Leg 4.
Crossing the Leg 4 finish line 26th of 36 competitors, GAC Pindar skipper Jack Bouttell was frustrated with his boat speed, but enjoyed the windy and more typical Figaro leg.
Having had just five days of training compared with 55 last year, Bouttell was content with his result: "My ideal overall result going into the final leg was top 20; however, considering the hard work I've put into the boat this season just to get it to the start line, I'm not too upset with 25th overall. I've learned so much this season running my own campaign, especially about the management and sponsorship side of Figaro racing. I'm thinking that if I can put my sailing and training from my first year of Figaro, together with my experience managing a campaign and sponsorship – my third year on the Figaro circuit will be a pretty positive one. I'll be back."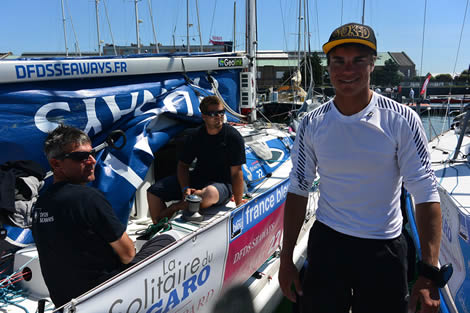 Arriving in Cherbourg, Artemis 77 skipper Rich Mason was disappointed with his Leg 4 result finishing 28th. Realising that he had taken the last spot on the overall Rookie podium, Mason soon had a smile back on his face – making it two at the top for the Artemis Offshore Academy in 2014: "I was gutted when I got in because I thought I'd lost my Rookie standing in the leg and overall, but then I was told I'm third which is brilliant and cheered me up a lot! It feels good to have finished my first Solitaire du Figaro and, if I'm honest. it feels great to be back on the dock. Leg 4 was a hard leg and definitely the most physical of the four with the wind and all the driving."
Fed up of the three super light wind legs that had preceded Leg 4, the eight man Brit-pack had their fingers crossed for a breezy finale to see out the 2014 Solitaire du Figaro – their dreams haunted by flapping mainsails. Launching their Figaros along the north western coast of France in 30 knots under spinnaker, the sailors got what they wanted with Mason reporting: "There was so much water crashing over the boat, I even got seaweed down below! We all wanted a windy leg, but I am physically broken after a really hard leg with very little sleep and plenty of hard driving. Now I'm thinking be careful what you wish for!"
Starting the fourth and final leg of the race from Les Sables d'Olonne, the 36 remaining Solitaire competitors raced from the home of the Vendée Globe north through the Chaussée du Sein and Ouessant towards the Manacles buoy off of Lizard Point. From there the 490 mile course was shortened to 440 miles to avoid a ridge of high pressure that could have seen the fleet drifting into Cherbourg after four days of racing. Taking a risky breakaway inshore after the Manacles buoy, RED skipper Henry Bomby and Ed Hill (Macmillan Cancer Support) felt the brunt of a bad decision in their results, Hill finishing Leg 4 in 30th and Bomby 32nd: "I knew that if I was to gain any places in the overall rankings I would have to take some risks," said Bomby. "So I went out on a limb and went east after Manacles along the UK shoreline, but it didn't work out. I finished 32nd in the leg and 28th overall, which isn't a complete disaster, but it was a lesson learned."
For 'tough Rookie' Alan Roberts, the final Solitaire du Figaro leg was an uphill battle from the off. Reporting problems with his autopilot and AIS onboard navigational system soon, Roberts was on the back foot from the start, and by the second day was 30 miles behind the leading boat. Sailing slowly and alone so far behind the fleet is deeply demoralising, and would cause many to call it a day – but not Roberts.
Arriving in Cherbourg six hours behind Leg 4 winner Jérémie Beyou, still with a smile on his face, Roberts is already thinking about his 2015 Solitaire du Figaro comeback: "I am happy to have finished the race, but I am obviously a bit disappointed with the result (36th in Leg 4 and 34th overall). However, this is my first Figaro and so I am happy to have just made the finish line. It was a good leg. I enjoyed it with 20-30 knots and some nice spinnaker reaching. In fact, I loved the whole race – all of it on the water and on land. I want to be back for next year. The next one starts now, I just need to find some money and a boat. I am pretty motivated."
The 2014 Solitaire du Figaro was won overall by now triple race winner Jérémie Beyou (Solo Maître Coq) with a total elapsed time of 12 days, 19 hours, 39 minutes and 22 seconds at sea. Corentin Horeau (Bretagne Crédit Mutuel Performance) was runner-up just 17 minutes behind Jérémie and Charlie Dalin (Normandy Elite Team) was third overall, just eight minutes behind Corentin.
The official prize giving taking place on Saturday, 5 July in Cherbourg and the eight British skippers now have three days to rest and relive the tales from their one month long solo marathon before returning to the UK.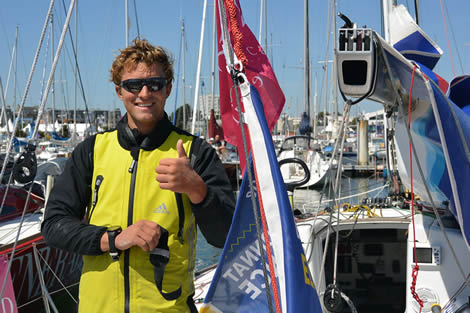 Back to top
Back to top