Full line-up announced
With the entry list now closed, nine teams have confirmed their participation in the Brewin Dolphin Commodores' Cup, taking place out of Cowes over Saturday 19 July until Saturday 26 July.

This year the Royal Ocean Racing Club's biennial flagship event for national teams with amateur crews has two more teams than when the event was last held in 2012. This is thanks to France and Great Britain both fielding four teams, each comprising three boats.

The teams feature many previous Brewin Dolphin Commodores' Cup participants, particularly in the French line-up, where they are keen to emulate the success of the campaign led by Géry Trentesaux in 2006.

"The French have come back with vengeance - they have got severe strength and depth, which is going to be an interesting problem for everyone else," advises CEO of the RORC, Eddie Warden Owen. "They are taking it seriously. The crews are all friends and I think they will be a severe handful for the rest of the teams."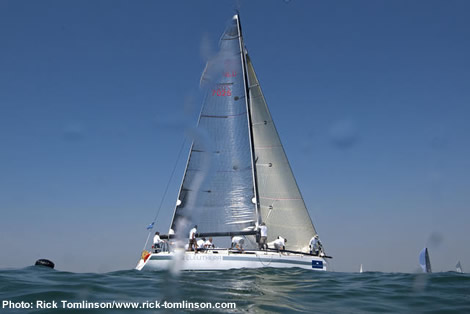 Ireland, winner in 2010, was unable to defend its title in 2012, but is back with a team every bit as strong as it was four years ago. While it doesn't have the same depth as the British and French, the one Irish team is of exceptionally high quality. As in 2010, the effort from the Emerald Isle is being spearheaded by Anthony O'Leary, once again campaigning his Ker 39, Antix, the recent winner of the IRC National Championship. O'Leary, a former Vice Commodore of the RORC, will be joined on the Irish Team by the current Vice Commodore, Michael Boyd, competing on Quokka 8.

"The Irish are sailing very well," says Warden Owen. "I think Antix has done a brilliant job. The other two boats have put a lot of time in, so I see the Irish as being strong."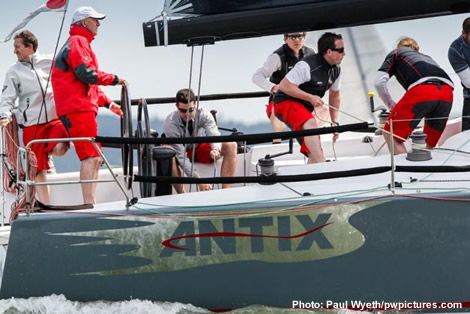 However the French and the Irish will be up against the defending champions, Great Britain, this year comprised of three teams from the nation as a whole and one specifically from Scotland.

Surprisingly there are few surviving members of the 2012 winning GBR Red team among the British crews. One is sailmaker Kevin Sproul, who is racing as one of the two ISAF Group 3 'pros' aboard James McGarry's Swan 45 Eala of Rhu. For Sproul this year's event will be special because he has sailed the Brewin Dolphin Commodores' Cup twice before and twice has won, on both occasions sailing with Jonathan Goring. If Team Scotland is successful, then this year will be his hat trick.

However this will not be easy Sproul recognises: "The Brewin Dolphin Commodores' Cup is a team event and a lot of people underestimate that. The reason we won it last time with GBR Red is that we had a good all round team, and all three boats got the results they needed. It was the same the previous time we won it. I think it will be a tough event - It always is."

In last weekend's Round the Island Race, Team Scotland's highest rated boat, Eala of Rhu, proved her potential, leading the giant fleet through the Needles and very nearly getting monohull line honours. "It was all about avoiding the holes," Sproul continues. "But the bottom line is - in light winds the boat is very competitive and it has already been quite good when it is breezy. Plus they have got a good squad on that boat and they sail it well."

Meanwhile, Steve Cowie's First 40 Zephyr has won her class at Cowes Week for the last two years and Rod Stuart's Corby 37 Aurora is newer to her crew, but all are solid sailors, advises Sproul.

Apart from his own team's prospects, Sproul rates the Irish. "They have got good boats, obviously the Ker 40 which we know is capable of finishing top boat," he says, referring to the Irish team's Catapult. Two years ago Sproul sailed as tactician on board Jonathan Goring's Ker 40, Keronimo. "Then they have Antix, which is a weapon of a boat in terms of her rating. She is a very competitive boat that they've sailed well for a long time. And Quokka has proved to be competitive in the past as well."

Sproul also observes that the Irish team features three boats with comparatively higher ratings compared to the fleet overall, enabling them a better chance to race in clear air.

Otherwise Sproul is looking forward to the regatta: "I like the fact that it is a team event, with very different racing every day and the whole concept of Round the Isle of Wight and the offshore race is good. It gives different types of boats the chance to shine. That is why it always goes to the wire. You can't go out and say 'we've got a good boat - we're going to win this', because it doesn't matter how good your individual boat is - if you're not good as a team then you'll never win."

Line-up

| | | | | | |
| --- | --- | --- | --- | --- | --- |
| Team | Sail Number | Boat Name | Boat Type | Owner | Sailed By |
| GBR Red | GBR8888N | Cobra | King 40 | Seb Blair | Nicholas Piper |
| | NED40010 | Cutting Edge on Baraka | Ker 40 | Harmen J de Graaf | Robert Lutener |
| | GBR3700L | Fatjax | X 37 | Iain Kirkpatrick | |
| | | | | | |
| GBR White | GBR741R | Hooligan VII | Ker 40 | Edward Broadway | |
| | GBR8601R | INO | Corby 36 | James Neville | |
| | IRL39000 | Localletterbox Zero II | Mills 39 | Cowes Race School | James Gair |
| | | | | | |
| GBR Blue | GBR1466R | Diamond Jem | J/109 | Robert Stiles | |
| | GBR3213L | Dusty P | First 40 | Richard Patrick | |
| | GBR1242R | Yeoman of Wight | J/109 | David Aisher | Richard Sheldon |
| | | | | | |
| GBR Scotland | GBR7745R | Eala of Rhu | Swan 45 | James McGarry | |
| | GBR7737R | Aurora | Corby 37 | Rod Stuart and Bill Ram | |
| | GBR8140C | Zephyr | First 40 | Steve Cowie | |
| | | | | | |
| France Red | FRA5040 | Beelzebuth 3 | Grand Soleil 40 | Olivier Pesci | |
| | NED7025 | Eleuthera | Grand Soleil 44R | Hervé Borgoltz | |
| | FRA29960 | Pen Koent | First 40.7 | Emmanuel Le Men | |
| | | | | | |
| France White | FRA35080 | Dunkerque Plaisance - Gill Racing Team | A35 | Benoit D'Halluin | |
| | FRA27691 | MUSIX | Grand Soleil 37 | Philippe Baetz | |
| | FRA35950 | Nutmeg IV | J/122 | François Lognoné | |
| | | | | | |
| France Blue | FRA36777 | Codiam | Grand Soleil 43 | Jean-Claude Nicoleau | Nicolas Loday |
| | FRA35439 | Inis Mor | Ker 39 | Bernard Gouy | Laurent Gouy |
| | FRA35421 | Goa | A40 | Gilles & Samuel Prietz | |
| | | | | | |
| France Green | FRA38749 | Chenapan 3 | A35R | Gilles Caminade | |
| | FRA18333 | Motive | Farr 30 | Eric Basset | |
| | FRA38757 | Teasing MacHine | A13 | Eric De Turkheim | |
| | | | | | |
| Ireland | IRL3939 | Antix | Ker 39 | Anthony O'Leary | |
| | USA61253 | Catapult | Ker 40 | Marc Glimcher | Geoffrey Ewenson |
| | GBR2215L | Quokka 8 | Grand Soleil 43 | Michael Boyd and Niall Dowling | |
Back to top
Back to top