Class40 fleet passing through the Solent
Overnight the Normandy Channel Race competitors have successfully crossed the English Channel. However the doublehanded Class40 fleet is now down to 16 from 17 after the Race Committee at 1704 GMT yesterday the Norwegian crew on Romerike Elektro AS reported that they had decided to return to France to effect repairs to their bowsprit, which has broken.
The Channel crossing has clearly established two fleets in the race, mostly dividing the new and old generation boats.
At around 0300 UTC, the leaders passed Bembridge with Bertrand Delesne and David Raison on Team Work leading, just ahead of GDF Suez and Le Conservateur. The second wave arrived around 50 minutes later with La Belle Equipe leading Brits Roderick Knowles and Paul Peggs on Swish.
At the time of writing (0730 UTC), the leaders are approaching Hurst Narrows and the wily Roland Jourdain, sailing with Olympic pole vaulting gold medallist Jean Galfione on Serenis Consulting having pulled out a small (0.6 mile) lead at the front of the fleet, having hugged the mainland coast passing through the Solent.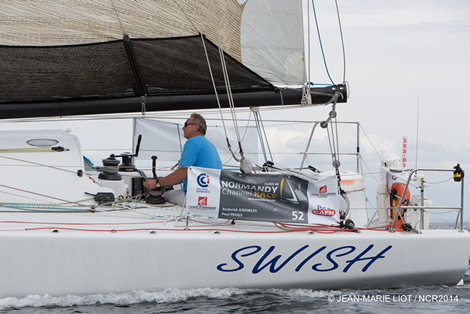 Roderick Knowles reported: "It's 5:33 ET and the first six Class40s are currently in the Solent, south of Southampton. The other five are visible on our transom. The wind is 15 knots at 97°, a nice breeze this will help us tackle the Solent, aware that we still have four hours to negotiate this. Belle Epoque 2 is only 10 boatlengths behind us, off to starboard. The night was pleasant despite there being absolutely no wind at 01:30. We were under Code 0 until we entered the Solent."
Positions at 0700 UTC
| | | | | | | | |
| --- | --- | --- | --- | --- | --- | --- | --- |
| Pos | Boat | Lat | Long | Spd | Crs | DTF | DTL |
| 1 | SERENIS CONSULTING | 50 42.23' N | 1 35.49' W | 5.2 | 277 | 832.4 | 0 |
| 2 | GDF SUEZ | 50 41.93' N | 1 34.91' W | 4.8 | 257 | 832.6 | 0.21 |
| 3 | TEAM WORK | 50 42.35' N | 1 34.76' W | 5 | 267 | 832.9 | 0.46 |
| 4 | TEAM PICOTY -LAC DE VASSIVIERE | 50 42.30' N | 1 34.72' W | 5.1 | 258 | 832.9 | 0.47 |
| 5 | L'EXPRESS-TREPIA | 50 42.00' N | 1 34.37' W | 4.8 | 239 | 833 | 0.55 |
| 6 | LE CONSERVATEUR | 50 42.29' N | 1 34.55' W | 4.9 | 262 | 833 | 0.56 |
| 7 | ADVANCED ENERGIES | 50 42.51' N | 1 34.20' W | 4.8 | 249 | 833.3 | 0.85 |
| 8 | GROUPEMENT FLO | 50 42.51' N | 1 34.11' W | 4.1 | 256 | 833.3 | 0.91 |
| 9 | CAMPAGNE DE France | 50 42.44' N | 1 33.93' W | 4.4 | 247 | 833.4 | 0.98 |
| 10 | ERDF - Des pieds et Des mains | 50 42.45' N | 1 33.83' W | 4.7 | 238 | 833.5 | 1.04 |
| 11 | SWISH | 50 44.91' N | 1 28.01' W | 5.1 | 260 | 837.9 | 5.43 |
| 12 | OBPORTUS 3 | 50 44.96' N | 1 27.16' W | 5 | 251 | 838.4 | 5.94 |
| 13 | LA BELLE EQUIPE 2 | 50 44.91' N | 1 26.36' W | 4.9 | 275 | 838.8 | 6.37 |
| 14 | MS - SAILING TEAM | 50 44.65' N | 1 24.87' W | 5.9 | 222 | 839.6 | 7.12 |
| 15 | KOGANE | 50 45.50' N | 1 25.31' W | 5.1 | 270 | 839.7 | 7.23 |
| 16 | CONCISE 2 | 50 45.77' N | 1 22.61' W | 3.9 | 228 | 841.3 | 8.88 |
| 17 | ROMERIKE ELEKTRO AS | 49 11.07' N | 0 19.98' W | 0.1 | 97 | 950.1 | 117.67 |
Back to top
Back to top