Figaro victory on first attempt
Gwénolé Gahinet and Paul Meilhat crossed the finish line in St Barts today at 17:17:59 UTC to win the 12th Transat AG2R La Mondiale.
Safran-Guy Cotten claimed victory ahead of Skipper Macif, after 22 days, 6 hours, 17 minutes and 59 seconds of racing at an average speed of 8.74 knots over the 4,670 mile race course between Concarneau and St Barts.
Under a blazing sun in the clear blue waters of the Caribbean, the bow of the Figaro Safran-Guy Cotten finally appeared. Shortly after noon in St Barts, hundreds of locals came to greet the two men of the moment. After 22 days going head to head on the ocean, Gwenole Gahinet and Paul Meilhat savoured their victory. It was the best possible reward for Gahinet, the young skipper of Safran-Guy Cotten, who was making his debut on the Figaro circuit.
"It's great, I'm really happy with this finish because it was a great race," Gahinet said on arrival. "Add to that there are lots of people and a paradise island...We believed from the start, but you still have to do it. It's a close-fought victory and that is what makes so magic. I am particularly happy because this project is the work of a great team and that is reflected in this victory."
"Congratulations to Paul and Gwénolé for this fantastic victory on board Safran-Guy Cotten," Jean-Paul Herteman, CEO of Safran, said. "Thanks to this great race, Safran's 67,000 employees have just experienced 22 days of high emotion. We are proud to have, alongside our partner Guy Cotten, trusted two young sailing talents and to have given them the means to achieve their full potential. The success of Gwénolé is an example for all the young people who have joined Safran in recent years. This is a beautiful symbol for the Group which provides them with a working environment and the trust that should allow everyone to express their talent."
In St Barts, Nadine Bertholom, President of Guy Cotten, enjoyed a great moment of sport and emotion alongside Gahinet and Meilhat: "Congratulations to Paul and Gwénolé for a race that was exciting until the very end," Bertholom said. "They brilliantly confirmed the decision that we made to back a young rookie on the Figaro Bénéteau circuit. You could not dream for more: they performed a masterstroke at the first attempt. Congratulations to Paul who confirmed the qualities of a skipper that we knew he had. Congratulations especially to Gwénolé, who on his first race on the 6.50 circuit had already won the Mini Transat. Today he repeated the feat with another victory in his first Transat AG2R La Mondiale. We are proud that he has worn the colours of Guy Cotten and Safran and we are pleased that we will be with him for the next two seasons on the Figaro Bénéteau."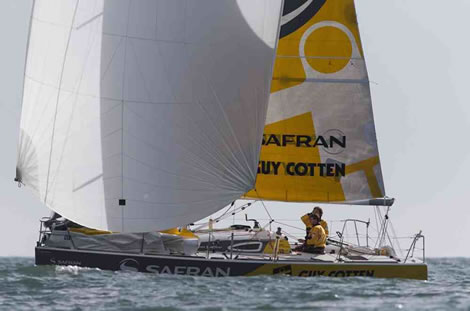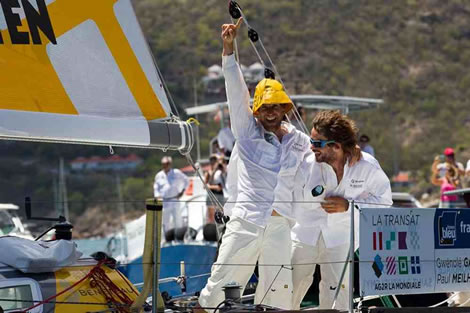 Back to top
Back to top