Strong line-up for the Transat AG2R La Mondiale
The great and the good of French shorthanded offshore racing set off on the Transat AG2R La Mondiale today, including an unprecidented number of past winners and a large number of the 'old guard' including Roland Jourdain, Michel Desjoyeaux, Kito de Pavant and Jean le Cam.
This is the 12th running of the Figaro class' biennial doublehanded race from Concarneau to St Barts - course of 3890 miles - and among the 15 teams entered, there are eight former and four winners of La Solitaire du Figaro.
| | | |
| --- | --- | --- |
| 30 Corsaires | Alexia Barrier | Laurent Pellecuer |
| Bretagne-Credit Mutuel Performance | Corentin Horeau | Michel Desjoyeaux |
| Cercle Vert | Gildas Morvan | Charlie Dalin |
| Gedimat | Thierry Chabagny | Erwan Tabarly |
| Generali | Nicolas Lunven | Eric Peron |
| Guadeloupe Grand Large 1 | Mathieu Forbin | Arthur Prat |
| Guadeloupe Grand Large 2 | Nicolas Thomas | Francois Guibourdin |
| Interface Concept | Jean le Cam | Gildas Mahe |
| Lorient Reprendre | Yannig Livory | Guilaume Farsy |
| Made in MIDI | Gwenael Gbick | Kito de Pavant |
| Safran-Guy Cotten | Gwenole Gahinet | Paul Meilhat |
| Scutum | Gerald Veniard | Jeanne Gregoire |
| Skipper MACIF | Fabien Delahaye | Yoann Richomme |
| La Cornouaille | Roland Jourdain | Martin le Pape |
| Entreprendre en Cornouaille | Simon Troel | Ronan Treussart |
The past Transat AG2R winners competing this time are: Michel Desjoyeaux (1992), Jean Le Cam (1994), Roland Jourdain (1994), Kito de Pavant (2006), Laurent Pellecuer (2008), Fabien Delahaye (2010 ), Gildas Morvan and Charlie Dalin (2012). (The only ever double winner of the race has been Armel Le Cléac'h - in 2006 and 2010.)
Among this elite, Gildas Morvan and Charlie Dalin on Cercle Verte as they return to defend their title from the previous edition.
One of the interesting aspects of this race to watch will be how the new guard fares against the old. Many of the experienced hands are racing with young blades, such as MichDes with Corentin Horeau on Bretagne-Credit Mutuel Performance and Roland Jourdain with the young Martin Pope on La Cornouaille and former Groupe Bel IMOCA 60 skipper of Solitaire winner Kito de Pavant with Gwen Gbick on Made in Midi. The wily Jean le Cam is sailing with experienced Figaro sailor Gildas Mahé on Interface Concept.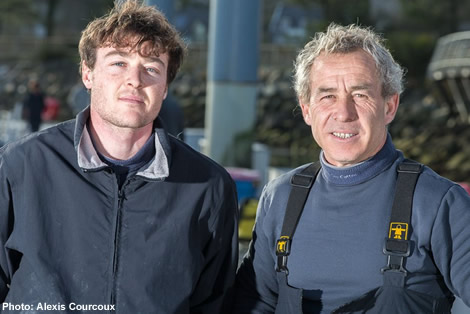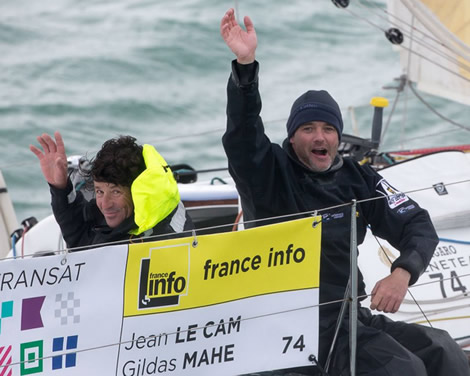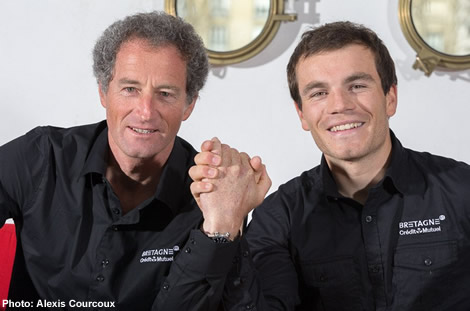 Roland Jourdain commented: "Ten boats can win into Gustavia. Most competitors have sailed the Figaro for more than 10 years - they all sail the boat automatically."
Kito de Pavant, winner in 2006 said: "There are 15 identical boats. We all go to the same speed. Everyone is well prepared. There are strategy, man management, the boat, the equipment ... a lot of things that will cause a win or a disappointment."
Among the present generation of hot shot Figarists, the boat to watch is Fabien Delahaye and Yoann Richomme on Skipper MACIF. Delahaye won the race with Armel Le Cléac'h in 2010.
"There is a lot of experience on the starting line," observed Delahaye. "In the Figaro, it is not so much about speed, but maintaining the pace throughout the race, and also the route."
One of the most experienced crew is that of Erwan Tabarly and Thierry Chabagny on the latter's Gedimat. Between them, they have sailed 11 Transat AG2Rs, while Tabarly (nephew of Eric) won last year's solo Transat race to Martinique.

Also to watch are Gerald Veniard and Jeanne Grégoire on Scutum, who between them have notched up podium finished in three editions. Gwénolé Gahinet won the Mini Transat in 2011 and is racing with experienced Figaro sailor Paul Meilhat for whom this will be his third Transat AG2R.
Meilhat commented: "We have the goal of winning - like everyone else. Fifth place is already a good result. You have to fight from the first to the last minute, up to 100m from the finish."
Back to top
Back to top