Scottish team for the Commodores' Cup
A Scottish team has emerged as the first GBR entry for the 2014 Brewin Dolphin Commodores Cup, hosted by the Royal Ocean Racing Club in Cowes this July.
The Clyde-based team consists of a group of committed owners who have been working throughout the winter in creating a team with a broad experience, that includes some of the leading professionals in recent event history.
Eala of Rhu, owned by Jamie McGarry and Colin Moore of the Royal Northern & Clyde have recruited Kevin Sproul, who sailed Keronimo to victory for GBR Red in the 2012 event. He joins Jon Fitzgerald in running the Swan 45 in the international IRC Regatta.
"It's fantastic to be involved with a prepared and organised Clyde based team this early in the year. It bodes well for a successful campaign," comments Sproul.
The First 40 Zephyr, from Royal Gourock YC, has competed successfully over the past couple of seasons with owner Steve Cowie, both in Ireland in 2013 and winning her class at Cowes Week in 2012. The choice of pro is a natural one - Ian Budgen started sailing at RGYC in Pipers before building a strong reputation in the sailing world in the 49er and then in on the Audi MedCup, the Volvo Ocean Race and the America's Cup.
Completing the three-boat team is the Corby 37, formerly Impetuous, a competitive IRC boat new to her Clyde Cruising Club owners, Rod Stuart, Bill Ram and Donald MacKenzie. Rod Stuart who competed with EOS, an Elan 410, has enjoyed some good offshore results including 2nd in class in the 2013 Middle Sea Race. Sailmaker and experienced IRC campaigner John Highcock takes on the professional role onboard.
RYAS Chief Operating Officer James Stuart comments: "We are delighted to be in a position to support an entry from Scotland for this pinnacle IRC racing event. Events of this nature offer a great opportunity to see some of Scotland's best sailors competing on an international stage."
Team Scotland's campaign will start their training on the Clyde, including the 40th anniversary of the Scottish Series. The boats then head to the Solent to train and compete in the RORC Offshore races, the IRC National Championships and ultimately the Brewin Dolphin Commodores Cup over 19-26 July.
Selectors have reminded teams that the deadline of the entry to the rest of the GBR selections closes on 28 March.
Chris Mason of the Selection group added: "We are delighted to have an early commitment from a Scottish team and it shows a real passion for the event that owners and crews are working together at this early stage. The RYA are just about to enter the final week looking for entries to the selection trials and we hope to find the same enthusiasm coming forward from the rest of the country."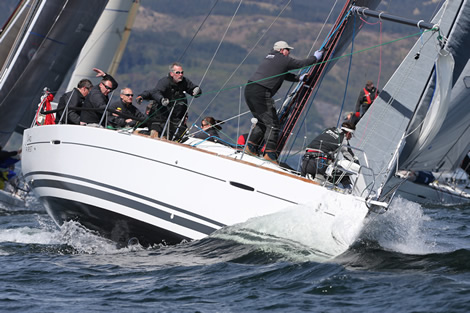 Back to top
Back to top