The New, New 100ft maxi
After a few fallow years, some highly reassuring news for the sailing industry is that there are currently not one, but three new maxis in build – all for American owners. The keel loss and capsize of Rambler 100 followed by a near death experience during the 2011 Rolex Fastnet Race, seem to have done nothing to dampen George David's appetite for offshore racing. Currently leading the RORC Caribbean 600 on the water aboard his 90ft Rambler, the former United Technologies Chairman and CEO is having a new 80 something ft maxi built at New England Boatworks to another design from Juan K. The third WallyCento, another Reichel Pugh design like Magic Carpet 3, in build at Green Marine.
But the most exciting of the three will be the new balls-to-the-wall 100 footer for former Silicon Graphics and Netscape boss Dr Jim Clark.
Jim Clark is well known in superyachting circles. At 47.4m, his yacht Hyperion was the world's largest sloop when she was launched by Royal Huisman in 1998 and she was also renowned for being entirely computer controlled – as described so perfectly in Michael Lewis' biography of Clark The New, New Thing. Hyperion was replaced by the more substantial clipper bowed 90m three masted schooner Athena, launched in 2004, again built by Huisman.
Since then Clark has commissioned his third yacht from Huisman, this time a replica of the 1937 vintage Charles E Nicholson design Endeavour II: the magnificent Hanuman was launched in 2009. This Clark raced occasionally, with North Sails President and former Puma Volvo Ocean Race skipper Ken Read calling the shots. But she is now for sale to be replaced by a 100 footer at the polar opposite end of the maxi yacht spectrum.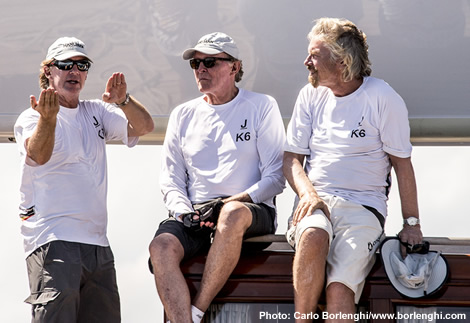 Above: Ken Read (gesticulating) with Jim Clark and a certain airline owner...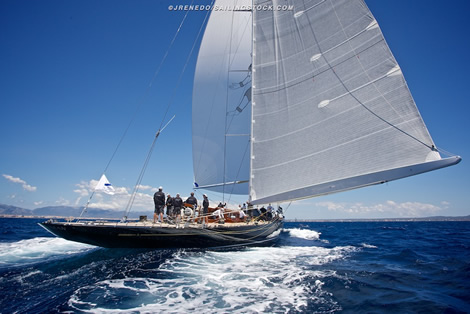 Codenamed NewCubed, the new weapon is a state of the art race boat that is targeting both line honours in the world's 'classic' 600 milers and also records and with a smattering of 'fun regattas' in between.
As skipper Ken Read explains: "Jim Clark, his Australian wife and their family spend most Christmases down in Australia, where, like all good Australians, everyone gets wrapped up in the Sydney Hobart race. He's got to be friends with Anthony Bell [owner of Perpetual Loyal] and Neville Crichton [former owner of Alfa Romeo] and they got him thinking about 100 footers and what would it be like to have a real race boat versus Hanuman where you are racing around a museum piece. And he decided 'what the heck'..." So the first competitive outing for the new beast is set to be this year's Box Day sleigh ride south to Tasmania.
With Juan K tied up designing the new Rambler – a program Read has previously been part of – and not wanting to tread on George David's toes, Read trawled around various design offices before recommending VPLP-Verdier, to whom Clark gave the green light last year.
Readers of thedailysail will be very familiar with this fruitful collaboration between France's leading multihull designers and the rising star of French yacht design, Guillaume Verdier, most recently part of Emirates Team New Zealand's AC72 design team. VPLP-Verdier are well known for their IMOCA 60 designs such as Marc Guillemot's Safran, while their two sisterships Francois Gabart's MACIF and Armel le Cleac'h's Banque Populaire (albeit breathed on by Michel Desjoyeaux) claimed the top two spots in the last Vendee Globe. VPLP-Verdier are currently working on new IMOCA 60s for Safran and Banque Populaire, set to be on the start line of the 2016 Vendee Globe.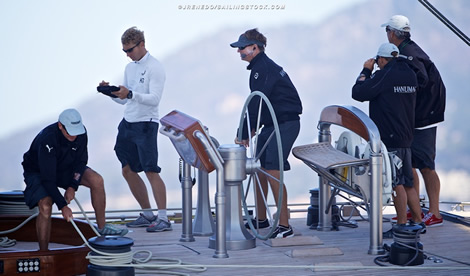 Vital statistics
100ft was chosen as the length of NewCubed, being the maximum permissible for the Rolex Sydney Hobart, along with the other 'classic 600 milers'. While the designers of the other maxis probably had one eye on handicap honours when conceiving their maxi boats, this hasn't been the case with NewCubed. As Read puts it: "We have taken into account the rules to make sure it is a legal boat, but we have absolutely not taken a single second of time to make any rating work for us. It is a flat out, as fast as we can make, 100 footer."
The boat looks set to be the fastest monohull on the planet. We haven't uncovered all of her vital statistics yet, but we know the boat will have a beam of 7.32m (ie the same as the Farr designed ICAP Leopard and 80mm less than Juan K penned Speedboat/Rambler 100) and the team is aiming for a displacement of 35 tonnes. This is substantially heavier than the two metre narrower Reichel Pugh maxis like Wild Oats XI, which weigh between 25 and 32 tonnes depending on who you believe (a year ago the official line was that Oats weighed 28 tonnes). It is also heavier than the 30.6 tonnes originally quoted for Speedboat when she was first launched (but which we suspect rose a fair degree during her career). However it is substantially less than the 50 tonne WallyCentos and ICAP Leopard, which come with well appointed interiors and all mod cons, the other pure racing maxis lack.
Looks
NewCubed's powerful hull looks like a relation of VPLP-Verdier's first generation IMOCA 60s - slab-sided and with a full length chine, her immense beam carried all the way aft. There is the usual set-up of canting keel, twin boards and twin rudders (although we doubt these will be kicking up like the IMOCA 60 ones do!) However slightly alarming, for a boat destined to eat up transoceanic miles faster than any monohull has done before, is the near flush deck with no cabintop, nor indeed any protection for her crew.
As the renderings indicate (or rather don't indicate), the shape, positioning and dihedral of the daggerboards remains a work in progress. VPLP-Verdier had straight boards that were out by the gunnel and heavily toed in on MACIF/Banque Pop and installed the first set of multihull-style curved boards IMOCA 60 on Safran – both more radical solutions than we saw on the VO70s. "There has been a lot of work done on daggerboards," confirms Read. "We are still not clear whether the boards will be straight or something fancy. The VPLP-Verdier boats [IMOCA 60s] certainly had more dihedral than where we ended up [on the VO70s], but they also don't go upwind as much as the Volvo boats. In the Volvo we spent half the time going around the world upwind."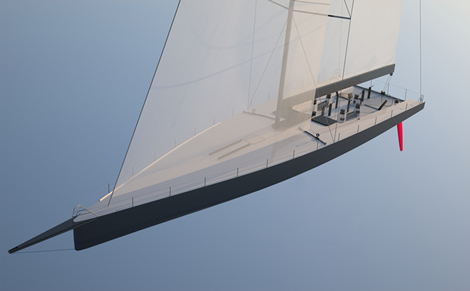 True grit
The keener eyed will observe that NewCubed is also a proper 'man's boat', ie with pedestal driven winches, rather than being the, these days more common, push button affair for those worried about their coiffure. The reason for this, of course, is that while the first aim of the boat is to win Rolex Sydney Hobart line honours – in which the maxis are now all push-button – its principle aim is record breaking, with the west to east North Atlantic passage between New York and the Lizard top of the list. While push button boat records exist, under World Sailing Speed Record Council rules, boats wishing to attempt 'outright' records are not permitted to use stored powered, hence winches driven by anything other than human beings are verboten (although the legality of electro-hydraulically operated canting keels remains something of a grey area...)
Ken Read explains: "This boat is designed to break records and be first to finish in races. Because we are not going around the buoys, we are not concerned with split second sail changes, so we went with a manual winch system. Right now we are going to have six pedestals, so 12 guys grinding. Keep in mind, Banque Populaire [the VPLP penned 40m tri, now Spindrift 2] went around the world with a very similar mast height and a bit more righting moment with only five pedestals."
The rig looks conventional with an ultra-wide shroud base and, on a subject close to his heart, Read says the sail inventory will similar to a VO70's, albeit with a couple of additions. While they made be going hardcore with the pedestals, almost all the sails will be furling with the exception of the primary J2 style jib, which will be a hank on. The sails will also be heading increasingly in the direction of a multihull wardrobe given that the apparent wind angle is rarely likely to come aft of 60°. As Read puts it: "You are just sailing around with bigger genoas."
700 miles/day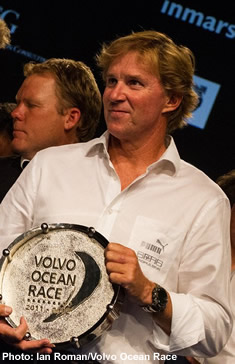 Given that this is a state of the art 100 footer and the first of her kind to be launched since Speedboat plopped in 2007 (we don't count the WallyCentos in this), we have every expectation that NewCubed will achieve her objectives. While the present monohull 24 hour record currently stands at 596.6 miles, set by Ericsson 4 in the 2008 Volvo Ocean Race, the new boat should make easy meat of bettering this. "If you get the right conditions, 700+ miles shouldn't be that far off," advises Read. 700 miles in a monohull...that's 29 and a bit knots average speed for 24 hours non-stop. Or where the outright multihull record stood just a decade ago...
Among the big G-Class maxi-multihulls, for a long while it was the smaller, lighter 2000 generation Ollier cats that held the top peak speeds, while the longer heavier cats like Orange 2 were able to pump out the higher average speeds and in turn larger daily runs. Similarly NewCubed is expected to be of the latter type, leaving the 40+ knot speed bursts to the VO70s and, possibly, the new Rambler, but being able to sail for hours on end at speeds in excess of 30 knots. "That is hopefully the case. A lot of times those big bursts are when you break. The goal on a boat like this always is higher average speeds," confirms Read.
Being at the mid-range of the displacement spectrum for 100ft maxis also means that she will prefer heavier airs than the narrow Reichel Pugh designs. "Sydney Hobart this past year - you couldn't have got a boat better than Wild Oats for that race," says Read. "We are not building it for a light downwind race, we are building it for some breeze and more out in the ocean, find yourself the right side of the system, keep the apparent wind forward and send it."
Also interesting will be how the new 100 fares against the new smaller Rambler. As Read recounts: "Juan [K] always said he thought he could make an all-round faster boat that is in the 80ft range than he could at 100ft, because of the weight versus sail area spiral. We have worked incredibly hard to try and do a 100 footer that doesn't get caught up in that weight spiral. Time will tell who's right and who's wrong. I have feeling that these two boats will be similar in speed and it will be a blast and it will be great for sailing."
However thedailysail will be putting its money firmly on the bigger boat... Saying this it is interesting to look back at the Transatlantic Race in 2011 when for much of the race the Puma VO70 was only 50 miles astern of the substantially larger Rambler 100 and ended up winning the race on handicap – despite being becalmed in the Celtic Sea. Although part of this was perhaps down to Puma's crew being smarter with their tactics, it is a good indication that waterline length may not be the only performance driver - a powerful but nimble shorter boat that is easier to handle and can be driven harder for longer, can also have its day.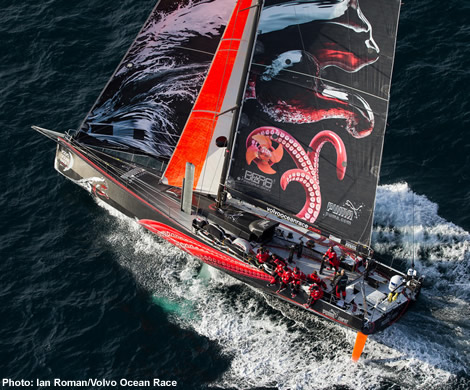 Carbon fibre
The build of NewCubed is currently well under way up a Hodgdon Yachts in East Boothbay, Maine, where the build is being run by Brandon Linton and Tim Hacket, who previously managed the build of both Read's Puma VO70s.
While we have never come across Hodgdon Yachts (New England Boatworks is tied up with the build of Rambler) they are familiar in the superyacht world having build some exquisite looking modern classics, like the Bruce King designs Scheherazade and Antonisa. While they don't have a background in high tech composite race boats, they have previously built carbon fibre infused power boats.
Ken Read points out: "This is their first prepreg boat, but this is exactly how we ran the other two builds at Goetz and NEB: Brandan and Tim run the build within the infrastructure of the yard. Please don't underestimate Hodgdon Yachts – they have been fantastic. Their impact and their level of expertise up there – it is a traditional boatyard that has taken a leap into the future with this type of technology. The Puma group and Hodgson are playing off each other very nicely. It is a nice combination."
Linton and Hacket are not the only ones sporting old Puma crew-ware up at the yard. "It is almost to a person the same group, who ran the build of our last Puma boat," says Read. "It is the entire Puma SWAT team, just in deeper snow!" In fact this also extends to some of the sailing team, with Casey Smith and Tony Mutter both involved with the campaign.
Of course vital to a boat like this, particularly to prevent another disaster as occurred to Rambler 100, is the engineering of the boat. With Newcubed, Guillaume Verdier's team is in charge of this, while his numbers are being double checked by Giovanni Belgrano's company Pure Design & Engineering, before they are then passed on to Germanischer Lloyd for type approval.
NewCubed is due to be launched by 1 September. The plan is then to work her up in the States prior to shipping to Australia for the Rolex Sydney Hobart starting, as always, on Boxing Day. Beyond this there is a two year schedule pencilled in for the boat with a transatlantic record attempt the priority for 2015, followed by the Rolex Fastnet Race and Middle Sea.
According to Read, Jim Clark will pick his moments he chooses to sail on board. "The breezier record run-type things, he probably wouldn't be on board for. But for the Voile de St Barts, the fun stuff or even the Caribbean 600 – some of the shorter offshores, he'll pick and choose his moment based on weather forecasts."
We put it to Read that while people have sailed round the world non-stop singlehanded in monos and multihulls and have circumnavigated fully crewed non-stop aboard multihulls repeatedly on Jules Verne Trophy attempts, no one has ever succeeded in doing a non-stop fully crewed monohullc circumnavigation. A record in sailing that no one has even succeeded in completing – how tantalising is that? So a monohull Jules Verne Trophy attempt? "Don't tell my wife that! It has been talked about that for sure, but right now we have other priorities."
Two boats in one
We wonder whether having a boat that is designed for both offshore races and record attempts isn't too much of a compromise. For example in races you need a boat with upwind capability (which is presumably why Newcubed weighs 35 rather than 30 tonnes) and push button winch control. For records, under the rules boats are obliged to have manually driven winches but you're never going to be sailing upwind. One wonders if it wouldn't be possible to have a dual mode set-up for a boat such as this, with interchangeable push button/pedestal driven winches and a lighter bulb for records.
According to Read there has been talk of using different boards for races and records, but this leads to complications with the bearing systems and, of course, it is easy to be glib: none of this is small kit...
Fortunately, while competition will be fierce in the Hobart race, the fully crewed monohull records don't have the bar raised nearly as high as it is for the equivalent multihull records. For example Dona Bertarelli and Yann Guichard's crew on Spindrift 2 are going to have their work cut out to better their own boat's time for the west to east transatlantic passage, which despite being one of the longer records on the WSSRC roster, is the fastest – with an average speed of almost 33 knots for the duration of the passage.
The present monohull transatlantic record of 6 days 17 hours 52 minutes and 39 seconds set in 2003 by Robert Miller's 140ft modern schooner Mari Cha IV, was at a much more cruisey 18.05 knots. Given that Read believes NewCubed capable of sailing 700 miles in a day and this represents a 29 knot average, we anticipate she should pulverise the transatlantic record, assuming the team has the patience to wait for the right weather conditions next summer. As to what these conditions might be – these are likely to be similar to what routers look for for multihull attempts – a 30-35 knot broad reach, although she probably won't be quite as sensitive to wave state.
Read concludes: "There are some real positive things going on in sailing right now. I think the return of the super maxi is incredibly exciting - to have these incredibly cool, futuristic, potential record breaker monohulls coming out, I think is a sign of the times. There are a lot of positives."
Back to top
Back to top