Rambler leads the charge
At 0700 local time on day two, George David's RP90 Rambler was leading the charge in the RORC Caribbean 600, having opened up a four mile advantage on Hap Fauth's JV72 Bella Mente. Rambler's longer waterline length is coming into its own on the longest reaching leg of the course and the American maxi is expected to extend her advantage over the course of today.
In the Mini Maxi battle, overnight Bella Mente had extended her lead over George Sakellaris' RP72 Shockwave to six miles and now heads IRC Zero on corrected time by 15 minutes. Johnny Vincent's TP52 Pace holds a solid third place in class.

Overnight, the fleet encountered squalls at regular intervals, bringing cold rain and erratic wind. As one of the smallest yachts in the race, Hot Stuff, crewed by Girls 4 Sail, was approaching St Kitts, the rest of the fleet, bar the three on the water leaders were negotiating the chicane at the top of the course.

The twin masted schooners, Adela and Athos, have covered over 230 miles in just 20 hours. Athos is just a mile ahead of Adela on the water but, after time correction, Adela leads the Superyacht Class. The two largest yachts in the race are about to enter the narrow confines of the Anguilla Channel where they are set to undertake a tacking duel of epic proportions.

In IRC One, Piet Vroon's Ker 46 Tonnerre de Breskens 3 has covered over 200 miles of the course in just 20 hours and continues to lead the class, both on the water and on corrected. Behind Tonnerre are two Swans: Colin Buffin's Uxorious IV and Todd Stuart's White Rhino. On handicap, the beat through the Anguilla Channel and the reach down to Guadeloupe may favour the two heavyweight Nautor yachts, especially as the current wind speed is sub-15 knots which is too little for the light displacement Tonnerre to use her planing ability.

In IRC Two, all 12 yachts have averaged close to eight knots since the start. Peter Sowrey's First 40 Lancelot II has been punching above her weight, no doubt aided by having solo round the world sailor Alex Thomson on board. On the water, Global Yacht Racing's First 47.7 EH01 and Bernie Evan Wong's Grand Soleil 43 Quokka 8 are having an intense battle for line honours in the class, with Lt Col Paul Macro's Royal Armoured Corps team on Southern Child, just a mile behind the on-the-water leaders.
In IRC Three, the classic S&S 52 Dorade has stretched out a five mile lead on the water and leads the class on handicap. Adrian Lower's Swan 44 Selene has taken a flier. After rounding Saba, Selene tacked and bore away to take up an extreme offshore position, looking to lay St Barths in one tack.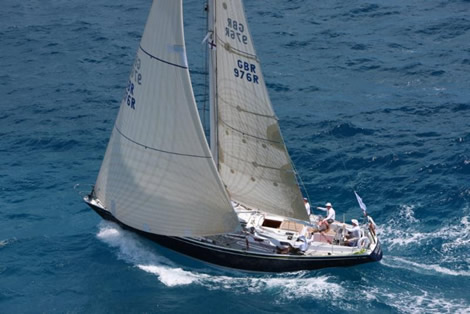 Back to top
Back to top