Phil Sharp aiming for the Vendee Globe
One of the most talented British shorthanded offshore racers of his generation is returning to the high seas this season. After some solid results in the Mini class, Phil Sharp won the Class40 in the 2006 Route du Rhum and in 2011 finished 18th in La Solitaire du Figaro on his first and, to date, only attempt – the highest British result in solo offshore racing's effective world championship, until this result was eclipsed last year by Sam Goodchild.
The 32 year old Jersey sailor is currently training in Lorient alongside the Artemis Offshore Academy squad in a camp run by leading French shorthanded offshore coach Tanguy Leglatin. However this year's Figaro campaign he hopes will lead on to greater things.
"My principle object is to be on the start line of the next Vendée Globe," Sharp says. "If you work back from that and you want to do a competitive campaign, you have to get into the IMOCA championship ideally this year in order to put together a Barcelona World Race campaign which is crucial experience for a Vendee. That gives you the time to build up a relationship with a sponsor and with a technical team and to have everything in place by the time you reach the Vendée."
A season in the Figaro is the stepping stone up to this. "It is clearly the best class for training for offshore sailing in general. It is a great solo sailing class for really enhancing all the strategic, tactical, navigational and tuning skills required in the bigger classes. For me, it is a good opportunity to get back into an offshore training circle and start honing my skills for the next years ahead."
Aside from that the Solitaire du Figaro, the Figaro class' premier event, is also singlehanded offshore racing's most competitive event where you get to line up against the very best sailors ranging from top IMOCA skippers to the latest waves of up and coming talent.
"It's an opportunity to get back on top form, but aside from that, it is an incredible race - I really enjoyed 2011. It really brings out the best in you and you have got to make sure that you have done a lot of training beforehand. Preparation is everything when it comes to the Solitaire."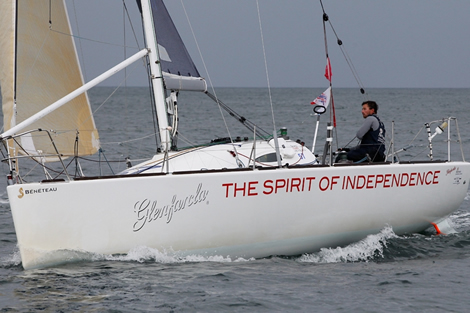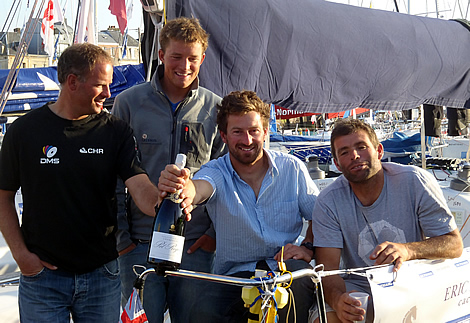 Sharp with the British Figaro sailors Conrad Humphreys, Sam Goodchild and Nigel King in 2011
As was the case in 2011, Sharp is sailing a chartered Figaro and has secured the use of one of the top boats in the fleet - JP Nicol's former Bernard Controls: "It is a very good boat, very well prepared and everything works very well. It has had a lot of good care over the years, which really helps. All the Figaros look the same, but when you start sailing them they are very different. This one has done the Solitaire every year and you can really tell a lot of thought gone into the little things adapting it to solo sailing."
Since his Solitaire campaign in 2011, Sharp has been making good use of another significant string to his bow – composite engineering, following his degree in Mechanical Engineering at Imperial College. In this vein, he has worked for Blade Dynamics on the Isle of Wight, designing wind turbine blades and since early 2012 he has been employed by Future Fibres' mast division in Valencia. There his projects have been largely on superyachts, including the boom for the new 60m Perini Navi, launching this spring, C.2232.
"I did some composite optimisations for some racing boats, but the big project was the 20m long boom for the Perini Navi. Previously when I was doing wind turbine blade design you are working on the tonnes of carbon fibre-type structures, and I was able to apply that to large superyachts where you are talking about booms that have 5.5 tonnes of carbon fibre in them - so quite far away from your average Mini or Class 40 carbon spar package!"
A professional background in composite engineering is a good skill to have for the IMOCA class – while Sam Davies has an engineering degree from Cambridge, the best example is Yves Parlier, whose composite engineering experience is what allowed him to achieve the superhuman feat during the 2000 Vendee Globe of not only carrying out composite repairs to his broken mast on board his boat while anchored in a remote cove off southern New Zealand, but also singlehandedly restepping it – all with no outside assistance.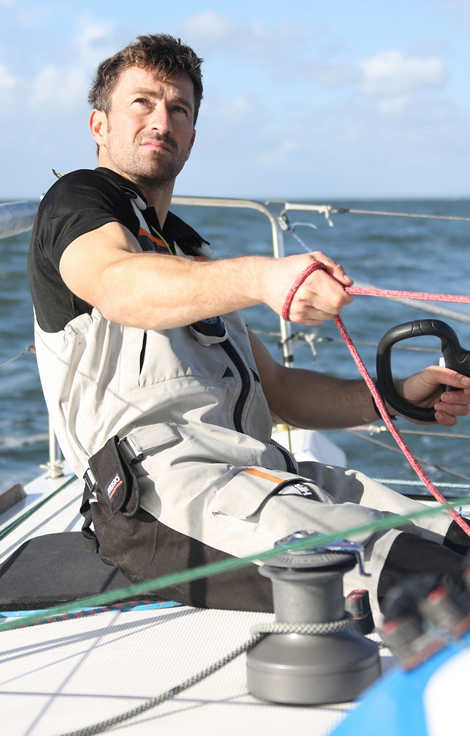 For Sharp there remains the thorny topic of money. While he has a boat and is training, he is currently on the hunt for sponsors to get him to the Solitaire du Figaro start, ideally whom he hopes he can scale up into an IMOCA campaign.
"The priority is to get into IMOCA. We have some pretty interesting introductions and things are progressing and I'm hopeful that I can enter the circuit this year, but things take time and there's a lot of work to do still. But you have to be optimistic about these things. Really it is about finding the right company and finding a good fit and finding someone that really wants to do it as much as you want to do it and that takes time."
IMOCA and the Sir Keith Mills-backed Open Sport Management (OSM) are both keen to make the class more international, so they can have more international events and provide returns for bigger sponsors in want of a more global reach. As Sharp puts it: "OSM wants to realise the potential value in the sport and that is what Keith Mills is trying to do - to bring it to the forefront of everyday sport, because he thinks there is huge potential in the stories that come out of the IMOCA circuit and capturing them and packaging and distributing them is something that can transform the sport into something much bigger."
In the UK, sailing thankfully is back in the public eye thanks to the efforts of Sir Ben Ainslie and his Olympic and America's Cup success as well as his forthcoming challenge for the 35th America's Cup. This can only help the cause for others looking for commercial backing for their sailing campaigns.
An advantage for Sharp is that the first big event he wants to enter is the Barcelona World Race where there is the added incentive for sponsors of being able to write off 90% of their sponsorship against their tax bill. "If you can find an international company with a big Spanish presence, they can run the sponsorship side from the Spanish company and in return they get international marketing out of that. That is something that works very well, but I don't think it is something you should use as a key selling point. Primarily they have to capitalise on the benefits of sailing for it to be sustainable. Everything is now part of the Ocean Masters, which is a great new brand. The circuit is well defined now and that gives you some good international exposure. It would be nice to know whether they will take the class to Asia in 2015, which I think is very important. But you can always create your own program."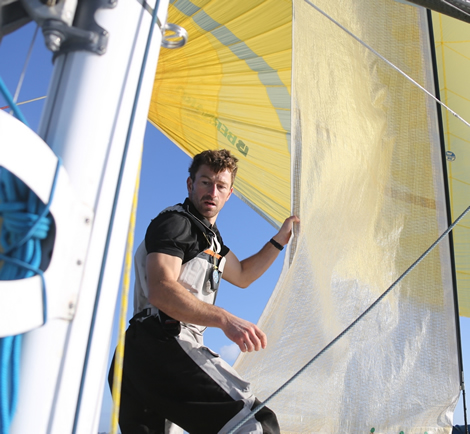 In the shorter term this of course the no small matter of La Solitaire du Figaro and a top 10 result in this would certainly help Sharp's cause.
While the training centre in Port la Foret is still considered the no1 place for singlehanded sailors to train, Lorient is now a close second. "It is great to be back being coached by Tanguy [Leglatin] because every time you come back he just knows so much more than he did previously. He shares a lot of interesting information with Figarists and he's got a very good eye for the tuning on the boat, for the rig set-up and he knows a lot about the strategy and philosophy of the Figaro, so he is a very good all-round offshore coach. And he can speak some English as well, which helps when you have a very crackling VHF and you are the only one who hasn't understood any marks of the course!"
In addition to the Artemis Offsore Academy sailors, including new recruits Richard Mason, Alan Roberts and Sam Matson plus Ed Hill, the Lorient training camp includes French Figaro sailors Adrien Hardy and Isabelle Joschke as well as Gwenole Gahinet, who was favourite for last year's Mini Transat until the keel dropped off his boat requiring him to be rescued.
The British presence in La Solitaire could be phenomenal this year for in addition to Sharp and the Artemis sailors there are Sam Goodchild and Henry Bomby who also have Figaro campaigns this year, and last year's top rookie Jack Bouttell and Nick Cherry are also aiming to be on the start line. So potentially eight boats!
Their cause is being helped no end with the Solitaire visiting UK shores this year with a stopover in Plymouth over 11-14 June. "That is great news as it will create a lot of interest locally and in the UK and that will be good for the years to come, increasing the awareness of the sport of solo offshore sailing in the UK and the important of the Figaro as a training ground."
So what does Sharp have to do to get into the top 10 of La Solitaire this year? "The first thing you have to tick off is having good boat speed and being able to get the most performance out of your boat, but that won't get you into the top 10. Strategy is so important and keeping your head out of the boat and these early months, my head is still very much in the boat. Once I am really confident in tuning the boat to the conditions quickly and easily then you can get your head out of the boat and focus more on the strategy and the tactics with respect to your competitors. Work also needs to go into the navigation and the strategy, the road book preparation is very important and just having some resources to get some training on that front and having some time to have a think about what you're doing strategically ahead of the game, not when everyone starts to gybe – that's important."
Back to top
Back to top